Secret Space may have formed in 2015, but for the Toledo-based emo trio, this past week has felt like the birth of a whole new band. On the simultaneous release date of their debut LP The Window Room and the first day of their tour with Turnover and SPORTS, Secret Space arrived in Philadelphia – a fitting place for the band to experience this moment of growth, since they recorded The Window Room with producer Will Yip (Pity Sex, Tigers Jaw, Citizen) in Conshohocken, a suburb of Philadelphia.
Before their show at the First Unitarian Church in Philadelphia (chuch-by-day, punk-venue-by-night), Tartaglia and bandmates Zach Ruetz (bass) and Steve Warstler (drums) take a breather in a coffee shop. Tartaglia's mom sits happily off to the side, conveniently on a business trip in Philly on the first night of her son's tour. 
"My mom isn't like, driving our tour bus, I promise," Dean assures me, laughing – nothing is more rock 'n' roll than appreciating your parents. 
In an indoor refuge away the sweltering summer heat, Secret Space sits down to reflect on their debut album, upcoming tour with Anthony Green, and the feeling of being soaked head-to-toe in warm beer. 
This week, you announced a tour with Anthony Green (Circa Survive, Saosin) and you released your debut album on Equal Vision records. What kind of reaction have you gotten to all of this?
Dean Tartaglia: We found out about the Anthony Green tour in June, and we knew for months and couldn't tell anyone. For the first four days of the tour, Mat Kerekes has a friend's wedding, so it's just us opening for Anthony Green. We're going to get to know him. There's going to be no buffer. This week, announcing the Anthony tour, it was like – you have three hundred twitter messages! A lot of Circa fans were following us. We geek out when Anthony Green tweets about us or something. It's little things that feel big to us. The timing couldn't have been better, everything back to back. It's nice to be on tour when the album comes out so that we're not just sitting around thinking about it.
Steve Warstler: It would be really nerve-wracking to put an album out and then wait a month or two to tour.
What was it like to record with Will Yip, who has worked so many records from influential bands like Citizen, who are also from Toledo?
DT: We recorded with Will in Conshohocken, just outside of Philly, so we lived around here for almost a month. It's a few blocks worth of a town – very quaint. I'm sure every band Will has recorded with has said this in an interview, but the food there is great, especially the wings. We started the band in the beginning-ish of 2015, but by started, I mean, we had like one song to show our friends. The Equal Vision thing happened pretty quickly, so we just decided to put out a free EP to test the waters. When we locked down the album with Will, we just wanted to put all of our energy into that. It's been an eight month wait for this LP,  so we can tour it and build it up. Today feels like the first day of this band, almost.
Zach Ruetz: Red Hot Chili Peppers' album also came out today. We're competing with them.
Do you have any relationship with Philly besides recording around here?
DT: The first show I ever played in Philly was at Festival Pier. I was in this band a long time ago called The Sights that randomly toured with Tenacious D, like 6,000-person outdoor shows. I got beer thrown at me and got booed off stage, so that was my first experience in Philly. Then there was a show at The Fire, and the crowd was just two sixty-year-olds on a Tuesday night throwing out classic rock requests. So no matter how this show goes tonight, it'll be our best Philly show by far. So many great musicians are coming out of Philly, though – Alex G is one of my absolute favorite songwriters right now. But there's actually cool bands in Toledo, for like, the first time kind of ever. Citizen is from Toledo too, so they've had our backs. We've been working with Good Personalities in Toledo, and Equipment – Steve and I are working on Equipment's debut EP. We just want to rep bands from Toledo.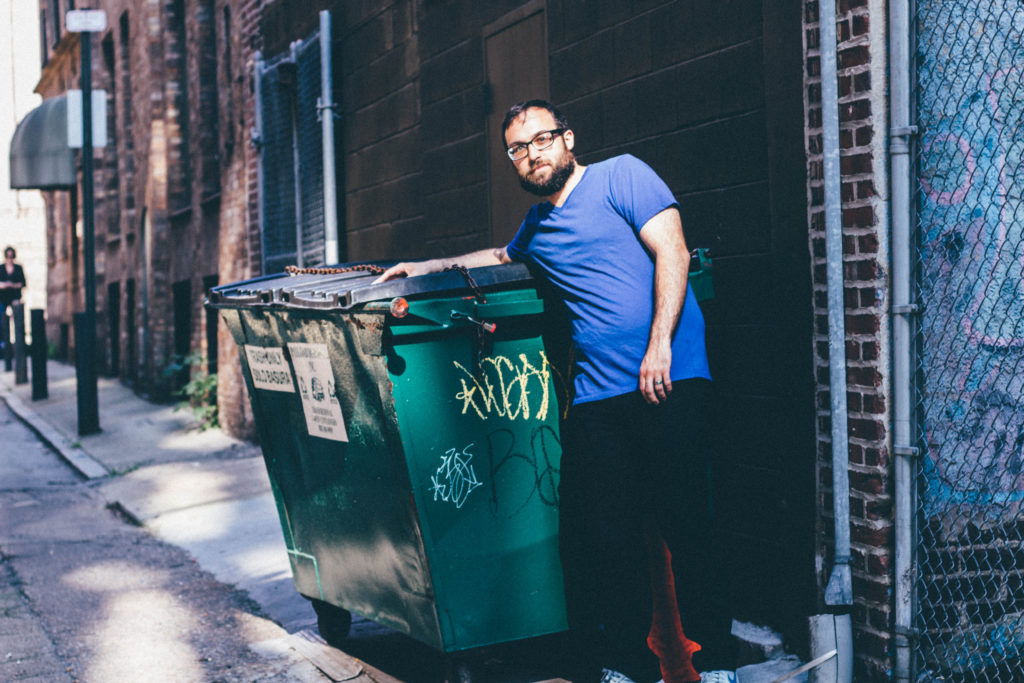 Why did you get beer thrown at you?
DT: It was like, the day before fourth of July maybe, and usually it was just us and Tenacious D, but that night there was another band, which happened to be The Front Bottoms before they got big. We were told to play 45 minutes instead of 25 minutes, and it was like 100 degrees out. We were like, a soul rock band, so there was a lot of jammin'. So we were just jamming blues riffs for half an hour, and there was some rumbling in the crowd with the metalheads, and then… Someone threw the first beer. I remember someone threw a cup, and it stayed in the cup for the most part, but then it hit the stage and just splashed all over me. 
SW: I remember getting this phone call from Dean before that tour like, "I'm going on tour with Tenacious D!" I was like, "Goodbye forever…"
DT: Popmatters was covering that show, and they were like, "Man, that crowd hated the saxophone player! He's the most hated saxophone player since Kenny G!" That was my first major press. If you Google me, that's like, the first thing that comes up. 
How did that tour inform your later touring experiences?
DT: It was just weird that my first major touring experience was this big Tenacious D tour, and I hadn't done DIY touring yet, so it was a really unique perspective to go back to that. The very first thing I did was humongous, and then I started from the bottom again with playing basements and doing DIY tours. 
Since the three of you were in so many different Toledo bands growing up, how did it happen that you all were available and motivated to form Secret Space?
DT: I think it was just a coincidence that we all weren't in bands at the time.
SW: Dean and I have been in bands together for like, eight years it feels like. We went to high school and college together. I was roadie for Dean's band The Silent Lions for a while. 
ZR: I was in this weird dance funk band and I sang Prince-style falsetto vocals, kind of in a joke-y way – Dean and Steve knew me from that, and they needed a bass player for Secret Space. 
What are you most excited about with the release of The Window Room? 
DT: I felt like I knew what the album was about when I was writing it, but whenever someone else is listening to it, I feel like it means something different, which I kind of didn't expect. It's all about being in your twenties – self-examination, isolating yourself, and being honest about it. The album is kind of narrative, talking about my own life experiences. I think we took a step in having some lyrics that were more straight-forward and genuine, and not masked. It's been super rewarding to see how people look at the album.