No Windows, Smoke Point, Violencia, Charlotte Plank & more all poised to break big in 2023 & beyond
We're just over a month into 2023, and already it's shaping up to be a big one for a number of rising musical acts. Whether they're bubbling under in the underground/DIY spheres, or collaborating with producers or other artists who can cosign them to success, these artists have shown that they're capable of reaching the next level of stardom – through the magic of their early records or the energy of their incendiary live shows.
From under-the-radar Bandcamp stalwarts, to anonymous RateYourMusic producers, to hardboiled MCs and bedroom pop producers, we've kept a close eye on a wide swath of acts in micro-scenes all around the world who are worthy of attention and have the potential to blow up. Here are some of the acts looking to soak up all the buzz and hype in 2023 and beyond.
Bleach Lab
Home Base: London, England
Who Are They? Gazy, jangly dream pop is the name of the game for rising British group Bleach Lab, who take inspiration from bands like Mazzy Star and The Smiths. Their music rides gorgeous vocal performances and lush, driving instrumental soundscapes that'll have you hitting repeat. They feel due to drop a breakthrough album any minute.
Where To Start: Their most recent EP If You Only Feel It Once is a beautiful fusion of indie rock, shoegaze and dream pop, and one of the best records of last year.
For Fans Of: Ride, Alvvays, NewDad, Mazzy Star
Charlotte Plank
Home Base: London, England
Who Is She? A singer-songwriter-producer riding that jungle/DnB/breakbeat pop wave popularized by acts like Nia Archives and PinkPantheress. Charlotte Plank brings a buoyant hyperpop-tinged angle to the table in the vein of Charli XCX, and she looks certain to blow up like her predecessors as she continues to release one bubby rave hit after another.
Where To Start: From the handful of singles under her belt, "L.S.D. (Love So Damaged)" and "Lost Boys" are her best – effortlessly catchy anthems that'll be stuck in your head for days.
For Fans Of: Nia Archives, PinkPantheress, Charli XCX, Vitesse X
Eaves Wilder
Home Base: London, England
Who Is She: A British indie rocker who evokes the lo-fi-soaked grunge of the '90s but with a modern dreamy pop kick. In addition to her crunching instrumentals, her ability to write a bouncing chorus sets her apart. Eaves Wilder has been on a steady rise for the last couple years, and seems primed to take her DIY star to the next level.
Where To Start: Her most recent single "Morning Rain" also features the propulsive track "I Stole Your Jumper," whose music video paints a great picture of her musical charm and charisma.
For Fans Of: Letters to Cleo, Beabadoobee, Wolf Alice, Momma
The Fazes
Home Base: San Diego, CA
Who Are They? Having risen through the ranks of the San Diego DIY house show scene, The Fazes combine synthy proto-punk textures with dreamy, jangly indie rock. With just a handful of singles under their belts, they've garnered a solid local following through the countless shows they've played in the last couple years, and they look set to take their sound and profile to the next level.
Where To Start: "Camera Shy" and "Blue Daze" demonstrate both facets of their sound; the more dance-y, uptempo synth side on the former and the slower, poignant side on the latter.
For Fans Of: Kitten, Adult Mom, Lower Dens, Nation of Language
Francis of Delirium
Home Base: Luxembourg
Who Is She? Part of the current wave of rising female singer-songwriters resurrecting the grungy alt-rock sounds of the '90s, Luxembourg's Francis of Delirium has shown tremendous range in her young career; a mix of semi-downcast guitar-grunge rippers and softer, dreamier singer-songwriter ballads. She looks poised to drop a breakthrough LP to add to her pair of excellent EPs.
Where To Start: The Funhouse was one of the EPs of 2022 and a riveting showcase of her potential.
For Fans Of: Softcult, Indigo De Souza, Oceanator, Wednesday
Frost Children
Home Base: New York, NY
Who Are They? NYC sibling duo Frost Children makes rumbling, slightly erratic dance music, towing the line between hyperpop and club music. They also bring a bit of that zany 100 gecs-esque noise-pop-punk energy to the table, and their live shows are a theatrical spectacle, as we had the chance to witness at last year's Electronicon 3.
Where To Start: Last year's LP Spiral was their most fully-formed release yet, featuring the wildly audacious banger "FOX BOP." Recent single "FLATLINE" is right up there too.
For Fans Of: SOPHIE, Slayyyter, 100 gecs, Dorian Electra
GEL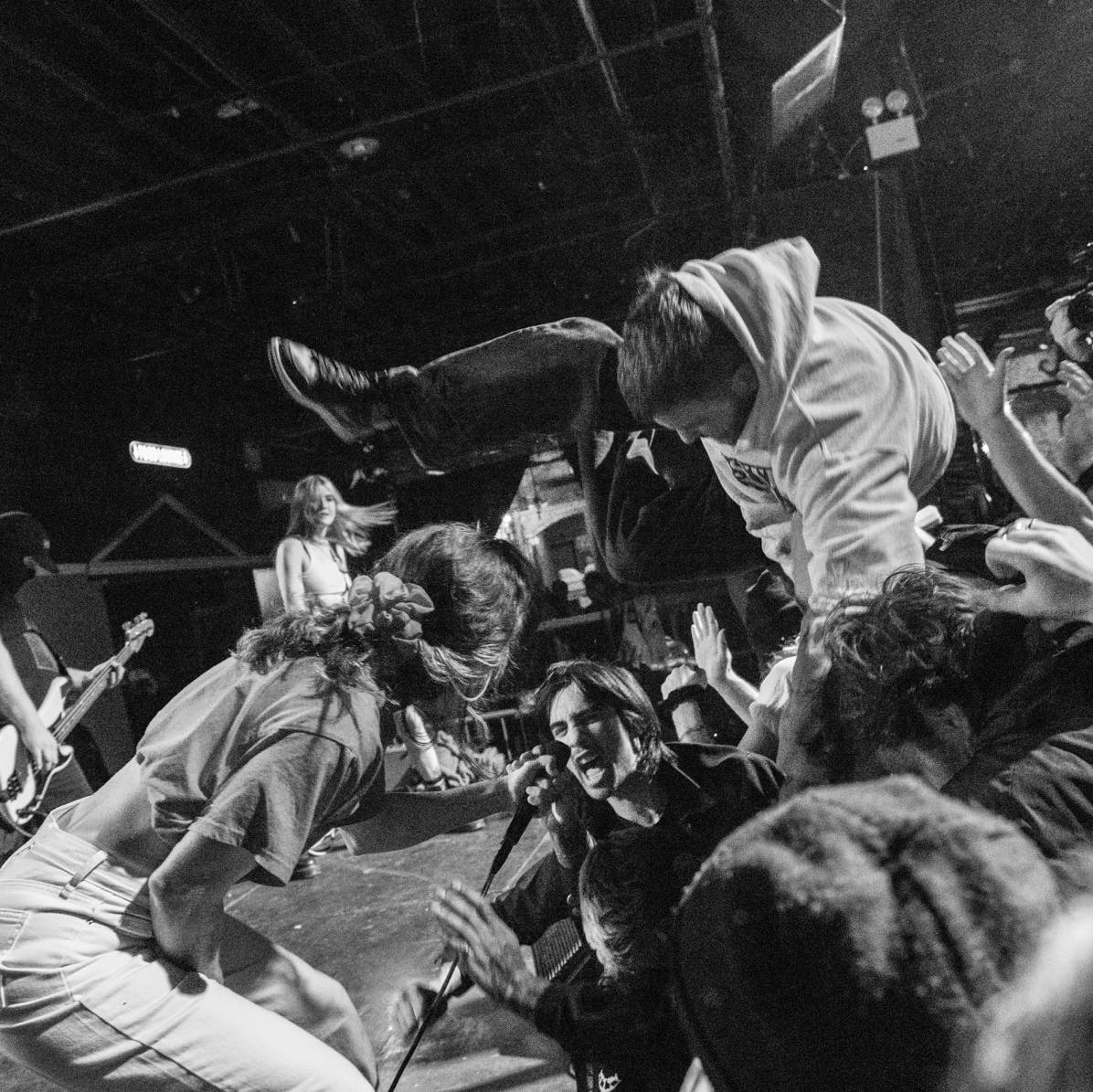 Home Base: New Jersey
Who Are They? GEL are already getting pretty huge in the hardcore sphere, having made quite an impression on a throng of new fans after their performance with Scowl at a New Jersey Sonic Burger went viral last year. Their guttural, larynx-shattering brand of hardcore chaos will take them to new heights as they continue to add to their slew of bilious sonic rippers.
Where To Start: Their 2021 debut album Violent Closure is 11 minutes of streamlined, crowd-killing madness.
For Fans Of: End it, Gulch, Militarie Gun, Scowl
Girl Scout
Home Base: Stockholm, Sweden
Who Are They: A four-piece band emerging from the bustling Scandinavian indie rock scene with '80-'90s-sounding garage rock rippers about teenage love and angst. Girl Scout only released a handful of tracks but have turned heads with their relatable songwriting and soaring choruses. A pair of new tracks released last month point to bigger things on the horizon.
Where To Start: The spry anthem "Do You Remember Sally Moore?" lays down the kind of winning formula that'll be Girl Scout's ticket to success.
For Fans Of: Hop Along, Remember Sports, Snail Mail, The Beths
Kinder Bloomen
Home Base: South Jakarta, Indonesia
Who Are They? A six-piece group operating off the beaten path in Indonesia, conjuring languid, hypnotic psychedelic rock and pop jams that'll have you melting blissfully in the sun for hours on end. Meditative guitar riffage, laid-back basslines, pulsating percussion, horns, and poetic vocal performances coalesce in molasses-like fashion. Kinder Bloomen is ideal smoke circle daydream music.
Where To Start: The zoned-out 14-minute jam "Taxi to The Massala Guy" will have you laid out and contemplating life's beauties.
For Fans Of: Altin Gun, The Allah-Las, Pond, Triptides
Kinoteki
Home Base: New York, NY
Who Are They? Part of the current wave of electronic producers lighting up the internet's DIY underground (and the RateYourMusic charts), Kinoteki has demonstrated a varied style of dance music – covering everything from IDM to house, footwork, atmospheric DnB and everything in between. With each new record released, the NYC artist continues to level up.
Where To Start: Dawn of the Final Hour, released last month, could be the best and most representative entry point into Kinoteki's already-prolific body of work.
For Fans Of: Naked Flames, DJ Sabrina The Teenage DJ, D. Tiffany & Roza Terenzi, Sewerslvt
No Windows
Home Bass: Edinburgh, Scotland
Who Are They? A fast-rising teenage duo made up of schoolmates who specialize in intimate, inspiring dream pop fastened around rolling waves of gorgeous static. Multi-instrumentalist Morgan Morris provides the perfect reverb-soaked backdrop for vocalist Verity Slangen's soft, immaculate crooning. No Windows have captured plenty of attention in the indiesphere in a very short amount of time.
Where To Start: Their most recent EP released late last year, Fish Boy, features the spectacular songs "Shout (Red Song)", "Spit (Blue Song)", and "No Clue (Green Song)."
For Fans Of: NewDad, Chromatics, I Break Horses, Peel Dream Magazine
Purity Filter
Home Base: Denver, CO
Who Is She? Fans of heavy electronic dance music will certainly get their fix from the pummeling hardcore breaks of Denver-based producer Caroline Wisteria Celeste, aka Purity Filter. The music is guillotine-like, with slashing atmospheric synth work and puncturing beats yielding a relentless soundscape of staticky, calculated chaos. For electronic heads who also love to head-bang.
Where To Start: Last year's LP Immortal Spirit is an astounding slice of hardcore EDM and one of the better electronic albums of 2022 in any subgenre.
For Fans Of: Machine Girl, Nanoray, Sewerslvt, Vierre Cloud
Skodi
Home Base: Miami, FL
Who Is She? A hard-hitting Florida MC with a wisecracking delivery and an affinity for hydraulic trap beats diced with dance club edges. SKODI has been grinding it out through the underground circuit for years but has recently graduated to some Rolling Loud festival slots, proving she's got the gravitas to command larger audiences, which she'll hopefully continue to play to in 2023.
Where To Start: Her recent shifty trap single "F.O.M.W." and its eye-popping video are as good as any entry point into her bubbling discography.
For Fans Of: Rico Nasty, Denzel Curry, BbyMutha, Amber London
Smoke Point
Home Base: Los Angeles, CA
Who Are They? An electronic duo from L.A. comprised of producers Sage Caswell and Brian Foote, Smoke Point crafts flowing, effervescent ambient soundscapes soaked with gentle flourishes of glitchy IDM and dub techno. They've already made an impression with their sole full-length release to date and they'll keep that momentum going should they re-convene for more recordings.
Where To Start: Their 2022 self-titled debut was one of the best ambient releases of the year, and we recently nominated it for an Imposey in the Ambient/New Age category.
For Fans Of: Space Afrika, Whatever The Weather, Skee Mask, Huerco S.
Stove God Cooks
Home Base: Syracuse, NY
Who Is He? One of the up-and-comers in the East Coast esoteric underground rap scene who has collaborated with everyone from Griselda to Roc Marciano to Mach-Hommy. His career has simmered ever since the release of his mixtape Reasonable Drought, but last year's melodic trap hit "That's The Game" brought him another level of buzz. Look for Stove God Cooks to really capitalize on it in 2023.
Where To Start: "That's The Game" is his most accessible entry point. From there, you can work backwards through his singles, features, as well as the essential Reasonable Drought.
For Fans Of: Griselda, Roc Marciano, Boldy James, WIKI
Two Shell
Home Base: London, England
Who Are They? One of the hottest new things in electronic music, if not the entire music scene. Usually we don't feature artists this well-known on this list, but the subversive and enigmatic IDM duo Two Shell has the potential to become one of the biggest artists in the world. Their mixture of catchy, festival-friendly beats and futuristic experimentation is simply too potent. So get to know them before they blow up, which could be any minute now that they've released another new EP.
Where To Start: There's really no wrong answer here. You'll likely be smitten with any track you choose. Their biggest single "home" is spectacular, as is their breakthrough EP Icons.
For Fans Of: Overmono, SOPHIE, Lorraine James, Bicep
URCHN
Home Base: Los Angeles, CA
Who Is He: Formerly of indie-pop band Inspired and the Sleep, L.A. musician Max Greenhalgh has made a mark on the surging lo-fi beatmaking scene via a gorgeous blend of instrumental loops, hip-hop beats and melodic vocal snippets. With URCHN, he's amassed an impressive Spotify following and a fanbase that continues to grow with each new record he releases and live show he plays.
Where To Start: His most recent collaborative EP with fellow lo-fi producer Shiloh Dynasty is his best work yet, featuring a beautiful re-working of "Pure Imagination," the twinkly Gene Wilder-sung ballad from Willy Wonky and the Chocolate Factory.
For Fans Of: Shiloh Dynasty, sagun, Knxwledge, potsu
Violencia
Home Base: Tijuana, MX
Who Are They? A snarling band from Mexico that has firmly entrenched themselves as part of the next wave of rising hardcore bands. Violencia has toured with and opened for some of the biggest names in the scene, and with their swirling, thrashy breakdowns and throat-clearing screams, they look all set to join those ranks soon. They're just one more amazing record and tour away.
Where To Start: Their EP El odio me hizo hacerlo is a perfect introduction into their world of ferocious sonic disarray.
For Fans Of: Sunami, Scowl, SPY, WORLD PEACE
Volatile Ways
Home Base: Newcastle, Australia
Who Are They? Australia continues to be a beacon for rising hardcore and metal-crusted acts these days, and Volatile Ways are another in a long line of future greats. The female-fronted band brings forth a highly technical, intimidating, and beguiling blend of metal and metalcore that flirts openly with the deathcore sphere, delivering it in a spooky and jaw-dropping live show package.
Where To Start: Their singles "Goddess of Rot" and "Time's Up" are just about the heaviest tracks you'll ever hear.
For Fans Of: Lorna Shore, Chelsea Grin, Darko, Spite
Yung Lain
Home Base: Bordeaux, France
Who Is He? Atmospheric drum and bass continues its latest renaissance thanks to a number of DIY internet-based artists, including the French producer Yung Lain (not to be confused with Lean, the rapper). Lain's take on the style utilizes a heavy amount of digitized static and sniper-like amen breaks, bringing forth the sort of intense emotional range that artists like Sewerslvt made their signature.
Where To Start: Last month's release May Your Heart Be Your Guiding Key is perhaps his best album yet, featuring my favorite track of his "Versus."
For Fans Of: Goldie, Dreamweaver, Sewerslvt, High Contrast