As the release stream of tunes turns into a slow leak, the end of the music year is almost upon us. While we still wait in faith for the year's final givings, we still have to endure the following follies: Courtney Love's great meltdown in Brazil over her displeasure at a fan who displayed a picture of Kurt (along with some hilarious jabs at the Foo Fighters), the Freddie Gibbs remix of Cults that could have used another verse, Brian Eno, Michael Stipe and Stephen Colbert singing "Lean on Me" in disjointed harmony, Feist's new song "How Come You Never Got There" putting me to sleep, and this SOPA internet censorship bill is scaring the daylights out of all of us. In the hopes that we will still be able to post new tunes for you all next year on this incredible invention of the internet, let us bury ourselves in the things that made us happy this week – and dare we say, hopeful? – in no particular order.
In our continuing month-long exhaustive coverage of The Sandwitches and everything involving their new single "Pearl," and their fancy European tour, we somehow were the last to know about the video for their excellent B-side of the aforementioned 7″ pressing, "Benny's Memory Palace." The Sophia McInerney animated video provides a textual translation of the 'Witches music, with karaoke sketch book hallucinations and no CGI trickery to be found.
Danish artist Anders Trentemøller wrapped up a national tour and a late night TV debut on "Last Call with Carson Daly" earlier this week, with a full band (fully equipped with a professional theremin player) . He also gave us a listen to a remake of "Neverglade" off his recently released album Reworked/Remixed on his personal imprint, In My Room. The track undulates with bass synths that chug while we are given a series of sporadic glimmers of guitar crashes and some occaisional brief sound-collaged ambience.
Also, I recently discovered Anders' reworking of The Stone Roses' "I Wanna Be Adored" that takes the original's building drum and bass beat, isolates it, and runs with the percussive trope throughout the course of the track, amid some other surprise effects and tweaks along the way. Just in time for that reunion…
Jacuzzi Boys caused a row this week when a 'fan made' video for "Glazin'" consisting of singing and dressed up vaginas stirred some controversy. Before any escrement or any other bodily fluids hit the proverbial fan, their handlers and advisors stepped in to save them the Jacuzzsters from themselves and any further calamity.This NSFW music video contraband (now censored) made their way via a love letter from 6 chicks and a dog:
"Jacuzzi Boys,
We know your on tour but want to send you this!!!
we made this account cuz of all the weirdos on youtube, but if you are in the band send us a message! You guys are so cute!!
our dream is to meet the boys, so if anyone that sees this knows them… make sure they see it and know that we are glazin' (lol) for them always!
hope u all like it!!
everyone else don't be pervy, it's just fun! vagina's are so sci-fi, right?
xoxoxooxoxo
smoochies
PS. GO CANES!!!!
"
Enjoy an all audience fan video for glazing inolving safe-for-work nuts and things below.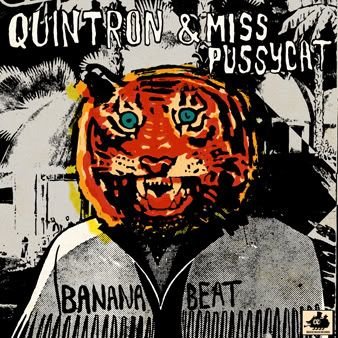 Quintron & Miss Pussycat gave us a digital stream of their song "Banana Beat" from a split 7" shared with Thee Oh Sees. Part of the Bruise Cruise party favor festivities, this organ hopped 7" is part of a limited edition vinyl collection featuring artists from the yacht festival's upcoming 2012 lineup. Complimentary gift bags with one 7" for all lucky attendees who get to enjoy a luxury liner that departs from Miami to the Bahamas and back again. Spring never sounded so posh.
And speaking of the Bruise Cruise, here is the line up thus far with the recent addition of our pal Mikal Cronin: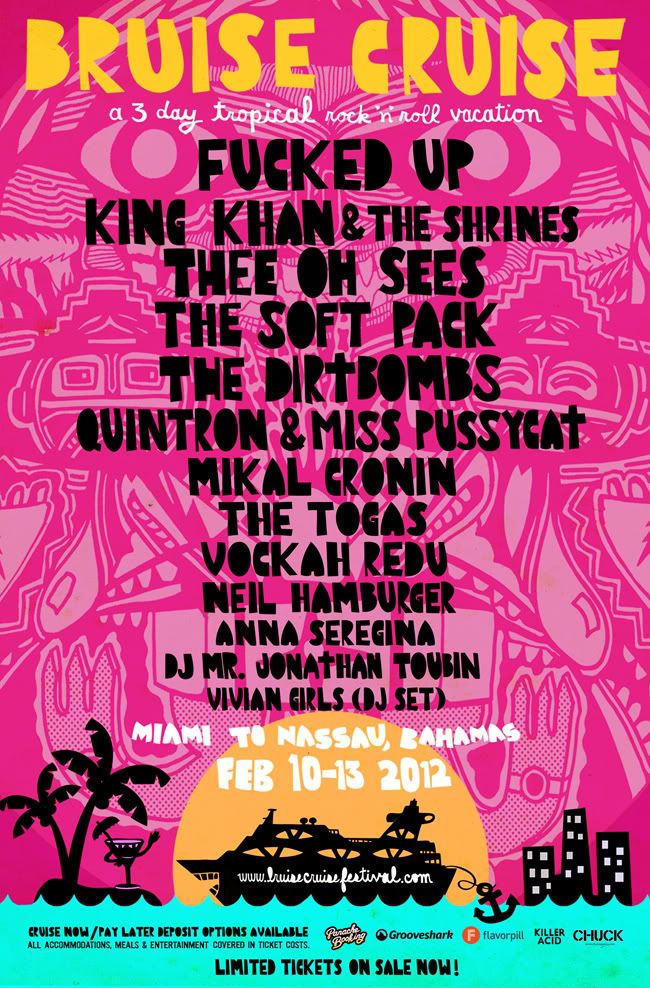 Maybe the folks from Thee Oh Sees can stow me away in some gear luggage or put me down as their spiritual guru/biographer dude. Or maybe not.
Wale is keeping the album release party going and gave us the posi-poetics of "Ambitious Girl" with a video treatment to drive home the deeply felt sentiment. Look for Wale's Ambition out now.
M¥rrĦ Ka Ba released his debut EP There's Only One of Us this week on Tundra Dubs. We heard M¥rrĦ's collaboration with Zombelle last summer with "Tropocalypse," where the foundation of his far and dark reaching sound begins to break the full ground that you are about to hear on tracks like "432hz." You can purchase the EP on their Bandcamp where this five track wonder can be yours for with a no seapunk guarantee.
Real Estate released their video for "It's Real" and the crowd goes wild. You can always count on the creative team at Weird Days to keep the old faded film reel nostaglia 'real' and those familiar yet sketchy memories weird. See and listen for yourself to perhaps to one of 2011's best singles from one of the year's best albums.
But that's not all. Because we are all in the throes of Real Estate ecstacy here in the office, we are even throwing in their Relix session of "Wonder Years."
We caught up with our discreet inner circle of tastemakers and talent scouts from Puerto Rico who have been extolling the merits of the Afro-Cuban/Brazilian/Andean sensation, La Quilombera. These confidential trendspotters have not shown this much excitement since they propelled Calle 13 to international super-stardom half a decade back. This week La Quilombera dropped their video for "Robando al que me Roba" (roughly translated, 'Stealing from he who steals from me') that recreates the classic Rockers film in 4 minutes and 18 seconds time.
Spanish Prisoners got their track "Know No Violence" remixed by Sun Glitters earlier this week. At about 2:40 into the song, Sun Glitters split their already vinyl-in-the-sun warped vision of "Violence" in two with an even weirder epilogue that will bathe your ears in something more potent than Vitamin D. Spanish Prisoners' album Gold Fools is out now through the pay-what-you-can system on their Bandcamp.
Hamilton, Ontario's Sandman Viper Control has been introducing themselves to the rest of the world with the track "Metal I've Spent" off of their recent debut Everybody See This. They are Canada's new poster boys for barn recording, after trading in college-ruled paper for guitars. Not sure what college tuition is these days with our friends to the north, but if it is anything like here in the States than you are better off in rock n' roll band than being another commuting careerist spending your life in traffic queues en route to busy work jobs you hate while paying off an unforgiving school loan debt. Good work boys!

Also check out th Viper Controls perform their new tune, "New Fast" live here:
Last we weeked we introduced you to Tanya Morgan (Donwill and Von Pea) and this week the team are giving you one last taste before dropping You and What Army on November 22. DJ Low Key keeps the mood celebratory with handclaps, piano aplenty and Don and Von's swagged out flows that will more than hold you over until Tuesday.
The continuing buzz surrounding Keep Shelly in Athens is doing some real positive PR work for their hometown besieged with austerity-measure-protesting/rioting over their EU bailout. The synth thump "Our Own Dream (Blackbird Blackbird remix)" uses vocal pitch and delay effects that create a heady and a confidant swagger to make even the hardened protester smile. Perhaps this single and remix could not have come at a better time for our Greek neighbors and the 99% of us.
Also released late as of this Friday is KAIA's video for "California Birds" that brings Greek beats like West Coast treats. That really meant to sound better, honest.
hasHBrown released the video for his track "Heaven" off of his upcoming Break Something LP. With his album release coming soon on November 30, here is what hasH had to say about the day and night light continuum for his new video: "The video goes from darkness to light with the scenery behind me which ties into the theme of 'Heaven'…going towards the light." With some heavy '60s guitar lick samples and what sounds like live tracked percussion, "Heaven" might take you there.
D/R/U/G/S dropped the heavy electro jam "Mila" off of their upcoming EP Connected. We can look forward to more beat-diary-jungles on November 28 on the Moshi Moshi imprint Tender Age Records. With a slick beat, erratic and at times piercing synth bursts, the chopped vocals blend seemlessly within a logic of the track's own rendering.
We know you've been grooving to the Constant Deviants' Platinum mixtape but we wanted to give you the video for M.I.'s love ballad to Brooklyn "Fulton Street" as you start your weekend proper.
Dinosaur Jr. gave us word that they will release their first three albums Dinosaur, You're Living All Over Me, and Bug on cassette compliments of Joyful Noise Recordings. For $39 you can own the legendary albums (originally issued on Homestead and SST respectively) in custom-built, screen printed wooden boxset equipped with the band's perenial 'monster' artwork. But act now because this re-taping deal of a lifetime is limited to just 500 copies folks.
And finally the Beverly Hills man of mysteries Frank Ocean was voted "Rookie of the Year" for this year's edition of GQ's "Man of the Year" issue. Being that it was about a year ago we here at Impose and the Goldmine Sacks branch jumped on the Ocean bandwagon even before the release of this year's excellent Nostalgia Ultra and appreciate the man's work beyond the Odd Future continuum along with his behind the scenes work with Kanye and Jay Z. These collaborative works serve only as a facet from a larger part of the man's creative work. Frank Ocean is coming to NYC to play the Bowery Ballroom on November 27 and 28 to more than make up from his earlier cancellation November 6. Happy Thanksgiving folks.