As 2015 proves to be as volatile and slippery as the former 2014 era, Impose's Week in Pop is still here to keep us inspired with hopes fixated on today and tomorrow's artists of escalating prominence. But first we take you through the top stories you might have missed in the feeds: first with Death Grips releasing a "new instrumental full-length soundtrack" called Fashion Week; Lady Lazarus' new album Miracles has been announced for March 3 release from Melissa Sweat's Queen's Ransom imprint; while Lana Del Rey talked her new upcoming album, Honeymoon; as Danny Brown is evidently working on a Dr. Seuss-style book; Lykke Li takes a break from making the international festival rounds; Run The Jewels are opening for Jack White January 30 at Madison Square Garden; Joey Bada$$ got into an alleged security guard scuffle at Falls Music Festival in New South Wales, Australia; the hype around Sony's $1,199.99 Walkman; Neil Young's PonoMusic prepares for take-off; Lil Jon's response to the 2015 Coachella lineup; Swervedriver are back from the 90s with the forthcoming album, I Wasn't Born to Lose You available March 3 from Cobraside; Silver Jews are also back; and Morrissey shared his delight in seeing a bull gore a matador in Mexico City in a True to You post titled, "The shame of beloved Mexico".
Right now we are proud and privileged to present the following breaking world exclusives and interviews with, BLSHS, Dear Tracks, Grand Lake Islands, Jonathan Sibha, Boulevards, Rose Quartz, co-curated by Eskimeaux, and more — in no particular order.
BLSHS
When we last caught up with Houston's  electro trio BLSHS, we discussed their Abstract Desires EP back in the summer of 2013. Now we catch up with Chris Gore, Michelle Miears, and Rick Carruth, on the premiere of their new single, "In And Out". Pushing the conversation into deeper production territories than their previous synth-dressed styles; BLSHS continue to paint in different coats of musical mascara colors that translates to new felt rhythms and blues sensations that are more concerned with surveying and spinning the creative loom to sew together the future sound of Southwest lover's rock.
On the debut of "In And Out", Michelle's voice rings out with melodic reflection and thought over Chris's collection of keys, and Rick's restrained 808 drum textures. The dimensions of BLSHS' soundscapes grow into even greater expanses, where their synthesized pop signatures move into the more understated areas where every iota of audio involved has room to breathe and just be. Miears' delivery remains at the heart, where her vocal range proves to be greater than before in a mix where even all electric components resound with an organic cadence of heart-beat-sequenced life. The ins and outs of life's arrivals and departures are described and translated on a microcosmic scale, as felt, and understand on an inner, emotional, and personal level, where new meanings are discovered upon repeat listens to, "In And Out". Joining us after the following debut, Chris Gore talks with us about BLSHS' new directions, with insights and hints on their upcoming full-length album.
The latest buzz happening in Houston these days?
2014 was an amazing year! We were nominated for five Houston Press Music Awards and won two: Best New Act and Best Electronic Act. Abstract Desires EP was on the Houston Press top 25 local albums of 2014. The music video for "Gave It Away" made the Houston Press top 5 local videos of the year. Our song Runaway made the best of 2014 over at Strangeways Radio — Halcyon Waves.
What creative aspects of of your sound composition have changed since last January's Abstract Desires?
Rick has been building up his drum machine collection and we've pretty much gone all hardware for our newer songs like "In And Out". Using hardware also allows us to get together and just jam on ideas in real time, more like a traditional band, which is a lot of fun. Abstract Desires was mostly written by Rick sending over a beat, then Chris would add some bass or synths, then Michelle would write and record vocals, then we would build out the song and arrangement from there. For the LP we've all been writing full instrumental demos, or in Michelle's case full songs. Its like we start at what was round 3 before.
I feel like the three of you have honed in on some really ethereal, and floating production elements on the single "In And Out"?
Thank you. Michelle has grown so much as a vocalist over the last year and Rick and I are much more confident and ambitious about what we want to do production wise. Abstract Desires was deliberately focused, we picked the demos that made the most sense together and would help establish BLSHS to the world. As a result we've noticed an expectation that we are in this narrow 80s throwback synth-pop niche, but that is not the case with the new songs. Anyone expecting Abstract Desires II is going to be surprised.
So we heard you all are locking yourselves in the studio to record your album. What notes, communications, abstracts can you all share on the progress so far?
We already have over 20 demos (10 with vocals) we are working on and are still writing more. We've got some much faster songs, we've broken the 120 BPM barrier. We've got some much slower, sexier songs. Overall we are shooting for a very dynamic album. Something that you want to listen to from beginning to end, that takes you on a journey. We've seen some electronic acts put out LPs that are either very short, or are just a new single or two and then filler songs from a previous EP. That doesn't seem exciting to us at all. If we sounded a little retro before, we are trying to imagine the future with these songs.
What other blueprints, spirit animals, charms, guidelines, etc, might also be at work here with this new album in process?
Our blueprints would be things like color, space, sound, balance and tension. We're really trying to make something more dynamic this time around so we're paying more attention to things like that. There are definitely some other forces at work with us in the making of the new record. Our individual spirit animals are an 808 (Rick), analog synths (Chris), and a poodle (Michelle). However, they collectively get together to form a poodle with a single tear drop suspended in air by the deep rumble of 12HZ, side-chained to an 808 kick. Other charms would be things like pizza, tacos, candy—the essentials. Michelle has been exploring chaos, the concept of the butterfly effect, the course of her life so far and why things have happened as they have.. "Regrets, wishes, nostalgia, dreams.. I retrace my steps a lot, but in addition to my past, I also write about my present and future."
Recent Houston artists you all really dig?
George West, Us (who wins for most confusing band name ever but has the talent to pull it off), Wrestlers, Sand Dunes, New York City Queens have a new album coming out, Children of Pop blew everyone away at our NYE Party the other night. Bang Bangz. The Suffers aren't particularly new, but they are posed to have a huge and exciting 2015, they are amazing and deserve it. On the hip hop side, Fat Tony is killing it and this new guy De'Wayne Jackson is rad. Gio Chamba, FLCON FCKER, Android Genius, we could do this all day. Houston is killing it right now. Shout out to our homies from Austin: Sphynx, Flavor Raid and Feather Face too.
Reflections on what 2014 taught you all?
2014 was a really great year for us. We learned a lot through all we accomplished this past year, and every experience taught us something different. What we probably take back the most from last year is gratefulness. Getting to make music is wonderful, but having people out there that dig what you do is really very cool. We're very grateful for our listeners.
Thoughts on the creative road ahead here in 2015?
The creative road ahead is very exciting. We're really looking forward to the new material, and we're doing our best to take the time to craft something special. None of us are the same artists we were last year. We've each grown individually, improved our skills, and have found some new inspiration in a lot of music that has come out over the past year. We're anxious to explore these new ideas and create something we're really proud of.
Listen to more from BLSHS via Bandcamp.

Dear Tracks
Portland based record label Track And Field Records (who recently gave us the luxurious and plush world of Leisure) begins 2015 with the debut EP from Grand Rapids band, Dear Tracks, as we premiere the title track video for, "Wildflower". Beginning as the bedroom project of Matt Messore, who invited along the fellow talents of Ben Pozniak, Victoria Ovenden, and Jake Wiltse heard on the heart-strung dream song of their upcoming EP available February 23 from Dizzybird Records (digital distribution), Citrus City Records (for cassette), Beko Disques (Europe), and 7″ vinyl from the PDX's aspring new school dream pop imprint on the move — Track And Field.
On the premiere of Dear Tracks' gorgeous title track and video for "Wildflower"; Matt Messore and the gang take the intimate Midwest mindset of a million, blooming days of spring to the vision informed tapestries that dovetail with the dream-gaze songs and sonnets found among the Pacific indie communities. The video is made true to the song's sentimental feel, where the melodic vocals harmonize across fields of wildflowers that bloom to greet the day's sun with their own subtle, sweet, and serene natural ceremonies and ritual. A wandering belle can be seen throughout making her way through the hillsides, pastures, and watersides that chronicle the sunrise and sunset cycles of post-winter worlds. Shadowy performance footage of Dear Tracks are interwoven with the beautiful images of breathtaking, rural locales as the band's sound takes the form of a natural force where their guitars, Matt's earnest yet hushed vocals, and everything in the mix can be heard and felt like the whistle and rush of the wind, to the photosynthetic warm heat from the sun's beaming rays. Following the video debut for "Wildflower", join us for our interview with frontman Matt Mesore.
Take us to what the world of Grand Rapids is like, and what it means for you all at Dear Tracks?
A world full of reverb…
How did you all forge a creative alliance as Dear Tracks?
Dear Tracks started out as a solo project existing only in my bedroom. Dear Tracks played a few shows in the Fall of 2014 and as of recently, formed with the perfect candidates who are really jazzed about playing / creating dreamy pop tunes.
Walk us through the spring like freshness of gardens, and paths that make up the lush natural world of "Wildflower", and the making of its sister single "Connectivity".
After working on a few demos, "Wildflower" blossomed without me even realizing it. It began with three different song ideas actually and one day I meshed them together into what is now "Wildflower", an ideology about everyone's chance to bloom. "Connectivity" was the first song I demoed to public as Dear Tracks, which I felt was a good starting point. The feeling for Connectivity was inspired by The Jesus And Mary Chain's "My little Underground".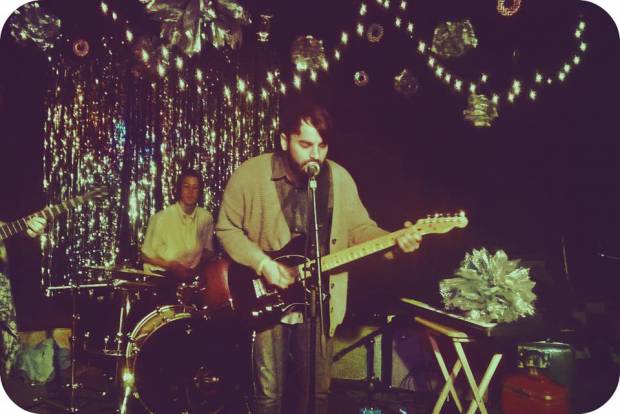 How did you fashion these wind breezing chords, and progressions into the idyllic video full of flower-filled pastures and all the makings of a beautiful, endless, day?
I wanted the music video of "Wildflower" to be a cinematic portrayal of the feelings that the song conveys, with the focus of the video being on clips that were the inspiration for the song to begin with.
How did this intersection of partners from Track and Field Records, to distro via Dizzybird Records, Beko Disques and the limited cassette from Citrus City Records come about?
Track And Field / Beko Disques / Citrus City came together piece by piece with the help of close friends in the community that really want to stay connected and grow through music. With Dizzybird, I really like that it's a representation of Grand Rapids and we wanted to be affiliated with where Dear Tracks' roots are.
What might you all be working on next?
We have a few shows coming up, we've been working on new songs that we are very excited for. Also really looking forward to touring as much as we can hopefully starting this Spring / Summer.
Other Grand Rapids artists that you all want to give a shout out to?
Jade TV [solo project of James Allen, as profiled in our previous feature]. He recorded the Dear Tracks demo and will be playing at our next show at The Pyramid Scheme on January 29.
Dear Tracks' debut Wildflower EP will be available February 23 from Records with digital distribution through Dizzybird Records, Beko Disques (Europe) with 7″ vinyl pressings available through Track and Field Records. Citrus City Records will also provide cassettes with bonus demo tracks.
Jonathan Sibha
Sometimes there is a sound, or perhaps a collection of sounds that captures the bulk of your being, imagination, and the faculties involved while taking in full-length motion picture. Such is the compelling, unusual but intimately enticing earth traveled by Jonathan Sibha, who discovered through bandmate James Krivchenia of Happy You. Our introduction to their February scheduled album, Secret Lovers was about a group who spent copious amounts of time watching Twin Peaks and The Shining in Northern Minnesota when they were recording, bringing us to the grand premiere of the Stephen King-Kubrickian nod and odyssey in its own right — "The Shining".
As the lead track of Secret Lovers; "The Shining" sets the tone of the album full of mystery, anguish, obfuscation of identity, all making for one hell of an album opener to remember. While other album cuts like "Maria" showcase the atmospheric diversity of the album's vast arrangements, Jonathan Sibha devastates with "Shining" in new ways you never thought you could be devastated by a song before. Modern comparisons might recall the similar cinemascopic senses from classics like 10cc's "I'm Not In Love", but here the piano guided heavy heads and anvil weight hearts of lead crush with misconceptions, miscommunication, and more with the mistakes and missed expectations on the lamentations like, "I'm more than what you want me to be." Everything on "The Shining" is arranged to the utmost effect of emotional extremity. The unraveling of relationships and the discussions of what each individual in all involved parties wants and desires is brought out through the evocative synths, and serenity that is disintegrating in a slow motion free fall felt like the end of nearly every Kafka story of unimaginable fall-outs and discontinuities. Every lyric and instrumental element reinforces some of the most earth shattering aspects of personal worlds collapsing and falling into crisis while the entire affair remains rumbling in an eerie, dead calm. "And I couldn't leave you just for anyone, but you're not the same as you used to be, or who you were supposed to be…" Jonathan Sibha gave us a look into their world in the interview following the meltdown anthem of monolithic proportions; "The Shining".
Describe this period in Northern Minnesota when you all were watching everything from Fargo, Twin Peaks, The Shining, The Good Wife, and whatever else was on the tele, and how it inspired you all.
We watched local news every night. Dylan recorded his bass lines while watching The Shining. Besides that we didn't watch much television up in the iron range.
How has the environment of Northern Minnesota inspired the sound, the pacing of the music, the atmospheric, and open nature of so much the music's expanses?
That would be hard to pin down in a concrete way. It was real cold and we were heavily isolated. We all recorded a lot together as a group, but spent a lot of time working on parts separately. We were in the woods. We recorded outside. We were in no rush. The isolation was probably more influential than the environment.
How do you all describe the writing and recording dynamic that contributed to this release?
Writing is indescribable and slow. Recording was wild. The Wood Shop (aka studio) was cookin' 24/7 with Keith recording through the night, and then James waking up in the morning, and tucking Keith into bed. Brian mostly played horn in a gazebo.
Other Northern Minnesota artists you all really dig?
Judy Garland.
2015 hopes, plans, prefaces?
There will be shows in NYC. Lots of new songs are done.
Jonathan Sibha's Secret Lovers album will be available later this February via Bandcamp.

Grand Lake Islands
There has always been a kind of connection between Portland and the Monterey Peninsula, between communities of transplants, and free wandering spirits. In an extremely rare way, musician Erik Emanuelson actually captures that kind of Pacific leaning westward section, while chronicling the spaces that connect the roads and highways in between on the world premiere of "Monterey" from the collective lead by Emanuelson, Grand Lake Islands. Found on the upcoming album Song From Far available January 20 from Good Mountain Records; Pacific Northwest thoughts, feelings of yearning, and the dearest attachments traverse to the peninsulas and California Bays that continue to inspire and ignite the imagination of almost all who have graced the coasts' ineffable expanses of infinite majesty.
Inspired by the absentia of Erik's fiance Robin Bacior (who is also set to embark on an upcoming tour with Grand Lake Islands) as she toured the Bay; Emanuelson keeps the Portland embers alive and burning with the wistful and wayfaring wonders that wander elegantly along the sleepy foglands of, "Monterey". The California and Oregon trails are detailed through Erik's thoughtfully strummed song, the time-warp twang of Evan Krogh's lap steel, and trail stomping rhythm from Bob Reynolds's percussion and bass by Kyle Hartlet. Basement sessions at Erik's abode informed the echoes of isolated evenings, that stir the landscape and air eco-sphere of a certain west coast lonesome that prevails between separated hearts-both near and far. We had the pleasure of getting to know Erik in the conversation following our premiere of, "Monterey".
Describe for us the move from NYC to Portland to shift your focus from teaching English to focusing on your own music with Grand Lake Islands becoming more of a collective.
The move across the country to Portland was monumental for me in many ways. Aside from the lifestyle changes that moving from the madness of New York City to Portland, there were also a lot of mentality changes. Since I had diverged from my previous career path, all of my eggs were now in one basket. The stakes were a lot higher. Fortunately Portland is a nurturing place for an artist to grow into themselves. Of course, the move provided plenty of fodder for writing, as well as more than a few "what the hell am I doing?" existential meltdowns. However, I've also learned to be more disciplined in playing music and doing all the work that surrounds being in a band. I've learned to have a little bit more faith in myself.
We have heard that "Monterey" was inspired by your fiance Robin Bacior on tour in Monterey, while you were in Portland under a rainy sky. What was the composition process like under those circumstances?
Well Robin was out on tour, and was in that area. When she got back we were supposed to move from the top floor of this duplex to the bottom floor apartment. There were people in there everyday working on repairs, and making a lot of noise. The weather was obviously beautiful down there in California. For the most part, it was typical February dreariness here except for on this one particular day it was sunny and mild. I wrote most of the song while sitting on the porch observing the euphoric madness that a sunny Winter day can bring to Portlanders. Everyone was running around outside, kids were yelling, lawns were being mowed. I wrote the rest of the song later that night when I found where the workers hid the spare key to the downstairs apartment. I sat in empty, boom-y rooms and played. The song ended up being a conversation I was having with Robin on this fine day, kind of thinking about the future for us and wondering if we were making mistakes in pursing music.
With Grand Lake Islands and Robin setting out to tour together, what are you all the most excited about?
Touring is a really exciting thing for me. I romanticize it pretty hard. But in reality, it can also be discouraging and challenging. I am excited to have Robin there so that we can support each other. I've also gotten to experience the whole 'alone on the road' element of touring, which can be cool in its own way, but now I am so happy that we get to go out and experience it all together. Being with someone who is also a musician can be hard, but you share this understanding. Being able to both be out on the road and experience that together is not something too many people have the chance to do. I am also excited to goof around with Robin's bandmate, and my good friend, Dan.
What is it about the Monterey x Portland connection? It seems that many folks from Monterey have felt a certain draw to the PDX territories…and Monterey has always had a place in the heart of pop music, Monterey Pop fest, mythologized by the Jazz Fest, '60s stories, gorgeous coasts, etc.
You know what, I am not sure! I think Monterey just sort of holds this majesty and mystic that reminds us of a time that many of us still find droves of inspiration in. There's just something about the California coast that continues to drive its way into people's souls. I think that Portland has some of that same mystic to it. Not only is there grandeur in the landscape, but the people are progressive and creative. There is a spirit creativity and a sense of deliberate movement that I think people are drawn to.
What sorts of shifts were present in your own approaches to the song construction craft between 2012's Wake of Waking and the upcoming Good Mountain Records LP, Song From Far?
Wake of Waking was a lot about beginnings. It was about learning to write songs. The songs on that record, and a few that I ended up cutting from the final release are a little bit more straightforward both lyrically and musically. The arrangements were done mostly in the studio. However, this record is more metaphorical, and in my mind has a more focused sense of mood. Many of these songs took a lot longer to write, especially the lyrics. A lot of the record deals with some heavy things that were going on with people I've known for so long and care so deeply about. I wanted to protect their situations, so I dealt a lot more in abstractions. As a result, the lyrics became almost dream like. Musically, this was a whole different beast. Most of the arrangements were done before we recorded them. The boys and I would go down to our basement practice space, and I'd play the song for them, explaining what I was writing about. Sometimes I would describe images to help convey the mood. After that we would just sort of get lost in the song until it started to emerge. The process was pretty similar each time.
What has evolved from your own song craft process, growing from a singer-songwriter project to a growing ensemble?
One thing that I've noticed is that I've learned to keep the song more open. I've learned that if you want to play with other people, you have to leave room for them. It's also important to let songs evolve and grow naturally. That being said, I've become more patient with my songs. Having a band means having an audience for a new song, in a way you have to audition it. I used to be so eager to share new things, even when they were not ready. I'm more patient now.
Can you describe for us how you all write and record together?
I absolutely love playing with these guys. As I said, we did a lot of the writing in my basement last winter. The electricity down there can't handle a lot of voltage. Therefore, the heater usually got the boot. As a result, we kind of got lost in the songs as a means to stay warm, resulting in some of the longer musical sections in songs like "Silver Moon". The recording process was amazing. Victor Nash is not only talented, but knows how to bring out the best in a band and make them comfortable. His studio space is cozy as all get out, so we had no problem hunkering down there until our eyes felt like they were about to bleed. We recorded most of the instrumentation live as a full band, which was a blast. However, we definitely got lost in some of the overdubbed soundscapes on the record. Evan and Victor worked together to deconstruct the songs and overlay them with loops and feedback in a way that gives the record a cohesion.
What is it about these expanses and areas of isolation that inform much of the vast, sweeping arrangements of your sound?
Mood has become extremely important in my songs. Jason Molina is one of my heroes, and he is a master of mood. I want the songs to feel like a place. For example, in the Songs: Ohia song, "Steve Albini's Blues", I can picture the rustbelt wasteland stretching out to distant city lights; it's so clear. Many of the songs on the record carry a sense of wide-openness. Sometimes that wide-openness can feel stark and isolated, but other times it can feel freeing and dreamlike. "Monterey" is more or less a daydream and I think it carries more of that ambling, dreamlike expansiveness.
What is in store for Grand Lake Islands?
Well, we will be doing a lot of touring. Our drummer, good friend, and first bandmate, left for Thailand shortly after recording the album and will be back in April. We've been fortunate enough to have awesome people to fill-in, but he is a huge part of this band, so it will be great to have him back. I will be doing a solo tour with my fiance Robin Bacior at the end of this month and will celebrate the release of our album at Mississippi Studios here in Portland on February 15.
Tour dates:
January
09 Astoria, OR @ Voodoo Room*
22 Ashland, OR @ Mix Sweet Shop*
23 Sacramento, CA @ Naked Lounge*
25 San Francisco, CA @ Viracocha*
29 Los Angeles, CA @ The Fold Presents at Bootleg Theater*
31 Phoenix, AZ @ The Lost Leaf*
February
06 Berkeley, CA @ house show*
07 Chico, CA @ house show*
*w/ Robin Bacior

Boulevards
Raleigh, NC's Boulevards made a big impact the other week when the artist — born Jamil Rashad — rocked our worlds with the single of future sex-and-sun-and simmer salutations, "Sundress" ft. Lena Carr. Now that we are here at the top of 2015, Boulevards cranks up that cruising cool to danced up tight funk-zapped pop on "Got To Go". The new-schools of disco get taught a lesson with some of the freshest slaps around.
On "Got To Go", Rashad wastes no time in dropping the bounciest percussion engine that drives the entire production to fly forward, firing on all cylinders. All the snazziest synths are employed, as Boulevards keeps the bass buttressed with a mind, a groove all of it's own. Following up our previous conversation, the other day we had further chats with our new favorite artist who is already all the talk of big time pop artists like La Roux and Rollergirl!. Jamil Rashad joins us right after the listen.
With every Boulevards track, there is a feeling that you are switching lanes and getting into a whole other style to fit whichever track you got cooking. Was choosing the name Boulevards a way to demonstrate and allude to the different routes and roads you want your sound to take?
Yea, I looked up the definition of Boulevards and I felt it was me and what I represent. It was what I was feeling. I do what is best for the song and the music. I try out different ideas to see if they work or not. Sometimes they work, sometimes they don't. To me, music is just ideas turned into sounds, and sounds turned into arrangements that make a song. I like to explore different sounds, but keep them cohesive and still have that infectious groove without turning totally away from my style.
Give us what inspired this big, bold, and brightened up bounce of "Got To Go", and how you infused so much energy, funk, and free feelings into two minutes time?
Got to go is just a sample of whats to come, It's party funk! It's a fun song to keep the dance floor scorching. There is a lot of trap music, there is a lot of EDM music with the same build ups you hear at clubs, parties and blogs. I wanted to bring that funk and infectious groove. People can't deny a good groove. You can't deny the funk. Rollergirl! slapped on some stank bass and funky synths. It's party funk orchestra. We had an idea to make you move and groove, that was it. An Infectious groove and an infectious hook. It's fun music.
2015 plan for Boulevards?
Well, I'm just writing a lot of music, and putting it out how I want, with no labels. I'm working on some EPs right now with some composers who understand the funk and groove. They are talented and I'm excited to share these party jams we have been working so hard on.
Lessons and insights that you took away from 2014?
It was a year where I found myself learning a lot and growing a lot. I know what I'm capable of and not capable of. Surround yourself with people who believe in you and help you grow as an artist but also as an individual. But most important believing in your vision and what you can achieve and staying patient.
You are the guy to talk rare groove, rare prints and the like so I got to ask; give us five of the some of the lesser known, forgotten/lost/rare cuts you have been spinning lately that have been inspiring, and motivating you, personally, creatively, etc.
Ahh man, where to start, I have been listening to so many cool records. I have been listening to alot of Colonel Abrahams, he has these two jams called "Trapped" and "Not Gonna Let Gonna Let You" It's to die for.
A lot of slave records, They are like one of my favorite groups, them and the S.O.S Band, I just love there arrangements, syncopation, hooks, melodies. They make a lot of party funk jams. I've been digging some Crown Heights Affair, a funk band called Brick, Aurra, Kano, Serge Posnar, just to name a few, So many to name. But that's what I've been listening to a lot of.
We're still marinating on that amazing, slick, soft, and sweet pop of "Sundress"…where do you see the future of all these sort of pop sounds soaring toward?
Thank you man, "Sundress" is just a pop song, just like "Got to Go" but two different sounds. I dont know where I see pop music going. There is some great pop music and there is some bad pop music. All I care about is making pop music that I like, nothing more. Focusing on making the funkiest jams possible, the grooviest jams possible. Making party funk orchestras for the moment and jams that are timeless.
Listen to more from Boulevards here via Soundcloud.

Rose Quartz
Catching up with Denver dudes Rose Quartz, we marinated on the popped-out passion fruit flavored production of winters in July brought in their Axis of Love EP from the Red Bull Sound Select series. We catch up where Ethan and Alex left off as Flashlights and Mancub melted down, following the band through life's ups, downs, ins, outs, and what have yous to savor their latest contributions to the pop music canon.
So jumping right into it, Ethan and Alex turn up their production sensibilities on full blast on "Leaving Now", where desperate and detrimental moments and situations are brought to synthetic standoffs with the "long walk" zap, buzz, and echoing blur. Upping the perscription recomendation, "Medicine" operates on that level of pop consciousness that takes the Denver indie electro pop into the large leagues and arenas of something larger than the humble beginnings of the illustrious Holy Underground family. But of course there are more tricks up Rose Quartz's sleave as they balance the dedicated arty experimental craft of electronic composition with the song you are about to be hearing everywhere pretty soon on, "Something To Believe". And once again, followers of the Flashights, ManCub, Rose Quartz, and HU lineages will once again have their beliefs reaffirmed Join us after the listen for our interview with Ethan and Alex.
Tell us about the process of writing these new songs from the Axis of Love EP during the 2013/2014 winter under sub-zero degree temperatures.
We (Ethan & Alex) wrote the Axis of Love songs in a 10×12 backyard converted home gymnasium in Denver, CO in the sub-zero Winter of 2013/2014. We had both gone through some pretty tumultuous times in the preceding 6 months, mostly with regard to our jobs and personal relationships, and we made this EP to get it all off our chests.
This was also our attempt to have fun making music again after the fizzling out of previous bands Flashlights & Mancub, and it worked. We wrote these songs with heaters blasting and the volume perpetually cranked up to 10. We exploded a couple electrical sockets and froze our asses off, but we had a wonderful time. You'll probably hear it pretty clearly in the lyrics, but we were trying super hard to get over the past, and we definitely came out with a fresh outlook on music and life.
Do you feel that tumultuous times and circumstances turn into creative gold?
Not necessarily. We've written some of our favorite tracks when we are at our happiest and some god-awful tracks during bad times, so I wouldn't make the correlation that strong. That said, I do believe that bad circumstances often force people to become more introspective and thus provide really great inspiration for art. I definitely get very melancholy at times in the writing process and it allows me to dig deeper into the emotions I'm trying to convey lyrically.
I'd like to share my favorite quote on melancholy & creativity: It's from Stutterheim —a Swedish Raincoat company so the artistic references are lost on me, but the overall message is loud and clear.
Feeling blue inspires creativity. What if August Strindberg, Ingmar Bergman, Karin Boye and hundreds of other famous Swedish artists had felt happy all the time? Would they have produced their fantastic work? No. Being melancholic is an essential part of being a human being. If we try too hard to get rid of melancholy it's almost like we're settling for a half-life. To embrace melancholy is ultimately to embrace joy.

Melancholy shouldn't be confused with depression. Melancholy is an active state. When we're melancholic, we feel uneasy with the way things are, the status quo, the conventions of our society. We yearn for a deeper, richer relationship with the world. And in that yearning, we're forced to explore the potential within ourselves — a potential we might not have explored if we were simply content. Through our melancholy we come up with new ways of seeing the world and new ways of being in the world. Melancholy and creativity go together like ebony and ivory on a piano.
How have your previous works from Flashlights and ManCub informed the newest Rose Quartz works?
So before Rose Quartz, we were both the second half of each other's projects. ManCub was noise/dance punk and Flashlights was an electro-pop act. We'd even play shows back to back as a duo, where we would literally just switch places on stage between sets. What I'm saying is that that we know each other's individual style extremely well at this point and we know where to play off each other's strengths. The coolest thing in combining our efforts is that stylistically our scope is much wider. We can make a laid back soulful piano intro to a song and then close it with a wall of noise (see "Leaving Now"). Sonically, there's just so much room to explore.
Walk us through memories of making the following cuts, "Leaving Now", "Medicine", and "Something To Believe", off the new EP.
All three of these tracks were extremely collaborative efforts, with "Leaving Now" probably having the most interesting story. Alex emailed me a piano track that he had written and I chopped off the intro chords and started a totally new song with them. I built the beat and came up the verse/chorus melodies, recorded some lyrics and sent it back to him. From there, he came up with overall structure, the bass line, the bridge and the transition into the huge 3rd chorus and outro that you hear in the finished version. From there we got together in our home-gym/studio and layered more guitars, drums, synths, etc until we were at a good middle ground.
The second and third tracks — "Medicine" and "Something to Believe", we started and finished together in the studio and they probably went through like 10+ versions of each before we settled on what you're hearing today. I know we changed the bass synth tone on medicine a maddening amount of times ha ha.
Recording this EP was the first time that we had incorporated live drums and guitars into our electronic productions and it was SO much fun. We're never not doing it again. Almost every synth tone on Axis of Love was built on an analog synth, mostly from the JX3-P, the Juno-60, The Prophet 08 or Alex's custom Eurorack modular synth. We barely used soft synths which is a first. We also recorded a lot of the drum and vocal samples that you hear on the EP, just making snaps and clicks and weird noises into microphones for hours on end. It taught us a hell of a lot about how we want to go about recording in the future.
The latest report from the Denver scenes?
Everyone is killing it out here right now! We are so happy to be from Denver. Right now we're really into Wild High, Sunboy, Option4, the Holy Underground roster, and everything going on with Fancy Matthew and the Weird Touch parties, to name a few.
2015 prayers, hopes, thoughts, and more?
We're really just getting started. We'll probably drop a few more singles/collaborations this Spring, but we can't wait to buckle down and get to work on a full length. We have SO many ideas.
We're also very excited to go on tour as a four-piece live band supporting Generationals through the Southwest. We're big fans of theirs so it's going to be quite the treat. We might just announce a whole bunch of March dates soon too.
January
30 San Francisco, CA – DNA Lounge
04 Phoenix, AZ – The Crescent Ballroom #
05 Pioneer Town, CA – Pappy and Harriet's #
06 San Diego, CA – Casbah #
February
07 Santa Barbara, CA – SoHo Music Club #
09 El Paso, TX – Lowbrow Place #
10 San Antonio, TX – Limelight #
11 Austin, TX – The Parish #
13 Kansas City, MO – The Riot Room w/ Kastle
March
05-07 Savannah, GA – Savannah Stopover Music Festival #
# = w/ Generationals
Rose Quartz's Axis of Love is available now via Bandcamp.
You already are familiar with Carol Rhyu's work as White Blush, and now we introduce you to her new solo project singing with Keil Corcoran of Starfuckr as Prints where she dropped the haunted-house warming for winter hearts with the slow synth cyclone, "Ghosts". Continuing on the tradition of curating atmospheres to bend to her every beckon and whim, Carol moves those beloved prints_ scores heard on "Cut" and "Wish" into the deeper, edgier undertow of an eternity implied through the way Rhyu's voice emerges from the ethereal and mist — only to disappear into the bulletproof and unbreakable electronic sequence code of vague and glamorous arms.
A group that counts members (former, current, whatever) of Yeasayer, People Get Ready, Doug Gillard & Pterodactyl; let the good times keep on rolling with Beech Creeps' new single, "Times Be Short" off their self-titled album available March 3 from Monofonus Press. Word from the press machine mills has it that it was made under the auspices of Jonathan Schenke (Parquet Courts, PC Worship…) at Brooklyn's Secret Project Robot. The result is the sound of blissful freedom, scuffed up guitar scuzz like the gnarliest pair of chucks that you refer to discard despite their sandal-like condition.
Benefiting Massachusetts Society for the Prevention of Cruelty to Animals, check out Topshelf Records' 2014 label sampler that is pay-what-you-can for a humane cause. It's all your favorites from Braid, Field Mouse, Prawn, My Fictions, Alvvays, Into. Over It., Mitski, Ricky Eat Acid, Tacocat, Kittyhawk, and 90+ more heavyweights. In the illustrious label's own words:
We know, we know — it's 2015 now. Like anything we do, though, we took our sweet time to finish this. So here it is: our annual digital sampler, a half year late! If you've downloaded any of our previous samplers, you might notice this year's has a lot of tracks — we thought this was an incredible year for music and wanted to showcase the new, new-to-us or just downright exciting people making music that we've enjoyed this year (there are so many more artists we could and should include on this download but we had to exercise some restraint). Curating and putting this together is super rewarding — so we just wanted to thank everyone who has contributed a song!
Teen Daze is slated to release the A World Away EP January 12, providing the late evening exterior ambiance and vibes of "Another Night". Jamison unveils the hazed electronic sounds that sound carved out of the Euro-centric music for mass transit across massive bodies of land and water. Find the artist touring Europe January 14 in Helsinki, Finland to January 31 in Baden, Switzerland at the One Of a Million Festival.
Alexandria VA / DC producer, Drew Dave joins the Mello Music production team, with his forthcoming album SynthBASED available February 24, sharing a mesh of afrobeat rhythms, jazz sensibilities, and new rhapsodies bathed in a new kind of blue. Get to know Mr. Dave with the following listen to, "FullCircle".
Giant Claw has entertained the world's discerning ears of new music, and continues to create further upon the legacy solidified by the Dark Web release (Noumenal Loom/Orange Milk) with "Courtyard Music (excerpt)" that provides some daytime environments that point to some of the bright new places Keith Rankin may be heading toward. According to Mr. Rankin himself, apparently the artist has "a lot of this sitting on my HD."
We also just heard a new track from GRMLN, posted on Twitter about a freshly emerged nugget entitled, "The Void". Yoodoo described the the NYC Strokes-strutting cool meets the hang-loose west coast culture of indie pop comp in with the following tweet:
hey everyone, here's a new GRMLN track "The Void" that I made while incredibly intoxicated in college.. might… http://t.co/4xfYIJeJC2

— GRMLN (@GRMLNBAND) January 8, 2015
Nite Fields will release their breakout LP, Depersonalisation, on February 3 on felte, and we have the perfect "Perscription" for your ears right here. Danny Venzin and the Aussie gang follow up the first single we featured late last year via "You I Never Knew" with a whole other green world of "anything you could ask over" and much more; shining and shimmering like the most precious synth pop diamond.
Montreal pop loves Stars are about to embark on their European tour that kicks off January 10 in Dublin and runs through January 24 in Bologna, and you got to hear the Jensen Sportag remix of "No One Is Lost". Once again, the Nashville duo re-trick, and re-kick the way we hear, understand, comprehend, and think about our favorite pop songs…leaving us to wonder about what the follow-up to Stealth of Days might be like.
San Francisco's post-electroclash and eternal loves, Erase Errata released "History of Handclaps", from their forthcoming fourth proper album, Lost Weekend, available January 20 on their own imprint, Under The Sun. Giving us an awaited follow-up to Night Life; Jenny Hoyston, Ellie Erickson, and Bianca Sparta are back, badder, and fiercer than ever, with the jagged, razor edges wrapped in a whirl of horns, hand-claps, and quite possibly EE's liveliest thus far.
The King Khan & BBQ Show are readying their new album, Bad News Boys (their first LP in five years, we might add), available February 24 from In The Red Records and you can boogie along to the jangle guitar on the timeless, "Alone Again". The desperate tales of isolation and feats of daring-do are brought to full life like the sensation of being in love again, or breaking up again, getting your heart broken again, and all the above. Not to be missed for the most ardent of audiences that appreciate sounds the were meant to sound neither new, nor old; this is real, raw, rock and roll…the way it was always intended to sound.
Brooklyn's original bad boys John Linnell and John Flansburgh, otherwise known as They Might Be Giants have brought their antiquated phone operated invention Dial-A-Song back in a big way by busting out 52 songs in 52 weeks throughout 2015. Once again, TMBG set out to claim that 'hardest working band in show business' title, while you get weird to the latest catchy incarnation; "Erase".
Off Feral Conservatives' upcoming Egghunt Records album The Feeling Noise Becomes slated for February 10, check out the video for "Misfire". Directed by Matt Francis, silhouettes performing softly shift into the soft focus to reveal the band singing about the after-effects of false starts, and off-sides incidents that comprise the cycles in the game of life.
William Ryan Fritch (of Death Blues) delivered "In Denial", bringing in his trademark collection of random instrumental devices from his new record, Revisionist, available February 10 from Lost Tribe Sound. This is the free-gan style of modern-baroque-classic that all DIY orchestral auteurs and musicians should take note of.
Weyes Blood's album The Innocents is available now from Mexican Summer, as Natalie Mering prepares for her tour that runs from January 10 in Philly through February 7 in LA. On her song "Ashes", Mering takes her timeless, holistic folk tales to the ashes-to-ashes parables of life lessons, esoteric pagan orders, and rites of new seasons/new beginnings. Read our recent interview with Natalie here.
Northwest Britains The Thyme Machine dropped a fun single on Beko Disques that includes the laptop-novelist shamble-jangle, "Jonny's Writing a Novel", with the dairy consciousness and weight of conscience on the hoppy-pop of, "Is It Safe to Drink the Milk?". Guaranteed to brighten the entire month of January, and to chase the blahs of winter somewhere far away.
Compiling a collection of recordings from Samuel Beam made at home on a 4-track cassette machine; listen to "Everyone's Summer of '95" from the artist who would give us the act now known as Iron & Wine, with Archive Series Volume No. 1 available February 24 from Black Cricket Recording Co.
LA's Wand are beginning their tour by playing with Ty Segall at SF's famous Great American Music Hall January 29, and are preparing their second album, Golem, available March 17 from In The Red. You can get a taste of this scuzz-thrilling, chill-spilling saturated skronk on the impressive, "Self Hypnosis in 3 Days" cut.
Dust on the Radio went for it this past week, and released the uber-shutterbug conscious pop cut, "The Camera Loves You", inviting all big, bold beauty into the audio, and proverbial picture frame. The LA quintet's upcoming Halfway to the Stars EP will be available January 20.
Working out the fascination with The Traveling Wilburys, Conor Meara released the latest Roy Orbitron album, Elston Allen Gunnn, named after one of good ol' Bobby Dylan's pseudonyms featuring fun times with "Copacetic", rollicking old time-y revivals on "Brimstone Suckers", "Make Enemies", and more antics. Read our previous interview feature here.
Elvis Perkins' was born to the famous actor Anthony Perkins, who is readying his third album, I Aubade, available February 24 from MIR Records, and you can check out the b/w video of natural, folk splendor on "Hogus Pogus".
Don't forget to keep in touch with your power-violence therapy friends Justin Pearson and crew, as Retox drops the video for, "Let's Not Keep In Touch", from their upcoming Beneath California album available February 10 from Epitaph.
With his self-titled available January 26 from Burger Records, we invite you to get familiar with compositions of Cotillon, the project of Jordan Corso, who puts an elegant spin on home recorded symphonies with songs like the following, "Left Bank".
Jack Name is readying his latest work Weird Moons for January 20 release on Castle Face, and we have the moon-howling/prowling video for the lo-fi synth-bopper, "Running After Ganymede", from S Wadsworth Adams.
Well look who just signed to Hardly Art, as Seattle's Chastity Belt are making moves, sharing their new song "Time to Go Home" off the album of the same name, off the aforementioned imprint, available March 24. Following the exploits of CB and their Northwest collective of friends, collaborators, cohorts, and co-conspirators, super-friends Julia Shapiro, Lydia Lund, Annie Truscott, and Gretchen Grimm rock some of their most haunting, harshed, but harmonic, and bewildered sounds yet.
Eskimeaux's Week in Pop
Readying one of the most anticipated releases of 2015, The Epoch collective artist and Frankie Cosmos keyboardist, Gabrielle Smith has been making incredible music on Bandcamp, and has just signed to Double Double Whammy, releasing her forthcoming album OK slated for this spring. Amid all the excitement of this news, we are honored to present Gabrielle's following co-curation of Week in Pop.
Bellows, "Uh Oh!" (The Violitionist Session, shot by Michael Briggs)
Frankie Cosmos, "Art School" (music video by Sophia Bennett-Holmes)
Told Slant, "Tsunami" (shot by Julia Leiby)
Porches., "Skinny Trees" (Exploding in Sound Unofficial CMJ Showcase, October 19, 2013; shot by Ethan Long)
Sharpless, "Gemini" (shot by Richard Gin)
Yours Are the Only Ears, "You And Bobby" (shot by Future Sweden)
Florist, "1914", "White Light Doorway" (shot by Future Sweden)
Small Wonder, "Clearly Again" (shot by Daniel Dorsa for Portals)
Empress Of, "Tristeza" (shot by Daniel Dorsa)
LVL UP, "DBTS" (music video by Adam and Robert Kolodny)
Eskimeaux's album, OK will be available this spring from Double Double Whammy; you can follow Eskimeaux via Twitter.