Wading through an endless array of holiday singles and advertised seasonal specials ad nauseam, Impose's Week in Pop returns in 2016 to ring in the New Year with a handful of breaking artists and new media. Catching up some some of the biggest buzz threads from over the recent holidays, Kanye West dropped "Facts", & then Kanye dropped "Real Friends" plus snippet of "No More Parties in LA" ft. Kendrick Lamar; Lil B dropped the 63-track mixtape Thugged Out Pissed Off; Kendrick Lamar dropped the seven-minute film short film, God Is Gangsta; Arca dropped "Urchin"; T.I. & Young Thug collaborated on new track "Out My Face"; DJ Shadow dropped "Swerve"; Kelela dropped Hallucinogen Remixes; BJ the Chicago Kid dropped a D'Angelo covers EP; Busta Rhymes dropped the mixtape, The Return of the Dragon The Abstract Went on Vacation; Little Simz dropped Age 101: Drop X EP; Boosie Badazz (aka Lil Boosie) dropped In My Feelings. (Goin' thru It); DJ Paypal dropped "No One Else"; Timbaland dropped King Stays King featuring unreleased Aaliyah track "Shakin"; Grimes dropped the previously unreleased track, "Fifteen Minutes To"; Migos x Young Thug on new track "Crime Stoppers", MigoThuggin mixtape coming soon; jj dropped "Paranoid"; Ra Ra Riot dropped "Absolutely" off their February 19-slated album, Need Your Light; The Weeknd dropped tracks made with Future and Jeremih; Travi$ Scott & The Weeknd collaborated on the track, "Wonderful", Scott also pleaded guilty for inciting stampede at Lollapalooza; Is/Is changed their name to Candace; The Dandy Warhols announced You Are Killing Me for Dine Alone & dropped the title track; Mac DeMarco's "White Christmas"; Thom Yorke dropped "Spectre" originally written for recent Bond film; Holy Fuck signaled new music after more than five years; André 3000 talked new music, recent Erykah Badu collaboration and more; Yeasayer hint at new music; Nevermen announced their first ever tour; Coachella lineup buzz; Guns & Roses and LCD Soundsystem to reunite at Coachella; Janet Jackson tour postponed on account of surgery; Nine Inch Nails to return this year; The Kinks' Ray and Dave Davies reunited at North London's Assembly Hall and performed "You Really Got Me"; Laurie Anderson to perform for dogs in Times Square; Jackie Wilson hologram tour is happening in 2017; Chicago's King Louie talked about gun violence and his recent incident while recovering from a head shot; Camper Van Beethoven's David Lowery leveled a $150 million lawsuit at Spotify; warmest thoughts with Parliament/Funkadelic's iconic Bernie Worrell; the late great Syd Barrett turned 70 this week, and we continue to mourn the passing of Motörhead's iconic Ian Fraser "Lemmy" Kilmister, the loss of John Bradbury from The Specials, the loss of Guru Josh, the passing of composer/conductor Pierre Boulez; and the passing of Natalie Cole.
Helping us to start the year off proper, we bring you words and new media from Any Other, Clumsy, Coldair, Confident Hitmakers, Liqs, Moss Lime, Piney Gir, Reaches, El Tryptophan, Justus Proffit, featuring guest selections by Madeira (aka Kim Pflaum formerly of Yumi Zouma), and more—in no particular order.
Moss Lime
Late last year we reported on Montréal by Lille, France's Moss Lime who released Zoo du Québec on cassette via Atelier Ciseaux, and on vinyl from Telephone Explosion and now we are proud to present the world premiere for the music video for "I Always Get What I Want" from their friend Alexis. Caitlin, Jane, & Hélène are here seen doing and getting everything they want in a day spent leisurely doing anything they want to do like professional flâneurs embracing all the hidden relaxing virtues that both idleness and indolence offers. A group founded by sisters Charlotte Bonamour and Hélène Barbier and Caitlin Pinder-Doede in Montréal during the summer of 2014 with the Fixture Records release July First EP, followed by a single, and then Zoo Du Québec made after Charlotte's return to France found their friend Jane joining Hélène, and Cailtin (Charlotte still joins the group for tours). Like the audio art blueprints made from the beginning with their July First EP, Moss Lime marches forward carrying their own self-styled torches while celebrating and dancing to their own fashionable, yet refreshingly primitive, Franco beat.
Moss Lime relish in a DIY approach to their music expressing sentiments of needs, wants, and casual observations that sees the group earning their rightful place in continuing the pop lineages of Françoise Hardy, Jane Birkin, Lizzy Mercier Descloux, Kleenex/LiLiPUT, and so forth. Adopting and employing the laissez faire attitude toward life and desires; Caitlin, Jane, & Hélène do what they want when they want to do it throughout the video for "I Always Get What I Want" from brainstorming and scheming their way through goals and dreams. Having professed a kindred connection through bicycles in our recent conversation, the intuitive theme of two-wheeled cycles permeates Alexis's video where our troupe is seen going Tour du France on stationary/decorative bikes in a park, to circling about on a bicycle carousel built for three, and an obligatory scene of Moss Lime posing by their own favorite fixies and roadsters. Moss Lime makes the absolute most of a day spent about Montréal having fun doing improvised screen tests for the camera, practicing the artful practice of stylish loitering, eschewing the advisories of others with an intentional deaf ear. From here our heroes take up real estate on a park bench to watch for potential suitors skating by (featuring and framing Caitlin's verse of "I want a boyfriend, I haven't got one"), to a lively round of shooting sidewalk dice for various currencies, hockey cards, business cards, and any arbitrary items found from the recesses of pockets or a backpack. "I Always Get What I Want" is a tongue in cheek manifesto from the band where everything desired is coupled by everything else that is undesired ( like the lyrics "don't wanna work…don't wanna talk"). The video finds Moss Lime having fun while taking over the town in the process. Right after the following video debut, read our recent interview roundtable with Caitlin, Jane, & Hélène.
Tell us about what sorts of behind the scenes/behind the lens fun was at work during the making of the "I Always Get What I Want" video?
Jane: Hum, us chilling in our fav neighborhoods, doing all of our fav things but like on steroids because there's no way that we're that active in one day. We ran into a couple of friends while shooting it, our bud Chad was skating next to the b-ball court so we asked him if he wanted to be in it when Cailtin sings, "I want a boyfriend, I haven't got one," and we all look at him passing us.
Caitlin: I had such a blast for this video, it was really nice especially since I had not been playing with the band for a couple of months it felt really genuine. Before meeting them to film it I was at work at Jean Talon market which is funny, because the first EP was centered around our shitty jobs there, so kind of a full circle I guess back to Moss lime origins and feelings. I like that it was in Little Italy which is where we used to write lyrics and where our first jam space was, and pretty much where we spent every day and night of July 2014-April 2015.
How did the bicycle motif come about to be the central focus of the video, and how important are bikes to everyone in the world of Moss Lime?
Caitlin: It's weird because after Charlotte (original guitar player) left for Europe I bought her bike, and then when Helene left for Europe she gave me her bike so its like my only tangible like physical connection with those two is through their bikes! Unintended but very relevant motif!
Jane: Ha ha I'd say very important because it's all our main mode of transportation, except for Caitlin and her busted bike. If it weren't for our bikes I think me and Alexis the video's director wouldn't have made it to the shoot. I love bikes, they're the best.
What is next in the works recording/release-wise as the follow-up to Zoo Du Quebec?
Hélène: Our Euro tour was great and very fun (we just had a flat tire and it got fixed incredibly fast by two men who were just there), we will put out a tape with live recordings from it, and a new song that we recorded in Rennes on a day off.
What were the holidays like for everyone?
Hélène: I cooked a lot and it was the perfect time to hang with old friends, family, cats, dogs, and horses that I did not see for a while, they all grew old but were still the same.
Jane: Pretty relaxed, it hadn't snowed yet so I got to walk in a beautiful forest full of green moss and pretty sunlight. There's a lot of snow out now, and cold.
Caitlin: Lots of family, food and sleeping in!
What sorts of hopes, visions, and missions do you all have for 2016?
Hélène: I want to play more bass, make more songs (with Moss Lime and Phern) and would like to play for other people too, if someone needs a bass player I promise I will try to learn your songs fast. I got accepted in a herborist school also, so I hope I am good enough to make potions and that I will succeed my witch degree, and that I get to know how to playCargo Culte by Gainsbourg on the bass as if it was mine.
Jane: Do more music as well, I want to play more drums. Start a cover band maybe and also maybe do a lil' short movie. Ever since we came back from the European tour I've been hella inspired in general.
Caitlin: I saw this French movie about a high school girl who discovers her singing voice and I guess it was a bit cheesy but I just broke down and was crying so much like "I need to sing!" so I would like to try to sing more, and maybe just be louder in life without feeling self-conscious.
Top three things you all are listening to, watching, reading, etc right now?
Hélène: Right now I am listening a lot to Fanfare in the Garden by Essential Logic and Barter 6 by Young Thug, and just got trapped in the British Sci-Fi TV series "Black Mirror". To be honest, these days I just read Rob Brezsny's Free Will horoscope once a week and the definitely not cheering up news.
Jane: Currently reading Are You My Mother? by Alison Bechdel, and super stoked to start a new book by Ursula K. Le Guin, I read The Left Hand of Darkness on tour and it really rocked my world. I think I can only read science fiction on tour. Listening to Jeremih's new album and other stuff like that. Been watching a lot of comic book related movies and series.
Caitlin: I've been listening to Justin Bieber's new album and the Memoirs of a Geisha soundtrack, high school feels! I have been reading this book called The Book of Eve, which is about a woman who left her husband in the 70's in Montreal to go live alone in this rotted basement apartment so she can be who she wants, it's great so far!
Moss Lime's Zoo du Québec is available on cassette from Atelier Ciseaux & vinyl from Telephone Explosion.
Any Other
Italian trio Any Other arrived on most of the collective international DIY pop radars with the release of the album Silently. Quietly. Going Away last September on Bello Records. What began as a solo vision from frontwoman Adele Nigro found company and a creative chemistry-camaraderie with Erica Lonardi, and Marco Giudici to create a triumvirate of pure earnest expression and feelings through the sweetest slacker pop style that champions melodic idiosyncratic deliveries to make a never ending array of hooks and piercing lyrics.
Adele delivers on all the aforementioned and more on Any Other's recently released Sonnet #4 EP expressing all the sentiments that circle the places where the present and nostalgic meet. Take the charged poetics on the title track where everything is laid out on the line with the long-distance phone call/Skype/email unfolds: "Where in the hell have you been? You should have taken me away from that idiot…I've been crying for months…I wondered how Christmas would be with you…I find myself recollecting memories I've collected with you…I want to sleep with you until winter comes, and then wait for springtime, and then wait for winter again and again…" Other songs like "Me Muddled" discuss the claustrophobic corners of day to day life in frank terms and a variety of narratives and explicit representations of honest. "Not in These Days" basks in retro-holiday glow and thoughts that fluxes between the frequencies and feelings through a bevy of super cool strum-stream of strings. The sting of winter and ruminations on the unpleasantness that it brings is summed up through the sonic framework of scuzzed out foundations that comprise "Code House". Together these songs make for a warm yuletide log to rock out to during the dog days of freezed-out seasons.
Silently. Quietly. Going Away opens with the alt-international-ultra cool attitude with the earworm "Something" becomes the DIY anthem you swear you always knew from the get-go. Adele, Erica, and Marco belt out the clamoring sound of pure confident chord christened coolness that celebrates the importance of autonomy. And thus it begins, as "Blue Moon" provides a candid moment into a mode of ultra-real styled balladry, self-reflective statements of knowledge and personal growth on "Gladly Farewell". Seperate and shared memories mesh together on reminiscing "His Era", to the sentiment singing year cycle song of "365 Days", the communication tower of triumphs and tribulations of "Roger Roger, Commander", reciting the times, rhymes, and the passages in between on "5.47 P.M.". Youthful remembrances play about on "Teenage", to the heavy hearted single "Sonnet #4", that leads to the closing cool cut "To The Kino, Again" that keeps the Any Other sincere sound sailing into the great horizon rising of 2016. After the following listen, read our interview session with Adele.
Tell us what the scene in Milan is like right now, seems like there is always something new and cool happening withing that hub of industries.
There's a lot of cool stuff in Milan, and that's why I love living here. One thing I particularly like is that there are different scenes/kind of music: punk, electronic/experimental stuff, etc. One of my favorite bands is Pueblo People, a Neil Young/Dinosaur Jr.-ish indie rock band. I also like a lot my bassist's band, which is called Assyrians: psych-pop with a big love for Brian Wilson.
How did Any Other first start out?
I started playing as Any Other after my old band and the project I was trying to start both split (I'm pretty unlucky, hehe). I was sick of people pretending to care about the things I most care of, basically music and, you know, treating other people with dignity and respect. As a result, at first I started playing by myself, but I didn't find it constructive (both in a musical and personal sense), so I asked Erica and Marco if they wanted to join me in this new thing, and luckily they said "yes".
What was the experience like in making your the debut release Silently. Quietly. Going Away.?
It was the first time I recorded anything with the electric guitar, which I bought two months before recording, so I was very very excited. Marco, who also played the bass, mixed our album – and I've learnt a lot watching him doing that, and listening to how the songs sounded through every step of the process.
How have experiences from departures and say like new beginning realizations and more informed the sincere sound and lyrics here?
I've been through a lot of bad stuff in the last two years, so things like moving to a new city and growing up, which are normal and happen to everybody, seemed like the highest mountains to me. I needed a way to recover from this bad stuff, and writing the lyrics helped me doing that, organizing all the irrational thoughts I had in my mind. According to the sound, me and my bandmates tried to make something close to the bands we like the most, such as Built to Spill, Modest Mouse, Speedy Ortiz.
What are you and friends really into right now in terms of media, music, film, literature, whatever?
Lately Erica and I are really into Jason Molina and Scout Niblett, and we're also reading/watching documentaries about veganism (we're vegetarians, but maybe it's not enough) and feminism. We talk a lot about these issues, also including Marco, exchanging views and trying to learn more from each other. Marco is listening to Steve Hauschildt's "Where All Is Fled" a lot, and he's also often playing the piano – he can play, like, everything.
2016 objectives and hopes?
We're playing abroad, and it's gonna be the first time for me and Erica, so first of all we hope everything is going fine! We just want to improve ourselves, and keep playing. The best thing would be doing this full-time, but we're studying philosophy at university, so we have to organize every thing with accuracy. Anyway, we're positive, so we'll just keep doing what we're doing now!
Listen to more from Any Other via Bello Records.
Reaches
From the depths of Chicago's denizens of dance music and culture is Reaches, the operating pseudonym of Justin Randel. Having recorded previously as I Love You, Randel's Reaches reach back to the former music composition student's endless love for electro-kinetic concentrations and creations. With the debut album I Am Alive And Well available February 19 from We Be Friends, we are proud to premiere Abbe Findley's video for Reaches' single "White Birch of the Baltic" that moves in scene traveling paces to match the song's own rhythmic force of momentum (and flighty like nature).
Abbe Findley's video for "White Birch of the Baltic" finds an array of environments for the Reaches synth-beat sound to influence. From a trio of polychromatic-clad dancers and accompanying friends; the troupe finds a dance floor to bust moves on everywhere from malls, sidewalks, storefronts, doorways, and more, intermingling among the dressed-up costumed creates that lurk in from of Hollywood's storied El Capitan theater. From the veiled Southern belle with the pink hat, to the Heath Ledger Joker dressed character, and corresponding dance routines; all featured eccentrics live and play out Randel's lyrical instructions of, "try to stay young and full of leisure". Justin joins us after the following video debut of "White Birch of the Baltic" for our recent interview.
Describe the happenstance-like LA pop beat like quality of showtime glamor, glitz and more that is brought out by Abbe Findley's video for "White Birch of the Baltic".
Actually, this song was pretty happenstance. Typically, it takes me a long time to finish something, but I wrote this song on a bus traveling from Tallinn, Estonia to Riga, Latvia where I was to play a festival that night. It was autumn and although it's frequently overcast, a lot of the Baltic is beautiful and has a strange or ghostly allure to it. For the video, I think a lot of the ideas came from the idea of travel without surveillance, such as, the take on anti-surveillance make up.
Tell us about the various other names and projects that you've operated under that have brought you to your audio outlet as Reaches.
For quite sometime I toured under the name I Love You and perhaps half of the time with other people in the band. Things in life always change and you find yourself headed in new directions. The new name is another side effect of these changes.
What was making I Am Alive And Well like for you, further developing your love for dance music, world music, while already having a background in studying music composition with a predilection for rave culture?
Most of this album was written in between tours where the dates were largely in Europe or Asia. So, almost every place I was going to, it was the first time I had been there. Everything was new and I think the theme of endless forward movement can be found throughout the album.
With your home of Chicago being an epicenter for many notable dance movements, what inspires you lately about Chi-town?
I've always been a huge fan of old school Chicago house, but I think the renewed interest in hardware like drum machines and synthesizers and both early house and techno is pretty enchanting. There's so many new ideas from people of every background.
Best things you have heard, seen, read, etc, lately?
One the best things I've seen and heard lately is a band from Baltimore named Wume. Truly wonderful! I also did some shows earlier this year with a band named Gosh whom I adore.
What's next post-release of your debut Reaches album here in 2016?
I'm super excited to start touring the U.S. again! I haven't toured the states much in the last couple of years and I miss it!
Reaches' album I Am Alive And Well will be available February 19 from We Be Friends.
Confident Hitmakers
We ended 2015 with news of a new codified Stockton collective/power clique involving a revolving assembly of local artists in the 209 area code district. Hot on the heels of "To Be Haunted" that began a new life from the former MLTD moniker; Confident Hitmakers set out to make a song that is as audacious and provocative as their newly appointed moniker. The devotional spirit of wormholes and weird wonders unfurls before you lead by your yacht captain Logan Wells, accompanied by shipmates / childhood BFFs Wesley Allard, and Justin Paul Vallesteros premiere the decadent life dipped single "Cocaine Comedowns". What we were told was recorded in the frontman's living room recently one evening takes on the lost at sea dolce vita of a derelict yacht that speeds serenely past the mammoth commercial liners stalled at sea.
Like every hangover is brought on by only the most indulgent of behaviors, "Cocaine Comedowns" begins with sounds of playground based idle thrills to the slippery-synths and flutes that make up the most addictive aspect of the song. Logan croons in between the swinging swagger of the sumptuous keys scooping the highs found during even the lowest of times and places. "Comedowns" itself takes on the classic radio pop formula of the two and a half minute format (it actually clocks in at 2:29) that takes on the ambitious album rock idolatry of the 70s & 80s and embellishes them to the home recorded forums enjoyed by man of today's most innovative artists. This is the song that breaks through the glass of infinity and the finite nature of mortality for something transcendent and an enlightenment experience like none other. To call it 'yacht rock' alone reduces the track strictly to it's anachronistic grandparent but works as a twist on the captured cadences and familiar sound fragrances that jog the cycles of retro-radio recollections.
Logan provided the following words about the Confident Hitmakers' exuberant new single "Cocaine Comedowns":
It's finally 2016. the year we have all been waiting for. Are you even going to be able to handle all this streaming viral content at your fingertips? Lets hope so because this crazy tech world will sweep you under the rug if you can't keep up. "Cocaine Comedowns" is a song I recorded with my friends Justin and Wesley in my living room when I had a few days off from my job stacking boxes down at the warehouse. Lets be honest, I've done cocaine, who hasn't? It's not the worst thing ever.
Listen to more from Confident Hitmakers via Bandcamp.
Clumsy
The sleek nu-psych sounds from San Francisco's Clumsy were first made known to the world at large with their debut album Concentration, and now return with their new EP Love Pop. Matthew Horton here returns with an arsenal of talent to make the most massive Clumsy sound to date featuring an assist from Fabrizio Incerti (percussion, vocals, conga, samples, etc), Adam Wilson (bass, synths, shakers), Spencer Owings (12 string guitar), Jake Levy (sax), Nathan Ho (viola), Jesse Jenks (cello), Anya Hirota (background vocals), Marika Stuurman (background vocals), and more produced by George Rosenthal at San Francisco's Complex studio.
Love Pop commences with the interlude segue that is present between all the tracks that Matthew described with the following words on these track segments:
For this record, Clumsy turned to several talented amateur voice actors to complete the EP's emotional spectrum. Featured first is a crosswalk on Market Street saying "wait" over and over to represent city life and the impatience of youth. After the first track, an anonymous bus driver let Clumsy record him saying "next stop, Love Pop" because Clumsy thought it would be sick, and they were right. After Simple Desire is perhaps the most important and legally dubious sound byte, wherein Spencer Owings and Casey Schryer recreate a scene from the television show Adventure Time, which has been dear to Clumsy for a long time. Ben Fischer provides the penultimate interlude, offering his opinion on the shortcomings of the 21st century's modes of personal transportation. Finally, Clumsy crosses the street.
The opener "Seven Minutes In Heaven" coasts on a wave of romantic whims and ephemral pulls and pushes that initiates the new expanded ethereal world of Clumsy. Bringing out the big arrangement guns, "Simple Desire" combines the traits and pangs of passions into urges and inclinations transformed into dance-dreamed chord progressions that kick up a fog storm of sound. The closing cut "Modern Ecstasy" finds Matthew putting his feelings all on the line delivering the jangle-twee pop with the barely-tonal illustrated pains of modern romance that ends with the street crossing recording that indicates our hero's cue to cross the dodgy sidewalks of SF's Market Street.
Matthew Horton from Clumsy talked to us fora bit about the making of their most ambitious release yet:
The songs for Love Pop were written about a year before we recorded them in July/ August 2015. At the time when we were writing the songs for Love Pop, we were going through hard times and wanted to shift the negative energy into something positive. I think a lot of the record is about trying to deal with the confusion that romantic relationships bring. The songs went through many incarnations before we recorded the final versions of them in July/ August. The recorded versions of the songs are a culmination of the year we spent working on them.

We had the vision of Love Pop planned out months before we went into the studio. We wanted to expand upon the traditional rock instrumentation that dominated our debut album "Concentration". We wanted to have string arrangements, horn parts, and female vocals. Also, we wanted the songs to be joined together by interludes to make a cohesive listening experience. We wanted to go into a studio and record the album in high fidelity sound because we thought this would capture the maximalist sound we were going for.
We found the sax player Jake Levy, the cello player Jesse Jenks, the viola player Nathan Ho, the vocalist Marika Sturman, and the vocalist Anya Hirota through mutual friends and asked them to record with us at the Complex Studio in SF. Our friend Spencer Owings who produced our last album "Concentration" and played guitar with us at a show layed down some lead guitar tracks and co-produced the album. We also put together the interludes at his studio. We really wanted Spencer to be involved because he really knows our music and is super fun to work with. Over the period of 5 days we recorded and mixed the album with the producer George Rosenthal. We then got it mastered by Ash Clayton and had our friend Dawn Cardenas do the cover art.

It was super exhilarating having tons of people involved in this project and it definitely would be very different without all of them being involved.
Listen to more Clumsy via Bandcamp.
Coldair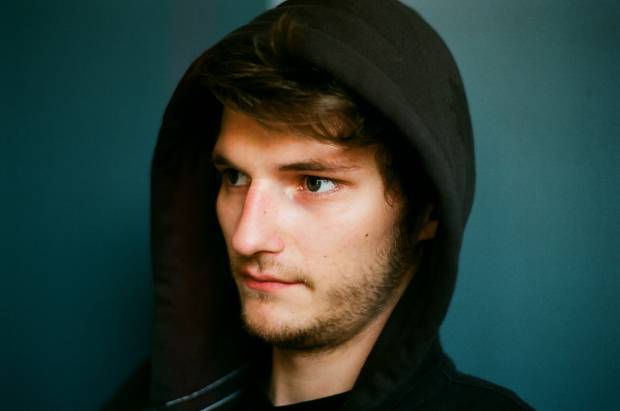 Warsaw, Poland's Coldair is the operating moniker of Tobiasz Bilinski who presents a premiere first listen to his upcoming album The Provider available January 15 through his own imprint Twelves Records that lends some ambient electronic accompaniment to soundtrack your January through next winter. With a variety of buzz and interest surrounding Coldair's cold synth sounds, Tobiasz sends The Provider out into the world as an epic album served on a silver platter as a main course to enjoy as a preliminary gesture of forthcoming great works. The Norway born and Baltic Sea raised artist has been developing his latest cycles dropping hints through single like "Denounce", "Endear" recording the new full-length with Jeff Zeigler in Philly expressing experiences through psychically projected digital audio images.
While electronic modules and consoles factor in heavily in bringing the full realized Coldair vision to fruition, Tobiasz leaves his own vocals largely untouched to retain a real responsive and reactive narrative of impulse and effectd delivered like the transcript of an internal personal monologue. Clusters of these candid thoughts and feelings are ushered in with mighty opening single "Endear" that wades into the ambient pools before the ear cinema labyrinths appear. Through the mental interior corridors of "Pretty Mind", the fuss and befuddling pining of semantics and frustration pour over on "All I Meant", to the catacomb walls of mortality on "We Are Weak". The title track "The Provider" is one of the star attractions, right before the maternal and paternal minded reflection stream takes some alternative new paths down post-industrial boulevards. The latter half battles against the agony and anthem like ecstacy that comprise the yin and yang of a Coldair track. Spiritual musings like "Holy Soul" baptized by the electronic tributaries take rebellious routes like the synths in revolt on "Denounce", going full circle on the self-mental-image projections that make up The Provider on the closing cuts "To Become", and "Suit Yourself". The personal and big production approach of the album is one that requires a multitude of listenings to find new quips and notes that strike the heart and head in new ways each time. Coldair's Tobiasz Bilinski joins us after the following debut listen to discuss The Provider, what's next, and more.
Tell us how being brought up near the Baltic Sea impacted your earlier creative instincts, inspirations, and the like.
I grew up in a small town of Sopot, it's located in northern Poland, right by the seaside. There's a unique vibe to it, no other place in the country feels like this. It's very peaceful, slightly haunting and pretty inspiring – it used to be a vital spot of the Polish music and arts scene. Now it all moved to Warsaw. Being brought up in a place like this affects the mind in a very specific way. I notice that in my friends and myself – we're all dreamers, detached from reality, a bit moody and perhaps slightly weird. Maybe that's where my emotional approach to music comes from.
We are told that you are based around Warsaw these days, but where are you right now, and what can you report about the scenes in your current locale?
Well, it's kind of hard to say where I'm based, but around Warsaw probably works. I lived in Warsaw for 4 years, then I moved to London and then back to my hometown. So now I'm in Sopot, but I'm visiting Warsaw often to meet friends or record songs. In a few months I'm moving to Berlin. Who knows how long I'm gonna stay there. I'm based where I am at this very moment!
Alright, now let's get down to it with your album The Provider. What sort of provisional matters and more set this work in motion?
The record was inspired by the past few years of my life, during which a huge shitstorm occurred and many nasty, but important things happened. It's about my tendency to get tangled up into toxic relationships. It's about dependence and addiction – to certain substances and also to other people. It's my observation of how selfish people can be when they're scared or broken, or both. The title is a mental shortcut, it summarizes what all that was about. I was not well, and I was desperately looking for someone or something to provide relief, stability and perhaps some sort of happiness to me. And when two people like that get together, well – it's gonna get ugly and pretty messed up. There's much more to it, but a lot of it is way too private to share. I could elaborate on this subject forever though, every time I think about it new things come to mind. That's why I liked this title so much.
How had your classical training helped you make choices in arranging some of the more intricate sequences and segments of your work on the new album?
My first instrument was the piano, I took it up when I was 6 and kept playing for many years. For quite a while I was actually supposed to become a professional pianist. That changed when I was a teenager and bought a drum kit and guitar. But that's another story. Anyway, I think years of learning and practicing classical pieces gave me the ability to put more complicated things together. It really develops your imagination.
What was it like working with Jeff Zeigler, and how do you feel his input and presence impacted the overall vision of The Provider?
Jeff is an amazing producer and engineer, he has a sweet studio in Philly with a delicious pizza place right around the corner. It was all very relaxed and fun. Songs were pretty much finished and he didn't really interfere composition-wise, but he did an incredible job on the sound. He has a lot of vintage synths, samplers and whatnot – we were messing around with them a lot to achieve the sounds on The Provider. I recorded most of the tracks myself, Jeff's buddy Chris Ward (of Philly band Pattern Is Movement) laid down some additional drums and Dan Blacksberg recorded trombone. Seriously amazing 10 days!
There's a lot of hushed buzz about what's next for Coldair; what sorts of details can you give us about what's to come post-release of The Provider?
There are some very exciting things happening right now, but, unfortunately, I can't brag about them yet. I will definitely let you know as soon as I can! After the record comes out me and my backing band will play some gigs in Poland, then we might do SXSW. After that – European tour and then hopefully back to the US for some more gigs. festivals in the summer. In the meantime, I'm already writing and recording new songs. It'll be super busy, but that's good!
Top three things you have read/heard/seen lately?
1. Son Lux live at Vega, Copenhagen
2. Susanne Sundfør's album Ten Love Songs. So many great songs on it.
3. The Force Awakens (fuck haters, it's great)
The Coldair album The Provider will be available January 15 through Tobiasz Bilinski's label Twelves Records.
Liqs
Please welcome Chicago's Liqs to the Jeffrey Drag Records family, as we celebrate the event with their "Nothing For Me Video". Comprised of childhood chums Nick Van Horn, Sergio Stryker, and Esteban Miranda expand upon the visions heard previously on Nick's self-titled project into energetic electric free runs through a dazzling pop spectacle of metallic sharp licks jutting at the corner of every bar on "Nothing For Me".
The video opens with the band setting up their gear outside (with towering power-lines looming in the background) to getting an underground house party started. The roughly shot video montage captures the band playing to a living room of flashing lights to the surroundings of headstones at a local cemetery. Above all the visuals pay compliment to the uncompromising exhilaration found on Liqs' "Nothing For Me" single. Hear and see what exciting discoveries in garage-grown pop can be formed as a response to the boredom of living in a world where it feels as if there is little for you apart from appreciating the art of amplifier etched anthems for today and tomorrow's true garage heroes. After the following video, check out our interview with the band.
Describe for us the current states of the Chicago scenes.
There is a lot different music going on in Chicago, a ton of great rock bands and a great DIY scene.
What is the story behind how Liqs formed, and the unique name?
We've just all been best friends and grown up together, playing music together since high school and still going at it. We like short band names, and thought it sounded right for our sound.
Describe for us your connections to the band Twin Peaks.
Twin Peaks gave us a jump start in Chicago when we were first starting out, and helped us out a ton. they've put us on a few bills having us opening for them.
Tell us about the making of the analog-ish/washed-out/fuzzed-out video adaptation of "Nothing For Me".
Our good friend Jordan Thomas made it for us, and we just filmed random shit for a few weeks and he put it together for us
What sorts of boredom and ennui inspired "Nothing For Me"?
Cold winter's, sleeping, television, the city, dream pop, and nothing to do.
We want to hear about all the sumptuous scuzz and skronk that we can expect from your forthcoming Jeffrey Drag release. Give us some privy insights to your recording & song sketching processes.
Well the singles we're recorded on garage band but our new record is recorded on my new tape machine. We just write whatever we think sounds good and don't really focus on limiting ourselves to anything.
Other local Chicago artists we should know about?
Flesh panthers, Lala Lala. the funs, a lot of good stuff from FeelTrip as well.
2016 hopes & dreams?
Hopefully you'll see us at SxSW and playing all around!
More soon on Liqs from their label Jeffrey Drag Records.
Piney Gir
Piney Gir brings her own wind in the willows-like audio adventure to the States February 19 with mR. hYDE'SwILD rIDE from Greyday Records, premiering the video for "Ugly Bones" directed by Tania Freimuth & edited by Keyleen Nguyen. Featuring a carnival like twist to the Little Red Riding Hood story, Piney searches her way through the woods as an omniscient fortune teller plays the dubious wolf role. Piney and a cast that includes Miranda Keeling, Ceri Ashcroft and Lois Tucker play out the strangeness of lyrics like, "there are skeletons who play clarinet with a dead set, there are skeletons who play clarinet but then they forget, in the thick of the woods wearing little riding hoods," as if it were an act played out on a theater stage. From a Midwest rural upbringing in Kansas (parents forbidding her to listen to pop music until she was 14), to working with Stereolab percussionist Andy Ramsey, Garo Nahoulakian, and more; Piney takes American trad folk-like songs and re-imagines them with through the UK pop lens of playfulness.
"Ugly Bones" begins with a red curtain unveiling that commences Piney's red hooded & caped adventure through forest. A fortune teller dressed in garb and face paint like a Dia de los Muertos styled Matron Saint sends Piney down a quixotic trail of obfuscated exits and entrances in the thick of the cold and ominous bare-branched woods. Piney's mystical songs of magical skeletons and ghostly choruses are boasted up by the big band like brass that exhale emotive expressions of our heroine who gets lost on the path to grandmother's house. Instead shadows and crooked frames from the occult emerge from the soothsayer's visions and possible curse as the forest encircles Piney like an army of trees. We had the opportunity to talk to Piney Gir over long distance cables in our interview that immediately follows the video debut for "Ugly Bones".
How had the various worlds and environment from Kansas to making the jump to the UK have an overall impact at your own visions and approaches to your music?
Kansas is a great place to be from, Kansas City is pretty cosmopolitan for the Midwest; if you seek out creative opportunities they are there, but it definitely never felt big enough. The arts/music scene was small and there was nothing pushing me to be better; it was very easy to coast & hang out, kind of like in that movie Slacker, so I went to London because it was as far away as I could think of to go and then I could start over and be anonymous and figure out what my 'purpose' was. I missed the 'have a nice day' and 'nice weather we're having' friendliness of Kansas City—but going abroad and starting over was the best thing I could have done for me. My friends from back home all have houses and children and that stuff makes them happy but it wasn't of interest to me, especially not in my early 20s. I love the challenges that London faces me with. It's a tough city and it makes me work harder and do better. Sometimes the challenges get me down, but life is like a rose-bed; beautiful and full of hummingbirds and butterflies, but also thorns and slugs i.e. it's up and down for everyone/everywhere right? But London is my rose-bed for now.
In what ways had that experience of not being able to hear pop music until say secondary school affect perhaps impression your own connection to it as a fan, and as a musician?
For a start there was a lot of mystery because of course I had been to roller discos and birthday parties and I was aware of secular music, I was also aware that it was pretty off-limits and so there was extra intrigue from the get go. As soon as my mom and dad split, my mom was much more liberal and I was able to listen to absolutely anything. I soaked it up like a sponge, I loved rock music so much! I liked Nirvana, The Pixies, Guns 'n' Roses, Salt 'n' Pepa, Depeche Mode, Edie Brickell, The Cure, The Beatles, Elvis, Erasure, The Grateful Dead, Neal Young, Paul Simon's Graceland album. To this day I'm still discovering new music that most people have known for yonks, like David Bowie, Roxy Music, Elvis Costello, The Jam—there is an endless list of stuff I need to get my head around. I love swapping playlists with friends and discovering new and old music. I think my quenchless thirst for music comes from not being allowed it when I was young. That being said, we were allowed Bob Dylan's Christian album, and I think we had a Best of Beach Boys album in the car, not Pet Sounds, but "I Get Around," "In My Room," "Help Me Rhonda," etc was allowed. I think singing at church all the time and listening to Beach Boys harmonies really did influence my ability to sing and hear harmonies. That's something I'm pretty good at I guess so I'm grateful for that education.
Tell us all about the adventure of working on the making of mR. hYDE'SwILD rIDE, and how contributions from Stereolab drummer Andy Ramsey, Gaz Coombes, and Emiliana Torrini furthered the album's own ambitious reaches?
Andy is brilliant, he has such a great ear for music and sound and knowing what boxes and compressors and synths and reverbs are needed; he has such a great command of his studio and a hard-working no-nonsense approach which I find refreshing. If you've ever heard Stereolab you will know that he's got some awesome vintage gear, valve amps, old stuff that sounds very real and present in the room. We didn't do MIDI on this album, every sound you hear is a real sound and that all started in Andy's Press Play Studios in South London. However, I think you are a tad misinformed there, Gaz and Emiliana had nothing to do with this album. We share band members and I had the pleasure of touring with Gaz, singing live with him and doing the support slots in Europe and the UK which was brilliant. And Emiliana is very sweet, talented, funny and lovely, but I've never worked with her. Garo, who produced my album has worked with Gaz and Emiliana extensively though, so that's probably where the mix-up happened. I am friends with and fans of Gaz and Emiliana and always will be. I wouldn't want to misrepresent our relationships though. We haven't recorded together. We share band members & have done some live stuff.
The whole album feels like a anthem-thematic exercise-orchestration where each song has this cleverly arranged thrill pop odyssey (and sometimes with strange dirges and sections of surreality). What was the song building and sketching process like for you and all here?
I wrote most of this album on lengthy commutes to and from work over the course of a year. I had three hours a day, five days a week on trains/tubes/subways and I wrote these songs, sketching the lyrics and singing into my old phone to remember the melodies—probably freaking out my fellow commuters. I then did super lo-fi demos of the songs by myself, using acoustic guitar and a Casio PT20. I played the demos to Garo who produced the album. He improved some of the songs with better chords, structures, a tweak to the middle eight here and there or a new riff/intro/outro or…you know, the co-writing process is give and take, we work well together, we each offer something different to the process. We both care a lot about melody and structure; so even though the songs feel epic and at times perhaps prog-like it's all been quite carefully considered and composed. That being said, the guitar solos and improvised bits are completely spontaneous, one-take wonders and I think that's important not to be too precious about that kind of thing. Keep it real and from the heart, sometimes imperfections are the best bits.
What is next for Piney Gir this winter, spring, and summer?
I've started writing the next album, so I need to finish that and then do my lo-fi demos to hash out the ideas properly. I am coming to tour the USA end of March/early April and will then focus on honing the album so I can record it next autumn, I have a special studio in mind that I'd really like to record at so I hope that works out. Meanwhile, I have a play that I'm writing music for, it's set to premiere at the National Theatre on London's South Bank next year, which is pretty exciting, it's a really lovely story too…and it's great to think about how to make a score for live theatre and figure out how to convey the music in that setting. There has also been talk of scoring a rom com, but I don't wanna jinx it by saying too much about it. It features a hunky British actor, a typical cute girl and a whole lot of real (adorable) penguins, that is all I can say about it. So yeah, keeping busy in 2016!
Piney Gir's album mR. hYDE'SwILD rIDE will be available February 19 from Greyday Records.
El Tryptophan
Last year we introduced you to Gryphon Rue, aka El Tryptophan with the title cut from his fall 2015 album Guilt Vacation, and today we are proud to present the world premiere of the Emily Pelstring created video for "Insect Express". The folk artist (the great grandson of Alexander Calder) sees his buzzing electrified luminous hive get heralded through the prismatic imagery crafted by Pelstring that provides a visual counterpart to the song's experimental artifice.
As spheres, planets, stars, and triangles hovers in a technicolor array of analog images; Gryphon gets the party going with a conductor's call of "all aboard" a crazy train of droning scuzz strums and meditative keys and more psych guitar. Emily's curation of cosmic visuals for El Tryptophan's space-bound sound depicts intergalactic events, movements, and light shows where neon god-like hands emerge amid a fantasia of shapes and dazzling light enhanced designs. Constellation-like hands unfurl insects that fly up towards the heavens as a meteor shower concludes in concurrence with the meltdown boil and burn as heard on the grand finale of "Insect Express".
Gryphon shared some words on both the song and video for "Insect Express":
The song starts with a sample of a version of "Insect Express" I recorded at age 15. The lo-fi locomotion of the train explodes 10 years later, throttling into higher fidelity.

The video combines hand-drawn animation and digital forms that show abstract shapes, astrological imagery, and bees. Emily Pelstring, the video director, notes the 'interplay of species, the dances of bees, and flight patterns merging as collective rituals in a fever dream. It was made using an analog video effects rig that involves several devices linked together. The process involves a feedback loop that creates distortion, or self-destruction of the image.'
El Tryptophan's Guilt Vacation album is available now via Bandcamp.
Justus Proffit
Meet Los Angeles' Justus Proffit who presents the Ryland Swartz video for "Saturday" found off his recent Magic EP. Tapping into the similar vein of the growing proliferation found in the independent communities and secotrs of the greater LA rea; Justus exhibits the whole range of feelings that catapults the vibes of 1996 into our current dawning of 2016.
On "Saturday", Justus poses in front of a blank screen and a projector that proceeds to display everything from colors, designs, static, and more on the presented canvas. From here technicolor palette code grades are shown with a vareite of improvised on-screen doodles, Clockwork clips, NatGeo stock footage, and more all to the tune of Proffit's "Saturday".
Justus Proffit provided the following thoughts on the video:
I have always like the concept of bands doing their music videos with projectors, but I have never seen anybody use animations like I did in some clips. We decided to keep it simple and use the paint program. I really didn't want to go for any story lines or concepts, I feel like it would have been to messy and no one would get it. The idea came from my drummer cliff horn originally, he has a really good understanding with film and visuals. I'm really glad that we didn't film in any other location, it was a lot easier to do and still came out great.
Justus on the Magic EP:
When I recorded the album I decided to do the whole thing by myself. It took me three days to finish all the tracking. I practiced a lot before the actual recording so it was super easy to knock it out; I think all in all the recording took me 12 hours. I recorded with Alex Estrada from the group Silver Snakes—he has also recorded a lot of bands that I am influenced by; including Joyce Manor, Touche Amore, Nails, Condition, and a lot of others. I figured he would be a good person to understood my style—it ended up being super easy.
Justus Proffit's Magic EP is available now via Bandcamp.
Residing in the spatial and sonic Brooklyn environments of self-described "fundustrial green age jazz," we invite you enter the entertaining abstract audio models made by Smhoak Mosheein's five track cycle one seven three. The introductory "need to burn (a prayer for release)" seeks the kind of catharsis that post-industrial tools and newly developed (in conjunction with the previous existing technological methods and platforms) mechanics can afford. Ambient abstract sirens are hurled into the ocean-iced chill of the winter air on "you will love again (a prayer for joy)", a hymn where all the organ pieces all come together in congress like an act of Pangaea. The rituals of deliberate chaotic discord continues with purpose on the constellation aligning mind opener "the stars are made of us (a prayer for info wisdom)". The narrative continues in toe with wielding and reining in abstract audio elements to make sounds perplexing astonishment from the subdued style of "as a child I had salamanders (a prayer for compassion)", that later erupts to the full sensory signaling curtain dropper, "love you (a prayer for preservation)". One seven three provides that pensive state of both thought and adventure expressed through altered sound treatments and arrangements that are unlike anything you have ever heard before.
In case you missed it, meet Public Memory (Robert Toher formerly of ERAAS and ex-Apse with a solo debut slated for later this year) announced that Wuthering Drum will be available March 18 from felte, unleashing the boss baller/ boss caller single "Ringleader". The following is a tripped-up death disco-dirt-dub affair that is the sound of a deal going down/and or going south shot in slow motion with the most allotted frames imaginable.
New Orleans, Louisiana's Robert Tornillo aka IZE just dropped the EP / n e w / self-made in Rob's bedroom. The nostalgic reflective moods begins with the young and wild at heart sensitivities that run free on the tearjerker "teenage u / teenage me", to the east coast empire attitudes on the vignette of "nyc", followed by the DIY ditty of divergent lives on "breakup", to the fraternizing synth anthem for the new ages on "new friends". For those in need of something / n e w /, this is the EP that has arrived just in time for the new year just for you.
Brooklyn's Zubin Hensler is twig twig who readies the Normal Feelings EP for upcoming release sharing the electric-fuzzy sound + beat collage cordiality of "Fade Away". With funky choices of keyboard presets, various spinning effects of the whimsical and surreal, with a soft nu-adult contemporary undercurrent; "Fade Away" is the perfect song to spend getting lost in an afternoon that feels like perpetual sunshine in a world of no night and no morning dawn.
!mindparade dropped the psyched-out sound collage single "The Coming Home", that brings together all the varous fragments and metaphysical tissues in a newly aligned homecoming order. Taken off the Tree Machine Records album Dead Mystics, an entire new state of mystic consciousness is born that exists in the extended spaces and realms than the already established constructs of consciousness. In Alex Arnold's own words:
This !mindparade album is about cultivating a personal mysticism outside of pre-existitng dogmas or power-structures, hence the title Dead Mystics. When I found this picture in my room while completing the record, it all came together that I had the image for the cover. These were the Dead Mystics. Sometimes, everything is cyclical.
Mike Zorrilla and Mike Kirby previously of Tiger Dare have launched their trio Hotline along with percussionist Ian Vidaurre to bring in warm rock tones to help warm the ice, snow, and sleet that pervades these winter spells. With news of their debut 7″ available soon from Wonderland Archives, we bring you a listen to the a-side with "Don't Look Away" that provides lyrical and melodic thought passages that pan over the things that are hard to escape, lead by Zorrilla's vocals that burn through the snow storm of chords. Catch the band playing Shea Satidum January 26, and Palisades February 10.
Watch the Patrick Brice video full of all sorts of supernatural-antics with Little Wings' Kyle Field in "Fat Chance". Off the Woodsist album EXPLAINS, watch Mr. Field embark on adventures ripped straight from the comic books set to his masterful compositions of modern day balladry.
In case you missed it, listen as Virginia's Paris Jones collaborates with with Amsterdam producer LA-NO to create the progressive super smooth electro-bounce of "Promise". The worlds of rhythm, blues, and atmospheric lovers rock is delivered by Jones through LA-NO's arrangement that litters sparse and shimmering synths gently set next to the murmuring drum sequencing.
Madrid's Hinds drops Leave Me Alone January 8 from Mom + Pop / Lucky Number, and present the video for "San Diego" made by the band's own Carlotta Cosials. A trailer for Hinds' forthcoming tour documentary, ride along and sing along with the band that pack a fervent punch of pure garage energy.
Touring the States February 26 through March 3; hear the the Henri PFR remix of Editors' single "Ocean Of Night". Take a listen as those evening designated keys get turned up toward house-ier tricks and coastal rave beat kicks.
Hollie Kenniff & Keith Kenniff (of Helios, Goldmund) are Mint Julep who lent some ultra-bright pop heart with their single "White Hot Heart" from their forthcoming album Broken Devotion (available February 12). The duo deal in fusing together the tightest and most electrified pop tropes together in a cohesion that strikes at first listen.
Behold the warm and solemn winter video from Ben Phillippo for Gem Club's piano lead "Speech of Foxes" takes refuge from the elements by the fire. The seasonal sadness here goes from campfire folklore to full self-immolation right in the dead of the snow, and Gem Club's sweet but sad, sad song. Gem Club's Hardly Art album In Roses is available now.
From Nap Eyes' Paradise of Bachelors album Thought Rock Fish Scale, hear the single "Roll It" that brings about fab-four styled rock that takes pub-rock and rolls it back to the days of earlier invasions from the States' colonial cousins.
From the January 29 slated self-titled album, watch the b/w video for Black Country's "Black Gold" that provides some atmospheric comforts for a sullen, serene January eve.
Introducing FALA's Moon Canyon EP where the trio of couple Emily Pudalov, Patryk Mrozek, and Pranay Reddy returns with an odyssey made in their Highland Park, Los Angeles bedroom. With an attitude of togetherness and Nichiren Buddhism devotionals, FALA will have you seeing colors from the opener "Indigo", the west coast art-y lullaby rock of "Beleza, Beneficio e Bem", the secret garden enchantment on their cover of Jimmy Webb's "Magic Garden". The FALA sound has been kicked into full gear by the time you arrive on "Saudade", taken it to "Insignificant" that FALA designs to bring down the house in a dazzling big finish.
Hear "Boston" off Tom Csatari's forthcoming full-length album Ghost Friends available in spring. Touring now through January 12, hear some of Tom's infamous strums that move from the reverberating wooden hollows of the acoustic instrument's walls and basins to the air canals that course toward all pertinent and relevant sensory receptors.
Yoshi Walsh aka Al Polk of Streight Angular dropped some new future holiday classics with "La La La La La It's Christmas Time Again" and "I Wanna Smoke Weed with Santa". "La La La La La" brings out the more subdued aspect of many folks' favorite late December holiday right before Yoshi delivers a 420 friendly ode to the big guy in the North Pole with a simple plea to toke it up with the Jolly Ol' St. Nick.
For more chill tunes that are framed in that holiday-hangover mindset, peep the Josiah Hall karaoke ready video for Deep Cuts' super cool cut "Comatose Come Christmas".
Peep the space pop video for Shotty's "Love Mess" directed from the band's own Pat Moon that takes the audience to new planets, galaxies, and frontiers of space age pop.
Peep the ultra-enthusiastic performance video from The Crookes from Jake MacDonald for "The World Is Waiting" off their upcoming January 29 album Lucky Ones, followed by a a UK tour with Misty Miller in February.
Those in search of some seasonal comfort and cheer should look no further than The Big Ship's lush Americana mind-streamed tapestries off their January 8/29 digital/cassette Searchlight Casting from Fire Talk. Made up of Doug Kaplan (based in Chicago where he operates Hausu Mountain) and Aeron Small (based out of Philadelphia, currently attending medical school); the two work together to create a flutter of acoustic and electronic instrumentations that melds together in a warm winter stew for the lonely soul.
Matt Kivel's new album Janus is available February 5 from Driftless Recordings, and we bring you the floral pedal-stringed single "Violets" from one of our favorite tunesmiths. Starry eyed stories with a reminiscent yet present tense glow becomes one of the hallmarks of Matt's approach that continues to expand in all modes of both presentation and aesthetic.
With their new album Love Yes available February 19 via Carpark Records and touring February 14-26; hear TEEN's new single "Tokyo" that finds Lizzie & Teeny Lieberson & company marrying together their earlier/scuzzier operations with their latter more elaborate space rock extravaganzas in a succinct sort of cohesion.
Irrevery is the band lead by Paige Johnson-Brown that deals in a kind of ascerbic and addictive type of alternative pop with the recent EP that rails against social mores and more with numbers like "Take Your Anger Out On Me", to the autonomous self embracing "Just Like Me", to the anatomic constraints and concerns of "Anatomy".
Gláss dropped the single "You're Not Real" turning heads and perking ears featured off their forthcoming album Accent available February 5 from Post-Echo. The nearly six minute affair ponders authenticity of realness and the strains of tested patience through a narrative of rhythms and strummed electric strings.
Watch The Landing's hand-clapped-chorus-call single "Then Comes The Wonder" get tricked out in a vibrant disco-vibed video from Izzy Man and Cole Blumstein.
From Hilo, Hawaii meet Ironwoods, who released their self-titled album that provides some of the lesser heard sounds and sentiments broadcasted from the islands. All the fun begins with "Ice Fields", the dance-y life or death discotheque of "Little Gallows", central and primary concerns on "Alpha Centauri", the mathematical musical pragmatism of "Black Rhino", continuing the equations on the narcotic emotive guitar toned "Crystal Math", scaling life's compasses on "True North". "Tides" turns up the tension and wave frequencies, while "Multiples" translates the numerics to sweet chords, stone pondering reflective notes on "Obsidian", the journey dramas of "Traveler", before leaving you with epic heroics of "City Of Angles". From melancholic angelic tones to the angular algorithms developed and delivered; Ironwoods show signs of some intriguing sounds to follow.
Teen Daze dropped the track "Ce´le´brer" providing some fresh sequencing and beats for 2016 with the following introductory words:
This release will be the first of a few in a series. I feel like this is the time, and this is my chance, to put something positive into the world. It feels like we're all craving some positivity in our lives these days. Hopefully this single, and the songs to come, will bring you some light, some fun, and some dancing.
From Maximiliaan Dierickx , with art direction by Sarah Geirnaert and set photography courtesy of Alexander Popelier; peep Tsar B's video for "Escalate", featuring fancy dance moves, sparring shadows, and plenty of elaborate confrontations and engagements done to the maudlin atmospheres.
Pinegrove dropped the single "Old Friends" off the forthcoming album Cardinal available February 12 from Run For Cover Records. Prepare for pop-punk trajectories of conversational fragments ripped from the arbitrary nature of real life occurrences and much more.
Marlon Williams breaks out into the States February 19 via Dead Oceans, and presents the heavy hearts and siutations on the Damian Golfinopoulos & Carsten Kurdra video for the epic ballad "Dark Child". Catch Marlon on his world tour running from January 18 through March 15.
For long distance / disconnected hearts we recommend Tindersticks' video for "Were We Once Lovers?" that sends the brooding vocals down the dash-cam boulevards and freeways that connects points a to z and make the infinite like expanses of spaces between former hearts feel a little closer together.
Peep the Luca Ray video of psych-dipped-surf and color streaks for House of Blondes' "Waterproof" taken from their second album Stranger Still.
Off Cross Records' upcoming album Wabi-Sabi available January 29 from Ba Da Bing, hear "Basket" that makes fine economy of sparse sounds and shrill noises and harmonies to create something that is both eerie, haunting, and all around mesmerizing. It might make or break your week to be honest.
You are cordially invited to hear the entrancing and ecstatic track "Reichpop" off Wild Nothing's forthcoming album Life Of Pause available February 19 from Bella Union. Listen as your favorites make a sound that gradually grows larger than the combination of the xylophonic build-up and chants combined. The single and album your friends are going to be talking about through summer, for sure.
A super-posh collaboration opp between high end pop connoisseurs Brett and Madeira; listen to what happens when the crew takes on KISS's "Christine Sixteen". The result is Kim Pflaum's vocals coasting like futuristic flying cruisers taking flight through mind-spinning mazes of metropolis based skyscraper mountain majesties. Stay tuned for a full Madeira takeover featured right after the jump.
Madeira's Week in Pop
Madeira, Kim Plflaum former singer of Yumi Zouma, recently released the single & video for "Let Me Down" and also took the time to provide some VIP artist guest selections with the following introductory words:
In NZ it's summer at the moment so I'm really digging mellow house-type tracks, as well as some crazy new stuff coming out of Asia right now like DEAN—he's like the Korean Drake or something. On the flip side I'm always partial to slightly wacky tracks like Bonzai's "Doses", and I really like me some female rap, it's got empowering vibes.
Rosie Lowe, "Worry Bout Us"
Chris Lee (Li Yuchun ???), "Only You"
ATTLAS, "Parallel Lines"
Lontalius, "All I Wanna Say"
kiiara, "Intention"
MØ, "Kamikaze"
MØ, "New Years Eve" (Vera Loves Vasco Remix)
Lola Coca, "Bad Girlfriend"
bonzai, "Doses"
Melanie Martinez, "Gingerbread Man"
Astronomyy, "Ocean Eyes" (Astronomyy Edit)
LOYAL, "Blue & The Green" (Edit)
boycrush, "I Don't Want You" (Introverted Dancefloor Lonely Man Rmx)
Wet, "It's All in Vain"
Luka x Nalepa, "Cloudburst"
Chinah, "Minds"
Oliver Riot, "Ivory Black"
Fickle Friends, "Say No More"
James Crooks, "Naturally"
FREJA, "Lonely"
Emily Yacina, "Loser"
Cosmo's Midnight, "Hurt" (feat. Sarah Bonito)
Empress Of, "Kitty Kat"
D??N x ZICO, "?? (Pour Up)"
Dean x Eric Bellinger, "i'm not sorry" (chek parren rmx)
The Weeknd x Ember Island, "Can't Feel My Face" (Steve Void Remix)
GoldLink, "Movin' On" Feat. Louie Lastic
BAESIC, "Flooded"
Yuma X, "Swimming Pool"
SAMURA, "CRSPH"
Apachi, "TouJours Youth" (ft. XinSeha) (Millic remix)
Follow Madeira via Twitter.