As the festival fun keeps on raging in the summer sun, Impose's Week in Pop keeps our thoughts focused on the future while grounded in the sound and sights of now. With a big week to bring you, we first run through a few of the top stories with word that Ice Cube told Philadelphia's Power 99 that a new Dr. Dre album will drop August 1; Claire Boucher aka Grimes loves the Star Wars movie series, and shared insights on her new album; a crowd at Cleveland State University attending a Black Lives Matter event chanted Kendrick Lamar's "Alright" during a confrontation with police; Lollapalooza begins today (tune in here); Lil B's self-described "transphobic" tweets; a bunch of buzz for Deafheaven's upcoming new album Bermuda; Chief Keef's hologram concert shut down by the police; Drake got "Charged Up", a Meek Mill diss responding to his claims that Dreezy has a ghostwriter (and then dropped another diss with the "Back To Back" freestyle); Meek Miller then responded with his own diss "Wanna Know", followed by Drake's subsequent Instagram response; it appears that Neil Young has indeed actually removed most of music streaming services; Earl Sweatshirt versus a stage-crasher in Sydney, Australia; The Feelies' Glenn Mercer to release his first solo instrumental album Incidental Hum October 9 from Bar/None; watch Billy Corgan's intimate fan sesh at Red Rocks in Morrison, CO The Smashing Pumpkins VIP Experience, and responded to the viral picture of him riding Big Thunder Mountain Railroad at Disneyland; Tyler, the Creator claimed to be banned from Australia; Keith Richards revealed that he still smokes weed "regularly", but is unsure about the ramifications of legalization; Azealia Banks tour canceled but with new tour dates in the works; U2 have two HBO specials arriving in fall; Courtney Love and Frances Bean Cobain fight to keep Kurt's death photos sealed; and Morrissey claims he was sexually assaulted by San Francisco International Airport security.
Moving right along, it is our honor and pleasure to present the following exclusives and interviews from A/S/L, Jesse R. Berlin, Joey Fourr, USF, Telegraph Canyon, Brainstory, diNMachine, DTCC, Finding Fiction, Kristachuwan, Sea Moya, Sports Coach, You Blew It!, featuring guest selections from Mykki Blanco's Dogfood Music Group crew Psychoegyptian, Violence, Yves Tumor, and more—in no particular order.
USF
We last heard from USF's Jason Baxter and Kyle Hargusover a year back with the release of their SIMISM EP that provided song cycles that spawned the senses and simulations of digital municipal city like environs. Recorded at the same time was enough music for a complimentary follow up EP that creates the atmospheric settings of a desert oasis at the fall of night with the Oasism EP released today from Ceremony Recordings. More than solely an audio exclusive artifice unto itself; Oasism is also an interactive musical adventure game (think the hey day of Lucasfilm Games / LucasArts computer games like Loom, Maniac Mansion, Monkey Island, etc) with art and design by Dan Miller and USF, coded by David Casagrande. The result is everything you have been waiting for since SIMISM and more that shape-shifts into mirages of every audio sensation you have been craving this summer combined with interactive throwback digital media arts.
As you entire into the barren landscapes of rock formations, dry trees, vagabonds, hidden treasures, skulls and more; Jason and Kyle welcome you to the next USF level with "Spires" that creates vocals that rise in patterns of sky bound pointed sample edits. Like the mysterious and desolate vibe of the game and atmospheres of Oasism, "Unknown" plays up the elusive factor with a big beat house jumping party designed for any party at any desolate location. Keeping the party off the grid, "Brian Coral" runs drum & bass jungle patterns that treats the synthesizers as if they were choral strings attached to symphonic band backing. The throes of destitution and decisive action are displayed through the pensive button pushing and sequencing of "Last Boat BAck" that stirs a super-forward cinematic sensation of a celluloid hero who has missed the last ship or ferry departing back for home. The following confrontation with forces of the unknown are heard in the last battle rumble theme "Then Color" that keeps the adrenaline pumping in constant series and layers of rhythms. The finale credit roll closer "Datamoshing" creates a rolling series of suites where USF unleashes everything they have in their arsenal which puts the finishing memorable touches on the duo's most ambitious multimedia work to date. Following the listen to Oasism, read our interview with Jason and Kyle followed by a preview of the interactive component of the EP.
First, the obligatory question about what has been happening with the two of you between the makings of SIMISM and the new Oasism EP?
Jason: Originally the songs on both EPs were written and recorded at the same time, but once the decision was made to split them into two EPs, we spent a long time reconceptualizing the songs on Oasism as their own beast.
Kyle: We recorded a new track to sit alongside the others ("Then Color") and began planning the corresponding interactive site, which was designed by our friend Dan Miller, who's an awesome pixel artist working out of New Orleans, and coded by David Casagrande from Ceremony. Dan also designed the EP cover artwork, which inspired the futuristic desert milieu of the site.
What is the story behind the titular obsession with "ISMs" and how did that influence the release titles?
Jason: SIMISM was our attempt at a made-up addition to the technobabble [sic] lexicon, like some of the weirder phrases or words that have entered modern everyday conversation ('Googling,' 'blog,' 'screencasting,' 'meme').
Kyle: We wanted to keep some consistency in the titling of the EPs, so we kept the "ism" suffix and chose 'oasis' for this release to highlight the music's atmospheric landscape. SIMISM was meant to evoke the city at night, and Oasism the desert at dusk.
How did you two go about building this type of sonic, bliss-decorated oasis in six tracks?
Kyle: There was a definite effort to segregate the more pop-leaning, dance-oriented tracks to SIMISM and save the more compositionally rich and textural songs for OASISM. If we can get dumb and philosophical about the title, many of these songs could conjure the feeling of suddenly encountering a lush, water-rich oasis within an endless desert, reflected by smaller movements or key changes that cut through them and disrupt the emotion or momentum.
Jason: We also went ape in the studio with the Eventide Harmonizer in particular, that's for sure.
Feels like the relationship between the drum sequencing and the synth progressions are on an even more adventurous charter, like on "Last Boat Back," "Brain Coral," etc. Is this conscious?
Kyle: Yes, absolutely. Adventurous is totally the word we'd use. There's a less-exuberant, more complicated undercurrent to most of these songs, which necessitated more variety both rhythmically and melodically. On "Last Boat Back" we really worked to pack that song full of hazy analog gloom, with a kind of itinerant structure and an unusual tempo.
Jason: "Brain Coral" started as kind of an acid house homage but ended up more sentimental and downcast in the end.
I like how the technological angle is always at work, for instance on the pixelated pump of "Then Color" and on the compression sample-exercise of "Datamoshing." How do you take the digital and the natural and combine them in your music?
Jason: That's kind of been our M.O. from day one, and we definitely wanted to emphasize that in a literal sense with both the artwork and the interactive site. Part of it comes down to the combination of software and analog equipment we employ, and part of it derives from our unwavering desire to include atmospherics and abnormal soundscapes amidst a more traditional "electronica" framework.
Kyle: There's so much going on in "Datamoshing" (hence the title), I think we have an off-tempo synth arpeggio, flutes, vocal samples, some birds I sampled at Iguazu Falls in Brazil… so it kind of necessitated some hard compression. But we really ended up liking how it sounded when we flattened all of that and let the drums and synth washes kind of ride atop it. That song is full of movement.
Describe what the USF summer 2015 edition has been like thus far.

Kyle: I haven't been working, so I spent two months driving across the country to New Orleans and throughout the South earlier this summer. That was a blast. Since I've been back in Seattle, I've just been doing a lot of cooking and reading.
Jason: My day job's been keeping me extremely busy, and I've been doing a fair amount of cross-country traveling of my own, though I've still found time to "enjoy" one of Seattle's hottest summers of all time.
Plan for fall/winter?
Jason: We are hoping to hit the road soon, and are very hard at work on a new batch of songs that take our sound in a very different direction while still staying recognizably 'USF.'
Kyle: Right, that's the other thing I've been doing. We've got some really fierce tunes in the chamber. And a couple really epic bummers too.
USF's Oasism is available now from Ceremony Recordings.
Experience the full interactive Oasism game/EP here designed by Dan Miller with coding by David Casagrande, and check out the preview with the following display scroll of GIFs:
Joey Fourr
We were introduced to the UK's Joey Fourr last February with word of the album To The Floorr from MÏLK Records and Atelier Ciseaux, and we have the world premiere for the gender-bending lo-fi style crossover of "Crossdresser" directed and choreographed by Joey. Featuring set design from Lady Neptune, filmed by Jack Barraclough, produced by Hattie Ladd, and filmed at Kluster Room Studios; the recitation of "if you want it" present our protagonist Joey indulging in a trophy winning alter-ego decked out like like an alt version of Miss Chiquita. Keeping up with the colorful motif of all things Joey Fourr, red, purple, and pink balloons make up the background as a foreground frame of flowers and fruits outline all the eccentric action that follows.
The video for "Crossdresser" begins with the trophy award ceremony that pronounces with onscreen words that state "JOEY FOURR WINS BEST DRESSED FISH" presenting a fruit stuffed silver cup that excretes a viscous type of syrupy liquid. What occurs next is a series of post-gender posturing and poses that relishes a DIY sense of vogue that claims the belle of the ball title like a transgendered take on fashion week functions and catwalk presentations of colorful couture. "Crossdresser" runs at a quick paced collection of fun filled chords and a hoppy rhythm section that runs freely in a song about dressing and acting out what you feel from within. Hand and facial gesticulations diva it up for the camera, as a rain of feathers fall from above as Joey Four drives home the message of "if you want it, you can have it.'
Joey described to us the making of the video with the following words:
"If you want it, you can have it"——so feeling fabulous and having fun was how I wanted the video to look. I wanted the video to bring to the song something outrageous and and colourful and confusing and funny. Jack (drums) lit and filmed, Moema (bass) made the frame and styled the shoot, Hattie Ladd let us consume Kluster Rooms for the day and threw a tonne of feathers over me and Minnie Honour Blackman beat my face into the Best Dressed Fish.
Catch Joey Fourr playing the following dates:
August
15 London, UK at Montague Arms(Survivors Benefit Gig)
16 London, UK at Shacklewell Arms
22 Brighton, UK at Devil's Disco
September
05 Bourn, Cambridge UK Wysing Festival
08 Sobrainho da Ribeira, Portugal
14-17 Portuguese tour
27 Disco Loco in the Park Festival, Clapton
October
17 Manchester, UK Carefully Planned Festival at Soup Kitchen
Joey Fourr's To The Floorr is available from MÏLK Records while the tapes from Atelier Ciseaux are currently sold out.
A/S/L
Oakland duo A/S/L are readying their EP debut Love Will Let You Down for August 4 from Empty Waves, and we are proud to present the video premiere of urgent noctuary needs and desires of "Le Monde est à Nous" (Need Somebody) directed by Nick Dolph and Thirty38 Productions. The duo of Linnae Dosumu and Cliff Mattis bring about the ballet of bonds and wants that take place in low lit environments and the intimate refuge of milk baths that wrap the eyes and ears in the subtle, and sensuous allure of offstage and untold mysteries of the heart.
"Le Monde est à Nous" lays out the needs in the beginning with what sounds like a snippet of a whole other song that summons the piano lead fairy tale of unknown endings, passions, and pleasures. Designations and definitions of fidelity lie in the balance between hi and lo where bathtub thought confessionals spill distilled sentiments forward onto a dark dance floor. Light patterns and colors play about and make for subtle silhouette glows and beam around a shadowy, shrouded figure whose face remains wrapped in gauze. A/S/L outlines the implied complications of connective heart strings that weighs out the 'stay or go' scenarios as the emotion heavy arrangement aura is brought to a close and the video's climax where the elusive figure begins to unravel the cloth that shrouds the visage of identity. After the following debut of "Le Monde est à Nous", stay tuned for our interview with A/S/L's team of Linnae and Clifford complete with a collection of behind the scenes Polaroids from the video.
Tell us how the two of you created an atmospheric nu-chamber pop craft named after internet chat room slang.
Clifford: We started working on the project about 18 months ago. Linnae had just moved to the San Francisco a few weeks before I met her.
Clifford: All of the earliest stuff we worked on was recorded in practice space about 45 minutes to the north of the city by car. It was an absolutely terrible room to record in. I could only afford to rent an eight of the overall practice space, so we had to setup all of the recording equipment on a cardboard box that we would shuffle out of our little corner of the room every time we wanted to work on music. Nearly all of the material we wrote in that room was much more obtuse and experimental then the songs that ended up on "Love Will Let You Down", sans one, which in it's final form ended up being "Le Monde est à Nous".
Tell us about how a piano haunted single like "Need Somebody / Le Monde est à Nous" became visually adapted in low lit, hushed, and haunted tropes and tones?
Linnae: It was difficult to translate this to video at first because we wanted to make sure to capture the transitions that occur in the song, but in a smooth and seemingly natural way.
Clifford: We (and by we I mean Nick/Max/Richard) worked really hard to make every location used for the video look 'unreal.' It blows my mind when I think about how they were able to transform such mundane locations into these weird dreamscapes with basically nothing other than a couple lights and a smoke machine.
Tell us about the romantic narratives and inspirations that informed the Love Will Let You Down EP.
Linnae: I think being a child of divorce definitely puts a sense of ambiguity and uncertainty to love that didn't really exist for generations before us. Our parents were told marriage is forever, love is forever. When I was about five, my mom asked if I thought she should divorce my dad. I told her if they didn't love each other, they shouldn't be together. I think the EP is about a variety of relationships and how fleeting love can be. We demand so much and yet love can be so fragile.
Clifford: During the beginning of the recording process for Love Will Let You Down I read Plato's Symposium. One of the characters in the dialogue is the famous Greek playwright Aristophanes. In this dialogue Aristophanes gives a speech in which he presents a (perhaps satirical) genealogy of love. He postulates that in the past men and women we're not separate beings, rather, we each had a partner that we were attached to via our genitals. If we take this to be true (which it like, totally obviously isn't), the search for a romantic partner becomes a search for our literal other half and sex becomes a futile attempt to rejoin the two halves into one.
Clifford: I couldn't stop reflecting on this section after I finished reading the dialogue. In some ways I see all relationships, but especially romantic ones, as an attempt to "close the distance" between ourselves and an other. We want to, or more accurately, we need to become one with another person(s), and the fact that this is truly impossible causes a tremendous amount of the angst and strife that we each experience in our lives. I realized much later on that on a subconscious level all of the vocal samples and song titles I had chosen for the project seemed to reflect this thought I'd been repeating over and over again in my head. Luckily for me, Linnae was (completely independently of me) reflecting the exact same themes in her lyrics.
Describe how the two of you forge together the A/S/L sound, and what song comp and arrangement methods do you two employ?
Linnae: Usually Cliff will start with a really simple clean beat with a basic structure and a few variations I can play around with. Then he sends it to me and if I feel inspired I will send him back a demo of my singing over the track. We get together and go over the demo together, talk about some variations in vocals that could happen, make a new demo to work off of, then it repeats. Back to me, I make some vocal changes, we workshop it again and then finally we record the final version. It can take anywhere from 3 weeks to 4 months for us to complete a song.
What is the secret of conveying degrees of intimate feeling to subjects of sound?
Linnae: Vocally, its actually quite easy. I base my lyrics off of real life situations so I just pull from those moments in my life and translate it into my voice. It's funny because that well of emotion never seems to be dry so I can continually pull from it and experience those emotions again. I think it's probably the same thing actors when they perform.
What is the latest happening in Oakland these days?
Linnae: I just moved to the Bay in January of 2014 so I'm actually not hip on what is going on here. The city has a lot of heart and the people are really trying to hold on to their community in the midst of controversy. Personally love the city and everyone has been very welcoming to me.
Clifford: Oakland, like everywhere else in the Bay Area, has been strongly affected by the inability of San Francisco's housing supply to meet demand. The entire East Bay has been undergoing a radical transformation in the past few years, which for better or worst makes it super interesting place to live/work/be creative in.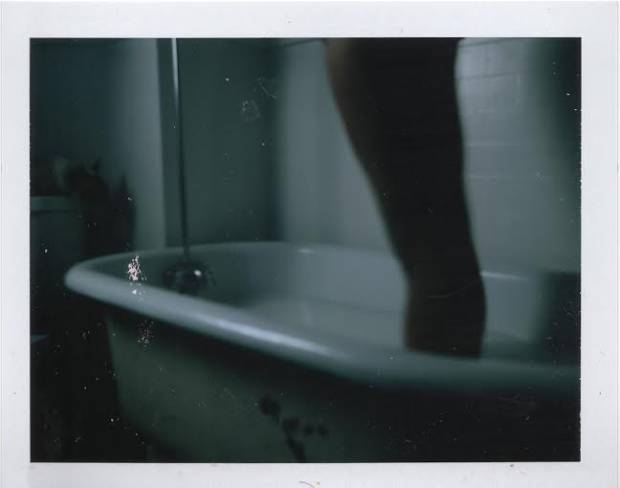 Local artists from the Bay that you two want to recognize?
Unconditional Arms & Everybody Row.
A/S/L's Love Will Let You Down will be available August 4 from Empty Waves.
Jesse R. Berlin
NYC wunderkind Jesse R. Berlin is a one man wrecking crew who lately has been preaching the gospel of his forthcoming album Glitter Lung available August 14, and we bring you the latest listen with the premiere of "Tallulah" that plays it strange as a disco lounge oddity made like a cult future classic for tomorrow's audiences to scratch their heads and ears over. Following up recent singles like "How Did You Sleep Lady Kite", and "Wash Your Boat!"; the electrified essences of the odd and obscure echo from the wings and corners of the pop spectrum and takes a rightful place at the pop music table compendium and center spotlight of today's stages. Berlin's histories we are told begin in Houston's Tex-Mex blues scene, working at a chop shop for Nissans, a band called Dip Stick/Steel Wheels, an electronica false start titled MachineME from 1996 under the JRB-1 monicker, an Excedrin-addled album called Reflections from 1998, dipping his toes in the baptismal pools of a Contemporary Christian pop with the album JESSE, where isolation in San Marcos would yield the strange summer solstice spectacular of Berlin's forthcoming Glitter Lung.
On the wayfaring gallop and fuzz of "Tallulah", Jesse R. Berlin takes you on a troubadour rambling, traveling journeys across the lands, hills, mountains, valleys, and coastal sands. The percussion mimics the plod beat of cloven hooves and boots on theground making their way from one point to the next navigated by Jesse's nasal poetic psych soaked visions that melt along with the squelch and qual of electric singing strings. The journey takes on a comforting half-baked headed sort of hedonism steered in directions by Berlin's own determined weather vane sense of purpose that hops along with the opening lyrical impetus; "if you have to go home then I'll drive youk, yeah I 'll drive you, and if you don't have a home to arrive to, well that's fine too," followed by a litany of "do da do da dos." "Tallulah" finds Jesse fitting himself into the role of guide and savior like a solo man traveling salvation show/lounge act that makes the rounds from dives to festival tents where the hurt are healed, and the inspired become further enlightened. Right after the following debut of "Tallulah", be sure to read our entertaining conversation with Jesse R. Berlin himself.
As someone who has gone through so many musical transformations, how have these series of adventures and shifts brought you to the current day gestalt of Jesse R. Berlin?
Before this record, I would say that I was almost like Buffalo Bill in Silence of the Lambs – not that I was an insensitive caricature of gender dysphoria, or that I was a vicious serial killer, but that I was so profoundly uncomfortable with who I really was that I felt like I had to cloak myself in someone else's skin. Blues, folk, indie, CCM – these are very easy identities to pluck off the rack and parade around in. You can feel cool doing it, and sometimes you can convince the people around you that you are actually cool, but at the end of the day you are just wasting valuable time and resources.
But now I am finally doing the thing I was meant to do, that only I can do, and that is the truest representation of who I am. And wouldn't you know it, it is really fucking good.
There is a magnetism it seems behind your current output, something that feels like whether or not this is just some elaborate stunt—Glitter Lung has something weird and wonderful for all tastes. Like a future warrior with an addiction to modern era luxuries that are as schmaltzy as a pink leisure suit. What attraction to the whole disco lounge focus grabbed your attention and appetite to deconstruct and dismantle according to your own discretion?
First things first—fuck you for calling my pink suit schmaltzy. It is a thing of great beauty, and I am a thing of great beauty when I wear it.
I do think there's something about the way disco, lounge, yacht rock, glam—really any genre that engages with a sense of "camp"—can use glossiness and an artificial sense of exuberance to create a safe space for addressing very real depression, pain, and sadness. Like anyone who would bother to dedicate their life to something like this, I am at my core an unhappy and deeply selfish person. But depression that is presented in a straightforward sense is dull at best. Especially in this post-Bon Iver economy, where any coddled jackass with access to their parents' sweet vacation cabin can make an "honest," "emotional" record about some girl who hurt their dumb little feelings or whatever. Fuck that shit. If I'm going to write about what's going on in my head, I ought to at least try to turn it into a fun and compelling thing for other people, you know?
What is the Jesse R. Berlin secret to bridging the gulf between novelty and serious stations of artistic craft?
This seems more like a question to ask of someone whose corny shtick implies a degree of emotional resonance that it doesn't actually contain. Like, oh, I dunno, Ariel Pink.
Lots of other artists seem to be name checking you as their new favorite artist, but who is Jesse R. Berlin's favorite artist right now?
The record I'm listening to the most right now is Y Dydd Olaf by Gwenno. It is so fucking good. I think she and I might be coming from similar places creatively. I also adore the Beauty Pill record Describes Things As They Are and Jim O'Rourke's Simple Songs. Miniboone's Bad Sports came out earlier this year and was criminally underrated.
What experiences and life lessons have you taken away after creating Glitter Lung?
I am a goddamn genius and I made a masterpiece and nobody can take that away from me.
What do you feel is working right now for the whole music industry, and what do you feel is not working?
Nothing is working and everything is not working. But I do think that if any model could potentially be sustainable, it's the one I am operating with—recording largely at home by myself, and performing and touring with a very minimal amount of equipment. It is really just the Fugazi model of maximum efficiency that I have always admired, updated for an era in which nobody is willing to buy anything.
There is a blissful angle of anarchy about your music, and I was wondering if you felt that this was the time for the outsider and former fringe artists to get a moment in the spotlight and shared stages with their already established heroes?
I mean, yeah, sure, I certainly hope so. Although honestly the gulf between the fringe and the center seems to just be getting wider right now. The "indie" world in 2015 is like "new wave" in 1981 or "alternative" in 1996—what was once a safe place for the genuinely odd is now just a watered down tool of the mega-corporations with all the rough edges sanded down. It's embarrassing. But the fringe always finds a way, thank god!
Lastly, can you give us the Jesse R. Berlin guide to summer 2015?
Buy my record, see my show, send me fan mail (erotic content is encouraged). Also I guess try to get some sun or something. I don't really give a shit.
Jesse R. Berlin's Glitter Lung will be available August 14 via Bandcamp.
Telegraph Canyon
Fort Worth, Texas's Telegraph Canyon release their new album You From Before today on Velvet Blue Music, and we present the world premiere of the video for "Why Let It Go" that takes you through tempestuous circumstances to the things in life that matter the most. Following up the album The Tide and The Current, the ebb and flow nature of time and character are taken on journeys that recollect the familiarities that continue to hold a staying power and presence in the current day. Christopher Johnson, Bobby Zanzucchi, Austin Green, Chuck Brown,Tamara Cauble Brown, and Erik Wolfe convey the conversations inspired by relationships in adaptations of harmony, melody, and rhythm penned for live performances.
The debut of the Brandon Schwindt video for Telegraph Canyon's "Why Let It Go" finds frontman Christopher catering to a unexplained shiner in a bathroom before entering into a situation of dangerous liaisons. The song begins as the situation gets heavy in a barbershop where our hero is confronted by henchmen goons, flourishes his handgun pistol before driving off to a happening house party. A song about addictions, close connections, attachments, and more croons over the video's wild ventures into busting up games of chance that then begins to set things in reverse motion. All the action witnessed in the video for "Why Let It Go" is then depicted in reverse where the chronology unfolds in a rewound order that ends with our trucker capped, sunglasses sporting night rider safe at home with his family. We had a moment to catch up with Telegraph Canyon's Christopher Johnson in a conversation featured after the following video premiere.
What sort of inspirations for you guided the making of You From Before?
A wild few years and a bunch of highs and lows. There's the personal side of the lyrics and the 'Man, I like to write new and different kinds of songs' side to everyone of them. I wrote them all about relationships that I've had. Some heavy, some positive but most are a little bit of both. More like conversations than anything really. I had never done this much before, instead leaning on questions or ideas about life that were banging around in my head. As for the music side of it, I wanted to make songs that we would enjoy performing.
Tell us about the adaptation of "Let it Go" for a video about a family man, con man who knocks off a barbershop, causes a pool hall brawl, but still makes time for his loved ones.
The video doesn't really have anything to do with what the song was written about. We chose this route because we thought it was more interesting to make something that was humorous but still had some dark slant to it.
What currently music-wise do you find inspiring?
War on Drugs as been spinning at my house all summer long
Next in the cards for Telegraph Canyon?
Lots of touring! We love being on the road and that's what the next six months hold.
Telegraph Canyon's album You From Before is available now from Velvet Blue Music.
You Blew It!
This week saw the release of Singles Club's Issue #6 featuring Orlando's You Blew It! and their new single "Punker Than Thou". Working on following up their 2014 album Keep Doing What You're Doing, Tanner Jones, Andy Anaya, Trevor O'Hare, Matt Nissley and Andy Vila keep the flames of emo etched conversational lyric narratives burning with both sincerity and a succinct economy that finds "Punker" ringing in all the holier than thou attitudes in less than two minutes time.
You Blew It! cut the needless conversation short on "Punker Than Thou" that continues to extol the structural virtues engrained into the band by Into It. Over It.'s Evan Weiss (who produced their previous album), further applied this time around working with engineer/producer Dave Plakon. The think before you speak lessons go back and forth in a discourse between people with nothing to say, and conversation stifled from collective confusion, and/or deficits in understanding. Through the misappropriated verbal gestures, the derelict speeches and exchanges are dedicated in clusters of chords that carry the emotive underlying layers that bring the the mixed, and mismatched emotions closer to the sentimental surface. You Blew It's Tanner Jones took us behind the recording scenes for a closer look at the making of their new single:
"Punker Than Thou" came out of the Pioneer of Nothing sessions, which was a time where we were trying to figure out where to go after penning really brazen, raw songs on Keep Doing What You're Doing. "Punker" was interesting to us, because it's so incredibly short, but plays on so many dynamics. The song is bookended with these drivey, thumpy, [sic] sort of aggressive parts, but everything in between is either sort of a chunky groove or a minimal chorus.

We went into the studio when the song was slightly unfocused. We had all the parts laid out, but everything seemed very tentative and unsure of itself, so I think we owe a good bit of credit to our engineer—David Plakon. He cut his teeth in a different background than we did, so naturally David saw things that we couldn't, and I think "Punker Than Thou" really benefited from that.
Singles Club's own Jeffrey Silverstein wrote us the following on the Issue 6 single from You Blew It!:
Working on this issue with Tanner, Andy, Trevor, Matt and Andy has been a restorative process. Sometimes when you are plugging away on a project with limited time and resources, it's easy to enter that existential headspace where you ask yourself, is anyone out there paying attention…does this matter? Getting to spend time with the guys in Brooklyn reminded us why we're doing this. Because we're simply obsessed with music and want to share the stories of people who wouldn't be where they are without it. They work really, really hard at what they do and we admire that wholeheartedly.

This issue hits especially close to home as we got to collaborate with some amazing friends and incredibly talented people. Definitely want to give a shout out to Daniel Dorsa for lending a hand with photos and to our bud Dave Plakon for helping YBI! with production on "Punker Than Thou". Also, I really want to thank YBI!'s manager, Joseph Marro who has been so crucial to making sure everything happened smoothly. I keep for getting he is in The Early November, whom I probably saw more than any other band growing up in NJ, but haven't had the courage to tell him yet. Things really came full circle on this one. Hope everyone digs it.
Singles Club's Issue #6 is available now.
Sports Coach
Bringing you the wide eyed warm synths and sensations with "Dreaming Of Sleeping" from Boston musician Sport Coach's upcoming album try & try & try & try available August 4 from Citrus City Records. Following up the recent single "no more dreams", snazzy keyboard dazzle up an atmosphere that dances around the discourse connect of chords that resonate like old lullabies sung from faded nostalgic recollections.
Sports Coach executes the play-by-play moves that rise from the crevices of the dream state mind that rises from the depths of sleep and into the sciences of the awakened world. The hooks exist everywhere in the song that provides a new aspiration for the new romantic set that looks to dream journals, dream catchers, and dream interpretation books for all of life's most elusive answers and mysterious questions. "Dreaming Of Sleeping" abounds the mystery metaphysics of feelings and worlds enjoyed during moments of rapid eye movement and the closing repeated lines of "I will be okay…" where Sports Coach provides you with heart to heart huddle notes that makes everything feel like it's all going to be all right-at least until the fleeting moment passes. After the listen to the following single, check out our interview with Sports Coach featured below.
Tell us about the trials, errors, and try, try, trying that informed your upcoming August 4 release try & try & try & try for Citrus City.
I started the Sports Coach project in November of this year and had been putting out 1 album a month for a few months. This is my 6th release. Further a long the way I started to try harder and care more, which made the albums require more work. My last release was in April and from April until May I was on tour for a month. I wanted to come back and make a hella good album but nothing really seemed right. I made one 12 track rock-ish album, more similar to my "I don't know how to do it good" April release. But I got sick of it. Then I made one 21 track mellow album that was real experimental. Every song really blended together so that the album was actually like one long track. I was eventually tired of it though. The mellow slow music, like my "ballads of coach lazy eye" album didn't feel right. I had been listening to a lot of synth heavy indie shit for a few months, like one Citrus City band from South Korea, Shindigs, and this dude called Part Time. The synth stuff ended up feeling cool and I wrote the "try" album in about a week and a half or two weeks. Only cut 2 or 3 songs during the writing process. That was that. It was a try, try, trying album, ha ha ha…
The new releases sports songs that are very concerned with the nature, states, and experiences of dreams like with "Dreaming Of Sleeping", "No More Dreams", etc. How do you find that your own dreams inform your work either consciously or unconsciously?
I don't have any dreams at all. When I start a song I always hit it with a random working title when I save the file. I used to go back and re-name the songs to make more sense with the meanings or lyrics or whatever but then I would always forget what the titles were. This release I just kept it with the working titles. None of them make any sense or have anything to do with the songs and when I sleep I rarely have dreams because dreams are weird as fuck man.
What do you feel are some of the greatest things happening in Boston right now?
Boston is cool. I've played in a lot of cities in the U.S. at this point and to be real I think the average band in Boston is a lot better than the average band most other places. Boston kind of caters to slower // darker // weirder // sadder music. Theres a lot of really great bands making cool music like Plums, Wakes, Horse Jumper of Love & Stumpf. The whole DIY basement scene is pretty good too. Theres usually a good show or two happening on any weekend night and a few during the week. As a city though Boston sucks, its small and full of frat bros and bittys. Just a primarily white college town with like 400 colleges.
Insights into the Sports Coach style and methods of creating dream machine arrangements?
I don't know what the Sports Coach style is. Its mostly just popped collars and boot cut jeans. I just Googled dream machine and a song by Mark Farina came up, is that it?
Sport Coach's album try & try & try & try will be available August 4 from Citrus City Records.
DTCC (Doubting Thomas Cruise Control)
Check out the "Soft Focus", the second single taken off of DTCC's (Doubting Thomas Cruise Control for the uninitiated) upcoming album Remember Me John Lydon Forever available August 14 from Fleeting Youth Records and the band's own label Duckbill Records. All the particulars of growing up, the proverbial 'coming of age' tales and transitions are observed like reflections on a sunny day spent sulking and sequestered to one's own quarters for sessions of introspection that could fill at least a couple 100 page paperback pulps. Join us after the jump as we caught up with DTCC's Bobby Cardos about the new album, Duckbill Records, Fleeting Youth partnership, and more.
Duckbill Records have been around nearly half a decade now, what are your thoughts about reaching this milestone, and the current state of indie labels, and the importance of independent labels cooping, and banding together?
It might technically be 8 years now. I've always used Duckbill Records as a kind of moniker, like Guided by Voices used Rockathon in the early years. I think 2011 was when we started associating it with our friends' bands and working more collaboratively on things. Collaborating with Fleeting Youth feels like a big milestone, and maybe an indicator that we could do more projects with other labels or bands outside of our immediate circle. The band is still the primary focus though, so that's more of a nice idea that may or may not happen, depending on where my schedule is at and what seems natural/feasible. It's cool to think that the moniker has been in use as long as it has.
In terms of the state of indie labels, I still feel more of an observer than anything. But the thing that strikes me is the scale, at least in terms of physical media. Like if you read Our Band Could Be Your Life and Big Day Coming, it's interesting that Dischord or SST or whoever would do a run of 5,000 records and that would be considered a small run. Whereas now I don't think I know of any small labels that start with anything more than 500-1000. Remember Me John Lydon Forever is only 250. If you sell them out maybe you do more, but to start at 5000 seems like something you would only do if you had a really big release these days. That probably says more about how people consume music more than reach,, though, because I think the digital distribution/promulgation of music through blogs/forums/etc. has probably given smaller labels more access to the world at substantially lesser cost. Unfortunately, that access doesn't always translate to a label's P&L, since it's no longer necessary to physically own a record to hear it, and many people don't feel a particular desire to. Which is their right, and I'm totally willing to admit that my own desire for physical media is an outmoded thing.
More than anything I think the tightness of money is what brings labels together. I'm speculating, since as I mentioned I'm not really in the label game in the same way Ryan (from Fleeting Youth Records) is, but it's kind of funny that it used to be that one label would put out a split release of two bands, and now two (or three) labels are splitting one band's release. In one sense I think it's great that multiple labels can work together, and believe strongly enough in an artist or record to bring that record into the (physical) world and promote it. But I also think it would be better if labels were in a position where they felt less limited by money and could explore their own curatorial tastes more aggressively. (Side note: I find all of economics of this stuff hugely interesting, and if anyone wants to correct me or talk more about this please get in touch.)
Remember Me John Lydon Forever is such a heavy feeling, very introspective, holding a big emotive weight. What for you were some of the more poignant moments during the song drafting and recording processes that really stuck with you?
Poignancy isn't something that happens for me during the creative process that often. Songwriting and practicing/recording are usually a release. Writing "Lenny Bruce" felt a little loaded, since the ideas behind the song felt really connected to my immediate surroundings at the time. But it was only when we got the final mixes/masters and were sequencing everything that I would listen back and be like "oh, this feels like something heavy."
But in terms of moments I remember throughout the process: Joe making us let him play horns on "Nice Guy," and us reluctantly letting him, only to realize it was perfect. The first time Sean played the solo to "Texas-T." Feeling the lyrics for "Lillehammer" we especially strong, once finally written. Nailing "Lenny Bruce" in practice for the first time. Guiding Joe through the structure of "Shed" while he recorded an organ part. Playing the high register of the piano on "Ghosting" to do a sort of "Just Like You Imagined" (by Nine Inch Nails) thing.
What are some of the secret ingredients, and recipes to making a DTCC jam that will fry your speakers and circuits, while breaking your heart?
I'm not sure that there's a recipe per se; and if there is it's something that someone else could identify better than I can.
But to speak to process: as a songwriter I've become really comfortable with letting songs be what they are; it's more like I'm facilitating music rather than writing it exactly. What music happens from that of course is subject to my own skills/limitations as a player, and what music I've been exposed to over the years (and the people who exposed me to it, to whom I am forever grateful). And that seems to mean that I am attracted to melodies and interesting chord progressions and relatively simple songs, but with structures that are slightly off. All of which is to say that I assume that the song that's being written is the song I'm supposed to write, and not worry about it too much. Because if it's bad then you just don't play it, and you write a different song.
As a band I think the biggest thing is that we've been playing together so long that we're synced up really well. I don't think I can emphasize enough how important that's been for us as a band and to me personally. Joe learned drums for our first band in college, and I've literally seen/heard every time he's played drums, ever. That's huge because it's exciting to get better together, but you also get aligned in a way that makes the process of writing and learning new songs easier and more rewarding, because we can articulate what we're trying to do well. Plus you trust each other, so everyone can focus more on what they're trying to do for the song.
I usually write the songs on acoustic so it's definitely in practice as a band that the songs get elevated to "fry…speakers and circuits." Re: heartbreak: that's not always something I have a good sense of while we're doing it. A lot of the songs that sound sad or dark are often funny to me, if you're just looking at the lyrics. Which is one of the cool things about music, that it's all the components of a song that make it one thing or another. Sometimes in practice or live I'll ad lib lyrics, because to me it's more about how the sounds of the words and melody work with the music to evoke feeling. Like it's great when lyrics mean something, and I try to do that where possible, but it's really not the most important thing.
What are you really excited about artist, band, scene wise right now in Brooklyn?
There's so much good music being made right now; a lot of excellent records are going to be coming out in the next six or seven months if my show experiences are any indicator. And the people in bands who I'll talk to are all trying to go push themselves, often in spite of jobs and rent and other potentially compromising realities. This has probably always been the case, but I enjoy being in the midst of it. It's great to see a band play and think "Oh shit, we have to be better," and then "We can't do what they're doing, but we need to figure out how to do what we do as good as that." It's an awesome feeling; I find it encouraging to think there are so many ways to make people feel something.
Fall plans, and next moves for DTCC?
We're touring the second half of August to help support the album. There are a slew of unreleased tracks from the Appleton ON and Jailface EPs that we might release as B-sides in the fall. We've also started working on new material and hope to have enough for another record ready in the fall, to be recorded with Nick Dooley of Flagland if all goes well.
Brainstory
Hear "The Future" from Brainstory, a group birthed out of the Inland Empire's illustrious Qvole Collective that counts members like Chicano Batman, Rudy De Anda, Cutty Flam, etc. The expanses of Latino pop and trad styles are fused into the melting pop of sounds that resonate a kind of timeless that echoes the self-recorded warmth with a skilled know how that bridges the tropes of modernist genres and micro-genre elements together into a spirit lifting cohesion. In a track that sails off the sound waves a coupled visions and sonic sound quests, Brainstory gave us some exclusive insights into the Qvole Collective and more:
LA's Qvolé Collective is a breath of fresh air in the crowded smoggy skies of our music scene. While most are anchored in image, pretentiousness, and greed, these people are doin it for one thing: the love of the music. That was the key that brought them to manage and propel fellow brothers Chicano Batman to great success, as well as many others in our socal home. It is this love that propels us into the next wave of our music of the future.
Finding Fiction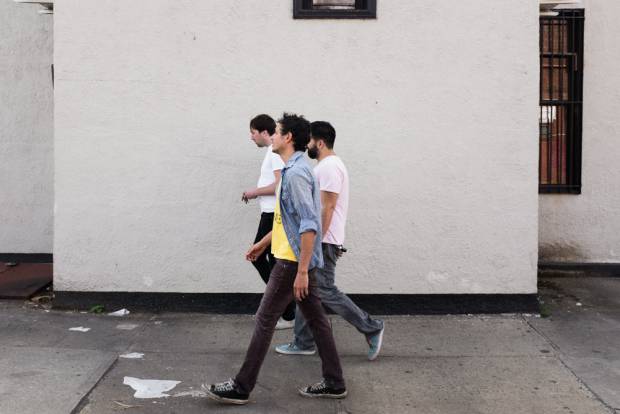 Brooklyn's Finding Fiction released their Reinventing Wheels EP earlier this year, and we caught a chance to catch up with the group. The fade out states of consciousness are recollected in pop garage brush strokes on "Rolling Blackouts", to the flotation devices of cool "Sunglasses That Float", glistening in the bright BK power chord fest "Playing Along" that shines like the best of the NYC DIY underground circuits. Things hop along with the rhythm rolling "Happily Ever After", that then dives into the rattling distortion scuzz machine of "All You Thought", right before you are brought to the closing precipice of uncertainty and weird wonders of "Brave New World". Mario from Finding Fiction joins us after the jump for the following interview session.
Tell us about what the progression from Try This At Home to Reinvent Wheels was like for you all.
Wheels was a much more organic, live band process than Try This At Home, which I recorded mostly on my own. It was a chance for Adrian and I to work together again, since touring in '09 together with the On Your Sleeve tunes.
Reinventing seems to have a power pop focus with an experimental approach to coordinating chord progressions. What were these writing and recording sessions like?
Well, after Hurricane Sandy destroyed our Gowanus studio in 2012, it took a while to find another spot. By the time we did, I'd accumulated a good amount of demos/ideas. We just jumped into jamming on what we felt most comfortable with.
Adrian and I are both relatively competent with recording and engineering. We just worked through the ideas until we were all happy with them.
Other lesser sung Brooklyn artists that you all want to recognize, or give a shout out to?
Oh, so many! Lame Divers are one of our faves. Rokenri are good friends who have a beautifully ambient, experimental sound. Been getting into The Junk Boys and The Jeanies lately, both great live bands. Big Quiet are also good pals.
How do you all find that Brooklyn continues to inspire and inform your music?
It's funny, the inspiration in NYC can almost be overwhelming. It's sorta everywhere you look. I feel like so many folks work so hard just to live here, and art or music are no exception. It's great to have friends that consistently inspire and challenge you creatively.
I'm also a volunteer and engineer at WFMU in Jersey City. For music, it's kinda like getting to work at the Smithsonian or something. You're constantly discovering music you've never heard before, from every possible genre, which is truly inspiring.
Sea Moya
Having emerged from Germany in the past half year, meet Sea Moya who lent us the single "Slow Down" to remind us to politely apply the brakes in order to slow the motion of our collective proverbial roll. The trio utilizes production and percussive aspects of timing trickery that causes the pace and sampling frame rate to become a soft and slow progression that practices such a degree of restraint that is more often than not absent from the EDM music that mimics (and maybe even sadly informs) our own hectic, quick paced lifestyles. The "hold me tight" sensuous appeal requests a moment of pause coupled with an affection that the workaholic obsessive world misses out on account of it's own perpetually fixated mode of continuous competition, the futile business of hamster wheel jogging, and ongoing diversions that keep the mind and soul away from the things in life that truly mean anything at all. Sea Moya wrote this about the visions behind "Slow Down":
We had wide and open field pictures in our heads, like when you stand in Nepal in the Himalayas and look at huge snowy mountains with nice valleys in between and everything is just slow. You can calm down, take a break.
Kristachuwan
Touring North America with Lesionread and Logan Locking; introduce yourself to Buffalo, NY's Kristachuwan, aka Chris Svoboda who discusses his recent EP Seeing Eyes (will not be) and more. The masked artist works in glitchy post-house atmospheric and audio abstracts heard on "CAUSE, I", the wild zapping title track that fires waves of abstract jazz tropes into the ether of "Románky", painting beat stripes on "Zebra (St. Sophia)", kicking it into the old brass horn school of surreality on the closer "Bourgeois Harem". Working in mediums of visuals and sound, the artist explained Seeing Eyes to us with the following survey of thoughts:
Seeing Eyes (will not be) started out as just a single, named after a reversed sample in the track. But as I thought about it, the themes of the entire EP were revolving around that idea. Meaning, people are no longer seeing the world through their own eyes. Everything is perceived through a lens or screens. After dwelling on that for awhile, I started to incorporate ideas of vanity from our modern society, and the choices we make based on how we are seen, via social media.

In the music video for "ZEBRA (St. Sophia)" the character with the broken mirror face, represents the distorted reality we live in, and the way we act in our everyday lives. My next video will also involve an almost zombie population, who are constantly holding a mirror up to their faces. That's the basic conceptual content of the EP.

Musically, I was focused on bringing back that house-beat driven music I loved back in the 90s. A lot of found-sound, and vinyl rips, rather than creating parts in MIDI, like I've done in the past. The sound is more organic, and it encouraged me to play more saxophone, and build unique beats into the mix. I'm pretty pleased with the results. Combining the styles of jazz, funk, house, electro, and hip-hop has been a goal of mine for awhile. Keeping those cruncky glitched- out texture, of course.

Featuring green and white baked goods from Lindsay Tuttles, Shape Shifter Lab has a fun lineup coming up August 11 at 18 Whitwel Pl. in Brooklyn featuring Philippe Petit, diNMachine (whose bassist is also a video editor and graphic designer Nisi Jacobs), Leon GruenbaumSK Orchestra (Michael Durek, Robert L. Pepper, Tsubasa Berg, Jim Tuite, Dan Gitlin, JEM of Symmetry), with further deets located on the feature posted below and via Facebook.
diNMachine
Nisi Jacobs and Michael Schumacher of diNMachine talked with us in the following interview session:
With your background in painting from Cooper Union, how have you found your visual art side informing your audio artist?
Nisi: I was drawn to painting because of the sensual relationship to matter, texture, form. I used to spend many hours staring at the surfaces of paintings, thick, glazed, envision the brush as it dragged through the oil paint or egg tempera or plaka or watercolor, nearly smelling it. I loved black ink pens on bristol board, water color with viscous thickeners, oil paint with lots of linseed oil or straight out of the tube with sable, bristol, synthetic brush types, angles, tapered, thick, thin. I had an immediate connection to materials and spent hours at Pearl Paint on Canal Street in the little Windsor Newton room smelling and looking at pigments in their untouched tubes. Water, oil, pigment, canvas, board, paper, it was a relationship to the world of mediums and their possibilities. I refused to use a computer and did my papers for my classes at Cooper on an Olivetti electric typewriter with ivory white-out that didn't match the tone of the paper.
I played piano for eight years, stopping lessons after learning The Viper's Drag by Fats Waller, my mother's favorite musician. I studied three-piece drums for about two years, experimented with my father's TEAK 4-track recorder, and then studied Senegalese African dance for a decade. That began early on at Cooper and became an obsession that began to inform my visual art. I started making large unwieldy clay sculptures that a sculpture teacher told me reminded him of erotic Indian temple art. I think it is these many experiences with tactile erotic sensual art forms and a constant resonance with various mediums that informs and enriches my bass playing. I come to the bass and look at it as a drum with pitches, a keyboard with percussive capabilities, a perfect instrument.
I find myself consistently applying two main ingredients from my visual art side: first, it has body, warmth, texture, all the physical qualities I loved exploring through paints and brushes, and second, I memorize shapes, sequences musical systems on the page. Michael's writing for diNMachine is highly asymmetrical: there are 4 bars of this and 8 bars of that, followed by 7 bars of this and then 9 bars of that, and so on. There may be one or two bar time signature changes in there, too. So find myself memorizing the material on the page so that when I'm performing, I'm reading the score like a visual map in my mind. I think this is something most musicians don't do or can't do. It's my strong visual abilities coming into play in a unique way. Once this process is deeply assimilated, and I'm 'reading' freely in my mind, the payoff is that the music takes on all sorts of hues and qualities of light. I think a lot of musicians get to this state, it's a high, for me, it's full of color and space and something I can't describe with words, I just know when I'm in it. It's like being in a painting, better than you could ever imagine painting. I don't understand how I go in one side and come out the other but it's now a predictable method I can rely upon.
Recent years have seen a push toward artists working in multiple disciplines in both fields of visual media and music…why do you think this, and do you find that the both respective art forms relate to one another?
Nisi: I can't really do this. There isn't enough time. And it's like being fully married to two people at the same time. Something is going to snap. You can't really share yourself with two processes. If your process is composing, you are a composer. If your process is painting or photographing, that's your process. If your process, like mine, is learning this odd and beautiful diNMachine material, it's a full-time arrangement. I can't also paint, etc. All that gets siphoned into the process I'm married to now. I don't miss anything. I earn my living editing because it's a craft I worked hard to master and I enjoy it. But it's not my process, it's at the service of another's process. If I whip together a poster for a show, it's fun and I enjoy it, but it's at the service of my real project which is diNMachine.
However, your question is a good one and you're really asking if both respective art forms relate to one another. And the answer to that is definitely yes. I'm just not sure how to fully do both. I think it's why visual artists and musicians have always had a strong affinity. They often marry, partner, or collaborate. The art forms relate but so do the people that are often drawn to create those art forms. A couple comprised of a visual and audio artist often seem to blend into one compete person. Most visual and musical art works with the following qualities so it makes sense that they resonate: composition/form, symmetry/asymmetry, shape/line, negative/positive space, mass/weight, color/tone, theme/variation, emotion/concept, originality/referencing, improvised/prepared, filtered/unfiltered, effects/natural.
How do you manage the balance between your visual art endeavors and musical endeavors?
Nisi: My musical endeavors seem to siphon or utilize my visual strengths in a creative way. I don't really balance them; my musical endeavors form the core of my striving, influenced and nourished by my visual art background and sensibilities. My visual art endeavors pay my rent, they're concrete and realistic. My musical endeavors make life fun and exciting. They're very different.
What was it like working with producer Bill Laswell for 2014's Dance To Reason?
Michael: Like what it must be like to work for Santa Claus, everything a gift. I'd been working on the record for about six months; this was a completely new process for me; for a long time I'd been making multi-channel sound installations that were in museums and art galleries. The point is I needed someone with the right ears and the right skills to and so far I hadn't found that person; I'd been working with someone but he didn't know how to keep the energy of the drums and bass and keep all the other layers intelligible. I had a gut feeling about Laswell because of the range of his experience and the sense that the core of his sensibility was rhythm and bass. And I was right! He didn't just mix the tunes, he reshaped them, which is why he is credited as co-producer. He performs his mixes, very different than the prevalent approach, which is to use compression to balance.
What can you tell us about what to expect from dinMachine's forthcoming 2016 slated album?
Michael: It will be a sonic journey, every song another place to explore. The sound will be tighter than the first record; a little more consistent, in terms of instrumentation, from track to track. Like the first it'll be a mix of genres, from track to track, within a song and even in the layering of styles. Also, we got help from two amazing musicians: Oz Noy and Black Saturn. We've also got several really talented people working on videos for songs on the album so there will be a lot of great material rolling out.
What are you most excited about for your upcoming show at ShapeShifter Lab?

Michael: We'll be joined for one song by Brian Chase on percussion. I'm excited to be trying two new tunes that are completely different from anything we've ever done before, including one that adapts "Pig in a Pen" that I'm calling "I gotta pig". I've been a fan of Philippe Petit for a while so hearing him live along with seeing Leon Gruenbaum's brand new project with Samchillian and looping, and finally hearing Michael Durek's SK Orchestra.. it's going to be a serious night of experimental electronic pop rock. ShapeShifter Lab is also just a great space in their attention to sonic detail and acoustics.
Most exciting lesser sung Brooklyn artist right now?
Michael: Bassoon
diNMachine's Dance to Reason is available now via Bandcamp.
From Paper Son Films get sentimental with Main Attrakionz' Squadda B and MondreM.A.N. on their video for "Cycles" from 808s and Dark Grapes III that sends low-lit flashes of life experiences recalled from the past jetting ahead to the present.
Sports lent a listen to the song "The Washing Machine" accompanied by animated goat thought cloud balloons by Laurent Hrybyk off their second album, All of Something available October 30 from Father/Daughter Records. The band found at Kenyon College in Gambier boasts a sound of relentless affection and endearment that gives a voice through song from deep seeded feelings relayed by Carmen Perry and the band. The new album offers production from Kyle Gilbride who has worked with favorites like Girlpool, Swearin', Waxahatchee, and more; delivering a kind of immediacy that works in a way that is more acute than the 'on demand'/'instant access' of our app and network defined realities.
Check out the new single from SiR with "The Real" that features production by Baltimore/LA's own DK The Punisher, taken off the upcoming Seven Sundays album available July 31 from Fresh Selects that features a wealth of production power-houses (Knxwledge, Chris Dave, Iman Omari, J. LBs, and Tiffany Gouche). Listen as reality is sought after and obtained through DK's electric keyboard hypnotic loop that spirals a stairway sound-form to celestial places, and feelings navigated by SiR's delivery.
Starlight Girls' new album Fantasm will be self-released and available October 13 and we have their new single of much fascination and "Intrigue" that finds Christina B and Sara Mundy carrying cosmic torches that ignite the artistic sides of new wave whims of infinite wanderlust.
Glasgow's Tim Kwant is Tongues, who just spoke through stained glass synth organ tropes on the electric chapel buzzing banger "Religion". The good book is switched up for tablet app software that sequence digital filters for vocoded-encoded vocals and sentiments that seek something greater than the constraints of mankind contrived system networks of beliefs.
Watch the Elvis impersonating video for The Atom Age's "Wasteoid" that promises plenty hunk of, hunk of burning love helpings off their upcoming album Hot Shame available August 28 from Asian Man Records.
Middle Ocean's album I is available now from Devil Down Records, and we have the following animated display of designs that provide the visual component for "Grown in the Morning". An offshoot from Pressed And featuring Mat Jones, Andrew Hamlet, and Reed Turchi; the styles find the three entertaining the restrained and subtle sounds that rise and simmer like the slow rise of sun that gradually wakes up early to greet the break of a brand new day. Read Middle Ocean's recent album review feature here.
Gardens & Villa dropped the all inclusive track "Everybody" that seeks something beyond the digital pale off their upcoming album Music For Dogs available August 21 from Secretly Canadian.
Milwaukee's Light Music dropped the gentle electrified gem full of digital wattage and real humankind feels on "Don't Go Quietly" from their upcoming album Ocean's Daughter, available August 21 from The Record Machine.
Nashville's The Winter Sounds dropped the single "Meteor" that illuminates the stratospheres like a descending glowing planetary light show that brightens up the sky. Synths, samples of voices, and elecrtic murmurs reverberate like seaside power lines that crackle and sparkle in the evening's dense foggy, salty ocean air.
Verbal Kent from Apollo Brown's Ugly Heroes crew dropped his own cut "Suitcase Switch" that features the Chicago emcee sharing a stage with Freddie 'Gangsta' Gibbs and production from their buddy Brown off Kent's own forthcoming album Anesthesia available September 11 from Mello Music Group. Apollo provides some epic big organ and bass boosters for Verbal and Freddie to run their New Jack City styling semantics run marathons alongside each other that gives you something to look forward to this fall.
Patrick Higgins dropped the track "Pattern Select" off his forthcoming Social Death Mixtape available July 28 on cassette/digital via NNA Tapes. Cascading notes move like electric mandala rays across sound planes and digital graphs that create fantasias for the ears and mind to digest on in ways that only the unconscious routers really know.
Peep the James Gundersen video for Doomtree's "Generator" that showcases the crew generating some of their confident calls off their All Hands album available via their own imprint.
From the recent re-issue of Bahasa Malay's debut album Balkans from Pouring Dream, watch the video for "Kasseta" made by the artist that depicts an array of imagery from chapel spires to power lines in different placed visual formations, shutter speed rates, filters, and effects to provide an out of body feel. The Perth, Australia artist Nora Karailieva formerly of Nora Zion makes her voice soar in a hushed baritone that flies above wind chimes, rumbling weather, combining the altered views with an altered sound to compliment life's chaotic whirlwinds of existence.
Caustic Casanova shows some heart, and big crunching power chords on "Show Some Shame" off their upcoming album Breaks available September 25 from Retro Futurist Records. Through the shame, blushing cheeks, and concealed visages saving face; Caustic Casanova caters to causing forced humility and compassion while claiming the title as DIY champons.
Get a listen to The Grubby Mitts (fronted by visual artist Andy Holden) and the home loving a-side off their upcoming Home At Last / Music Of Exhaustion single available August 7. The joys of returning to one's own abode, finding and feeling that right at home sentiment is expressed in genuine statements of merriment and a comfort that we all wish to discover in our worlds.
Listen to what is about the inescapable cut bouncing out of every remaining disco-devoted club with the big, bold and bright banger "Tidal Wave" from NYC pop debutante EVVY.
Meat Wave initiates the panic attacks with the visual hazards found on their title track video from their forthcoming SideOneDummy album Delusion Moon (available September 18)for the release of their anticipated LP, Delusion Moon that will shred your ears with distorted chord hooks and melt your mind with what looks like the after-effects of melting VCR reader heads. Catch them playing The Riot Fest and Rodeo after show with The Damned August 28 in Denver, Colorado.
Watch the flashy "Savior" video from Sneakout (aka Robert Fleming) where he collaborates with Sara DeCou to create a sensuous Hollywood-esque episode to accompany his savior-hood rocker.
Off his Guits EP, peep Aaron Taos room spinning video for "Ill" that turns at the rate of a direct drive turntable's rotation that inspires the kind a kind of lazy summer euphoria followed by the dizzy head rushes of nausea that tests the limitations and delicate balances of our equilibrium.
Check out the Laurel Cohen video for Yawn's title cut off their Day Trip EP available August 21 from FeelTrip Records & Old Flame Records full of transcendental moments and connections to create the full sensory experience of a collective out of body series of experiences.
Take a look at the indulgent ultra-neon-illuminated video for Automatic Writing's title cut that shines from their forthcoming New Colours EP available August 7.
With promises of an upcoming full-length to arrive in the upcoming months, check out Chynna Rogers' I'm Not Here. This Isn't Happening which arrives on the heels of hard drive crash that altered plans for the Philadelphia emcee. The result is ghostlier and darker approaches that reign holy hell on the Langsta produced cut "Regina George", to the buzzy sparse senses on the Cloud Atrium beat lined sip and spit "Earl Grey Tea", keep the atmospheres creeping on "E.C. Interlude" that sports VERY RVRE productions, to the dimension paranormal activity on "Thought U Was", to the confessional real of "Sangri-La", right before the KRASH cued cut "Flatline" leaves you with some immortal essences and urges to tide you over until Chynna drops her next project.
Willis Earl Beal returns with his forthcoming album Noctunes available August 28 from Tender Loving Empire, and you can tune into his warm swelling song "Survive" that provides an autobiographical glance that spans across years, and the American landscapes like an aeroplane flying high above the states that look like an intricate patchwork quilt from the bird's eye view perspective from the sky.
Silicon (from Kody Nielson, sibling of Ruban from UMO) dropped the video for "Burning Sugar", off the upcoming album Personal Computer available August 28 from Weird World. Made by Nielson with Ralph Brown and Natalia Stuyk; calories, glucose, candles, typewriters and more are burned to a funky stripped down disco dance that keeps the wah-wah wave-machine rolling rows of ripples and sensations.
Toronto by Vancouver's Teen Daze's much awaited album Morning World will be available August 14 from Paper Bag Records, recorded with John Vanderslice at Tiny Telephone who offers some hushed, and restrained qualities to the internet-blitz-buzz artist's own reflective audio tapestries and sentimental, sonic paintings.
Having joined us just last week for a chat, SiR delivered his first solo album Seven Sundays on Fresh Selects chocked full of romantic vignettes and a host of guest producers that you got to hear to believe.
Live from the Confetti garage; watch L.A. Girlfriend performing "Things I Shouldn't Say" for the first episode of We Are Confetti's "Makes Perfect" that features Sydney Banta and company loud, proud, and basking in their element. Follow all of our L.A. Girlfriend coverage here.
Seattle's Pony Time will drop their new album Rumours 2: The Rumours Are True on September 11 and you can hear the most triumphant return of Luke Beetham and Stacy Peck as they continue to command the northwest coast (with an arsenal of talented friends we might add) and lend a listen to the 'too-cool-for-conventional-time' rocking single, "Time Tells Me".
Dogfood Music Group's Week in Pop
Mykki Blanco has launched, and we give you the following Week in Pop guest selections from the imprint's own Psychoegyptian, Violence, and Yves Tumor:
PSYCHOEGYPTIAN

(Psychoegyptian photographed by Devyn Mañibo)
A project formed July 2015 by myself, aka PsychoEgyptian & Danielle Orlowski.
This is the only thing Im riding for,
Digital Hoodoo
LifeCrack
Interracial
Half Black
Ghetto Grunge
1. "Pretty Boy"
One of the first vids I made after coming off my first Euro tour with Mykki. "Pretty boy from da hood shudda been a durag model."
2. "Docx/Lullaby"
Channeling the blistering hatred of Winter 2013.
3. New track "Vitality"
4.New track "His&Hers"
5. Ponyo, "Move to La"
My main homie who produced my track "Nike Signs" came out with his self-titled project "Ponyo EP" about a year ago. He is currently working on a new album due out next year. He is part of a tight-knit crew of people from Baltimore I mess with heavy here in NYC. Shoutouts to Eliot Glass, Radell "Eulogy" Isaac – Shane, Kyle England, Lil Jabba, M4NNY…my true Scrapers!!
Eu1ogy, Glyphs IX (demo) produced by Fawkes
M4nny, idk|idc
6. Neuport
Everyone's favorite cigarette dealer!
Produced "Vitality"
https://soundcloud.com/neuport">Neuport via Soundcloud
7. Ambient Boi
My guy producer/musician beat genius
Produced "His&Her"
8. Fawkes Hole Records
Fawkes Hole Records on Soundcloud
VIOLENCE
The Embrace of Enkidu and Gilgamesh
Gonna plug my own shit real quick. This is my most recent EP, a remake of older shit wit some newwww. My favorite song from it is "Wholly Alien, one drop of white blood". It started as like…a weird happy hardcore thing I was working on and morphed into this slow brute shit. Really pounding, calculated. Some like cadaver in the floorboards, but really more like when you hungry you been walkin for hours lips dried dehydrated downright like Spongebob outta water and u dyin and you stumble upon carrion by the side of the road. The smell is overwhelming, and it puts you in that right state of mind. Sort of slow and romantic but totally more stimulated by the disgusting aspect of it.
FKA twigs, "Give Up"
Basically anything Twigs is singing on makes me wanna just fuckin kill myself. But I sing along with it anyway and it ruins my day, leaves me flustered, emotional in this overstimulated way, all hot and lonely and too much. The compositions, under the vocals, are also intriguing. They have this juvenile intricacy which I find appealing, like 'let's do this, that'd be cool' and then it's done.
The Body & Thou, "The Devils of Trust Steal the Souls of the Free"
This shit is so fuckin heavy and bleak and it has this groove that drives it like a meteorite, the whole vessel intact and unrelenting smashing into some promontory wholly changing the coloring of the northeast landscape, gouging through your body, the regularity and weight of the kick and bass making you sway and rattling all of your innards. Makes me wanna hump and say fuck you with my fists.
Abscedere, "Security"
This deconstructionist shit is pounding and beautiful. This track has ~some~ kind of autonomy. Odd pieces each of which evinces its purpose through the manipulation that made it so specific. Actually one of my favorite recent songs. So many sounds. The structure of the composition feels so familiar but the sounds are all different, concrete and rust but crisp.
Meshuggah, "Demiurge"
The whole album has this intense groove to it with that grating, grinding bass, rusted hull crashing into the harbor and bleeding out oil and nausea, and you can't help but move.
Yves Tumor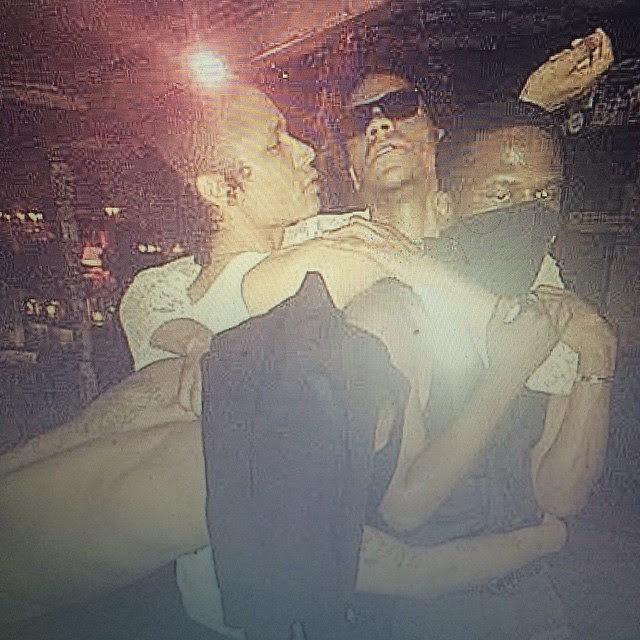 Hex Minora, "Virus Of Minora"
Clean Disembodiment.
Hype Williams, "Break4love"
How do you inspire some1 who wants to kill you?
Tia, "Man of Steel" (demo, produced by Silk Rhodes)
Mostly Disappointment.
Alice Coltrane Harp Solo
(no comment)
Velvet Cacoon, "Bete Noir"
Drowned in her minerals.
Mula Gang #1, "Jack in the Box" ft Polo Treys
Mykki Blanco plays San Francisco tonight at Lights Down Low at Mezzanine, July 31.
Catch Psychoegyptian tonight July 31 via the following details:
Follow Mykki Blanco, Psychoegyptian, Yves Tumor via Twitter, and Violence via Facebook.