In the ongoing quest for universal unity & peace, Impose's Week in Pop continues to march upwards & forwards with a little help, insight, & inspiration from some of our favorite artists. With all of our hearts going out to all affected by the tragedy in Nice, France; we received word that the Nice Jazz Festival has been cancelled, Rihanna's concert in Nice was also canceled; Jay Z dropped the playlist Songs For Survival; Beyoncé's tribute to the fallen Dallas officers; Killer Mike's call for people to transfer their money to Atlanta's own African-American owned bank, Citizens Trust; Kehlani dropped the single "CRZY" from her forthcoming fall album; Death Grips dropped the video for "Giving Bad People Good Ideas" off Bottomless Pit; Boogie dropped the track "Hypocrite Freestyle" sampling Quinyetta McMillon, Alton Sterling's mother; Eric Garner's siblings the Garner Family dropped the single "I Can't Breathe"; new FKA twigs material emerges; Clams Casino dropped "Be Somebody" ft. Lil B & A&AP Rocky & released 32 Levels today; El-P got weird with the Pokémon GO craze (not to mention some angry Pokémon fans), & announced the winner of the "Pokeman Rapping" contest; YG & AD dropped the Born Original Productions video for "Thug"; Tinashe dropped "Superlove"; Britney Spears dropped "Make Me…" ft. G-Eazy from her forthcoming ninth album; Ty Segall dropped the Meghan Tryon & Garrett Davis animated video for "Californian Hills"; Migos dropped "Now" ft. Gucci Mane; Gucci Mane dropped "Guwop Home" ft. Young Thug off Everybody's Looking; Black Marble signed to Ghostly with word of the new album It's Immaterial available September 30 & dropped "Iron Lung"; M.I.A. announced the new album AIM available September 9, & dropped Skrillex x Blaqstarr collaboration "Go Off", & later dropped the video; The Haxan Cloak, Atticus & Leopold Ross score post-Soviet Ukraine movie soundtrack for Almost Holy available August 19 from Sacred Bones; Crystal Castles announced the upcoming album AMNESTY (I) available August 19, & dropped "Char"; Katy Perry dropped her 2016 Summer Olympics song "Rise"; Puff Daddy announced the Bad Boy 20th Anniversary box set will be available August 12; Franz Ferdinand's now former guitarist Nick McCarthy has started Manuela with wife & artist Manuela Gernedel, dropping "Cracks in the Concrete"; Tish Hyman dropped the Duy Nguyen video for "Dreams" ft. Ty Dolla $ign and Fabolous off the new album Dedicated To; Banks dropped the Philippa Price video for "Fuck With Myself"; AlunaGeorge dropped the Dreezy & Leikeli47 collabo "Mean What I Mean" off the upcoming I'm in Control; St. Vincent covered the "Golden Girls" theme song; YG dropped the Psycho Films video for "Still Brazy"; Hiss Golden Messenger announced the upcoming album Heart Like a Levee available October 7 via Merge, & dropped "Biloxi"; Jagwar Ma announced the new album Every Now & Then available in fall from Mom + Pop, & dropped the video for "OB1"; Wilco dropped "Locator"; Radiohead want you to help complete their video vignette series; Brand New dropped the EP 3 Demos, Reworked; Marvin Gaye documentary Marvin, What's Going On? is in the works; CREEM Magazine documentary is in motion; Athens PopFest lineup buzz; David Lynch's book Beyond the Beyond: Music From the Films of David Lynch is available now from Hat & Beard; Geoff Barrow will produce you for charity; Marc Maron's television show Maron concluded this week; Warner Music distro hub WEA doesn't care about smaller record shops; Justice dropped "Safe & Sound" (first track in half a decade); Populux in Detroit closed its doors after racist tweets; our warmest regards to Lil Wayne as reports of seizures continue, & allegedly being sued by AmEx; Animal Collective skateboards; My Morning Jacket dropped "The First Time", & the band's Jim James is allegedly being sued over a car accident from three years back; Mötley Crüe's Vince Neil is allegedly being sued for assault; we mourn the loss of Steven Young of Colourbox and M/A/R/R/S; and all of our dearest thoughts are with Phil Elverum and the family of Geneviève Elverum née Gosselin at this time as we continue to mourn her untimely passing.
With open ears, eyes, hearts 7 minds; it is our esteemed pleasure & privilege to present the following BTs, Ralph Cola, Young Moon, Altadore, Japancakes, The Saxophones, Sunhaze, Batwings Catwings, Gosh Pith, IAMBENJI, Kansas Bible Company, LUCKY+LOVE, Phoebe Ryan, Silent Pictures, Them Bruins, You Are Number Six, featuring guest selections by LVL UP, and more—in no particular order.
BTs
You probably already know Oakland's BT's under a different name. Maybe you don't, but regardless we are pleased to announce that our New York by East Bay hero (a rumor has it Joey wanted to finally settle the east versus west coast feud) Joey Genovese is preparing the much anticipated release of his debut full-length album Bustin' Out available July 29 from Southpaw Records. The story first began with an impressive 7″ recorded by Matthew Melton for his imprint Fuzz City, going through a series of lineup changes before enlisting Jason Testasecca (of Nobunny, Elvis Christ, etc), and members of Apache & Slick!—Genovese had finally gathered the team of super friends needed to round out the BT's personal roster. BT's proudly wear their heart, wants, & lusts on their sleeve. They are the Detroit bound road-trippers that escaped their suburban slums to hear the real city sounds on a Saturday night's joyride. The power pop proto-punkers (we're thinking about Milk 'N' Cookies specifically here) gather up an economic early 70s glam aesthetic that Joey brainstormed from the beginning that becomes fully realized in a way that sounds like the 80s, 90s, oughts, & more never happened.
A single that was initially recorded by Melton and featured on the aforementioned Fuzz City 7″, the Spector/Mike Leander sound is traded for the 70s power chord fests that saw many groups between Cleveland and Memphis emulating their idolized Mersey Beat heroes from across the pond. "I Like It A Lot" also stands tall as the quintessential essence of everything that New York by London (or the NYLON set as Mick Rock would put it) that celebrated the liberation of the self by embracing every impulse & indulgence desired coupled with super catchy riffs. The BT's celebrate every wanton want with an abandon that throws all caution to the breeze while unleashing some of the most memorable sugar-coated rock & roll chords ever created. "A Lot" pours on nearly every instant-enjoyable junkshop-pop element that shakes up the action like pent-up teenage lust stuffed into a soda bottle before the cap pops off in a fizzy spritz of delightfully dumb, fist pumping rock. Joey Genovese joins us after the following debut for an insightful interview session.
Give us the story on the New York by Oakland evolution of BTs, and the new incarnation of the group.
Well I guess I was living in New York when BTs started, but really BTs kinda came about out of not having a home for my music. Before Oakland, I lived in LA, Brooklyn, and Nashville trying to play music and just be in a band. I used to answer these ads on Craigslist, and meet up with these fucking psychos and try to jam just because I was so desperate to play and just start doing some shit. Pretty much every time I'd get kicked out or get ghosted on. Nobody wanted to do my shit and these buttholes would tell me I should just start my own band. After doing that for way too long, in 2012 I went down to SXSW and got stranded down there with no ticket home, but I was like meh, fuck it. I felt like I was surrounded by people who got what I was about for a change, and as it turned out, I actually was. I met Matthew, as well as about four to five other future band members coincidentally, and he offered me a ride. I was pretty weirded out and thought I was being punked for some dudes to offer my rando ass a ride from Austin to LA, but he wasn't shitting me and showed up next morning outside where I was staying, I hopped in, and that was pretty much the beginning of BTs. I lied to a bunch of people I looked up to and told them I had a band when I didn't, and played a song on a guitar one night and was told I should go up to Oakland to record. So then I recorded the "Ex-Repeater" single, and about 15 band members and a few states later here I am. All of my old bandmates are, well, in my mind at least, still part of the band, but right now I have Nick, Chuck and Matt, from Apache and Slick!, and Sean Starling from Cumstain on guitar. Shout out to all my band members old and new—by the way, I love you.
Tell us about working with Matthew Melton early on with that Fuzz City sound, to working with Jason Testasecca, alongside folks from Apache and Slick to create the current sound.
This question is kinda hilarious if you know the dudes. In many ways, they are complete and total opposites. Matthew is a mad scientist and Jason is your cool as fuck uncle, that's also a little mad. The fuzz city stuff was my first time ever being in a studio. Matthew had the fuzz dialed in. He knew his gear and how it could help me and what I was trying to do, and he Phil Spectored my ass, and we ended up with that 7″, and that was that. Jason really lets a band be themselves in the studio, and is good at letting the special shit about a band shine through. I'd be like, hey J, I think I might bust a meow right here in the song… whattaya think?, he would be like, fuck yeah, it's your band Joe do what u think is best. Not saying busting meows is my special shit or whatever, but you get what I'm saying hopefully. As far as Apache and Slick! goes, Apache crew was actually in the studio the same time as we were. We were both trying to hustle out new albums this year by summer, so the dudes are on there, mainly nick and matt, but not as much as I would have liked and vice versa. I also got Jason and my baby boy Pookie on there for good measure. Pook is an amazing tambourine player by the way.
Describe what you all learned from the making of the new BT's disc, Bustin' Out, and how did you all manage to pack in all that energy?
Ummm, I don't know how much I learned. Definitely not a lot. It was my first time making a full record. I wish I did it all in one blast I will definitely say that. Its annoying having half of an album finished, then having to tell everyone u show it to that the other half is on its way at some point and blah blah blah it sucks having to explain that and have half an album's worth of shit and you're waiting for another half album's worth of shit just for it to see the light of day. As far as energy, I'm really flattered. We played a lot of video games and did a lot of drugs and smoked a lot of cigarettes and ate a lot of Taco Bell™.
What are the key ingredients for a proper Joey Genovese single?
I don't know, I guess I tend to write songs when I feel like I need to die. I don't own a gun. Guns are for fucking dorks and dipshits. My guitar is my gun. When I feel like I'm starting to go insane, I pick up my gun and I point it at people and it makes me feel better. Sometimes I point it at myself when nobody is looking, and when I'm lonely, I sleep with my gun. A gun and some feels I guess are the key ingredients.
What's good in Oakland right now?
The weed and the weather. Music might impress you. The Bay is still filled with a handful of freaks that do cool shit. Come hang out with us.
What are you listening to right now that has you all amped?
I'm pretty fucking lame I don't know what to say. This is like when you go into a record store and forget what you want to buy. I listen to the radio and eagerly await the day I hear all of my friends on it. Also, fuck it no shame to my game, listen to the new Apache and BTs albums. Apache is on King Rocker and Burger and BTs is on King Rocker and Southpaw. Listen to those albums. And the radio.
What should we expect next from you all?
Apache, Slick! and BTs are going to Europe! Apache and BTs are both releasing albums on the seventh of August at our record release show at The Makeout Room. After that we're taking it across the ocean for six weeks. Someone is definitely gonna cry, and there's a good chance it's gonna be me.
The long awaited BT's album Bustin' Out will be available July 29 from Southpaw Records.
Ralph Cola
A few DIY-pop heads out there might have already caught wind of the Ralph Cola party when the Coventry, UK artist released his National Zero cassette last summer, and today we deliver the good news that Little L Records will be releasing the forthcoming Ralph Cola debut full-length album Cosmic Joke available circa late August/early September. Born Aidan Leather who took the RC moniker from someone else's online user name; the world of Ralph Cola is one that bubbles & fizzes through the laid back lo-fi lens of slacker psych that recalls the inventive realms of Jerry Paper, the Sinderlyn family, Drew Price, and other international accomplished underachievers of great promise. For those that are late arriving to the Ralph Cola house party, we are proud to present the live video performance of the mind-illuminating "At Home" Fuzztones session filmed by Joni Butler, Kyla Weldon & Sam Lindley.
The intimate view & listen makes the audience feel as if they have joined Ralph Cola during a studio session. The group keeps the mood light with Aidan strumming and issuing his half-sung/half-deadpan delivery as the group brings about the sound of a derelict jazz group indulging in a laissez-faire approach to psychotropic sounds. "At Home" already is the sound of your favorite AM radio hit being played through an alarm clock speaker where the RC team creates an audio gem that could have been a long lost b-side from 1976, or a soft-pop 1986 cassingle of new romantics gone weird, or a super chilled-out take on 1996-era adult contemporary classics. The result of Ralph Cola's "At Home" is partially a tongue firmly planted in cheek take on the tunes that ultimately lead to your conception (shout outs to mom & dad), with an arrangement that errs on the side of simulating that freshly awakened feeling that only certain hypnagogic sounds can fully resemble. Stay with us following the performance video debut for "At Home" as we caught up with Ralph Cola's own Aidan Leather in an insightful interview session.
How did Ralph Cola first begin?
It was just a joke; an in-joke with myself. Then I accidentally kept going. Joke hat becomes real hat, as my pal Chaz would say. He plays the bass in that video.
What is the story behind the name?
He's a real guy that I saw on the internet with a great name! So I stole it from him. Sorry Ralph Cola. He still hasn't accepted my friend request.
Tell us all about life in Coventry, UK. We've never been ourselves.
It's probably just like every other city in England, kinda grey, kinda dull, and with a mix of some real nice and some real awful areas. It's main plus for me is that it's near actual nice places with grass and trees and stuff. There are some good spots for lunch though, there's a place that does a fresh 1£ pizza and some whopper falafel, if ya ever come we can go for lunch together!
What were the Fuzztones sessions like, performing the home-body comforts of "At Home"?
It was a super lovely time. Super relaxed! A wonderful group of humans that do it all and we had an excellent craic. Would recommend to a friend. The number one key to having a good time is nice lighting, and I'll tell ya, the lighting was great.
What's next for Ralph Cola?
More good times! I don't really know. I have an album done and I guess that'll be out soon which will be kinda neat. Probably more noises. Maybe some shows? I'm just gonna be reading books and having a good time otherwise.
What are you super in-to right now?
Musically? Going onto Bandcamp's nu-jazz section and just listening to that. Ruby Rushton are great. Mainly jazz and funk and stuff that's really just having a good time. Non-musically; string theory, the potential implications of achieving a super-intelligent A.I., and The Partially Examined Life podcasts.
How in the world do you go about making that kind of super hazy, sleepy, & sweet sort of sound?
I did all that stuff that's out when I couldn't sleep too well so I felt like my life was super hazy, sleepy, and weirdly sweet. Also; pitch shift. It's all pitch shift.
Parting words?
Nietzsche is a strange guy, man. But he had some cool ideas. When art dresses in worn-out material it is most easily recognised as art.
The new Ralph Cola album Cosmic Joke will be available either in late August or early September courtesy of Little L Records.
Young Moon
Over the years we have followed San Francisco artist Trevor Montgomery from Tarentel, Lazarus, to the first Young Moon album Navigated Like the Swan, and now we it is our esteemed pleasure & privilege to present the world premiere of the Joseph Wilinksi video for the title track "Colt" from Montgomery's recent Western Vinyl album. The visuals begin at the Mission locale of The Chapel, before adventuring over to Golden Gate Park, a pensive merry-go-round ride on a carousel, strolls through Bernal Heights, Corona Heights, Kite Hill, and various other natural park environments. As a born again believer in the healing power of yoga that has reinvigorated the artist's latest cycle of songs, Trevor returns the fold with Danny Grody on guitars & keys, bassist Jeff Moller, along with the new addition of Syam Zapalowski on percussion duties. Trevor described the recent evolution of his band, "It was a natural progression for Young Moon. I needed to have more dynamics and volume to tell the stories the way they were laying out in my head." Montgomery further described how his recovery from a breakup would lay the groundwork for not just healthier living, but gave him new musical inspirations:
That part of me was broken. My life was pretty broken as well. I chanted, stretched, sweated, juiced, and ate salads…transformed my body first and foremost. I kept practicing yoga five to seven days a week, and I started my daily meditation practice. It was at the two-year point that I was ready to start playing music again. I'm sure there are other songwriters and artists out there that can relate to not being able to work due to just being too broken, too sad. I don't blame my relationship failing at all, that was just the spark that made me realize that I was really fucked up on a ton of levels.
Trevor's personal penned songs are heard and seen among environments that compliment the introspective & creative nature of the Young Moon mood and sentimental mode at play. The opening of the Young Moon video finds Trevor at The Chapel venue where he introduces "Colt" with the "she's like the most beautiful, koala bear, angel, blissful, joyful, loveful thing. This song is called 'Cold'." Montgomery's song of equestrian personification finds the songwriter, singer, & aspiring yogi running through his memory's back pages amid majestic backdrops of roman pillars in the park, sun-kissed trails, wild city views of San Francisco, and other spots in the urban wilderness that underscore the open ending questions of "where do we go from here?" Young Moon picks through the pride of the past when things were "easier" and the pratfalls of getting lost in love ("fell into love when I fell for you") and the aftermath of love lost recalled in lyrics like, "when I was on the run, everything seemed so slow, all of the lights were dim, all of our hearts were low…" The therapeutic sound is seen carrying through Trevor on his meditative walk around the city where the reckoning of unresolved feelings finds something akin to a certain peace amid breathtaking locations of natural splendor to assuage existential unrest & emotional anguish. Immediately after the following video debut for "Colt", read our interview with Young Moon's main man Trevor Montgomery himself.
What sorts of horse-drawn visions and 'new lease on life' sentiments set the groundwork for you new album Colt?
I spent a lot of time on the front stoop of my apartment building with the guitar watching people walk by and just playing, things start coming eventually when you break through the ego walls. Walls come down and light gets in. I believe in discipline and repetition and the more often you do something the easier it is to tap the well within you.
Tell us about working with Joseph Wilinksi on the video for the title track, shot at SF's The Chapel, and various natural escapes around the Bay, and how those visuals underscored certain reflective meanings for you.
Joseph was great! He has an exuberance and patience that put me at ease. I felt I was in good hands. SF is so cinematic and that is one of the reasons I love it here so much.
How has yoga, meditation, and good eating also impacted your creative side along with personal components?
It has transformed my creative practice. My ability for clarity and focus is so much greater than it used to be. It's easier for me to see how fortunate I am to be able to make music. I am so grateful that I have this voice and the vision to make songs. Sharing music with people is a great gift and I intend to do it as much as I can!
How do you find the balance between tile work, music, yoga, & more in your life?
There is room for everything, it's meant to be that way. I love what I do and when it comes time to be tired or to be of service doing something you love I will always find myself choosing the love option.
What have you yourself been listening to, reading, watching, or just generally very excited about these days?
In the last week I have been obsessed with Fleetwood Mac and Durutti Column.
I am very excited for the new season of "Mr. Robot"!
Any parting hints at what's next for Young Moon?
I have been recording a bunch of song ideas at my new space in the Hunters Point Shipyard and with Jeff Moller the bassist for YM at his house. I'd say a new record is almost written.
We will be playing a bunch of Bay Area shows and are looking forward to expanding outward at some point.
The new Young Moon album Colt is available now from Western Vinyl.
Catch Young Moon playing Atlas Cafe's twentieth birthday celebration in SF tomorrow (July 16) playing with local luminaries Craig Ventresco, & Paint the Trees White.
Sunhaze
Once upon a time, this writer once dubbed San Francisco as the west coast's own dream pop capitol. While much of this still remains true (with Los Angeles, Seattle & Portland giving SF a run for the most ethereal city title), San Francisco's Sunhaze provide soundtracks for daydreams, afternoon hikes, brunch bound destinations, and twilight getaways. Santa Barbara transplant Danae Labraña started Sunhaze and recruited Priscilla del Rosario, Erin Walter, Brandon Iljas & Aaron Chin who have been dutifully working on the follow up to 2014's Last Summer EP with the forthcoming album Wishful Thinking available September 9.
Sunhaze's new single "Always You" hosts the ghosts of the Bay's best dreamers past, future, and present. Leader Danae Labraña alongside cohorts Priscilla del Rosario, Erin Walter, Brandon Iljas, & Aaron Chin together create a serenity that skates off the aura of light seen and felt through the endearing glow cast by the sun's surrounding force field halo. "Always You" coasts off the kind of permanence sought by all whose goals mirror their most wildest dreams where desires of secret meetings & subliminal meanings are expressed with the honesty that intimate evening conversations yield. Danae & friends find that sweet spot of creating a particular haze that only the most fervent of daydreamers can truly understand where vocals are blended with the pristine parallel placement and arrangement of the guitar-to-keyboard connection. Sunhaze breaks through the barriers of the temporal as their sound & lyrics reach out for a longer lasting touch. Read our interview with Danae right after the following debut of "Always You".
How has your Santa Barbara by San Francisco adventures impacted your own approaches to songwriting?
My move from Santa Barbara to SF absolutely changed my perspective on life and I found the change in my writing almost instantly. I was inspired by the new people crossing my paths, new relationships, lost relationships, new adventures, the extreme change in scenery and learning to live on my own. I was in a transitional period of my life—turning into an adult and leaving my childhood behind. Leaving my childhood home sparked a surge of emotions—enthusiasm, fear, loneliness, passion, excitement—and I started channeling all these emotions into music. Whereas in SB I wrote sporadically, every now and then—I was not as inspired to seriously create until my move to SF. Although I would have undoubtedly continued to make music in SB, I must say that my inspiration to create wouldn't be anywhere near where it is now, had I never took the plunge to move.
Tell us about moving from your debut Last Summer EP to the forthcoming Wishful Thinking album, and how the past few years have helped shape Sunhaze to who you all are today.
The Last Summer EP was a culmination of songs that range from my fear of moving, falling in love, losing that love, feeling okay with being free and ultimately finding strength to love again. The songs on this EP have a stronger singer-songwriter vibe as in the past, I used to my present my ideas to the group after I had written them all the way through. It was only then that the other members would write their parts to fill out our sound. I'm so proud to say that Sunhaze has grown much more confident the past few years in terms of writing and giving their own creative input making our forthcoming album, Wishful Thinking, that much more intriguing. We have grown to trust each other's instincts, and are not afraid to challenge each other when necessary. We feel this growth and trust shines through in our upcoming album with the various elements and layers we incorporate throughout each, uniquely individual track.
What sorts of thoughts of romantic permanence informed "Always You"?
I'm so glad 'Always You' is the first single off the album because this song really marks the beginning of the chapter of my life that the whole album covers. I was deeply moved by the individual that this song was inspired by. The instant connection and various adventures we shared inspired the lyrics and overall vibe of the song. It's about meeting someone new and without hesitation you find yourself running, playing, dancing, melting, loving and wondering where they have been all your life. About looking into someone's eyes for the first time and your heart stops for a moment. The song also carries a side of fear to it, that side of insecurity that everyone has carried at one point in their life when falling for someone new. That curiosity you hold when you are still unsure about the sincere intentions of this person, but are willing to put all your trust in them regardless. About finding this person that breathes new air into you and instead of running away from it, you hold on tight and run with it, and hope for the best.
Other local Bay Area artists that the rest of the world needs to know about right now?
Lately I've been hearing a lot of music in the Bay Area is dead/ dying. All I have to say to these people is they could not be more wrong! We have built a solid network amongst local musicians and are looking forward to meeting more as we continue on this path. Owl Paws is a great local band that everyone should be looking out for, as well as Phosphene and Jay Som. They all bring something different to our thriving music scene and I am always looking forward to their new releases.
Summer & fall hopes & dreams?
This summer we most definitely want to keep playing shows. We have a few confirmed throughout SF and we can't wait to book more to promote our album! Our album is set to release in early fall and once it's officially released, I'm hoping to go on a small Southern California tour to spread our sound to the masses!
Listen to more from Sunhaze via Bandcamp.
Altadore
Portland, Oregon's David Katz is the debonaire tunesmith known as Altadore who proudly presents the world premiere of elaborate & ornate "Mental Hurricane" taken off the forthcoming album Opal, Luna, and Hymn available August 5 from Randm Records. Katz taps into that rare baroque form that takes the troubadour form to the next level of sophistication where observations and thoughts from the interior are spelled out through exorbitant arrangements. Altadore illustrates emotions of the most complex order where paradoxical feelings constantly collide in a whirlwind metaphor for a mental state.
"Mental Hurricane" comes on like the flash of a storm as David divulges observations that comment on a former lover's beauty in earnest expressions that have to be withheld in the aftermath meeting of a relationship that has already set sail for other piers & harbors. Altadore will crush your heart as he fumbles about with searching for the appropriate colloquial semantics in lines like, "You swept in and enveloped my brain, now I can't find the right words to say, you seem to invade all the functional parts of my day and I'm trying to find all the words I hope to say but love if I may say…" The choral strings, keys, & brass all create the situation where we see Katz's former lover as a heavenly site for sore & weary eyes, where the orchestration becomes more elaborate as the following tear-jerking chorus is reiterated with a heart-dissolving fervor: "Please know that you're looking beautiful today, truth is I know what I want to say but it looks like I'm not yours and I'm not allowed to say it no more." Altadore's own David Katz caught up with us for an interview session featured after the following debut for "Mental Hurricane".
Describe the process of writing and recording your upcoming album Opal, Luna, and Hymn.
I came out of a long term relationship and couldn't write for four or five months, but upon diving back into the world, I started to write a lot of little song ideas. A verse here, a chorus there. Over a couple years time, I had around 25 ideas I knew could be a record. I worked on the arrangements and demoed everything at home for about nine months. I started meeting with my dear friend Jeff Bond toward the end of that time to go over demos and arrangements. Jeff co-produced, engineered, and mixed the record. He also played drums. Bless his sweet soul. We tracked everything for the record in about two weeks. Most of it was tracked at his studio, outside of the strings and horns which were tracked at a different studio in Portland. I was lucky enough to have Patti King from Radiation City play violin on the record, as well as her sister, Kyleen King, who played viola. They're just a couple of the great local musicians who helped me out with playing the instruments I couldn't.
What sorts of internal sentiments & experiences informed "Mental Hurricane"?
The main idea behind "Mental Hurricane" was conveying how a person can feel in the moment of seeing someone they used to have a relationship with. In this case, it was explaining how you can know someone's flaws, yet you fall in love with them just as much as their strengths. And when you see them on the other side of a relationship, you're still drawn in and want to tell them how you truly feel, but you feel you no longer can.
For you, how do you find that Portland both encourages, & maybe even stifles creativity.
With such an active music scene in Portland, it certainly helps maintain my driving force to keep writing and making music. There's a lot of people doing awesome things here. However, depending on the circumstance, it can also be discouraging with the hustle feeling so high at times. It never stifles creativity though. For me that's more of a personal thing and is rarely affected by the city I live in.
Other local PDX artist we should be hipped to?
Oh man, Kyle Craft has a rad new record out on Sub Pop. Mo Troper put out a sweet record this year as well. Y La Bamba and Minden have new albums releasing this year too.
Biggest things you are obsessed with right now?
KeVita Lemon Ginger Sparkling Probiotic drink, "Game of Thrones" fan theories, and "Steal Away" by Robbie Dupree. I ain't even ashamed of how that all sounds in the same sentence.
Altadore's upcoming album Opal, Luna, and Hymn will be available August 5 from Randm Records.
Japancakes
Carrie Clough from Call & Response has joined the Japancakes ranks, heard providing new-romantic neon vocals on the band's recent self-titled album that finds the entire group expounding upon the blueprints that have inspired albums like The Hounds of Love and other full-length technological breakthroughs. A group known for their chameleonic form, improvisational techniques, and even re-imagining an evocative & emotive instrumental rendering My Bloody Valentine's Loveless opus; today Japancakes present a look and listen at the world premiere of their video for "Android".
The visuals for "Android" imagines future cities & desolate deserts made up of vintage neon textures and light designs of many colors. Aspects of 80s experimentation come full circle to fruition as we see silhouettes of the band comprised of various hues, and eye-popping effects that are cause for warning to any and all who are sensitive to flashing lights & bright images. The forms of all Japancakes personnel from Carrie Clough, Eric Berg & Brant Rackley become living pop art masterpieces as luminescent patterns become them, and various incandescent images appear in the background, foreground, and further images that can be seen integrated in elaborate audio & visual illustrations. Japancakes shine a beam ahead at the possibilities of a beautiful tomorrow via the means of their own creative time-defying machines that are created through something of an artistic philosophy of retro-futurism. After the following video debut for "Android", read our interview transcription with Japancakes' own Eric Berg & Brant Rackley.
Describe for us the LA by Athens connection, and how the scenes from these two respective cities continues to inspire Japancakes. Interested in hearing about the processes & shifts involved with the making of the new Japancakes self-titled.
Eric: The new record was entirely inspired by a visit to a club here in Los Angeles a few years ago. I lived in Athens for many years and had recently moved to LA at the time. I walked into a club, with no sign, through a kitchen door and entered a scene that reminded me of the Less Than Zero movie from the 80s. The whole place was lit from the floor with red lights and filled with cigarette smoke. Most people were dressed in black and dancing on a tiny dance floor that was around 12' square. It reminded me of high school when "Bizarre Love Triangle" came out. The bartender even went to the same high school as me in Georgia, so it was a bit of a flashback.
With that in mind, I shifted all the writing to synthesizers. All the songs started as synth dominated tracks out in LA and then moved to Athens where the drums, bass and pedal steel were added. Heather worked on the cellos in Los Angeles after that. The vocals came after all the instrument tracks were recorded. Carrie wrote her lyrics to completed songs, which I'm sure was a huge challenge. The band never heard any of the lyrics or melodies until they were recorded. The only thing consistent from previous records is that we never played in the same room together. It makes it challenging and time consuming, but that is our reality.
What sorts of Japanese desserts & the like inspired the name?
Brant: It's been a while but if I remember correctly the band name actually came from our buddy and co-worker, Joe McCaffrey. Most of the band worked at Rocky's Pizzeria in Athens back in the mid-90s when we started playing together. This place and the employees were movie quality. It was a completely hilarious place to work. Passing the time in the kitchen we would come up with band names that were combinations of countries and other words. Again, if memory serves me, one night Joe called up the restaurant and rang the kitchen line. I'm pretty sure Eric or maybe our buddy Mike Angio picked up the phone and Joe just said, Japancakes. That's your band name, And it stuck. There were some other beauties like Laughrica and my personal favorite, United Steaks, which at one point was supposed to be the polar opposite of Japancakes. All vocals, no instruments. Still could happen, never say never.
Give us stories about the making of the neon-metropolitan video for "Android", and what sorts of droids, and automatons and the like were the inspirational basis for the song?
Eric: I wish we had the resources to use droids and automations in the video, but I wanted to use projections inside Carrie's body instead. The idea was to show a lot of confusion and change inside her.
The song, in Carrie's words, the initial spark for Android was about being in a relationship with someone who doesn't communicate. The science fiction angle is about being a human member of a spaceship crew that is run by Androids. You are heading into a different galaxy and the fears and concerns you have aren't being addressed because you're the only one who feels fear. It's a desperate feeling to have no real communication—other than winks and blinks.
What's next in store from the Japancakes camp?
Eric: Hopefully a live show or two is on the agenda for Japancakes. It has been many years since we all have played together and I know I would like to experiment with the new songs live. I believe one more video is also in the works.
What else is good in both Athens & LA right now that you all want to tell the world about?
Eric: I'm really enjoying LA these days. I never tire of the sun and palm trees. LA seems to be the place where bands of the past come back to perform, like Ride and Lush, Stone Roses, special Cure shows and many others. It's a privilege.
Brant: Athens always has something very unique going on. It's a great place to live. The town is full of amazing musicians, artists, photographers, chefs, brewmasters, entrepreneurs and so on. In no particular order my favorite Athens bands right now are Monsoon, Grand Vapids, Mothers, Vincas, Brent Cash, Cinemechanica, Blue Blood, T. Hardy Morris, Kishi Bashi…I don't know, there are tons of great bands in town. I know I missing a lot. I saw Five Eight the other week and they tore it up. Very lucky to live in a town where music is abundant and good.
Japancakes' self-titled album is available now.
The Saxophones
Meet Oakland's The Saxophones, made up of Alexi Erenkov (on vocals, guitars, saxophone, flute, etc), wife Alison Alderdice (also on vocals & percussion) & Richard Laws (vibes, Crumar synth, bass, etc) who are readying their If You're on the Water EP for release July 19, premiering the evocative "Best Boy" to start your weekend off on a transcendental & emotive-thought-provoking foot. Cameron Spies from Radiation City assisted The Saxophones in recording their EP on an analog Toft console during a Portland weekend stay where they channeled an elegant array of both beauty & sadness all onto the same tape. Impacted by the tides of shifts in relationships, musing over a loss of a loved one due to suicide, and a near fatal boating accident involving Alexi and his father; the opening title number sets a somber yet gentle tone that dovetails into the inner thought spheres of longing on "New Tradition", and then onward.
Our premiere of The Saxophones' "Best Boy" muses over the growing pains that observes the inherent lessons learned after having one's life flashed before their eyes. "Because my religious leanings," Alexi sings in the song's closing lyrical lines, "are all about the feeling," where after some "ooh oohs" & "doo doo doo doo doos" the search for new beliefs that correspond to genuine feelings is observed as a motif present in all three songs on the EP. The Saxophones mix together emotions that revolve around ideas of reverence with an ever-present shadow of solemnity wrought by the questions and search for a sort of sovereign & sensible system of metaphysics. In Alexi's own words on the closing song:
"Best Boy," the final song from our EP, If You're on the Water, addresses the feelings of futility that arise from pursuing universal objective truths while constrained by subjective experience and perspective. The song explores our dependence on faith (religious and otherwise) to cope with ambiguity and paradox. It is both a celebration of personal narratives and a critique of the stagnation that arises from clinging too tightly to our narratives.
The Saxophones' EP If You're on the Water EP will be available July 19.
IAMBENJI
The UK's rising star (and photographer) IAMBENJI followed up his debut release Beats, Treats & All Things Unique with Human available now & sporting inspirations from the artist's own photographic work & the multitude of other heroes he's been remixing now for a hot minute. Making a name for himself circa 2010 after ringing in the new year at London's O2 Arena, the artist continues to settle into his craft that brings an auteur's ear for new hymns for future frontiers & republics.
The testimonial and new testament begins with baptismal of "Found Me Now", where the born-again sense of freedom breaks every restraint of bondage on the uplifting atmospherics of "Going On" right before everything breaks into a full scale gospel battle of attrition on "War". IAMBENJI keeps everything pushing on the up & up as heard on "Got It Baby", to the request for embrace on "Hold Me", right before the empathetic affections are expressed in the full swing-lo chapel-on-Sunday style school of "Its You". Benji shared the following with us about the making of the new Human EP:
It's taken me a couple of years to make this. Each track is probably a reaction to something that's happened in my life. I fell out of love with the music industry and without being too soppy, an incredible girl. Its complicated so i won't explain. In the last few months, leading up to the release I make so many changes. I'm really happy with how it sounds now and the overall emotion it conveys. EP 2 is almost done too!
Kansas Bible Company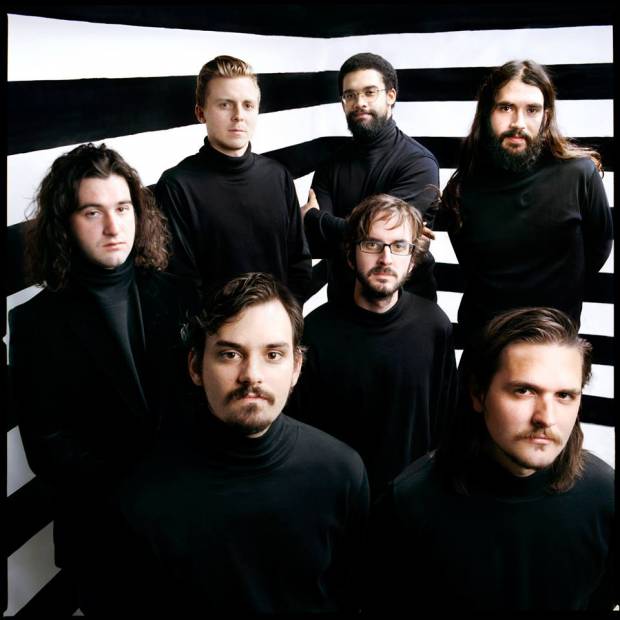 Kansas Bible Company recently released their album Paper Moon, available now from Hotel Records. The Nashville band tip their hat to Ty Segall in a song of the same name, to the super-anthemic "Adiós Amigo", the globe spinning "Little Earth", nostalgic musings on "Back in the Day", to the bummer-summer blues of "Dark July".
KBC alternates between taking cues from their favorite concept albums from the 60s & 70s, to the big pop band setup heard on "Teen Drem USA", romantic interludes like "She's In The Garden", to the friendship ode of "Oh Michael". Sentimentality remains an undercurrent heard on "Beverly", "Green Door Morning", harmonizing on "Baby Blues", the porch & patio thoughts of "Backyards", right before closing out all the action with the seasonal clairvoyant fun in the sun on "Summer Seance". KBC's bassist Nathan Morrow shared the following words about the making of their new album Paper Moon:
Creating our third album Paper Moon was an intense and exhilarating experience. Our goal was to create a collection of beautiful, concise pop songs with a psychedelic experimental edge. Yo La Tengo, Sgt. Pepper's, Fulfillingness' First Finale by Stevie Wonder, and the Pixies were all on heavy rotation during writing sessions for the album. We ended up paring a list of about 30 songs down to 13. The album wasn't built around a central theme, but the songs we ended up choosing all deal with change, loss and nostalgia. We wrote and rehearsed extensively for about a year before laying down the tracks in two weeks at Brown Owl Studios in Berry Hill, Tenn., with producer Skylar Wilson. We are extremely happy to share Paper Moon with you.
Gosh Pith
Detroit's Gosh Pith just released the single "Saviors" made with their friends Flint Eastwood & S¥BL¥NG recorded and written together by the buddies at an old church turned recording studio. Maybe it was the church-esque setting but the meeting of the artists creates something of a choral ensemble that is set straight for the celestial heights, where an entire dialogue between angelic & earthbound beings takes place in an electric symphony. The back and forth dialogue of an ineffable romance becomes relayed in musical pop hooks that keeps you engaged with something of a supernatural as the following chorus will repeat for forever on a continuous loop: "Saviors, searching for saviors, sooner or later you'll find that heaven is a place insides of you, angels, searching for answers, take off your halo, because heaven is a place inside of you…" Josh from Gosh Pith provided the following perspectives on their recent collaboration at the chapel-turned-studio:
We sat down to start writing for Flint Eastwood's next album, Jax Anderson is one of my favorite song writers in detroit, she has a really special vibe about her that permeates what she creates and how she carries herself around the city. I was super lit off Astro coffee, the best juice in detroit I reckon, Syblyng started writing the chord progression with just keys and 808s and we wrote the track very fast. A lot of times lines just sort of stick in my head, little idioms or rhymes or just exclamations people have said with unique flavors that I observe, "save your searching for saviors for laters" was just something that had been in my head that morning, Jax and I expanded upon it to make it something we dug melodically and something universal. I thought that "heaven is a place inside of you" was something quite sexual but it has been taken to be uplifting and empowering as people have gotten to hear the tune and give feedback. I like songs like that, that can be both sexual but positive and uplifting.
Batwings Catwings
The always entertaining & exciting Batwings Catwings present the Grant Kirkpatrick video for "Totally Outrageous" taken from their upcoming Broken World Media EP Coast to Coast available July 22 that will have you singing into your hairbrush in front of the mirror with this song on repeat. The DIY legends Clay Johnson, Dana Poblete, Ray Santillan III, Jeffrey Byron, & Cindy Sukrattanawong only to continue their never-ending tour de force of making the most volatile & vicious hooks that are buried in some of the beautiful & derelict chords you could ever imagine. Clay introduced the video with the following insights:
It's basically about having band practice but we all forget, except the bassist Josh. We are all kind of doing the things we individually like to do. Funny thing is, that in the last shot, Josh leaves the practice room and shuts the door, ironically he also left the band (good terms, still a buddy) after that video was made. We have a new bassist now, Cindy S. who will be in future videos.
Silent Pictures
Bay Area band Silent Pictures bring the aural picture show of Let It Begin available today. Operating on a cinematic core, Alexander Mann applies his dream pop know-how upwards to some of his most remarkable and realized work to date where the entire auteur-soundtrack experience side-winds through the title cut, "Twisted Smiles", "Behind The Scenes", before boomeranging around the bend with the ethereal might of "Come Around", among other big stage stealing numbers. Alexander provided the following exclusive introduction to his new labor of love with the following preface:
We're ecstatic that so many are loving our second LP "Let It Begin." When you are making something you care about you hardly have time to stop and think will anyone actually like it. With so many different styles of music crossing, intertwining and coming together as well as years of preparation in the making, each of of us in Silent Pictures are happy we are giving our fans a unique listening experience. Myself, Jafar, Conrad and Christina each put a big part of ourselves in the songwriting and performances we are proud for you now all to take in… Enjoy!
Phoebe Ryan
Phoebe Ryan mixed a fusion of Cyndi Lauper pop with the hedonism of the original Material Girl on her boisterous big pop single "Dollar Bill" ft. Kid Ink where Phoebe imagines her image being sported in the portrait section of USD currency. With reiterations of "money, money" and the drive of "I'm not gonna stop until they put my face on a dollar bill" swaps out the presidential custom of putting heads of state on cash for placing the visage of rising icons on all monetary items in question. With holiday synths shimmering all over the place like an infinite vacation, Kid Ink supplies a verse to keep that summer sun vibe shining as Ryan continues her quest & regal cause to be a prime minister in her own right. Phoebe was kind enough to catch up with us in the interview featured right after the following listen.
Tell us about some of your favorite moments from your recent Boyz N Poizn tour.
When people sing along to my songs, those are my favorite moments. Being on stage and seeing their smiling faces. Man, there is nothing like it. I have been waiting for that for a long time.
What are tour van riding essentials for you?
Luckily for this tour we're on a bus! It's the best. I can hang out and play guitar and sleep comfortably whenever I want. But I guess if I have to pick essentials, I would say that as long as I have episodes of "American Dad", I'm feeling great.
Tell us about how you approach the pop song craft from brainstorming singles to fully realizing them.
You've gotta start with a small seed of thought, then turn it into a concept that you can make bloom. You only have a few minutes time to get the story right. I work with collaborators, producers and other writers, who help nurture these ideas and inspire me to take them above and beyond.
Give us the story about the making of "Dollar Bill" while boat riding last summer, and what we can expect from the forthcoming album.
Yup, we were on a boat. Me, Kyle Shearer, and Nate Campany. We wanted to do something fun. The melodies came out first, then the word dollar bill, and the rest all fell into place so naturally. Sometimes you write a song and you really feel the energy is something special. This was one of those songs.
And for my forthcoming album? I don't have very many details for you but I will say I am going to put my blood, sweat, and tears in it. I want it to be the best album ever, that's what I'm aiming for.
Other big summer & fall plans?
I'm going to keep releasing music that I am very very proud of. And I'll be traveling a lot, writing in different countries, exploring and seeking inspiration.
What can the world expect next from Phoebe Ryan?
More music, more concerts, more fun. I'm not stopping anytime soon.
LUCKY+LOVE
LUCKY+LOVE returned with the underground-earth tunneling Steve Barron video for "Digging in the Earth" that exhibits a microcosm of our own ecological ties. Found off the duo's recent self-titled album, LA's Loren Luck & April Love highlight the ant world where the two of them serve as overloads to the underground dwellers. With favor shown by the supreme matriarchal ant queen, the worker ants get busy taking on the armies of fracking drills, masterminding ways to stop the machines of construction from their own hell bent designs of geo-physical destruction. After the ants bring down the mechanical menaces, we see our ant friends enjoying the sweet synth pop spurned by Loren & April in the great happily ever after.
Them Bruins
From Melbourne, Australia; we bring you Joel G, Ben W, Tim W, & James C who are Them Bruins, presenting their single "Heading From the Harrows" from their upcoming No One Wants to Dance with Them Bruins EP available August 24 from Old Flame. "Harrows" delivers the kind of pop from the oughts that saw the reinvigorated Stokes sound that was reverberated from across the pond (and then back again), where the "Take Me Out" sensibility and Kasabian ego-tripping pop is proudly put on display with no apology. These Aussies Them Bruins make a joyful noise that is sure to be heard across the UK festival circuits, as well as placing them to be prime candidates for the NME's new darlings of tomorrow. The Melbourne band shared the following words on their new single:
We wrote this song toward the very end of our writing session for the EP and it is probably the first 'nouveau Bruins' song we've attempted – that is it wasn't four on the floor at 700 miles an hour as pretty much our entire 8 song back catalogue was.

We've always been trying to be the band we weren't seeing live in Melbourne and at the time were listening to a bit of Kasabian and Band of Skulls I think. That kinda UK bluesy stoop stuff with 'tude. We were trying to write something a bit slower but still ballsy and sexy as sin.

So we had the basic groove and rhythm guitar riff down and then Woody and I had a somewhat embarrassing duelling sing off in the backyard of the rehearsal place to come up with the lead riff which turned out to be his notes and my rhythm—it was kinda James Bondish and suave so we kept it.

The lyrics are a mix of sadness and cynicism, principally about a girl but more broadly about submitting to any impending doom with a sense of c'est la vie—smoke if you got 'em.
You Are Number Six
France's You Are Number Six provides the following listen to "Glitches" off the recently released VHS Dreams EP that basks in the 80s affectionate audio tropes and synth-saturated styles that informed the mythic decade. The spirit of summer sentiments can be heard on the single "Glitches" that issues the feelings leftover from the era of video & cassette tapes that continue to haunt the anachronistic areas of our collective hearts. Théo from You Are Number Six provided the following thoughts & concepts beyond the inception of "Glitches":
"Glitches" is the opening track for VHS Dreams, it's about remembering a past relationship through an old VHS tape, full of glitches, making the memories barely recognizable. That love story took place in the 80s, and the question is Do you too have VHS Dreams, in other words, Do you too miss the past? The bass line repeats itself all along the track, and as the song goes, you get more instruments coming over the others, as the need to go back to the time of innocence gets stronger and stronger. It's the first one that I've started to record, and the last that I finished, which makes it in a sense the guiding thread of the EP, as it contains all of the ingredients of the EP: love, memories, the 80s and… vhs dreams.
Sacramento's Takticz (aka Yungbrehh), Tynethys & Black Mo$es are the trio LSDS who just dropped the single "On My Line". With Yungbrehh handling the production duties, the group harmonizes about the special people in their life that are on their minds and on their telephone lines. Utilizing the classic tied-up phone motif, LSDS spills out a plethora of passion and carnal desires that updates the '95-era of Candy Rains and builds upon the framework left behind by Soul For Real on "Every Little Thing I Do" that makes 2016 feel like the logical progression from 1996.
Carousel Breakfast operator Jared Sparkes reached out to us about his band comprised of Asia Ma, Julia Fisher, and Nick German—don't—featuring their just released EP forget it that rocks with the abandon heard from the UK wave of 80s DIY pop stars. The opener "ambiguous" leaves no ambiguity about making a home in your heart, followed by the equally infectious & personal cut "your neck", breaking next into the shimmering light of "gold & glowing", completing the somatic-body-based obsessions with "your head" that will keep your entire being wanting to hear more from these earnest rock & rollers that sing from the depths their hearts & guts.
Greece Kid Flicks gave us the deep sea blue-beats & snazzy synths of "The Ocean", featured off his recently released self titled LP (via Klik/wordandsoundrecords. Nickos Dervisis brings his own take on pop music tropes that pushes all genre constraints to break & bend to create new shapes for new future sounds & styles yet to arrive. One listen and you will wonder why Nickos and Peter Nicholas (of Grape Room, fka Great Valley, Nicey Music co-operator, Spooky Town Tapes, etc) have yet to collaborate. The future is wide open & yet unwritten.
Corum is Grant Corum Million Brazilians who just released his cassette Coastal Vudutronic Voyage on Moon Glyph that is about to open up the gates of your perception for whole new worlds. The opening invitation starts with "Fugu Poison Lodge Messengers (Welcoming Song)", where you are guided into the mind-sweeping suite "Grand Vudu Staircase: i. Dark Paradise Lookout / ii. Coastal Mutations Cruise / iii. Sea Beast Channel (featuring Tropical Biome Harpies)", right before you are brought to the adventurous "Neptune Egg Capsule Tide Riders", entering into the atmospheric "Neptune Egg Capsule Tide Riders", before diving into the pool of "Aquatic Medusae Racing Arena", entering the paleolithic underground of "Jurassic Byways", taking you deeper into the subterranean realms of "Lava Tube Exploration: Phosphorescent Worm Callers", right before plunging into the digital depths of "Emerald Rays into Deepwater Horizon".
Amberay just released her debut single "I Say Stop" produced by MorseCode that operates on a drum & bass percussion base that reinforces autonomy and no means no types of concepts. Like a dance-y evolution from ESG's South Bronx indelible audio impressions of the no-wave era; Amberay breaks onto the scene as an artist to keep an ear on for more kinetic & rhythmic vignettes that rule with an iron sceptre & percussive adornments.
Dos Global has been collaborating with The Trp for the past few years on their album Pr0gress1ve and presents the video for "GOLS" that depicts the artist moving to Trp's groove while singing statements of life goals that extend beyond dreams alone. Global described the minimalist video with the following words:
For the video, I was inspired from that scene in The Matrix when they are in that white room and Neo realizes the false reality that he's been living in. I felt like that really fit with the song.
Watch the SBTV video for "Don't You Worry" from The Joi-Fuhl (aka Kwame Safo, oka Funk Butcher) that brings about a joyful noise that will inspire you to run about a forest with friends & colorful smoke pyrotechnics.
Vincent Sole delivered the new single that pleads with the listener, "Don't Waste My Time". With an assist from Andrei Eremin (Chet Faker, Ta-ku, Japanese Wallpaper), Vincent brings the big time sentimentality that is still aware of the economy of time.
Pillow Person is the vision of Sarah Jones from Hot Chip who just dropped the Dscreet video for her fresh new single, "Go Ahead". Available from Moshi Moshi on August 19, Sarah is about to take you on a fun tour through Dandenong, Melbourne that was filmed during a break while touring with Hot Chip. Jones is seen enjoying herself to her own super electric & earworm-burrowing groove from parking lots, in a car, by a car, planking in a parking lot, to staring her own beach party.
Diners delivered the sunny-70s vibes with "Fifteen On A Skateboard" that you would have sworn it was produced by Rundgren circa 1973. Find this and more breezy AM gems on the forthcoming new album Three available September 16 from Asian Man Records.
From the creative visionary minds & talents of Michael Green & Jónó Mí Ló, we invite you to watch the "C V B 3 R W A R" five part 360 video series that taps into the brave new worlds of artificial intelligence as applied for military use. In the third episode titled "MK ULTRA FAIL", strap yourself into the MRI machine of 2014 that creates a full surrounding experience to ponder as the sinking sentiment of the singularity sets in.
Da Dreak & Rahzil Blackwell's album Love n Drugs will be available August 12 from W.A.R. Media (home to Pharoahe Monch, Jean Grae, Denaun Porter, & more). Da Dreak handles all aspects of production while Rahzil Blackwell lays down a silky croon as heard on the new single "City On Smash" that features a verse from 30Six where together they paint the town red in a celebratory mood while going through all the co-dependent emotions of amour.
Elijah Noll delivered the track "Need U" from the recent Ride release that bumps with the most sumptuous rhythm & blues that you adore & crave.
Evan Brody, aka your one and only Evan Ønly flashed us the high def visuals from Pandagunda for "Clique Bait Queen" that trips into the strange intersection of the IRL/URL divide where digital device functions are inextricably hypertext-linked into the organic universe. The video gives the viewer/listener the entire gamut from the gorgeous effects that digital-visual distortion can create to CGI-Dalis that are rendered like animated Keith Rankin's art & album covers. Discover this and more on Evan's brand new solo album /\/\ARBLE available now from Underwater Peoples.
Seeking to complete his own designed trilogy that previously saw the releases of Grass Punks and Perfect Abandon; Tom Brosseau will release the third installment North Dakota Impressions September 16 through Crossbill Records, lending the organic-electric toe-tapping & road rambling "No Matter Where I Roam". Brosseau brings it all back home, and then right back out to the open highways that lead to anywhere where Tom performs something of the impossible by giving the character of the derelict wanderer a sense of belonging.
XL Middleton & Eddy Funkster's collaborative self-titled will be available August 12 from MoFunk Records lending us a listen to the sound of future funk to come with "California Fly" feat. Domino & Moniquea. The Los Angeles team toast the merits of their shared state, keeping the rhythm fresh, smooth & serene that operates on rhythm & groove that DâM-FunK would approve highly of.
Wisconsin by Nashville's Foreign Fields are comprised of Brian Holl & Eric Hillman whose upcoming sophomore album Take Cover will be available in October and we bring you their Gregory Horoupian directed video for "Tangier" & "I Killed You In The Morning". Featuring choreography from Indie Ballet Collaborative's Ariel Asch and the interpretive dance moves from the New York Ballet School, Brian & Eric's emotive intimations are played out in visceral, body motion dynamics that brings the feels to a new visceral level of feeling & understanding.
Zoolay is readying the release of the new album Undeniable available August 26 who just dropped the track "Break Bread" produced by the inimitable Dibia$e who is also the record' main executive producer. Featuring mic appearances from talents like Blu, LMNO of the Visionaries, Roc C, Trek Life, Miki Vale; "Break Bread" finds Z & Dibia$e congregating together over verses that ponder the intrinsic & almost inextricable connections between monetary subsistence & provisions.
Jeremy & The Harlequins present their John Magaro video for "Into the Night" featured off the upcoming album Into the Night Out available August 5 from Yep Roc Records that follows Jeremy & friends around while driving a pretty sweet 1970 Plymouth Roadrunner. With an upcoming album release show happening at Irving Plaza in NYC July 30 with D Generation, The Biters, and Jesse Malin; Jeremy Fury keeps the r & r fury alive by embracing the full freeing feelings that rock affords & allows.
Dom Zilla follows up his lauded Chasing Days with news of the forthcoming ii EP sharing the evening essence and home brewed electronic elements heard on the single "Tonight". With his production, beats, and songwriting used by artists such as Raekwon, Skinnyman, Fallacy, Lulu James, and more; Dom's new single reiterates the message of "I don't need nobody tonight" that showcases the producer's lightening fast beat production and woozy vocals that make for an all out head floating experience.
Aaron Holm has studied the atmospheric & ambient masters of yore and readies the upcoming album The Boy available July 29 from Dissolve Records, sharing the air-wafting single "Little One" that floats on its own breezy cloud. The track creates the feeling of being lost in the woods, or scaling the south face of a mountain or precipice of extreme, air-thinning altitudes.
Taking the 12 step cliche to the 13 level & chamber; we give you the freedom finding video for "Fall" from Esh made alongside Niv Shank & Avner Mayer featured off her upcoming debut EP available July 29. Aspects of love & loss are mulled over as autonomy slowly takes over and conquers the rise & fall continuum.
The Conquerors upcoming debut album Wyld Time will be available August 26 from High Dive Records, delivering the peppy 2-cycle smoking pop of "Yes I Know". With the adeptness of mid-60s mods or early oughts Casablancas & crew; The Conquerors depict a thorough understanding of making the punchiest pop rock tracks around.
Available today from South By Sea Music; we encourage you to get your pop fix with KAPTAN's new single "Numbers" that delves into the meanings behind the numerics on a clock.
Bear's Den bring about the adult contemporary cadences of midnight oil & candles dripping after-hours on the heart-chord, slow-burner "Gabriel" featured off the forthcoming album Red Earth and Pouring Rain available July 22.
Nail Polish recently dropped the frenetic single "Timmy" ripped from the a-side of their forthcoming July 22 7″ from Illuminasty Records. The result is one of the most volatile singles ever that rocks with the energy of a lit match thrown into a dynamite stocked warehouse.
Chris Staples is readying his new album Golden Age for release August 19 from Barsuk Records and we have the sparse & acoustic wonder of "Relatively Permanent". This a strummer for all that struggle with the idea & semantics of words like forever and all the unknown thoughts of uncertainty that hope for something that lasts longer than the fleeting temporal world that we all know too well.
Check out the Isaac Ravishankara video for "Feel Right" from Esmé Patterson's new album We Were Wild available now from Grand Jury that features our heroine rocking out anywhere she wants to. Known for her work with Denver's Paper Bird who has made the PDX jump; Esmé retains all the unrestrained passions, drives, and lusts for life & feeling that we all can be inspired by in one way or another.
London's own HOO HAS are readying their self-titled EP for release July 29 and you can tune in early to the party with the scuzzy-pop-shred-fest of "Hanna" that is sure to keep your head ringing & fist pumping.
Slow Down Molasses just released the title track from their third album 100% Sunshine available September 2 from Noyes Records, providing a little something to bask beneath the summer sun to all season long. The band presents the scuzzier sides of Saskatchewan by bottle up rays of light and then unleashing them in the form of ultra-violet sound beams.
Athens, GA Mothers are readying to release a deluxe edition of their debut When You Walk A Long Distance You Are Tired available July 29 from Grand Jury Music, sharing the piano dotted passions & prowess heard on the single "Easy As Possible".
Featured off Lydia Loveless's 2016 Bloodshot album Real, we bring you the Gorman Bechard video for "Longer" that requests more time to heal the wounds that take the longest duration to recover from. Loveless pleas for more time are expressed in the solo angst of playing guitar in your room, rifling through a tarot deck, eating ice cream & watching television while weighing all the should I stay or should I go options that are on the table.
We have the single "Blue" from Brooklyn duo Fake Guns that bust out some surf riffs that dovetail with power keys progressions. "Blue" appears out of the ether and delivers a new book of lamentations to help cure whatever disappointments ail you.
Hear Ultimate Painting's single "Bills" that rocks with a motorik sense of suave & slickness taken from their forthcoming album Dusk available September 30 from Trouble In Mind Records. This is that jam for the perpetual road trip pointed toward the void of a destination unknown.
Before the PC Music crew brings their new show POP CITY to Los Angeles, A. G. Cook dishes out his first in about a year's time with the single "Superstar" that taps into those maximalist-minimalist channels where every pop economy is utilized to its utmost effective and logical extreme.
Bringing some super-smooth rhythm & blues, Fine Print has us sign on the dotted line to issue an audio tone about the things both "Matter"; and then all the things that don't exactly make the cut that we stress over anyway.
High Water's debut album Crush is available now from Nico Jaar's Other People, and we have the video for "Bad Touch" from Max Grey that features the artist in his element with seizure inducing rapid-montage edit cuts.
Australia artist Phebe Starr just released her new single "Lavender Scars" that tackles aspects & items of hurt with the healing of scars that remain even long after the grieving process and commenced.
Get down with Berlin's Night Helix as they bust out all the night moves choreographed by Robert Vail & Ben Ross Davis in the flashy Pent Up Studio video for "American Stream", featured off their new EP of the same name. Disco dance discourse is displayed with all the right moves to keep your feet moving and your heart singing & screaming.
Check out the total somatic-eschewing of the single "Total Body Erasure" featured off of Izzy True's debut album Nope available August 5 from Don Giovanni Records that rocks & rolls on the heels of identity-fluidity and a bunch of cool coughing riffs.
Tall Heights followed up their recent single "River Wider" with the crucible tale of "Iron In The Fire" that bends steel and metals to the gentle tune of the refiner's flame, or as Tim Harrington described the new single:
In the beginning, this was intended to be a song about the cost of long-distance relationships on the environment. Ironically, Paul, the more fervent environmentalist in the group, diluted the message.
In response to the killings of Alton Sterling and Philando Castile; North Oakland's legendary Mistah F.A.B. takes the case to the Alameda County Courthouse making a conscious plea for these cycles of madness to stop in the following Dope Scorsese video for "6 Shots". With local incidents like Oscar Grant to the current Black Lives Matter movement, F.A.B. asks for unity while trying to understand the industrial military police complex.
The Warlocks just gave us the their first single "Lonesome Bulldog" from the forthcoming album Songs From the Pale Eclipse available September 2 from Cleopatra Records. Bobby Hecksher and band of desperadoes are heard here like the outcasts of Poker Flats making their way out to the great wide yonder like a band of destitute, exiled drifters looking for a new outpost.
For those looking for that emotional rescue that occurs late in the night; check out Benta's "Lover In the Dark" that embraces with an electronic touch that materializes from the blind shades of a moonless midnight.
For all weary wanderers, check out the track "22 Knots" from Ethan Burns who is readying more songs for wayward troubadours on his upcoming debut EP available September 30 from Fairfax Recordings.
Itasca has singed to Paradise of Bachelors with news of the new album Open to Chance available September 30, sharing the beautiful & heart-warming song of friendship with "Buddy". The LA artist Kayla Cohen creates nu-Americana ballads that are out of time and always sound as if they stem from some sort of sacred & clandestine place that exists off the maps & off the charts.
Introducing Juliana Wilson who broke onto the pop scene with her single "Blah Blah Blah" that seeks conversations of a greater substance than the boredom exchanges experienced around her. The young NYC artist presents rich arrangements and honest lyrics that breaks the ennui for exchanges of greater meaning.
PAIDEIA is Charlie Mischer who presents the following electro track "Akira" that is more fun than a wild motorcycle ride through the futuristic freeways of Neo Tokyo.
Brooklyn's latest band of youthful dreamers Teen Body recently graced the world with their debut Get Home Safe and are seen breaking free from the ennu in the following macabre-midnight Grand Guignol Pete Brensinger video for "Bored Window". All of the boredom gets busted up as strange occultic happenings begin to menace the band in all kinds of horror-camp manners while TB plays some of the most beautiful sounds you'll hear around the BK circuits.
Daniel Woolhouse (the artist formerly known as Deptford Goth) shared the cartographical cut "Map Of The Moon" that provides perspectives of lunar bodies unheard & unseen, featured off an upcoming album available later this year from 37 Adventures.
North Carolina's own Echo Courts prepare their album In the Garden for release August 19 via Negative Fun Records, and we give you the sentimental & melancholy anthem of "Control". A song written for a special someone who has lost that "peace of mind" as Echo Courts attempt to ratify the situation with some of the most affectionate chords & arrangements.
Atoms and Void present the call for peace with "Lay Down Your Weapons" directed by Greg Hunt taken from the debut album and Nothing Else that blends images of the natural and human made world. Piano guided sentiments follow the reflections of clouds as they pass by the mirroring windows from city-scape sceneries to all sorts of panning & zoom out shots as you are left with the disarming request of "lay down your weapons & lay all this to rest…"
Behold the flashing & strobing visuals for the single "Lost Boys" taken off of Still Corners' upcoming album Dead Blue available September 16 from Wrecking Light Records.
Glasgow duo Honeyblood declared that their upcoming album Babes Never Die will be available October 28 from FatCat Records presenting the anarchic Thomas James video for "Ready For The Magic" that follows the wild adventures of feral lost children doing whatever they want to do. It's all fun & games until our duo becomes ensnared by the unruly hellions that end up burning our dynamic twosome to the stake before feasting on their captured & killed prey (all while the Honeyblood sound rages onward).
PAPA upcoming album Kick At The Dust will be available September 16 from Hit City USA and we have the rocking jubilation that warns against a cozy kind of complacency with "Comfort's a Killer".
Self-releasing their forthcoming album Just Love July 22 with word of a subsequent tour, Us The Duo provided us with the warm security blanket of "Safe" that shines the soft focus lens on Michael and Carissa Alvarado in the studio singing lullabyes that sway & rock like leaves on a branch in the breeze.
East London's SNE brought some electronic rhythm & blues with "Come Again", taken off the upcoming EP Essence. SNE continues his own self-described trillful fusion where hip hop is melded deeper into the never-ending ether that surrounds the aura of rhythm & blues.
Jesse Mac Cormack dropped the can't get no satisfaction electric-pop of "Never Enough" featured off the upcoming After The Glow available September 16 from Secret City Records. This is the track for the insatiable listener that is always wanting more from their artists and their corresponding sounds.
By now you have heard the news that LVL UP has signed to Sub Pop with news that their new album Return to Love will be available September 23 and we bring you the single "Pain" that hurts ever so good. The first listen sheds some light on the evolution of the group, where introspective items & perspectives awaken in a coming of age kind of melancholy. The refrain of "never find love" sets up the motifs that await ahead on Return to Love that echoes the sentiments of the great Leonard Cohen when he said "love is the only engine of survival." Stay tuned after the listen for LVL UP's own Week in Pop takeover.
LVL UP's Week in Pop
The unstoppable rise of LVL UP; photographed by Amanda Silberling.
Celebrating their Sub Pop signing, it is our honor & privilege to present LVL UP's following Week in Pop guest selections:
"Songs From Movies That We Like" by LVL UP
The Martinis, "Free" (Empire Records)
LVL UP, photographed by Amanda Silberling.
Daniel Johnston, "Rock & Roll / EGA" (Empire Records)
Leveling up with LVL UP; photographed by Amanda Silberling.
Smash Mouth, "I'm a Believer" (Shrek)
On the level with LVL UP; photographed by Amanda Silberling.
The Wonders, "That Thing You Do" (That Thing You Do)
On the up & up with LVL UP; photographed by Amanda Silberling.
Elton John, "Tiny Dancer" (Almost Famous)
In the zone with LVL UP; photographed by Amanda Silberling.
David Bowie, "Space Oddity" (Mr. Deeds)
LVL UP; photographed by Amanda Silberling.
Cat Stevens, "If You Wanna Sing Out" (Harold & Maude)
The levels of LVL UP; photographed by Amanda Silberling.
Simon and Garfunkel, "Sounds of Silence" (The Graduate)
LVL UP, photographed by Amanda Silberling.
Adam Sandler, "Somebody Kill Me Please" (The Wedding Singer)
Follow LVL UP via Twitter.