With spring buzz in full force, Impose's Week in Pop brings you all the latest breaking developments, and exclusives, with your weekly headline rundown. Big news this week as it appears that Death Grips are evidently not broken-up or whatever, as news of a world tour hit this week; a Jamie xx solo album debut is evidently in the works; the Ride reunion is getting ready to go live, featuring a Coachella appearance; Migos are back; watch Mac DeMarco get ridiculous in a Field Day promo video; Future dropped the 56 Nights mixtape; following up her vegan meal service, Beyonce is teaming up with Giuseppe Zanotti to create her own line of platforms; The Decline Of Western Civilization series from Penelope Spheeris will finally receive a proper release; Killer Mike tore his shoulder rotator cuff after Run The Jewels were attacked onstage last week in Austin; Billy Corgan discussed the uncertain future of Smashing Pumpkins; David Crosby accidentally hit a jogger in Santa Ynez; Liam Gallagher offered child support to his baby mama; the AP mixed up Limp Bizkit's Fred Durst with Robert Durst; New A$AP Rocky album will feature FKA twigs and Lykke Li, and Rocky also reflected on the passing of A$AP Yams; Adam "Ad-Rock" Horovitz confirmed that the Beasties are "done" after the passing of MCA, and mentioned unreleased materials; while we continue to mourn the loss of Twisted Sister drummer AJ Pero, and the passing of Pentagle's John Renbourn.
And as the world continues to turn, it is our esteemed honor and privilege to present the following exclusives, interviews, and more from, ACTORS, Landshapes, Macajey, New God, Volcanic Legacy, Wilder Maker, Beezewax, Debe Dalton, Hazel Rose, Indian Wells, Jonah Parzen-Johnson, Monophonics, No Joy, NoMBe, Otto Rex, Work Drugs, YAST, co-curated by Sharpless, and more — in no particular order.

Landshapes
London's Landshapes return with the world premiere of "Ader", from their new forthcoming album, Heyoon, available May 5 from Bella Union. A song named after the mysterious and tragic 70s artist — Bastiaan Johan Christiaan "Bas Jan" Ader — Luisa Gerstein from the band describes the fascination with the Dutch artist who left the world too soon in a solo boat accident out in the Atlantic with the following insight into the elusive allure; "People have speculated over what he's sad about, that it could be the absolute loneliness of all humans and that you can never completely know another person." The band formerly known as Lulu And The Lampshades; Luisa, joined by bassist Heloise Tunstall, guitarist Jemma Freeman, and percussionist Dan Blackett all contribute their vocals to a whirling bridge of seventeenth and twenty-first century fascinations into euphoric, pure indie pop fun for all times.
Landshade's "Ader" begins with the band letting out a chorus of ecstatic yelps like moon howling auditions, that are heard throughout the song in various capacities as the backing vocals to match the group's spinning carousel of sound. Distances unknown and miraculous searches of ill-begotten sailing trips are expressed with an untethered joy, even in the paradoxes of mortal conundrums in lyrics like, "and I'm too sad to tell you, and all we all die alone, so cast me away, I'll take my chances…wooo wooo!" The great, cryptic aesthetic mysteries that chronicle everything from the classic cavalier poets, the Restoration, and then forward to the post-post-modern millennial eras pureed into an assembled audio art piece on the classic and contemporary human condition that will inspire you like to shout and yell along with Landshapes. After the following debut of "Ader", join us for our interview with Heloise, Jemma, & Luisa as we discuss all things Landshapes.
How did Landshapes take shape? How did you all meet up and agree upon starting a band?
Heloise: Landshapes has pretty much remained the same line up as it did when we started out 5 or six years ago. Luisa and I bonded at school in the middle of a choir practice and started singing more together at uni. I asked Jemma to join us the first time I met her and we taught her the songs in the loo just before a gig. We were impressed that she managed to make her fingers bleed when playing the guitar. We all poached Dan from another band we saw at a gig. We watched him create noises from scrunching up a water bottle, and thought that was great. In terms of sound, we started out pretty folky with lots of instrument swapping and home made percussion. Nowadays we generally play one instrument each, spicing things up with pedals and amps. It's a much louder, darker affair.
Give us the story on what the experience of recording Heyoon was like, and was it different from your debut album, Rambutan?
Jemma: Recording Heyoon was radically different from Rambutan. Before we started it felt like we were incredibly prepared we spent hours deliberating over the details, editing parts and really focusing on specific sounds and effects. Having played together intensively there became an unconscious musical bond, an understanding of how we each play, how we could challenge our habits and instincts.
Jemma: Initially we wanted to record it as live as possible, with us all playing in the room, the same way it was written to retain the energy, for "Ader" this is the case, but for the others we took the live bass and drum tracks together and tracked everything else after. It was important for us after all the preparation and thought we had put in prior to recording that we captured the parts and sounds as perfectly as we had envisioned them. We spent a lot of time choosing mics and amps, making sure the drum sound had character, and depth relevant to each track. It was an obsessive but loving process. When we went in to do Rambutan, we were quite naive we hadn't thought about how fast or slow things should go, we hadn't ever recorded to a click track. So quite different. That's not to say we didn't have hiccups during Heyoon but it is a much more considered album.
How do you all feel London has affected/impacted your sound?
Heloise: It's a tricky question given that most of us have lived here our whole lives, but I think the multicultured nature of the city has definitely affected us somewhat. That and the sounds of the city — the transport system, sirens, reflections of sounds in built up areas etc. it's hard not to pick up on that. Dan being from Newcastle has a unique perspective and is always picking up phrases he hears on the bus and out in the streets. It's funny hearing the city through his ears. It was quite interesting to write music away from London in Cornwall. We spent a week in the forest and wrote some of our loudest, rowdiest songs. Perhaps it was somewhat of a catharsis!
Other indie stars from London you all love?
Luisa: Bands and acts in London we're excited about at the moment are Tomaga, Trash Kit, Auclair, Arrows of Love, Demob Happy, Wet Dog, Tirzah, there's loads ….!
In love with "Ader"; who and what is this all about, and what real life events inspired it?
Luisa: Thanks! The lyrics are about the 70s conceptual artist Bas Jan Ader, who's most famous works are "I'm Too Sad to Tell You" and "Searching for the Miraculous". The first two verses are written from his perspective, describing restless energy and what compels someone to throw themselves into a completely unknown experience, and then the last verse and choruses are spoken from the perspective of his mother and loved ones… It's all very tragic, his attempt to sail the Atlantic in a small sailboat must've been doomed from the start, but there's a spirit of adventure and yearning which I think everyone can relate to, and that comes across in the music, it's so urgent and upbeat and spritely and I like that disjuncture.
How do you all describe your recording and song writing methodologies? Favorite process/collaboration styles?
Jemma: We tend to always write together in our practice room. Some days it feels like there is a sonic theme or idea we all connect with and explore. We have all bonded with our instruments a lot more, we have a few more tricks up our sleeves than with Rambutan. It gives us more freedom to experiment.
Jemma: For the most part we jam out ideas; a beat, a bass line, or a uke, or guitar riff might start it all. A new effects pedal might create a magical accident and we work from there. The refining process is the hardest bit, as there will always felicitous moments in the initial jam that can be quite tricky to figure out how to play again in real life. Its an amazing learning process.
What sorts of American short-fiction inspired Heyoon, along with interplanetary birds?
Luisa: It's hard to pinpoint specific stories, maybe the mood of Housekeeping by Marilyn Robinson which eerily describes secret hidden places that are a kind of mindset as much as real places. I'm a huge fan of Lydia Davis, and the story "Forbidden Subjects" is a direct inspiration for "Fire", which describes the difficulty of forming a friendship when a relationship has ended. Conversations are so barbed and loaded that it becomes a delicate dance of neutral topics to avoid causing pain, but then it's also remembering the fire of chemistry. Landshapes' sophomore album ,Heyoon, will be available May 5 from Bella Union.

ACTORS
Vancouver's ACTORS, lead by Jason Corbett present the debut of their single, "Let It Grow", ahead of it's April 7 release from Northern Light Records. Corbett fuses synths together to create the expression of feelings that evolve and develop in any number of scenarios, keeping the keyboards sustaining cold hook notes of confidential hisses and whispers. The ACTORS effect gives synth pop sounds to supplement romantic rendezvous with the swift swaying motions of a chic, alt-masquerade ball involving only the most attractive of potentially interested parties.
ACTORS keep the synthesizers incessantly turning like engines that drive deep into the heart of the night, and toward the rising dawn of a new morning. "Oh, your eyes, so far away…I could stay for a while," Jason sings like a love poem truncated for a voice mail as "Let It Grow" goes deep into a road trip journey driven by a possible amorous reunion. The bond that continues to develop into a stronger sentiment propels the song toward an increasingly deeper cause, higher stakes, bigger things, and a greater synergistic relationship that is never explained in full. Immediately after the following premiere of "Let It Grow", read our interview with ACTORS' Jason Corbett.
What's good these days in Vancouver?
It's exciting to see a growth of live venues over the last few years. There's so many amazing artists making music in Vancouver!
What brought you to first form ACTORS?
I wanted a fresh start to explore new sounds and ideas. It was time to switch gears and get back to writing music for me. So many influences started to bubble to the surface once I had removed the restrictive confines of feeling obligated to write certain kinds of songs.
Do you have an acting or auteur experience yourself?
I tried drama class in grade eight but when the teacher asked me to 'act' like ice cream I just quietly walked out. I get a lot of inspiration from movies. I'm a huge fan of David Lynch.
What sorts of developments and growths inspired this cool synth cut, "Let It Grow"?
It's a meditation on being a responsible adult.
How do you develop your own your compositions for synth, and electronic instrumentation while keeping that human essence burning bright at the core?
I try to use synth tones that evoke an emotional response whether it's a three note melody line or a warm string pad. The vocals are the human element that tie all the ACTORS tracks together. Ultimately these songs are very personal. Other Vancouver acts you think need more attention, that we should probably be listening to? Off the top of my head, Louise Burns, Jody Glenham, Girlfriends and Boyfriends, Sex With Strangers, Owl Skowl, Phoenix Thunderbird.
Spring and summer plans for ACTORS?
More ACTORS music, videos, and live shows. ACTORS' "Let It Grow" single is available now via Bandcamp, with an April 7 release from Northern Light Records.
Wilder Maker
From Wilder Maker's 2013 album, Year of Endless Light, we premiere the abstract visualization from John Sears for "Hangs Hooks". Frontman Gabriel Birnbaum lends songs of heart aches and urban isolation joined by Siv Lie's viola, trumpeter Andrew McGovern, tenor sax player Danny Mekonnen, acoustic guitar from Will Graefe, with the contributed vocal graces from Katie Von Schleicher, and Pete Moffett. Songs from the city float out toward open lands, while floating to Sears super 8 footage shot through the lens of an old VHS camera.
The visuals for Wilder Maker's "Hangs Hooks" move footage in patterns that are tuned to the movements made by the sax, trumpet, and viola relations. The multi-analog blend of film mediums provides the effect of a lonesome night spent in with the televisions rolling out it's never ending parade of stimuli, as you sink down into sleep from your couch, chair, or bed. The images provide fantasies for every chord and note to hold on to, as Wilder Maker's chorus balances a solemn sincerity with inclinations towards greater times, higher expectations, and a freedom found in the way the music revealing a kindred link between the Wilder Maker bunch. Following the video debut for "Hang Hooks", join us for our in-depth interview round with Gabriel.
Give us the histories on how Wilder Maker first formed up.
Well, originally, like so many other bands, it was me writing songs alone in a dorm room. Before that I'd started out as a saxophone player playing jazz, and then abrasive, high-concept free jazz (so glad I spent my teen years writing music with no lyrics to come back and haunt me). It was only when I was 18 or so did I start teaching myself guitar. I was terrible at first, but I was listening to so much Wilco and Nick Drake and Neutral Milk Hotel. I felt like I had to learn to write music like that to say anything true. People would always ask me when I was going to go back to saxophone. A friend of mine (still a friend; he much later went on to join the band) once asked me when I was going to give up my 'acoustic bullshit.' I knew what I wanted, though, I just sucked at it for a while. I met Will (lead guitar) about 10 years ago at New England Conservatory during their Saturday prep classes, and immediately coerced him into playing on all my projects, from early jazz stuff to the skronky triple saxophone group The Abraham Lincoln Brigade, which also featured Danny Mekonnen from Debo Band, the Ethiopian music project I play sax in now. I met Katie when friends brought her in to sing on our 2011 LP (under a different name). We clicked and she'd sing with us when we came to Boston, and on all the records since then, eventually joining full time. Sean came on board in mid 2012 when we planned an insane 100 day US tour with no support, scraping by on a few college shows. Ever since then he's had my absolute trust, both musically and personally – anyone who made it through that would. Nick and Sean are roommates and have been playing together for years upon years, so Nick's transition into the band was easy. I love the current lineup, but I also like to keep some flexibility in it. It keeps things fresh, and people don't feel tied down. Sean McMahon (Workman Song/Streets of Laredo) is touring on bass with us this time, and we still play with our old drummer Pete Moffett sometimes too. Not long ago we did a show with Jason Nazary (Bear In Heaven, but I know him more from bands like Little Women) and Alec Spiegelman (Cuddle Magic/David Wax Museum). Sometimes it works, sometimes not, but I'd rather be interesting and energetic than perfect.
Walk us, and talk us through Everyday Crimes Against Objects of Desire, both Volumes I & II.
There's a third volume too. The idea had two parts:
1. LPs by so far unknown bands disappear quickly in the frothing water of the current music press (many of mine have). I was worried about putting myself through the heartbreak of watching another year-plus of work just disappear. Too post-partum. So I cheated. Bands have so little power in this economy, better take what you can get.
2. To represent the full spectrum of contradictory feeling that occurs during a breakup, applying three wildly different recording approaches might actually be a good aesthetic move. The breakup sensation is built of holding opposite feelings at once, lust and revulsion, anger and tenderness. In that sense you have an uneasy coexistence between hopeful songs like hope springs and careless, heartbroken songs like relief and white knuckled, bitter, sardonic songs like fools and love = war, etc.
Tell us the story behind "Hangs Hooks", and how you feel John Sears video collage impacted the song.
"Hangs Hooks" is a dark song, from when I'd just moved to NYC. I spent way more time alone in my shitty apartment than I wanted to, only venturing out to drink beer at various bars in Williamsburg and hope some significance would manifest in my life. Someone I considered to be a rival or enemy (he wasn't, I barely knew him) was in the process of becoming extremely famous. I was very lost. The song displaces that loss onto characters, because I couldn't directly look at it at the time. It wonders if accepting failure might be better than striving forever, how you can go on living after something very good has left your life, how you can live yourself into a hole for months or years before suddenly in one moment realizing it. I have done that twice so far. John's video really mirrors the song beautifully. The older footage he looped in — the woman in the water, the circus at night, etc. — all has a haunting, dreamlike quality that the song shares. The narrator contemplates suicide, but calmly, which is scarier if you think about it. Her pulse doesn't even jump. And then the brief appearances of cartoons are a wonderful response to the very end of the song, where an old jazz cassette is played on a boombox on the opposite side of the studio from where a set of microphones are recording the sounds of Medford, Massachusetts at five AM. You hear this jaunty trumpet solo, but it's lost in the distance while wind thunders and dry leaves shift on the pavement and cars roll ominously by. I met John by absolute chance and entrusted him this song for no reason other than I liked him. He was funny, and people who are funny usually understand despair. We worked through a few versions of it online, and just when it was about done he disappeared on me, only to reappear, video complete, a few weeks ago. Naturally I had to follow through. We've only met that one time, while I was tending bar and both of us drinking, but I like the idea of a collaboration between strangers, built on such intimate material.
Also too, that live Alex Munro performance, acoustic session for "White Knuckled On the Wheel" is so evocative and raw, where every lyric, every note, and every emotional item hangs on to the other, like this edge of the seat style of presentation. Give us your reflections on this session, what you recall, and how that intimacy was conveyed both in presence, chemistry, visuals, and sound.
The session was casual for the most part, though I did lock myself out of my apartment without my audio gear to start it off, so there was a current of stress to it for me. We don't play WKOTW much live because it really lives in this terrifyingly intimate space. Even singing into a microphone basically kills it. It's so internal it needs to be whispered into your ear.
How do you all go about developing your songs together as Wilder Maker?
I write all the songs and then bring them to the band at varying stages of completion. Just from my bandmates reactions to playing I can tell whether something's working or not, and that's essential for me. They all have wonderful senses of arrangement, and I generally bring a song in without saying anything about what they should play, because I don't want to color their interpretation. We work through it for awhile and eventually wind up weaving together their instincts with my original plans. I like that — working intuitively, playfully. I like to write alone, but the collaborative aspect is essential too, and everyone in the band is spectacularly talented.
Some of your favorite local New York artists that you all feel that the world should know about, and listen to, right now?
Hah, pressure's on! You probably already know some, but — Ava Luna, Leapling, Star Rover (Will from WM), Katie Von Schleicher (Katie's solo stuff), Big Thief, Cantina, Cassandra Jenkins, Celestial Shore, stuff on David Lackner's label Galtta Media, Blue Jazz TV, Bird Courage, Workman Song, Zs, Jobs (FKA Killer BOB), Will Stratton (though he just moved upstate), Felicia Douglass (who's also in Ava Luna), Porches., Cuddle Magic. I'm sure I'm forgetting more. There are so many good bands here.
What's next in the works for Wilder Maker?
Volume II comes out April 7. We'll be in Ohio that day, part of a tour that runs from 3.31-4.11. Volume III is next, later this summer, recorded entirely in bedrooms across Brooklyn. Then a single we recorded at Rubber Tracks this year. Then there are three LPs in the works, writing wise. Some of the material from them is already in the live set. I'm going to do an artist residency as a songwriter in North Carolina in May for a few weeks, and hopefully I'll finish writing two of the three there, then we'll get to workshopping and recording them this summer.
What else are you all working on over there?
You want more?? I'm trying to write some music for Debo Band, who also have a new LP done. I'm also scoring a film, producing/engineering a record for my friend Workman Song. Also will be announcing another project soon, a recurring compilation called Genius Loci, featuring songs commissioned and written based on prompts mailed out by me, featuring many of my favorite artists in NY and elsewhere.
Wisdom, and passages of advice to impart from the world of Wilder Maker?
All I want to say is that I wish more people in song-based music would work their asses off on their craft. It's the only thing that lives on. I'd love to see more spectacular failures. There should be an element of danger in everything.
Wilder Maker's Everytday Crimes Against Objects of Desire Vol II will be available April 7 via Bandcamp

Macajey
We last caught up with Macajey in 2014 with the release of his Water EP, and now we present to you one of the first debut listens to his album, Let's Go. The elemental forces present from the previous extended player can be heard in "Sunny But Freezing" where Jeremy Macachor blends the electronic aspects of production with the sciences and sequences of natural patterns. Larger production leaps can be heard on "Silent Morning" that features Elle Leatham on vocals, the sun basking down tempo Bay Area tropics of, "Heat Wave", more pop experiments with Elle Leatham on, "The Fall", new-age rhythm on the title track, to bewildering wonder, "Dosa", that might be Jeremy's most ambitious track yet. "Rrrumpus" finds Jeremy having the maximum amount of fun behind the decks, putting together a sound that is full of life and energy, and the perfect party favor for all celebratory events. Vocal outbursts that make a barely intelligible utterance cue the production to hit even harder like the most subversive of big beat knocking basement tracks.

Macajey's "Out For A Run" features vocals from Ashley Macachor, that turns the percussion step progressions of a brisk morning jog out in the Bay into a transcendental experience. Like the environmental influences that most likely informed the title of "Sunny But Freezing", the fog of San Francisco makes an allusory appearance on "Out For a Run" as clouds of vapor waves wash over the production in a style not unlike the drifting fog of San Francisco. Stay with us after the jump, for our discussion with Macajey's Jeremy Macachor. As someone prone to world traveling, have you ventured to any more epic places around the globe?
The past four years have just been going back and forth between the Bay Area and Tartu, Estonia (where my wife is from). After traveling so much in my early 20's it's nice to have some stability these days, but hopefully there will be some more adventures coming up in the future that involve playing music.
The latest happenings in the Bay Area that you are into these days?
We've been away from the Bay Area since last August so don't know too much about what's going on. But when in the Bay Area we usually just go on short drives to Half Moon Bay or some hiking place, mostly nature stuff. And when there happens to be an artist or band that we really like that's passing through we'll go see them. Going out is so expensive we have to be very picky about what we do!
What has the jump been like from the Water EP to the forthcoming full length album? The sound is more hyped up, pumped up, and even more spontaneous….feeling this.
Thanks! Up until this album I have never gone into any project with the idea that I'm going to push this as hard as I can. I always just did music and then got kind of mad and hurt that no one was paying attention to it! But I realized that if anyone is going to find out about my project I'm going to have to be like a machine in my own PR work and I guess that feeling translated into the music too. Also just wanting something out of life and my music. I've always been afraid of having a big ego and admitting to myself that I want success in the music industry, but I really do! I want to play at festivals and tour and do all the things that come with being a successful musician, so I guess that all fed into this album.
Tell us about making the more new-club-footwork stuff to the more atmospheric breaks of "Rrrumpus", and how do these different tempos and textures work together according to your own creative synthesis?
My goal for this album was that I wanted each song to fit into a mixed tape of all my favorite artists. I've been really influenced by guys like Gold Panda, Bonobo, Four Tet, Slow Magic, Star Slinger, Floating Points…the list goes on. Looking back maybe I was trying a little too hard to fit into the genre, rather than listening to my own instincts, but I'm pretty happy with the album as a whole and it's given me more focus for the next project.
Other items, projects, in the works?
I've got some potential collaborations in the works, but nothing solid yet. I've always wanted to do a really focused sort of deep house/dance music ep or album, one that flows really well from beginning to end in it's tempo and beats, but I've always been too scatterbrained and easily distracted. So I think that's the next thing I'll try to do.
Other local artists that are doing it, and doing it big that you want to recognize?
My favorite Bay Area band is The Dodos, I love everything they put out and their new album is really great. It was a while ago but I saw them play in Big Sur, that was probably the best gig I've ever been to. Also Elle Leatham, who sings on two songs on my album) has some cool projects going on, Dpbts! as well as her own solo music, definitely check her out!
Macajey's album Let's Go is available now via Bandcamp. Hear the entire album now:
New God
Regular readers, listeners, viewers, and onlookers know that we are in love with the endless summer harmonies made from Baltimore brother duo, New God. From their Firework album, videos, and more; our grand debut of their new single The Magic Sound Came Out single proves that these siblings are more than just some new-Beach Boys on the block. Whereas Firework proved to be a breakthrough for the brothers in showcasing a wealth of possibilities and a bevy of various sonic directions; Magic Sound finds Kenny and Curt Tompkins focusing on lush, and holistic arrangements that are built around the melodies of their harmonic structures. The new 7″ proves to be a concept record of it's own economic form, with The Magic Sound Came Out split into two sections between the A-side title track, and the B-side, "Song of The Silver Angels".
On Section 1, classic Wrecking Crew LA pop sounds are steeped in a sound of baroque pop 60s-ish studio experimentation. But once again, it is the harmonies that all along are underscoring the single's theme heard in the second section supporting Kenny Tompkins' psychedelic story amid the presence of sparse and sporadic effect devices. Available April 7 from Yellow K Records on ultra-limited edition 7″ singles (20 hand-numbered copies we are told), New God's latest suggests further elaborate arrangements from the Tompkins brothers. "The Magic Sound Came Out" pays homage to the tradition of carefully made pop songs, and a nearly academic condensation of the concept album notion into two succinct songs. The A-side carries it's motifs over to the flipside lullaby, "Song of The Silver Angels" to bring elements of the supernatural and surreal told in Kenny's spoken word tone over continued vocal harmonies, and slight-psych touches that are applied with careful, yet calculated restraint. Right after the following debut listen to the The Magic Sound Came Out; read our latest interview with Kenny Tompkins.
Walk us through how Firework helped inform "The Magic Sound Came Out".
With Firework we were really interested in building a lot of the song foundations from non-tradtional sounds with a fairly modern style of production. This is sort of a reaction to that process. We did the opposite this time. All the instruments in section one are tradtional, natural, acoustic and the style of the production has a slightly vintage sound.
Tell us about how you two arranged Section 1 and Section 2.
In section one the guitar,main vocals, and percussion came first. The choir parts (oohs) are improvised. Neither of us play strings very well so we have to communicate those ideas to our more talented friends . I worked out the violin parts on piano, wrote them out in my sort of childish musical shorthand, and they were translated/performed by my patient friend Michelle Lau. Section two is a bit more interesting. The spoken word part, which was improvised on the spot, has a lot of imagery in the lyrics. We thought it would be fun to try and bring the images to life through sounds. So when the lyrics say " Making shining circles and figure eights" we would ask ourselves "What does a circle sound like?' and then try to find something to actually make the sound. Fun questions and fun solutions which included lots of slide whistle, pitch-bent reverb trails, and chopped-up vocal samples.
How do you all go about developing those killer harmonies?
It comes natural to us. There is not a lot of work involved. If one is singing the other will harmonize. (We've been singing together since we were little kids so we have worked it out pretty well.) The only time we really talk about it is if the harmonies are burdening the melody or if they are changing the emotional tone of the song. A single line of harmony can really change my feelings about a song.
How have your writing and recording methods evolved do you feel?
We change both processes every time we make a record. We will intentionally use different tools which will always inspire your writing to go somewhere new. We will go to different spaces which can also really change the way things come out (like the racquetball court for Firework). One thing we don't do is set a standard for fidelity which helps us stay creative. Lots of bands go hi-fi after a few records and never look back. We try to stay open to all recording tools, spaces, sounds, etc. So I'm not sure if we have evolved much, we've just tried to stay open which is it's own thing.
What else are you all listening to right now?
Lots of old Hawaiian music and Bollywood soundtracks, Death Grips, Michael Hurley, Seagulls, Amen Dunes, Tom Petty. We have both been pretty obsessed with a bunch of unreleased music that is coming out on on our label (Yellow K) this year. I would keep my eyes on Yellow K.
Other artists you want to give a shout out to?
I wanna say hey to my friends in Perfect Future, Rozwell Kid, and Circa Survive. Hard working bands full of good people. New God's new single, The Magic Sound Came Out will be available April 7 from Yellow K Records.
Volcanic Legacy
From the creative mind of Birds & Batteries' Michael Sempert; the LA based artist's instrumental dream project, Volcanic Legacy, released the album, Uncanny Valley this week on Eightmaps; lending audio odes to the remnants of our diminishing natural worlds. Featuring clarinet from Jeff Anderle, violin from Anton Patzner, and rhythm stems from Brian Moen — Sempert arranges and mixes these collections of audio samples into a fused world where the acoustic originals are aligned into an order and fashion to represent soundtracks from forgotten worlds within our universe. On Volcanic Legacy's "Uncanny Valley" title track, the strings, brass and undercurrents of atmospheric earth provides an anthem for eroded (and eroding) bio-sanctuaries and habitats that exist on the brink of extinction.
The symphonic style seeks a kind of narrative heard from the flight of birds soaring in arrow formations, to find a song that the mountains might sing, to time elapsed views of clouds caught in the convection cycle motions. The electronic-choral hybrid that Michael makes is given further illustrations as nature show programming is edited to match the evocative expanses of brass and strings that signal toward the stories of the wild worlds that lay beyond the urban and suburban sprawl designed by the human species.

On "Zero Shade", thoughts of a sun drenched hemispheres are heralded by an electronic rhythmic core that is covered from head to toe in percussion stems, synthesized bass, and guitar lead dance chords to guide nomads across sandy dance floors.
Volcanic Legacy's "No Shade" gives a glimpse into the wild where the sun-shielded comforts of branch and leave strewn trees cannot be afforded, and the sequence arrangement exudes the strut of species survival. We further explored Uncanny Valley, the world of Volcanic Legacy, solo works, and more with Michael Sempert himself, after the jump.
First, how did the Volcanic Legacy project start?
Volcanic Legacy has a few stray paths that lead to it. I've been making electronic music for almost as long as I've been writing songs and I learned about it through producing albums for Birds & Batteries. I also did some remixes of B&B songs and of artists like Peter Wolf Crier and Toro y Moi. I had always wanted to do something that was purely instrumental but it took many years to develop and see it through. You know, lyrics have a time and place in a listener's rotation and require a different kind of attention. With this music, I really just wanted to create a space where a listener can day dream and maybe even be creative.
How do you find your methods of arrangements and compositions shifting from previous bands, projects, and solo work?
I'm always just trying to do whatever serves the idea. By letting these music personalities split out into full fledged projects, I'm free to go deeper in those different directions at different times. In the past, I think I was stretched with some of the music I made for B&B, that I was trying to do too much in one song, in some cases to the detriment of the music. Perhaps that's part of what made it interesting, watching the tightrope walker. Now, seven albums in, I'm able to see that big picture more clearly and not get as distracted by the little intricacies. That said, Uncanny Valley is full of those as well! Anyways, there's more room for all that ornamentation when you're not supporting a song and voice. You get to frolic in a digital sound palace of your own making! As for the songwriting side a la Mid Dream, I'm just trying to write better songs that require less pumping up on the production end, and saving that impetus for Volcanic Legacy. And in many ways, Volcanic Legacy is just a good excuse to mix music, which is a longtime passion.
Titling the release Uncanny Valley—what is your own creative connection to that humanity-singularity paradigm?
Ha ha, well in many ways it just sounds cool. It's not a literal interpretation of the phrase — I wouldn't want anyone to be revolted by the human-like-ness but not-quite-human quality of this music. In some ways it applies, because this music is composed and synthesized in a computer. Perhaps I'm trying to bridge the gap over said valley! Just kidding, I hope that never happens. Stay gross, robots! I should also mention the song "Uncanny Valley" started as a commissioned composition for Areon Flutes for three flutes and samples, and then evolved into the title track for this record. I'd also like to credit the drum work and samples of Brian Moen on Meteora; violin samples of Anton Patzner and clarinet samples of Jeff Anderle on Uncanny Valley.
Tell us about the visualizations for Volcanic Legacy, and how it furthers the legacy.
These was originally intended for projection, taking some old BBC Planet Earth DVDs and recutting them as a visual for the whole album. You can watch all those videos at www.volcaniclegacymusic.com. It's just awe-inspiring footage. It's selfish of me to re-purpose these videos, and I feel conflicted about using them also out of respect to the subjects themselves. It started as just an art project, but took a long time to do and they seem worth sharing. At best, I'm celebrating these films and the natural beauty they document. Meanwhile, I think the title Uncanny Valley casts these videos in a poignant light as digital archives of a vanishing world.
What other projects are you working on now?
I'm working on another Mike Sempert album, though it hasn't really received my full attention mostly due to life stuff. I'm excited to return to that world soon! Volcanic Legacy's Uncanny Valley is available now from Eightmaps Records.

NoMBe
Heidelberg/Mannheim x LA's NoMBe is Noah McBeth, who just dropped his single "California Girls" that emulates and attempts to embody the hedonist abandonment of LA to a kicked back production beat. A noted classical pianist, Noah applies these learned schools to the notes and mix of turning the wild at heart "west coast pheromones" into a tangible audio counterpart. Narratives are described, like half-lidded and half lit observations from the back of limo or Uber luxury car; recounting the events and characters seen around the Sunset Strip scenes between the hours of 10 o'clock at night and three in the morning. Noah McBeth was kind enough to talk to us in our interview, after the jump. Tell us about how your Heidelberg, Germany classical pianist come LA producer came about, and how theese disparate places have all together informed your sound.
It really began with this Musical group I used to produce for in Mannheim, Germany. That was my ticket to the US and I never really went back. Landed in Vegas for a few days, went to Miami and to Montreal, before settling in NYC. That really was a game changer as far as becoming an adult was. I was 19 at the time just grinding and no one in my family really understood what my goal was, I had some great experiences, but ultimately I got frustrated with the city grind and relocated to Miami to study music. Miami soon got old, too and LA was just calling me. I'm very glad I made that move. All these places left their marks and I had great connections with people from all over till this day.
Where do you find the classical and modern/post-modern approach both intersecting and diverging from your own creative experience?
It's really hard to pinpoint where one thing ends and the other thing starts. I think they both represent stages in my musical maturity. Classical is a foundation and sort of a scope that helps explain certain things in music. Not all things though! It's definitely cultivated my ear for harmonies and scales and I find it often makes me want to make rather serious tunes. But you just hit a point, where you want do abandon all of that. I think we all had that moment when we hear something incredibly new and seemingly "original" and it's just intriguing. But most of the time, whether it's jazz or an abstract masterpiece a la Aphex Twin the basic foundation still shines through.
Describe for us the similarities and differences between producing other artists, and working on your solo work as NoMBe.
It's interesting, I think as a producer you often have to put ego aside and just focus on what makes the artist happy. It can be tough at times cause not everybody is as open to just experimenting or fully comprehend the many directions they could go in. Everybody has their vision you know. At the same time I don't tend to obsess with minor details when producing someone else as much as I do with my own work, which often has me surprised over how quickly you can create something great. Letting things go and moving on to essential pieces of the track is important when working with others I feel. Needless to say you're less likely to put in the same amount of hours into someone elses track as you would into your own, for better or worse.
Tell us about the various adventures, and misadventures that have informed tracks like the west coast pheromones like "California Girls", to the future lovers rock steez of, "Waves".
Oh man I think I've had every scenario in the book as far as dating goes. Definitely had my heart broken a few times and returned the favor on occasions. Each song you mentioned actually does in a way represent a shift in the women I pursue. I always went for the wild, flaky ones, or should I say freaky ones? Those that would show up unannounced at 2 am or disappear for days doing drugs with a whole different crowd. It's intriguing, but I never found drama to satisfy me. Once I went for the good girl everything got so much easier and I'm quite content now. "Waves" is actually about the promise of my girl taking me to Joshua Tree for my birthday, which is finally happening next month! Yeaaa!
What are you working on right now, solo wise, and collaboration wise?
Right now I'm finishing up the EP and scoring a feature which is a lot of fun! I'm constantly working with other artists. Might do an EP with some of my favorite MCs or put out these house tracks I've been working on with a friend. We'll see. Got some surprises in the works though!
Other favorite artists and producers that we got to check out?
I've been following this guy Flako for several years now and he's always continued to impress me. Gabriel Garcon-Montano really blew me away, of course, as did boots. Keep an ear out for my good friends Rush Davis, Mikey Mike and KP as their projects will be out of this world! I also was lucky enough to peep some of Gallant's new tracks and I think it will hit really hard. This guy John Splithoff from NYC is doing some phenomenal work with Noise Club as well!
Insights and thoughts on the NoMBe style, and creative approach?
It's really ever changing, I go through periods in which I gravitate towards certain instruments or sounds more, but generally the goal is writing interesting songs. Every single project varies in the approach I feel. Sometimes I begin with a vocal scrap or on the piano. Love writing with the guitar and I somehow find it easier to come up with concepts if a dope drum loop is already in place. I immediately associate rhythm with melodies and it's easier from there on out! Production wise I just draw from my instincts, dragging samples, cutting loops, recording noise or room sounds. Nothing's off limits.
No Joy

(No Joy, photographed by Maryanne Ventrice for Impose)
After catching the winding breeze that No Joy's More Faithful will be available June 9 from Mexican Summer; we caught up with the band's Jasamine White-Gluz, while basking in the newness of accepting the sea changes and strangeness of now – "Everything New". The disconnection of former connections for new affinities are played out in a subdued melancholy that dreamily basks on the lessons of the past while pushing toward a present of ultra-shimmering of creating maximum bliss in a restrained mix that does the most with holding back the big guitar production guns. With our thoughts on the new No Joy album and single; Jasamine explained inspirations and experiences that have informed their development in our interview featured after the jump.
Tell us about working with Jorge Elbrecht on the album, More Faithful.
Jorge is essentially the fifth member of No Joy. He knows us really well as musicians and as people so he knows what to do to get a performance out of us. Going into this album, I really wanted him to push me as a vocalist and he did – to the point that I kind of started regretting asking. I was definitely pushed out of my comfort zone but always have total trust in Jorge.
What was it like recording the album at Gary's Electric, to mastering in Costa Rica at what we are told was an old farmhouse?
It was rainy season and we were totally isolated in this old house on a mountain in the jungle. There were a lot of stray dogs and one small lady that lived on the property named Rosa–other than that we never saw anyone. There were a couple hours first thing in the morning where you could get some sun and go outside, so that's when we would try and explore the area a bit. But once it started raining we were all stuck inside in this makeshift studio we made and spent 12-15 hours a day mixing and doing overdubs.
What sorts of faith, or lack there of, lent credence to the title of, More Faithful?
We fought over an album title for months and More Faithful was just a combination of two of the many thousands of words we were tossing around. The title probably means something different to each of us but to me it was not about religion or beliefs. To me, More Faithful implied a newfound loyalty or dedication, whether to a project, a relationship, whatever. But it might reference Borat or something to the other members in the band, you'd have to ask them.
What senses of newness, and urgency informed, "Everything New"?
Towards the end of our last tour cycle I saw a lot of relationships around me start to fall apart, including my own after nine years. A lot of my friends back home had moved away and moved on, and I found myself re-exploring what it meant to be alone and start over from scratch, for better or for worse.
No Joy's summer post-release plans?
Celebrate my + Laura's birthdays (same week), go to the water-slides, get a really good tan, date a famous person, tour some more.
No Joy's More Faithful will be available June 9 from Mexican Summer.
Catch No Joy on the following tour dates:
March 26
Burlington, VT – Signal Kitchen
27 Portland, ME – SPACE Gallery
28 Hamden, CT – The Ballroom at The Outer Space
April
02 Quebec City, QC – Le Sous-Sol Du Cercle
03 Moncton, NB – Tide & Boar Gastropub
04 Halifax, NS – Gus' Pub
09 Guelph, ON – Kazoo! Fest eBar
10 London, ON – Call The Office 11 Peterborough, ON – The Red Dog Tavern
May
10 Birmingham, UK – The Hare & Hound *
11 London, UK – Oslo * 13 Leeds, UK – Brudenell Social Club *
14 York, UK – The Fulford Arms * 15 Brighton, UK – The Great Escape 16 Bristol, UK – The Louisiana *
20 Brighton, UK – Prince Albert *
22 Amsterdam, NL – De Nieuwe Anita *w/ Cheatahs

Beezewax
Presenting the Stateside premiere of Beezewax's Thor Brenne directed video, "In The Dark", the first portion focuses on the group's skateboarding crew in northern Bodø, Norway from back in 1995. The video features guitarist/vocalist Kenneth Ishak discussing how the band began performing in between board session, discussing the anarchic life and times, music taste, heady hooliganism, and thumbing their nose at mainstream music. Conscious ideals shared amongst the group are discussed, while Thor's video presents kick flips and mischief aplenty, including some painful looking wipe-outs and spills. Watch too as Kenneth talks about fighting the city for their own proper indoor skate park, and all the triumphs, and tribulations that occur in between. Director Thor Brenne wrote the following about the video:
Bodø, a small town in the north of Norway, above the arctic circle, is the visual backdrop of the 1995 skateboarding scene in this video. January, 2015 I called up one of the active skateboarders from that year – for a chat about skateboarding, music, latent homosexuality, and girls. What was supposed to be just a music video ended up as a short documentary about the summers you spent hanging out, getting into trouble, and creating friendships over doing the things you love.
Kenneth Ishak described the song "In The Dark", the video, and documentary with the following:
The song is about the euphoria of leaving someone, a situation or a place. The video is about the same escapism, freedom and selfishness in the form of not having a care in the world. In the video that documents only a few months of a snow free Bodø, Norway- you'll get to know the local skate crew in 1995, in what is known to be the dark age of skateboarding: small wheels and huge pants. This is when we first started – 1261km or 783 miles south of Bodø – writing our first album in the basement under our drummer's garage amongst stolen goods between skate sessions at the abandoned local Helly Hansen factory. We were unpopular kids with weird clothes obsessed with Tom Penny. Who is Tom Penny? The skateboard crew in Bodø in 1995 would know.
Hear more from Beezewax via Sellout! Music.
Work Drugs
Philly's Work Drugs released the single and glamorous ivdeo for, "My Billie Jean" off the group's forthcoming album, Louisa available this summer from Bobby Cahn Records. The single was made as a metaphor, and tribute for all those people that light up our worlds; where Thomas Crystal and Benjamin Louisiana update the MJ classic with a companion piece made like a mythology developed from the music video that inspired this song. The illuminating streets and city lights from the world of "Billie Jean" is brought to the smoothest, and most serene styling of sound, replete with sophisto pop visuals. Benjamin Louisiana from Work Drugs wrote us the following about the single, "My Billie Jean":
My Billie Jean was written as a metaphor for all the people that light up our worlds. The metaphor borrowing ideas from the classic Michael Jackson music video, where the street and city lit up as he touched everything. I think we tried to imagine a world, where being a "Billie jean" was a good thing, versus an accuser of wrongdoings (as is portrayed in the MJ song). Although the concept was a little abstract, we thought that lyrically, it made sense to us, and others who grew up on MJ, may appreciate it.
In case you missed it, hear the evening rush of moon silk synths on Work Drugs' previously released single, "Chase the Night". Louisa will be available June 22 from Bobby Cahn Records. Catch Work Drugs in Philadelphia April 25 at Johnny Brendas to celebrate the new record and with a west coast tour happening this summer in support of the the record. Dates TBA.
Hazel Rose
This week San Francisco's Hazel Rose dropped her solo album, The Seed, entertained a few of our questions, and lent us a listen. The former 40Love frontwoman brings some of the Bay's post-rave remedies for life's day to day ennui, enlisting Marty Mxfly, Yung Cutt-E, and Mic Angelo to bring a hedonistic sensibility with one foot in that BART CDR-mixtape tradition, to the digital backpacking production of today. Electric funk dance parties break out on "Robotik", before getting trippy off that, "Dalai Lama", contemporary auto-tuned thrills on "Holiday", nu-disco vocoded beats on, "Waiting", interludes, surreal sultry submergings on, "Smoother", and the spring breeze fevers of, "Stars In My Drink". R n' b radio fascinations burst on, "No Games", retaining perenial production weirdness that permeates throughout, shoulder shaking opps like, "Soundwaves" featuring Raka Iggi, meditations like "Bright Lights", smoky flight patterns via, "I Must Fly", leading to the epic of "Forever". To get a closer listen, check out our interview with Hazel Rose immediately following, The Seed.
Tell us about making the move from 40Love, to solo.
Working with 40Love was such an amazing time for me, they will be family for life and it inspires me so much to see what they're doing musically now. But to be honest it was a hard journey because I came out of a rough heartbreak and also felt like I was starting a whole new path musically. I had to confront everything about myself and search really deeply to tell stories that I had avoided before in my music. Now I see that as the biggest blessing in disguise because I met folks who really pushed me and saw my potential even at my lowest. It gave me the spark that nothing will stop me from actualizing my visions and expanding my life.
What was the process of making The Seed like, working with Marty Mxfly, Yung Cutt-E, and Mic Angelo?
The process was so natural and exciting, because the goal of all the BQM artists and producers involved in the project is to stay in the zone, work consistently every day and really be rooted in the spiritual reasons for creating. With these understandings in common, I was humbled to see the crew work so tirelessly just for belief in the project. It helped me push myself even more. I was working 3 jobs — still am — but in every spare moment we would write and record. Mic Angelo and I have a great writing flow together, and Marty and Cutt-E are so prolific they have new production every day. Then Stylo adding the live sound design element I think elevates it to a whole another level. So I'm just honored to continue work with people that inspire me every day.
How do you focus your senses of song and production composition toward future vibrations?
I love these questions! If I am understanding correctly, we believe that the artist's job is to create the new world. To transform our current world through change of thought and understanding as well as emotional connection to create a vision for what is possible. So the meaning of the Seed is that everyone has these seeds of transformation already inherent in their life. We just need to water and nourish this seed and shed the negative functions that prevent us from reaching our mission. So the Seed is mystical in that we don't always know what will grow from it, but it is planting a Cause that will have various and hopefully far reaching Effects toward the future.
I feel like the album blossoms like a lotus or something toward this infinite pointed grand finale, "Forever". Was this intentional, and what inspired "Forever"?
Thank you, yes, this song is kind of like a culmination and also a peek into what's to come for our upcoming music. What inspired the song was the thought that there are so many distractions and forces of destruction and contradiction in our current world, but the positive life force is indestructible and will last eternally. So it's an encouragement to keep fighting no matter how hard our inner or outer world gets, that we are protected if we treat our actions as sacred and directed towards the happiness of ourselves and others.
How have you found the Bay Area continuously inspiring your music?
I was born and raised in San Francisco, so it has definitely continually inspired me. My first years were in the vibrant Castro neighborhood living across from a hospice, school, and church. This closeness of life and death and also the urgency I felt in the city as always being on the edge of progressive viewpoints but also containing its own contradictions has always held power and questions for me. Now that the city is becoming even more unequal and more gentrified, I feel like the SF Natives are coming together even more to stand for what the real culture of our city is about and remain on the forefront of it.
Big moves, collabos, and more that you got planned for the future?
My next project is an all rap mixtape called The 5th Element coming in the next few months. We also have some videos and multi media collaborations in the works that I'm excited to share. After that will be another full length studio album produced by Stylo and Mic Angelo called 9 Lives. The projects are symbolically connected and each represent different aspects of the human experience, so I can't wait to reveal these broader themes and how they relate to each other. We plan on continuing to push our message in opposition to the dominant forces in power towards empowerment and radical love.
The Seed is available now.
Monophonics
Monophonics' forthcoming album Sound of Sinning is available April 14 from Transistor Sound, and the Bay Area band brings you some mod-psych fashioned variations with their two-cycle scooting single, "Lying Eyes". Known for their performances with Blackalicious, and Ben L'Oncle Soul; percussionist Austin Bohlman, with Myles O'Mahony on bass, Ian McDonald on guitars, Ryan Scott's brass section, and Kelly Finnigan on organs and vocals combine their own maximum r n' b stew with a sensibility of sound ripped right out of the night clubs from the twentieth century. Monophonics also present a behind the scenes/take-for-take look at their creative recording process, giving a view into the components, and individual contributions that make up their single, "Holding Back Your Love". Join us after the jump for our interview session with Monophonics.
Tell us how you all formed a bond together as Monophonics.
Monophonics was formed through a merging of two bands and grew together through our mutual love of the music of the 60s and 70s. Similar taste in music and and the ability to play well with one another helped tighten our bond.
How do you all feel the Bay Area has inspired your approaches to modernist, vintage jukebox sounds?
While the Bay Area has certainly inspired us through the years and was at no doubt the musical hub in California before LA during the 60's we also find inspiration from Memphis, Detroit, New Orleans, NY, Paris, Greece, the UK. Traveling the last few years has allowed us to experience a lot of new and old music from all over the world. These discoveries and experiences have most definitely rubbed off on us as a band and individuals.
Give us some behind the scenes views on the making of the passionate cut, "Holding Back Your Love", to the composition and recording aspects of making, Sound of Sinning.
"Holding Back Your Love" came from a guitar riff from our Guitarist Ian after we discussed wanting an uptempo soul tune with Psych rock roots. Think Norman Whitfield, early Funkadelic and Rare Earth. So we got together and wrote, arranged and recorded the basic rhythm tracks in one day. Kelly then wrote the lyrics while Ryan worked on the horn line. Within a couple days we had the song done. It came fast and very organic which is the same approach we used for the whole new record. We never want to over rehearse or over think songs. We trust our instincts and if we all are feeling it, we roll with it. Our process stems from the old school way of making records and it's what's works best for us.
Can you shed some insight on the chemistry behind working with legends like Blackalicous, and Ben L'Oncle Soul?
Working with Artists like Ben and Blackalicious can be challenging and rewarding all at the same time. With Blackalicious, Chief Xcel has us replay certain samples and and or add parts to existing tracks. This requires us to think outside the box and take a different approach given that it could be a 70's country song, a disco groove or a 60's Chinese Pop song. Working with Ben is always a lot of fun but as I said before can be challenging given that you have to approach every project a little different so over time things don't sound stale or repetitive.
Having performed on bills with Al Green, Rodriguez, and Galactic; any favorite anecdotes of interest you all care to share?
We opened for Booker T at Water Front Blues Fest in Portland, Oregon and being enormous fans we were extremely excited with high hopes of impressing the living legend. Things did not go very smoothly and at no fault of his own during our set Kelly broke two keys of Booker's Hammond which he was kind enough to let us use. It was a complete nightmare. Kelly felt terrible and his apologies did not seem to better the situation. We were told to leave, and heard it from everyone that now the whole show was off! Booker T would not be performing, we apparently had ruined everything. In the end Booker, being the super cool guy he is accepted our apologies and ended up using Kelly's B3. Long story short, Booker T played 'Green Onions' on Kelly's organ which is a cool story in itself. It's always exciting being on a bill with legendary artists like Al Green, Crosby Stills and Nash or current bands we respect like Galactic and Budos Band. It really is inspiring and we are very fortunate to be able to have these opportunities. One festival in Long Beach we had the chance to have legendary Motown guitarist and Funk Brother Dennis Coffey sit in with us for a song and that was really exciting given how influential he is and was as a musician/producer in the psychedelic soul scene during the 60's and 70's.
Thoughts on the state of the Bay Area scenes?
Unfortunately a lot if musicians are leaving and moving due to the fact that San Francisco has become so insanely expensive. Oakland has some real potential and good clubs but people from San Francisco don't support the east bay music scene so it's an uphill battle for them. We have come to notice that SF doesn't really show love or loyalty to hard working bands like Monophonics. Instead they spotlight "buzz" bands that play the city 10 times a year and then break up a year later. Marin County is probably the best of the best in terms of live music and musicians getting support from a community. Marin has a long history of great bands and musicians and we are just happy to carry the torch!
Monophonics' forthcoming album Sound of Sinning will be available April 14 from Transistor Sound.
Catch Monophonics on the following tour dates:
March
27 Brick & Mortar Music Hall, San Francisco, CA
28 Brick & Mortar Music Hall, San Francisco, CA
April
01 Arcata Theater, Arcata, CA
02 Star Theater, Portland, OR
03 Nectar Lounge, Seattle, WA 04 Cozmic, Eugene, OR
06 Urban Lounge, Salt Lake City, UT
08 Larimer Lounge, Denver, CO
09 Crown Uptown, Wichita, KS
10 Rose Music Hall, Columbia, MO
11 Martyrs', Chicago, IL
12 Madison Theater, Covington, KY
14 World Cafe Live, Philadelphia, PA
15 Brooklyn Bowl, Brooklyn, NY
16 Iron Works, Buffalo, NY
17 The Club @ Water Street Music Hall, Rochester, NY
18 Howard Theatre, Washington, DC
22 Visulite Theatre, Charlotte, NC
24 Crowbar, Ybor City, FL
25 The Funky Biscuit, Boca Raton, FL
26 Will's Pub, Orlando, FL
29 WorkPlay Theatre, Birmingham, AL
May
01 The Howlin' Wolf, New Orleans, LA
07 Last Exit Live, Phoenix, AZ
08 Winston's Beach Club, San Diego, CA
09 The Mint, Los Angeles, CA
28 City Winery Napa, Napa, CA
July 17-19
Northern Nights Festival, Piercy, CA
Debe Dalton
Playing April 1 at Brooklyn's The Living Room with Field Guides, Howth, and Ponyhof; Lower East Side's banjo armed Debe Dalton will perform strum-along favorites like, "Sorry Joan". An apology song to Joan Bahez and like minded pacifists like Gandhi; Dalton picks chords to match lyrics about fighting back in self-defense to ward off disturbed cretins in Central Park while musing on the politics of peace. Keeping a sense of classic folk framework in mind, mixed with the challenges for contemporary, independent troubadours — read our buddy Carl Creighton's (from Howth) exclusive interview with Debe right here after the jump.
One of my favorite songs of yours is "Sorry Joan," where you apologize to Joan Baez and Gandhi for punching a would-be mugger in Central Park. What elements of a story inspire you to turn it into a song? Or do the songs choose you?
"Sorry Joan" is a true story. It's something that happened to me when I was in my early 20's, maybe 19. So it's a cathartic songwriting exercise that worked out into a decent song. It's amazing how a songwriter's life shows up in rhyme and meter with a melodic chord progression.
You've been a fixture of the Antifolk community and its Lower East Side hub, the Sidewalk Cafe, for how long now? Tell us how you first became a part of that scene and the impact it's had on the music you make.
I arrived at the Sidewalk Cafe in February 2004. The folk music community had not been very kind to me through the years, but I found the anti-folk scene/musicians very welcoming. They got me right away. I am a steadfast Antifolker.
Screw Antifolk. When did you first find music?
I started playing guitar when I was around 10. Started with those awful, soul-crunching Mel Bay books. I listened to Elvis, The Beatles. Worshiped Pete Seeger, Joan Baez, Richard and Mimi Farina. The folk song revival in the 1960s. Started writing songs in my teens in my 20s. By the time I was 30 though, I gave up. And then around age 38, a friend gave me a banjo she found in the garbage. I took it apart, cleaned it up, put it back together, started trying to play, and then took lessons from Roger Sprung. Learned lots of folk songs/fiddle tunes. Showed up at Sidewalk six months later and started writing my own songs again. Catch Debe Dalton playing with Howth, Field Guides, and Ponyhof April 1 at Brooklyn's The Living Room.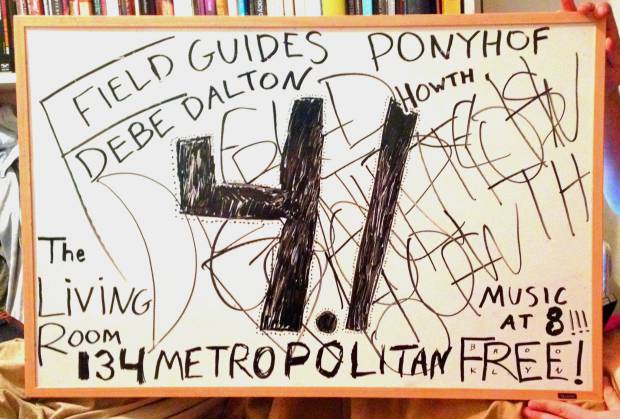 Otto rex
Introducing Otto rex, Oakland's new band on the block who just released their first single, "Sweet Tooth", made up of guitar suites made up with smoked out, saccharine witchcraft. From their forthcoming EP, Icebergs, available in May; we look forward to the Otto crew bringing serene, echoed enabled invitations to "lose yourself" in full LP rock mode. Austin from the band wrote us the following introductory piece on how you Otto rex started out, with insights into the making of both the single and the forthcoming EP:
"Sweet Tooth" was inspired by PBS's "American Family". I first watched the series in college, while I was experiencing my own family breakdown and methods of coping with that long distance (family in Texas, me in New Hampshire). I identified a lot with Lance Loud, who's featured at the beginning of the song. I felt like he and I were the same person in many ways, the whimsical escapism especially. I recorded "Sweet Tooth" that same semester in New Hampshire. It sat dormant for years, until I met Chris, who's a drummer/audio engineer, through Craigslist. He just moved to Oakland from Cleveland, I had just moved from Dallas. Chris encouraged me to rerecord drums, bass and half-ass parts. We took an old TAC Scorpion that was lying around this warehouse where we practiced and brought it back to life. Then we found Jake who had moved here from Mendocino County, again through Craigslist. He came to the space and recorded this beautiful bass part for Sweet Tooth. I mentioned putting out an EP and using an Albrecht Dürer print for the album art. Jake lifted up his pant leg to show me this massive tattoo of Dürer's Four Horsemen. I was like, "uh, let's start a band." We found Chace, our lead guitarist, a month or so later…through Craigslist. He had just moved here from Chicago to go to Mills College. He came in and laid down this perfect "Sweet Tooth" lead within like 20 minutes of first hearing it. And that's pretty much how the band formed, and how the EP came together. We spent a month or so recording in that space, and now we have Icebergs.
Jonah Parzen-Johnson
Helping to keep your world just a little more off-center, check out the Adam Gundersheimer and Vanessa Haddad directed video for Jonah Parzen-Johnson's "I Wrote A Story About You, Without You" from the upcoming album, Remember When Things Were Better Tomorrow, from Primary Records, available June 2. The worlds both near, and far are brought up close as Jonah's combines horns with the trickery of knobs and treatment that transform the old jazz systems into tomorrow's new technology.
Every song I've written to play solo has started with a title. Titles are really important to me. I'm looking for a combination of words that capture a scene, an experience, or maybe an interpersonal relationship that's been on my mind. When I find that combination of words, I get a kind of jolt of actualization. That jolt is maybe my favorite feeling. From that moment its all about translating that emotional response into synthesizer textures, oscillator combinations, LFO interactions, melodic fragments, and saxophone techniques that make me feel the same way. Ultimately I just want to feel the way I felt the first time the title came together in my head for every moment of every time I play every part of every song. My hope is that if stay fervently true to that energy for the entire songwriting process, the piece of music that I end up with will transfer that jolt of actualization to the people who hear it. If it does, that's pretty cool.
Pre-orders for Remember When Things Were Better Tomorrow available now via the artist.
Indian Wells
Pietro Iannuzzi from Indian Wells returns with the release of his album debut, Pause, for Bad Panda Records, where we explore the new electronic frontiers fashioned by the artist who gave us, "Wimbledon 80" off the Night Drops EP. The nature of the air and atmosphere is controlled through something like a ventilation pump/fan system on the opening, "Lipsia", further stepping ahead in the big strolling shuffle of, "Alcantara", the morse code chemical make-up of, "Mountains", managing the organic and artificial elements in blurred effects off, "Changes", to the title cut duality piece, "Pause / Vignelli", where the familiar Indian Wells blend of vocals and electronic production mesh together in congress. But this actually signals the big turning point of the album, consider "Games in the Yard" that features vocals from Matilde Davoli, that sounds like the greatest anthem from a cyber-punk dystopian romance (mixed with a synth saturated sense of nostalgia); leaving you with the NYC cloud curated ode to nightlife notions that feel very after three am on the closer, "New York Nights". Pietro shared a few of the following exclusive thoughts on the writing, arranging, and recording involved with the Indian Wells album debut, Pause:
The new album is more a selection of songs I've been working on during the last two years. It's the reason why it's called Pause; I consider it a transition album, as well as on the personal side it was a transition period. I'm experimenting with new directions, definitely different from Night Drops, where among other things the conceptual side was very defined on the tennis + electronic theme.
YAST
Following up his 2013 self-titled album debut, Malmö, Swedish's YAST return with a listen to their new single, "When You're Around", available March 30. The guitars and frayed, fried guitars stoke the fires of minds alive from the onslaught of mentally speaking sounds that signal different things to different directories of the brain's receptive channels. YAST wrote us the following on their new single, and provided some hints at the new departures from their 2013 debut:
"When You're Around" was the last song we wrote before the recording of our new album started. It's a song about answered love, for once. Our last album was a collection of recordings we had made over about two years but this time we were in Studio Möllan and recorded with with Emil Isaksson with Joakim Lindberg in the producer chair, for two weeks straight and recorded the whole thing. More synthesizers, more guitar and more of everything this time!
Born from the Swedish mountains and recorded in Berlin at Low Studios; meet My Empire Of Sound, the duo of vocalist Marie Søholmon, and multi-instrumentalist/producer, John Alexander Ericson. "I want to feel your world, and touch it with my hands," Søholm sings, as piano notes are cobblestones that give way to Ericson's grandiose presentation of "Scandinavian Summer", their big single available April 13 from Warsaw Recordings. There are many Spector-specters out there that mimic the production tropes that have comprised the wall of sound imitated by much of your favorite heroes, but this little nugget has us hoping that ol' Phil himself is smiling from his Stockton penitentiary. One of the songs to hear this spring season, not to be missed.
We recently had the pleasure of receiving an exclusive thought stream of exclusive insights into the world of Cuushe about the forthcoming Night Lines EP (available April 7 from Cascine/flau), and now we have "Daze" which lives up to the very meaning of the title. Produced by aus (flau's operator in chief), the artist provides environments that match the Yoko Kuno artwork, where an entire enchanted world abounds in some of the greatest, dance inspiring music of tomorrow. From Shamir's album debut, Ratchet, avaialble May 19 from XL; peep the Philip Hodges video for "Call It Off" that mixes textiles obsessions, fascinations, with felt made puppet pageantry that gets everyone caught in the threads, and grooves.
It's here. Chastity's Belt's new album, Time to Go Home, their great album opus from Hardly Art, and we got the video for "Cool Slut" from Joe Holcomb, Mike Sampson; inspired by Stacy Peck's own creative vision. Here you get to know Chastity Belt as if they had their own cult show, or cult movie with an aesthetic they reappropriate, and make their own as if late 80s/early 90s indie glamor chic remained as important as ever. Copenhagen four piece Communions dropped the single, "Out Of My World", off their forthcoming EP for Tough Love Records. The collisions and distant separations of perceptions, personas, people, egos, and super egos are heard through crisp out of this world chords to keep you patiently awaiting the rest of the EP. Meet Louisville's Jalin Roze, who sent out some Southern celebratory vibes with the "KYGT$" track produced by Cardo, featuring a video from Neal Obryan and Narada Studios. Get a peep in that KY life of big money dreams, humble hearted boasts, friendship/family values, and a vibe that has us interested in hearing further bars, dreams, and schemes from Kentucky's own rising son. NYC's disturbers of the peace, Show Me The Body released the relentless b/w the Nicolas Pecse video of performances, side shows, crowd antics, fans having fun, and more in "Bone Soup", off their album available April 21 from Ratking's Letter Racer label. The band's live performance remains intact, with an audience viewer's experience, hanging with the cool crowds, catching glimpses of the group, and soaking in the rapid spit rhythm squalls of skronk. Coeds' Sensitive Boys 7″ will be available May 19 from Old Flame Records, and we have your listen to the A-side to spice up your sensitivities with some synth pop to toughen up your posture. Coeds throw in all the keyboard pop hooks of constant delight that help shake up the sensi-dudes with a part love note ballad, part admonishment that is pretty darn clever, and pretty real. Please help welcome the Chicago group Courtesy to the Moon Glyph family, as we present the single, "Nite Nite", from the forthcoming cassette, Slow Bruise, available March 31. Following up their debut album, Idmatic, the duo of Drew Ryan and Kirk Rawlings have consolidated their powers in Chi-town to create a kind of analog, approach to electro looping structures, enhanced by filters that feel never digitized, but as warm as the electric rattle hum of overhead power lines. Directed by Sauvage Sauvage, you are invited to get extra strange, wild, and weird with The Experimental Tropic Blues Band's new video off their recent, Jaune Orange album, The Beglians. Get ready to rock out, and get grossed out at the same time. Yumi Zouma's EP II is available now from Cascine, featuring the second part to "Catastrophe" from BANGS' Allie Avital Tsypin that provides a special and safe place for dudes to embrace their inner unrest to the plush, sophisto textures of silk textile pop of, "Alena".
Playing the Brooklyn Hangar May 17 and May 18; FKA twigs has released the following look and listen at the follow up to the much lauded, LP1 milestone with, "Glass and Patron". Check out Detroit's Red Pill on the new single, "That's Okay", from the forthcoming Mello Music album, Look What The World Did To Us, available April 7. Speaking on the state of modern day crises, quandaries and conundrums; Red describes his L'Orange produced joint with the following thoughts:
It's about the Millennial Generation's quarter life crisis. Simple, daily problems like getting a wrong fast food order can seem like tipping points. No one is immune to the transition from adolescence to adulthood. It's just a matter of how we deal with it. I'm still trying to figure that out.
We have been moving and a grooving to the Rx Gibbs remix, but we got the visuals for the original from Timothy George Kelly that provides some digital abstract elements to further enrich and enhance the textures of Pinkshinyultrablast's "Ravestar Supreme".
Tour with Young Fathers on a slew of dates, April 9 through May 10; Mas Ysa lends the first follow-up listen since 2014's EP debut, Worth, with the single, "Look Up".
Astronauts, etc., the project from Toro Y Moi keyboardist Anthony Ferraro, dropped the new single, "I Know", that presents summer breeze hammock drifts that presents knowledge bathed in the things that daydreams are made up. Recording at Tiny Telephone via James Riotto, Anthony is joined by his fellow cosmonauts, Scott Brown, Aaron Gold, Derek Barber, and Doug Stuart to bring you some of that sweet, smooth, swinging, and crooning sounds that may have once inspired your parents to conceive, and bring your being into these weird lands called earth.
Also don't miss Pale Blue, a.k.a Mike Simonetti's new single, "The Math", that transforms indie night club disco beats into baroque soundtracks designed for foreign shores off the upcoming album, The Past We Leave Behind available April 14 from 2MR/Captured Tracks. The four-quarter fancy footwork is met with sustains and loops of strings that take you from the cool cabana dance floors to the sea-met sands of endless spring memories.
That Italo-prog that you thought only existed in the 70s & 80s is not dead. Here to prove this, check out Milan, Italy's Caesar's Psycho Machine, fronted by Cesare Lopopolo to provide updated variations of progressive, creative experiments of interest for the heady psych crowds, via the new album, Intervista. Psych leanings, and strange expressions, and time signatures traverse down the weird roads like, "Quite An Odd Rumor", and many more song suites.
Rock about to the equal parts wailing guitars, and wailing vocals from Mittenfield's title track off the upcoming album, Optimists, available April 28.
Rock and represent the raddest receptacles, with the B-side "Container" from the March 31 slated single for Vacant Stare Records from Oakland's Mall Walk. A journey to the steady riding East Bay patchwork of indie scenes, Mall Walk make music as the antidote to cure the mundance aspects of urban and suburban life.
Check out Redinho's remix for Dorian Concept's cut, "Clap Track 4" which gets tricked out into big toy piano note punches that quickly push into a more industrial affair. Find this and more when Joined Ends Remixes arrives April 6 via Ninja Tune.
From Lily Taylor's Pour le Corps album, The Ride that saw 500 fresh new vinyl pressings this week; we bring you the Bay Area artist's video for, "Taxi", directed by Austin's Melissa Cha. The artist's avante audio diciplines are portrayed in projected visuals that bring a kind of gothic, carnaval aesthetic treatment of neo-victorian motifs of dress (featuring a chic Coco Coquette wig to boot).
With their album European Soul available April 14 from audio/clothier imprint Kitsune; watch the collected imagery to compliment the "feet don't fail me now" club-foot/footwork of Citizens!'s single, "Waiting for Your Lover".
Gowanus' Lightouts are back, covering Joy Division's "Interzone", off their forthcoming More Than Ever maxi-single that features Dead Kennedys vocalist Skip Greer pushing the post-punk unknown and unseen pleasures into the new millennial movements. Also enjoy commentary on the song from Skip and Gavin Rhodes, immediately following the cover.
Shine bright on the smooth, shimmering, passionate rhythm and blues of, "Diamonds", from Germany's MALKY's EP of the same name avaiable April 7. The epic AM jams of yesteryears take flight on Euro wings to new elusive destinations in the mind.
With TMBG jump-starting Dial-A-Song for the millennial/post-digital age; check out the animated video from Mark Marek for They Might Be Giant's new song, "Underwater Woman".
Presenting some awkward moment comedy from Ethan Edenburg (aka Lade), Tommy Gerhardt and Alec Milewski; watch the Tommy Gerhardt and Andrew Gerety "Drake Dreams" video about a dinner date that gets tripped up over the subject of literary items.
And in case you missed it, take a look at Bradley & Pablo's hi-tek video for QT maximalist hi-fi pop art single, "Hey QT," produced by SOPHIE and A. G. Cook, released through XL.
Sharpless's Week in Pop
(Sharpless performing at Miscreant & Father/Daughter present: Conscious Coupling CMJ Party at Silent Barn, all photographs featured by Eric Phipps.) Winning us over with the impressive The One I Wanted To Be album, we invited Jack Greenleaf from Sharpless to guest curate Week in Pop, keeping the gospel of The Epoch pushing forward to the people—for the people
JCW
JCW is the project of James Wilcox. James has worked with many rappers, but I think his instrumental tracks are where his real talent comes through. He helped me with my Sharpless album and is a consistent force of creativity in my life. The emotion he conjures out of samples and original melodies is something I strive to achieve. We used to live together in Chicago, and became close friends faster than I have with anyone else I have met. James has a lot of love inside of him, and channels it through his music in ways that I haven't experienced before. JCW's latest album, Friends, deals with subtle dedications to people close in his life. It's a very powerful listen because of the mysterious associations you make with each track. The two letter titles of each song represent the initials of someone that James loves, and finding the secret message hidden in the samples unlocks a new layer to the album. I've never experienced an album quite like it. It makes for an emotional and associative album listen. The song, HC, stands for someone that James and I know extremely well. The sampled lyrics from 'The Tracks Of My Tears' express a specific misunderstanding of a person's shielded, fun loving identity. JCW manipulates this groove into an incredible meditation on the emotional masking that our friends can hide in. 'HC' explores the way that the people closest to us can repress their feelings, and always feel like the butt of the joke.
Shinsei Kamattechan
I'm never sure where to start when I talk about Shinsei Kamattechan. They are probably my favorite band of all time. I think they might be the best band of all time. They create horrific and extremely catchy pop songs, also rap songs, also punk and metal songs. The lyrics are like nothing I have ever heard before, tackling bullying, being genderqueer, mental illness, the list goes on. Shinsei Kamattechan catapulted into viral stardom in their native Japan around 2010, and have since completely dominated the mainstream. When I first heard their record Tsumanne, I was convinced that the vocals were a choir of men and women. I definitely did not expect to see the iconoclastic frontperson Noko screaming their neuroses into a vocal processor. It was so hard for me to narrow my love for this group into one song, but Black Egg (Kuroitamago) sent an infinite amount of chills down my spine the first time I heard it. The messy timbre of the electronic four on the floor beat, and the genuinely unnerving screaming choir shaped my aesthetics harder than anything else I've heard before. This live footage of the song from 2013 showcases Noko's theatrical performance, I promise you won't be able to look away.
Maxo
I think I've known Max longer than I've known any of my other close friends. We went to school together from pre-school to 8th grade, and stayed friends and played music in high school. As long as I've known him, he's been one of the hardest workers I've ever met. Whether it was unlocking everything in Kirby's Air Ride, playing Dance Dance Revolution with me, or locking himself in his room until a song is done. Max has been a constant source of inspiration for my personal work ethic. For as long as I've known Max, he has never stood still. Constantly pushing himself and challenging his boundaries sonically. There are countless pieces of music that are worth sharing here, but this is a more recent and subtle one. Max is a genius producer, but his ear for songwriting, arrangement, and chord(slaying) is where he truly outshines the rest. 'untitled theme' is a moving song that pays dues to Joe Hisaishi and Kazumi Totaka, as much as Maxo's body of work itself.
Cuddle Formation
It's hard for me to explain the Epoch without mentioning The FMLY. And it's impossible for me to talk about The FMLY without talking about my friend Noah. I hadn't met Noah in person until this past summer, but I've felt we have been friends for a long time now through the internet and through listening to each other's music. He said really kind things about my first album at a time when I really had no confidence in myself or my abilities, and it really meant a lot to me. The FMLY has sort of a motto, "do it together", and it's something that lots of us talk about when discussing the Epoch and how to exist together as a collective. To say that they have been an inspiration to us would be an understatement. "eek life (demo)" is about praying that the person you lean on doesn't vanish, simultaneously trying to grow stronger and find a way to stand up on your own. What makes this song resonate so strongly with me is that this desire to self-actualize stems from loved ones. Having the bravery to credit your internal growth to others, as well as yourself, is an incredible feat. It's scary when you realize that your life is suspended by the pillars of your loved ones. It's scarier when you think that they might disappear. But it's imperative that you repeat your mantras and let your love, from yourself and others, blossom you into the person you're proud of. That's what cuddle formation taught me with this song. So I repeat the mantras too:
"stay weird forever do it together best friends by default forever and ever"
Catch Sharpless on all the following tour dates with their fellow friends, with Bellows:
April
09 Bloomfield, CT – Nicholas' Cage
10 Poughkeepsie, NY – Vassar College w/ eskimeaux
11 Annandale-on-Hudson, NY – Bard College w/ Jawbreaker Reunion, CARE
12 New Paltz, NY – 66 Church St. w/ Diet Cig, Breakfast in Fur
13 Cohoes, NY – The Icehouse w/ Dowsing, Everything Ever, Heehaw
14 Philadelphia, PA – Michael Jordan w/ Free Cake For Every Creature, Leaky Soups
15 Washington, DC – The Milhouse
16 Durham, NC – Duke Cofeehouse
17 Columbia, SC – Shredquarters
18 Savannah, GA – Graveface Records & Curiosities
19 Athens, GA – The Globe w/ 100 Watt Horse
20 Asheville, NC – Tiger Mountain w/ Aunt Sis
21 Richmond, VA 22 Baltimore, MD – The Foxhole w/ Romantic States, Soft Cat
23 Bloomfield, NJ – All Sounds 28 Brooklyn, NY – Palisades w/ Small Wonder, Rivergazer
Follow Sharpless on Twitter, experience The One I Wanted to Be now via Bandcamp.