As we say our farewells to 2014, and ring in the new year of 2015; Impose's Year in Pop takes an abridged look back at select interviews that have graced our Week in Pop feature over the past 52 weeks. While this is by no means a complete compilation, it is a tip of the hat to the artists that saw us through the tumultuous high tides and turbulence of one cold calendar cycle who provided aesthetic crafts of commiseration and refuge. The following collection of truncated discussions are dedicated to the artists that keep us inspired and engaged day in, day out, week after week, month after month, and through all these mad years. While all of this would not be possible without every single creative talent who graces these esteemed pages; the devoted editorial support from fellow Impose colleagues Caitlin Greene, Blake Gillespie, Derek Evers, Katie Capri, and more, have been the behind the scenes forces of nature who help bring you some of the best lineups in the world every week.
So in between gorging on leftovers and making all your New Year's plans accordingly; we are proud to bring you a Year in Pop collection of interviews and discussions with your favorite artists in a semi-chronological fashion—but no particular order.

POW!
The triple threat of Byron Blum, Melissa Blue, and Aaron Diko kick up unapologetic energy and utilize every instrumental noise maker available for a blessed storm of guitar rhythmics, synth squelches and drum kicks. With their album Hi-Tech Boom available now from Castle Face Records, these three warriors band together to ward off the out the of this world take over of the techie sort. Byron Blum has plenty more to share on the issues, and attitudes of their album, Hi-Tech Boom.
Hi-Tech Boom is a great referential title to the new ominous movement that our entire Bay has had to contend with, and arguably affecting the whole world in an externality sense of things. What initial events as a result of this new technocratic bubble began the song writing processes for Hi-Tech Boom?
It was when we started to hear the stories from our friends, and how difficult it's become to sustain living in SF, and you could feel the stress. It was when we started to notice all the construction and redevelopment going on all across the city. We felt obligated to write something about it.
How do you feel that this nu-tech movement has created new so-called opportunities while shifting the power to oligarchical start ups that bring bridge and tunnel out-sourced crowds with tax incentives invading and evicting the DIY tenants in favor of suburban squares and the new awkward money hustling, power-tech players?
We think it's great for that class of people. However it's not so good for our friends who aren't able to currently compete at that income level and want to continue to live in this city. It's a mixed bag…

Harlem Sekani
Over the holiday break, Lil B dropped the hefty (and now legendary) 101 track mixtape, 05 Fuck Em, and on song number 60 he helped introduced the world to Harlem's rising producer, Harlem Sekani with a mind destroying memorable title cut. Born Sekani Bell-Jenkins, he has been making home baked Harlem based beats since 2011, cooking up different scores of choice styles from the El Camino car stereo-ready horns on "Crown the King", to the celestial cloud crashing atmospheres found on his contribution to the Based God's already future classic. On "Fuck Em", B delivers that East Bay raised surreal stream of conscious commentary that brings that weight of introspection met with Sekani's production to keep the entire movement pushing into a perpetual climatic bridge adorned with rising angelic vocal cascades. Harlem Sekani took the time to chat with us about the creative hotbed of Harlem, NYC, following in the footsteps of Clams Casino, hip-hop and EDM production overlaps, hints at more items in store, 2014 toasts, and more.
What first brought you toward the art of producing around, before and up to 2011?
I've always been interested in creating music, even a young age. I started taking piano lessons around the age of seven and my parents always had music playing in the house, which helped to mold my musical tastes. I started producing in 2011 because of a friend that I met at Millennium High School in New York City. He was a rapper and that made me want to be more involved the music world. Since I can't rap, although I do write poetry, producing music was the next best thing.
Who were some of the producers you first admired?
Clams Casino and he is hands down in the top 5 greatest producers of all time. He created a sound that many, including myself, try to recreate, but it's just not possible. Lex Luger is the other producer who I admired at first, and still do. There is a video of him creating an instrumental only using FL Studio on YouTube and there was a time period, about a month or a little over, where I would literally watch that video every day, multiple times.
From your initial mixing of old school and ambiance with "In Your Head", "Too Easy", "War", "I Am King" to the serenity sound spheres of the Sedated EP, and everything you have been working on up to now, how have you observed your own artistic development?
Every artist needs to understand that the only way to get better is to constantly change. Similar to how Mac Miller, one of my favorite rappers alters his sound with every project. That's what I try to do with my music and it's been working pretty well for me so far. I like how I've developed so far but I feel that I'm not even half-way to where I feel I could/should be, talent wise.
Taking on your home of Harlem upon your own moniker, how has Harlem informed and impacted your styles?
Harlem is the home to many creative artists, A$AP mob, Bodega Bamz, Perrion, etc. When People see my name and hear the music I make, it'll help them to see how creative we really are. I put 'Harlem' in front of my name because I want to help expose people to what we can do, not necessarily because it has impacted my production style.

Yumi Zouma

Word of mouth across the shores, seas and sands have whispered song about Yumi Zouma's debut EP available February 11 from Cascine. "The Brae" presents an inspirational waking from deep rest where the memory of a long held melody and old poetic passage from a diary becomes put to the meditative shores closest to the source of memory's delta of origins. The sound takes off on the wind propelled sails between Port Hills, St Germain or Greenpoint- and traverses to the band's childhood house of meeting on The Brae, in Christchurch on Mount Pleasant in New Zealand. A house allegedly crushed in one of the province's earthquakes, the 3 bring the youthful yesterdays back to breath and resurect thse times and places that used to be before life's shake ups altered the landscapes of yesterday's "same old habits". One of the most gorgeous songs of 2014 to date, stay with us after "The Brae" for our conversation with Yumi Zouma.
Over trans-Atlantic capables, I was able to correspond with the elusive trinity of friends that comprise one of 2014 most exciting indie pop groups here in the following interview.
When did you all first realize your inner song, or realize your voice as a group?
It's honestly something that I'm not entirely sure we have found yet nor are we in a huge hurry to. I like the happy accidents that come from making music somewhat blind. The songs that are ones that stick, I can't tell you how we wrote, they sort of just appear while sketching and I really love that.
There is an immediate charm and impact between your delivery, and arrangement. How has New Zealand, and New York and Paris livelihoods informed your talents and enlightened your approach?
Thank you! Probably the biggest influence our different geographical placement has had is that we are constantly sending music back and forth and reviewing over and over. Maybe there is something to be said about how a song sounds different in the Port Hills, St Germain or Greenpoint, and how that helps us sculpt a song. I like to think that we get the best of the isolation one can feel in New Zealand, the constant drive to keep creating in New York and the romanticism and pop sensibility of Paris, weather that just looks good on paper I'm not too sure.
"The Brae" is one of the most gorgeous singles we have anticipated for 2014. What inspired the song?
The Brae is the street name of this huge house we used to hang out in Christchurch that looked over to an estuary. We would cook, drink wine and write music as teenagers there. Then it basically fell down because of the earthquakes that happened in Christchurch. So in a way the song is about loss and how the world stands still when everything crumbles around you. Musically it's quite a classic pop structure with the way the chords move around which comes from our love for the gratification pop music gives us.
I love how your songwriting and delivery have this dream-waking-up-to-reality quality, like those amazing bars where you sing and then speak, ""so wake me up from my deep dream, I was somewhere with the small herd, -you threw me in, you screw me in, you fed me to the fishes, like we never were together, and I'm only just a vision". How do you describe your own song writing process?
Writing songs is a really sporadic process for us. In the last year I think we've been in the same city for less than two weeks. We bounce back and forth between time zones and email chains. Checking your phone at three am to see a draft six or seven of a song as your half asleep is pretty common place as we work on songs. Sometimes I forget I've even been sent a new song but on the second listen I realized I was half asleep listening to a few nights ago.
Le Man Avec Les Lunettes
We Were Never Being Boring has risen to become an important indie hub to help connect Italy's array of independent artists of various sound studded orientations and stylistic persuasions. A collective and imprint that has enjoyed spring-boarding favorites like Be Forest, His Clancyness, Echopark and more; we found ourselves spending some time this past week with the DIY orchestral oeuvre of Le Man Avec Les Lunettes. A name of French-English origins for a bespectacled gentlemen, LMALL spin spools of audio blankets that seek to cover and connect all points and corners of the world. Centered out of Brescia, daydream believers Fabio Benni, Simone Gelmini, Alessandro Paderno, Daniela Savoldi with other artists and friends are also responsible for founding the WWNBB label based out of Pesaro. In an exchange of cables with Alessandro Paderno of Le Man Avec Les Lunettes/We Were Never Being Boring; we described their global interests, friendships, family, their tour film, upcoming album, and more.
Let's begin first with your rad cosmic leaning name, how did you all first decide upon, Le Man Avec Les Lunettes back at the days of University?
The name comes from the way a friend in Paris used to tease me calling me loudly, 'Le garçon avec les lunettes!' French for "The man with the glasses". We liked the joking-sound and changed it a bit using the English 'man' instead of 'garçon'.
Pesaro, Italy is really hot right now to the rest of the world, what are you relationships with the upcoming bands, with the likes of Be Forest, Soviet Soviet, etc. Is there a scene happening or do us outsiders just want there to be one? You all got some talents…
We are actually based in Brescia, a four hour drive from Pesaro, but I can see how you spot a connection, as we are part of the founders of We Were Never Being Boring, the record label that includes many bands like Be Forest and Brothers in Law who happen to be from Pesaro. As a record label we try to have our own perspective without really focusing on a 'city scene'; we try instead to present to the outsiders the Italian indie-scene.
From playing festivals in Sweden, UK, France, Germany, Denmark, Sweden, Norway, Spain and Switzerland, Bosnia-Herzegovina and Serbia, you all have a very international brand of inspirational indie pop. I'm curious about making the cult status film 'Possible Distances', and how much your international travels contributed to those distances detailed.
Le Man Avec Les Lunettes from the beginning worked on writing the music we like. For this reason we are proud to share and play our music anywhere possible. We are lucky enough to tour and visit many places. One of these tour originated the documentary Possible Distances: in April 2012, Niccolò Corradini the filmmaker, Lorenzo Caperchi (sound engineer) and Le Man Avec Les Lunettes' four piece band toured Bosnia-Herzegovina and Serbia. Possible Distances is an unconventional documentary about an Italian indiepop band touring Bosnia and Serbia, 20 years after the beginning of the war. It's full of performances and interviews, daily life and local culture. Five shows and thousands of brilliant and beautiful people.
Azar Swan
Excerpted from a conversation about the title track off their their album, Dance Before the War from Handmade Birds; Brooklyn duo Azar Swan's Zohra Atash and Joshua Strawn discuss war, peace, synergy, and more.
What brought about the pre-war tribal dance of the title track?
Zohra: I have a couple of soldiers in my life, and in my bloodline. Some of which I've stayed up with for hours because they needed to get these horrifying stories off their chest. It's something that sits kind of heavy, one of those things where once you know it you can't un-know it. I think writing about it was the only way to rid myself of that heaviness. I didn't even live it, but I saw it, and it's equal parts surreal and terrifying.
Joshua: That track in particular came into being as a result of experimenting with drum sounds. I was listening to a lot of African hip-hop, and I stumbled across these drum banks that had a really brutal, heavy feel.
What is it about the cliché of calm before the storm or those battle calls and cries that signify the heat of battles? Why do you feel these dance oriented preparations make for a more intense moment before the war hits?
Zohra: Growing up I learned this dance called the Attan. It was a celebratory dance where you'd whirl around like a dervish with the accompaniment of a drum that shifts its tempo from slow to insanely fast. The best dancer sees it through til the end, where they're whirling at cyclone speed and keeping their food up. It's performed at weddings, but essentially it's a war dance. Men perform it with swords and stuff. It's almost hypnotic. It got me thinking about the nature of these pre-war rituals, like war paint, and various dances from culture to culture. It sets a tone of, "Don't fuck with me, I'm not afraid to die." What's more frightening than the person with nothing to lose?
Joshua: What was always specific about this song was that the cliche of the calm before the storm was invested with a certain mood and experience. The lyrics were drawn from actual accounts of friends and relatives of Zohra's in the hours or days — even minutes — before going into battle. This feeling of impending doom combined with a peacefulness, or whimsy. Beauty teased out by the proximity or potential of death.
Read the full interview feature here.
Kwesi K
Taking inspiration from all corners of the earth, Kwesi Kankam, otherwise known as Kwesi K writes songs that gathers all things and everyone together in the same boat. Bringing knowledge and inspiration from his travels and residencies from Alaska, Ghana, Ohio, and more, Kwesi finds and focuses the inherent and self-evident truths that are shared, and often taken for granted that exist between individuals. These over looked places that connect the people in that magnetic in-between space are Kankam's principle song-writing cause that attempts to relay the ineffable aspects of attraction as presented on his Lovely EP
Kwesi K talked with us about the upcoming EP, the fascination of "Pronouns", the video, his multi-dimensional facets of style, hints of an album, and more.
"Pronouns", both the release and song; what is it about pronouns that inspired you? Is it the allure of their ambiguity?
It's definitely part of it. I like how all-encompassing the quality of a pronoun is. Wanted to make sure the song, the release, and the video all touched on everyone's everything. The bigger picture is that we're all in the same boat. Plus those pronouns are kind of hard to escape.
You have a very holistic singer-songwriter approach, how do you fuse this in conjunction with your smooth r&b notes and tones?
Thanks, yeah, I listen to both genres a lot, so I guess they kind of meld together in the end. Started listening to alt-country / folk more in high school but always had r&b and hip hop around me while I was growing up. There was definitely a time when the albums Jagged Little Pill and Country Grammar woke me up for class everyday, oh fifth grade…
How do you feel your eclectic, Alaska x Ghana x Ohio roots have informed your approaches?
I wouldn't be where I am without travel. These places are places I've lived or I stayed or was born, but I think my approaches have been shaped by the places I've traveled. I've seen and heard a lot and am very grateful for what I take away.
Read the rest of the interview feature here.

Brain F≠
Charlotte's Brain F≠ (pronounced Brain Flannel) released the riot inciting, Empty Set, on Grave Mistake and Sorry State Records, and we have your a discussion with frontman (previously of Logic Problem), Nick Goode. Goode formed the flannel ripping group with friends Elise Anderson, Bobby Michaud of Grids, and Eddie Schneider of Yardwork, and have been tearing things up with past releases like Statuestory Tapes and Sleep Rough. Their latest offering, Empty Set, is a fly by the seat of your bar stool into manic worlds of high and dry desperation, and constant self-destruction and destitution spiked with an allure of appealing delight.We are pleased to get all the latest goods on Brain ≠ from Mr. Goode, who gave us the low down on the North Carolina scenes of interest, a story about their band's name being ordained in a supernatural dream, and the fun and free-wheeling debauchery behind their sound.
First off, give us a current snapshot of Charlotte, I feel like we're out of the loop of the local North Carolina scenes at the minute.
Charlotte's a sprawling city with one university and a historical intolerance for city planning and cultural change. There are a lot of good things going on in the music scene-—almost no two bands could fit the same genre—and the city seems to strike this very unique balance of lit folks, punks, noise and jazz masters, and people trying to get laid at local bars that makes it all work. At the moment your snapshot contains: half of us, advanced songwriting genius Bo White, somewhere between Jane from Occupied Europe and Slade in Flame, Nick's bands Joint D≠ and Meat Group, Moenda—who is doing DNA by way of AmRep and Sublime Frequencies, world-devouring jazz unit Great Architect, hardcore connoisseurs in K-9 Unit and Stepdad SS, and profoundly talented man beyond men Andy the Doorbum. Charlotte has a lot to offer if you dig deep in the right spots. In other North Carolina news, Raleigh is about to bring the heat with about 12 really great hardcore bands, which is worth preparing for.
How did you all agree on the name Brain Flannel, spelled Brain F≠?
It came to each of us in a dream one night in the fall of 2009. We don't fuck with the supernatural.
Was it a kind of character trickery more so than a mathematical appreciation to incorporate the inequality symbol? Is there perhaps something deeper here, that perhaps brains and flannel do not enjoy the same equal plain of rights? I think I am thinking about this way too much, ha ha.
[Laughs] We originally wanted to do an annoying amount of singles and change the F-fronted name with each release, and at some point used the ≠ as a variable. We chose that particular symbol to pay homage to our bad dads, Double Negative, and to further ensure our band name was easily relatable.
What inspires the Brain F≠ aggression and song-writing/song-destroying process?
Espresso and alcohol. It's natural to get angry and it's annoying to be alive sometimes. It feels good to take all that and shape it into something else.
Read the full feature and interview here.

Gangi/Fake Estates
Every song from LA's GANGI, is a journey. Their conceptual and innovative mind frames comprise their masterpiece gesture is, and Matt Gangi's establishment of the Office of Analogue and Digital has become as integrated as a connective fabric amongst the Los Angeles indie circuits. Having graced us with many hand-made creative media items over the years, we also can now report that Matt, Eric Chramosta, and Evelena Ruether are now the former artists known as GANGI, now known as Fake Estates. Matt Gangi graced us with the following words about the band's name change to Fake Estates, and much more Jungian details to follow in our interview:
Tell us about our new distribution hub for gesture is via Cobraside.
Cobraside contacted us about physically and digitally re-releasing the Office of Analogue and Digital catalog. We had just finally finished the cutting and screen-printing for the vinyl of gesture is right around the time of shooting the video, and it is really synchronistic as Cobraside's offices are on San Fernando, the street where the video was shot. I filmed the distributor and then they contacted us about distribution just after! They are physically distributing our albums now and are going to re-distribute them digitally soon.
Thoughts on the streets, and Jungian synchronicity of LA?
I just finished reading Jung's Synchronicity recently, and have been auditing my friend Kari Hodge's class on electricity and magnetism at Caltech, hoping to learn some of the physics in Jung's book… and learning more about circuits for future synthesizer designs. Synchronistically, regarding IMPOSE, science, and this question about Jung, I had written a line from Synchronicity in my notebook some weeks ago, where Jung uses the word impose—I wrote Jung's line that "Experiments IMPOSE limiting conditions on nature, for their aim is to force her to give answers to questions devised by [woman/]man."
Instead of imposing a condition on nature to react in a certain way, we need to think outside the traditional cause and effect road blocks of current science as there seems to be something more going on. The folks at Cobraside had no knowledge that we had just completed a video on their street when they contacted us about distribution. We filmed the street that Cobraside Distribution is on, and synchronistically they contacted us to distribute our records shortly after the filming… In this example of acausal time parallelism, the only link between these things is a common meaning… it proves that something perceived can be represented by another outside event without cause and effect… so maybe, as Jung argues, space is relative to the psyche. As time only began with created things, maybe time is only relational to our own consciousness.
Talk to us about the big name shift from GANGI to Fake Estates.
Fake Estates was a project by Gordon Matta-Clark where he became landowner of various slivers of "odd lots", essentially in-between and unusable pieces of property around New York City in the 1970's—Spaces of value with no use-value. Ironically, due to increasing property taxes it was unfeasible for Matta-Clark to keep the properties. Foucault wrote, "Locate the space left empty by the author's disappearance, follow the distribution of gaps and breaches, and watch for the openings that this disappearance uncovers."
Our first performance as Fake Estates was at a gallery called NoPlace in Oslo, Norway. When going through customs and the officer asked us where we would be staying in Oslo, we had to explain that we were staying at NoPlace, but that yes, NoPlace was a real place. Evelena Ruether has been performing with Eric Chramosta and me. She and William Kaminski curated that show, which was part of an exchange with their space Control Room, sponsored by the Norwegian government. Speaking of property and bureaucracy… Los Angeles city kept shutting down their shows as they didn't have proper permitting and the building wasn't zoned for art happenings/public events.
We've also so far been unable to acquire fakeestates.com, as the Internet's biggest virtual property owner is cybersquatting the domain. We tried to plead our rights granted by the Lanham Act, but he responded that we couldn't live in that online space without paying an exorbitant price.
Read the full interview and feature here.

George West
Like the city in Live Oak County, Texas of the same name; percussionist Vik Montemayor is the producer, George West. Having grown up living near Monterrey, Mexico along with Houston, TX, Vik utilizes his rhythm and key creation to convey stories that feel like slow travels in the places that connects deserts and heavens. Welcome to the world of GW that sees and hears the Southwest territories in a sound that moves like the wind and elements of air in that physical sense of geography that knows no borders. Without further ado, we bring you our interview with the man behind the character called George West; the talented Vik Montemayor.
Tell us how you, Vik Montemayor became the western ambient incarnation of, George West?
Montemayor since the age of 10 became a drummer, so of course the thoughts of becoming the greatest drummer in the world came to mind here and there, but as he I started growing up and seeing more live shows, listening to rap, r&b, since I did grow up in North Houston where screw music is very prominent, and friends of mine had there home made 'beat' labs that all was an eye opener for me but with my own chill twist to it once I started listening to DJ Krush over and over and over
As a longtime percussionist, how have your residencies between Monterrey, Mexico and Houston, Texas impacted and/or informed your various sound approaches and constructions?
The thing was growing up in a Mexican household my family is huge into traditional Mexican music like, Intocable, Luis Miguel, Cristian Castro, so yea I was confused at one point but all those influences and long road trips to visit family in Mexico gave me lots of time to think and just let me mind flow. I have always been liked the "electronic" side of music but never really jumped into it till now and with the large genre spread that I listen to it all blends in.
What is the George West methodology of composition, rhythm, groove and synth sustain arranging?
I like to picture large vast landscapes, beaches, road trips with the top down sippin a cold beer, well maybe not a cold beer 'cause then you will get in trouble, but you get the picture. What really pushed me over into doing my first track was a trip to Tulum Mexico with my wife for our 1st year wedding anniversary. I would almost come up with melodies in my head, ideas were just flowing and I just felt so relaxed and the vibes of swimming in a "Cenote" made me feel really chill.. its hard to explain. I sit down, put on the headphones, find a sound I like, tweak all out, or come up with a phat ass drum beat and let it go from there. When I have an idea down I will bounce the track into Soundcloud, put the track on private and listen to the idea over and over in my car, headphones, every I can and add arrangements to it in my head, I get home and throw the ideas down.
Read the full interview and feature here.

Sylvan Esso
Sylvan Esso and Landlady at Rough Trade NYC, photographed by Gretchen Robinette.
Sylvan Esso won us over with their single "Hey Mami",  "Coffee" off the Coffee/Dress 12″ , and full length from Partisan Records; where Mountain Man's Amelia Meath brings her vocals of kindness and care alongside the organic, and percussive electro rhythm fields from Megafaun's Nick Sanborn. Through combined acapella and acoustic instrumentals, the two sound allows you to hear all the components and constructions built out of their own inspiration. Amelia took the time to talk to us about our questions surrounding the sound creations of Sylvan Esso, how her and Nick make their music, the breakdown of how "Coffee" was made, and much more.
How do the two of you balance your organic and electronic sparse touch of subtlety in your music?
Nick and I are lucky enough to have found sonic partners in each other. Our two sounds appear rather disparate from one another, but when combined they make a whole that is much greater than the initial independent parts. We contextualize each other.
In terms of making songs, either Nick sends me a track, or I send him lyrics and melody in a voice memo. Then we talk and talk and push all the elements around until we are happy with what we made. Sometimes this is very quick, usually, we take a good long time.
"Coffee" sounds like your own styled, Music for Cafes, or for morning Mileeta drips. What thoughts went into this soft whirring chime track's construction?
"Coffee" is about falling in love again, when you already had what you consider to be your 'big' love. How sad it is when you recognize the feeling you have had before, and how hopeful you are, to get another try at making a life with someone. And all the waves of self doubt that go with that. To me, though more cliche of a metaphor than I want it to be, it feels like dancing. Hence all the old school dance songs strung together, "My Baby Does the Hanky Panky", "Get Up, Get Down" when James Brown says it, means the same thing; start dancing! but they are in opposing directions. Nick had an amazing track lined up, I wrote a melody to it, and then we worked together to make it fit and sound like we wanted it to. Nick is a wizard with sound.
How have your respective work in Mountain Man and Megafaun informed your own symbiotic and collaborative craft as Sylvan Esso?
We have learned how to collaborate! Which you never finish learning, and how to live in a car! And how to be nice to each other even when someone ate your granola bar.
How do you feel your styles have evolved from last year's "Hey Mami" single?
"Hey Mami" was the first song we wrote together. "Coffee" came a while later. We are getting cozier, pushing more boundaries, using each others strengths. Learning all of the time!
Read the full interview and feature here.
Kile Atwater
In case you haven't heard, meet Kile Atwater, who sends up some high spirits for low tides and low times on his track, "Low". Turning up the pop switches, Kile packs together a production that reflects his Georgia by Houston by NYC savoir-faire. Working with producer JNTHN STEIN, their collaborative Low EP finds the two running through the boldest styles and biggest electro arrangements that points to further directions of their forthcoming works. Kile joined us to talk influences of people, places, Southern sounds, further collaborations, and more.
How did the move from the ATL to NYC effect both you and impact your sound?
I actually lived in a lot of places before moving to New York. I graduated high school from Houston, Texas which I consider my home as well. It's funny cause Houston and Atlanta are polar opposites in sounds. Atlanta's sound is super energetic and hype and Houston's is extremely chill. I used to listen to chopped and screwed music every Sunday on '97.9 the box' which was the best hip hop radio station in Houston at the time.
I think being from those two places and living in all the other places I've lived has made my sound very adaptable and eclectic. For sure Houston has taught me how to vibe with music more and to always find a groove that works for me.
I moved to New York because I knew that there was something I needed from an early age here. So when I graduated I decided to pack my bags and try to find it. Living here has effected me in so many ways. From being broke and not knowing where you're going to live or eat next to discovering who you really are and molding out your future. I think this city just forces the greatness out of you and after awhile you just go with it.
What Southern styles do you find have permeated your music? I feel like the super-charged approach to your song writing and arranging is like some ATL-futurism or something…Andre 3000 be darned.
That's funny you say that I am hugely influenced by OutKast. Their Speakerboxx/Love Below album was all I wanted for Christmas the year it came out. I studied Andre 3000's portion of that album like it was homework. I also loved southern hip hop in general. Like the Ying Yang Twins and Lil Jon and the East Side Boys even though I was waaay to young to be listening to that. When I start writing a song I usually think about the rhythm first before the melody or the lyrics so I think all those years of nodding my head to my Walkman on the school bus is definitely where that came from.
In what ways has the New York groove rubbed off on you and your music?
New York has opened my mind to so many different aspects of music and songwriting styles. Like the whole music scene out of Brooklyn is crazy to me. My friends will play me their music and I'll be like 'Whoa you made this in the basement?!' Every other person in New York is extremely talented so I just try to surround myself with people who are progressive and forward thinking with their music. Every time I record I always want to be better and try something new and that came from New York all the way.
Read the whole interview feature here.

Intimatchine
In the spirit of Valentine's Day, we present an intimate listen and look into the world of Intimatchine, the project of LA's Chelsey Holland and Christopher Wormald. On the premiere of, "Do Me", off their album,I'll Eat You Last; synths and the smoke trails of guitar follow through a seduction of sensational propositions, and even larger proportions. The Los Angeles couple provided a sensational account on the steamy genesis of Intimatchine, and the technological enabling for this match to synthesize differences, and shared eye levels of dark,sparse, industrial-tech-audio.
Chelsey Rae Holland of Intimatchine describes the love story exotica of Intimatchine, and takes us deep into the duo's collaborative, and personal approaches.
When and how did the two of you know that you were Intimatchine?
This was meant to be temporary. I never thought Chris was my type. I was an Orange County girl, on my way out to UC Berkeley. I was going to tutor him and then leave him. We were both taking the same Government course at Orange Coast College, and we'd go back to his place and study. I was performing in some psych band and he would post up in his bedroom producing these complex electronic beats on machines I didn't understand. But he showed his bravery in bed, called me everyday, and gave me his theremin. I wanted a long-haired guy. I was going to Berkeley and I cried when I left home and everyday after when I wasn't with him. There was a lot of reading and writing and violent meltdowns over a glitchy video chat connection. He would share his electronic compositions with me and I would secretly record my voice over them. It was dark stuff and way heavier than any of the stoner metal music I was used to with full 4-piece bands. So during that time, I took public transit, wrote essays, and learned how to fucking program my own music so I could connect with him on every possible level: iChat, email, social media, telephone and music. He provided the outlet and that was under his personal project Into Machine. We did not realize that it was Intimatchine until 2012, when we could look back at that chaotic time apart and piece together all our fragmented (and archived) iChat conversations, sex videos, and recordings. We were in awe of all of the content and we needed to perform it.
Given the title, what do you both feel is the allure of both the intimate and the mechanical?
We were able to maintain a relationship through technology. And not only did the Internet and all these new technical platforms enable a relationship, it informed the ways we could be intimate. It's an eerie thing — very emotional and probably something having to do with bio-power.
I'm interested in that decay effect that you applied to the drum programming, and the echo tones on the guitars and keys. That ominous key change wraps everything together. What went into this sound design?
I work through a process that combines unconventional recording techniques with an adulterated form of sound engineering. This helps me create a specific atmosphere and texture for each instrument. There are many technological limitations accentuated by the stress I put on my hardware and software. The resulting textures are either pleasing or displeasing, which I use accordingly to how I want to affect the listener. New melodies and rhythms come from the interaction and layering of multiple instruments and chains of effects. Undertones, phasing, glitches, all contribute to composition. Although we may both exhaust all possibilities when writing and recording, the resulting song comes after a process of remixing and eliminating.
Read the whole interview feature here.
Creepoid
Creepoid's Sean Miller joins us to talk baptismals, the best and worst of Philly, strange rituals involving watching the movie Beethoven, and more that you just got to read in order to understand.
I enjoy the band's balance of melodic dissonance and appropriately applied distortion. What are some of the key tenets of constructing a Creepoid song?
We try to stay away from anything too restrictive. We prefer to let the songs just happen, without imposing any hard rules. Sometimes one of us will approach the rest of the band with something that's nearly complete, and other times we'll have this little snippet that we all sort of throw around for months and months before taking it to the next level as an actual song. We've all known each other for years so we don't really have to analyze or plan anything too much, or over think things.
What's the story behind the rowdy squall of guitars that make up the redemption song of, "Baptism"?
Funny enough, the guitar parts for this track were actually written on acoustic guitar. Pete and I were working on some things while I was stuck in the house with a broken heel, just messing around, and eventually we started playing what would become the foundation for the track. It was one of the first things we experimented with as a full band once I was back on my feet, and I guess something about finally being able to stand up, move around, and get back to it led to the overall intensity of the track.
Does Creepoid employ any "Baptism" rituals as rites of band passage, like Marilyn Manson used to have with Dungeons & Dragons games as group entry rites?
We do have one ritual: we make sure we always have the movie Beethoven playing in the background when listening back to a new recording. When the film opens a St. Bernard puppy and a large group of other puppies are stolen from a pet store by two thieves, Harvey (Oliver Platt) and Vernon (Stanley Tucci). After meeting a dog, during his escape from the thieves, the St. Bernard sneaks into the home of the Newton family. He climbs up a little girl's bed and begins licking her face, making her wake up. She is surprised to see the puppy and even says it was a dream come true. The father, George Newton (Charles Grodin), doesn't want the responsibility of owning a dog, but his wife, Alice (Bonnie Hunt), and their children convince him otherwise. While trying to name their new-found dog, the youngest daughter, Emily (Sarah Rose Karr), plays a portion of Ludwig van Beethoven's "Fifth Symphony" and the puppy barks along; the family thus names him "Beethoven." Somehow, it always 'makes sense.'
Creepiest things about Philly?
The creepiest things about Philly are, unfortunately, not unique to this city. There is a massive closed circuit surveillance system/fusion center draining resources from run down communities and shut down schools, a new drone-war command center in the suburbs, and for-profit prisons popping up all over the area. And of course, you've got all the assholes that sneer at you contemptuously for forcing them to actually think about any of these things.
Some of the coolest things about Philly? You all have so many great bands, and so many little scenes.
That's definitely a bright spot here. There's a great stable of bands, and we all sort of cross over into each other's sounds, so it's not as segmented or cliquey as some other places. There's this "Philly" thing that ties everything together. Other than that, the best part is definitely all the great small treasures, great food, great record stores, and great people are nestled away in every neighborhood. Three of us share a house in West Philly and it's great, because there are so many community-centric things out here.
Read the full interview feature here.

Shocking Pinks
The legendary Nick Harte, the man behind Shocking Pinks released the triple LP Guilt Mirrors on the venerable Brooklyn imprint, Stars & Letters. With a portfolio that checks DFA and Flying Nun releases under his belt, Harte's latest ambitious offering lives up to all the buzz and hype with lushes expressions of emotion and experimentation that you could ever begin to hope for… and more still. We are proud to bring you our most recent discussion with the legendary Nick Harte.
I love the mix of live drums and sampled drum machines on Guilt Mirrors. How do you decide on what drum arrangements best suit a song, feeling, or mood?
The Guilt Mirrors recording sessions were easily the most time-consuming and intense sessions I have ever been involved with. In terms of the the drum/drum-machine parts, I would often leave them until I had virtually finished the entire piece. This gave me the luxury of trying various rhythmic ideas out in front of a live audience—usually at my friend's venue in Christchurch, Goodbye Blue Monday. There I would check the crowd's mood/reaction to my ideas, which then informed my final decision regarding the beats and rhythms.
The poly-percussive "Love Projection" is dedicated to Jerry Fuchs, and I wondered what some of your favorite memories of the drummer and his work were?
For "Love Projection" I wanted to achieve a more natural live drum arrangement that would make Jerry Fuchs proud. I had the great honor of touring Australia with Jerry not long before his passing, and he was just so incredible when drumming live with The Juan MacLean. Very machine-like, but soulful as hell. I recall him asking for something like 20 towels on the band's rider—that always made me chuckle. He would leave the stage just drenched in sweat, wearing short shorts with his signature sly grin. I enjoy all of his recorded work, especially with !!! and Turing Machine. Much love to that man.
Your styles are all over the map, from the night club jazz cruiser of "Best Friend" that breaks the boundaries of genre, the dream worlds of "St. Louis" (featuring Gemma Syme), to "therearenorivershere". What considerations do you take in mind and heart when blurring the artifices and criteria of genre?
While recording Guilt Mirrors, I was so focused on recording music that sounded extremely alien to my ears, that I didn't really think about genre specifications for each track. The idea of releasing a sprawling multi-genre mix-tape only really came up in post-production, working with my good friend, Mark Roberts, who runs my label, Stars & Letters Records. "My Best Friend", for example, was always just a pop song, but the fact that my pal, Kurt Dyer, was hanging out playing congas on the sessions meant that the track ended up with its awkward, slightly unusual feel.
On other times and occasions I feel like you and your cohorts have set out to explode the whole pop concept all together, like on the super catchy "What's Up With That Girl?" (Featuring Ashlin Frances Raymond/Arkitype). What is the shocking secret behind what you and your friends are doing to push ahead the pop culture dialogues with Shocking Pinks?
I honestly just set out to create lyrics and music that is of deep personal significance to me. No big secret, I'm afraid [smiley emoticon].
Read the full interview and feature here.
Frame
Frame, the project of Caitlin Frame supported by her own crew of world class wrecking crew that includes the talents of Scott Seelig, Turner Stough, Daniel Gould, and Alex Lipsen. Off Frame's album Polarizer; the golden single "Run Around" shines with a luster to light up every chart imaginable, in all of existence. In the age where today's artists look to favorite eras, artists and cult-subgenres to embody and emulate; Caitlin exhibits an understanding of the modern pop vocalist's role in creating the unbreakable single.We had the pleasure of chatting with Caitlin Frame about the rise of her vocal project, vocalist favorites, the run around behind "Run Around", and much more.
We had the pleasure of chatting with Caitlin Frame about the rise of her vocal project, vocalist favorites, the run around behind "Run Around", and much more.
Your voice is stunning, what is the story about how you brought your inner songstress front and center in the Frame picture?
For "Run Around" I was alone in the studio tracking and engineering it myself. Fortunately, and unfortunately, it brought out the obsessive qualities in me, but certainly helped create a great track.
In general though, it could quite possibly be from singing in carpool all throughout my teens.
Who were some of your first favorite vocalists?
Andy Partridge – XTC : My parents loved this band, so at a very young age I became obsessed. Mr. Partridge is not afraid to sound ugly and weird. Whatever fits the song – a very brave singer indeed.
Aimee Mann – Solo and Til' Tuesday : How can you beat Aimee? I would listen to Bachelor No.2 on repeat at my first job at a second hand clothing shop, singing along as I steamed blouses.
Steven Tyler – Aerosmith : People make fun of me when I put on an Aerosmith album, but their first albums are really dark and brooding. Also, embarrassingly, my first celebrity crush- but go ahead and try to mimic his voice.
Who are some vocalists you have grown to love?
Scott Walker: Initially I wasn't so much into the baritone ballad-type singing, but I've really changed my tune on this one. He's truly a master vocalist and genius of melody.
Christine McVie: I was late to the Fleetwood Mac game, and honestly I thought it was Lindsey Buckingham who was singing her parts. I had no idea there was this powerhouse keyboard player composing nearly all the songs I loved by them. Her androgynous and sultry voice is classic.
"Run Around" is a ridiculous arrangement, one of the most insane hooks ever made, built around that title boasting chorus. When was the song written, and how did you turn this reverse-"Run Around Sue" tale into a whole new dizzy romantic single?
I wrote the first two lines nearly two years ago, along with most of the melody, and knew it had potential but was the type of song I had shied away from writing thinking it was a bit too pop. It went through some different incarnations but nothing felt right. This past October I thought, 'screw it, Run Around should be the tag as well, that's what I want to hear.' I just embraced it – and now I feel like it's a universal feeling. The song itself is about some of my experiences with a relationship that gave both parties the opportunity to do as they please.
Read the full interview and feature here.
Cloud Becomes Your Hand
Brooklyn's new creative inventors; get to know Cloud Becomes Your Hand, as we talk about the band's album Rocks or Cakes from Northern Spy Records, where Stephen Cooper, with the malletKAT, mallet percussion, and synthesizer talents from Weston Minissali, Sam Sowyrda, Booker Stardrum, and Hunter Jack bond together new discoveries. Stephen from the band joined us for a unique look into how one of Brooklyn's most fascinating groups functions as a team, in their experiments and expressions of organic humanisms.
What are the origins of your psychotropic vision eliciting band name?
The name comes from another project I'm in with Sam Sowyrda (malletkat) called Living Things that uses puppets and theatrical motives. We used to have a cloud beast with three eyeballs that oinked and I attempted to operate it without my hand being seen. Also, "Move Hands Like Clouds (seven times)" is # 73 of 108 movements of the Taoist Tai Chi set.
How did the chemistry of Cloud Becomes Your Hand develop?
For me personally it came out of loving avant-garde and experimental music so much that I got totally blue in the face. I was so obsessed with some abstract idea of breaking all boundaries all the time that I had no platform to work on, so I wasn't making much. I wanted to have more fun and record more. I made a short tape that got into the hands of Booker and Weston and Hunter and we started playing with two other people, then Sam joined a few months later. It was even more of a hodge podge in the beginning but things were honed in as the five of us began playing consistently and touring.
What do your song crafting/writing and development sessions consist of? What are the settings that yield the best creative results?
I like to record all ideas on a tape recorder and I have all these tapes filled with little nuggets that sometimes takes years to get back to. But I am always recycling old ideas… the B section melody in "Theme from Baby Age" is from something I wrote in 2006 that only got performed once and never recorded. Usually it is me or one of the other dudes that bring a fairly concrete idea to the table. Something that has happened many times is I will try adding a new idea to an existing song and like it so much that it becomes its own song. For instance, the violin part in the beginning of Theme from Baby Age was originally going to be a part on Rat Jumps but then it turned into its very own song!
As a band that works in ways of the electronic and acoustic in all of your songs, how do you reconcile the digital and natural to be conveyed on the same wavelength?
Yeah it's always a question of how that's going to pan out. It's usually a matter trying to human-ify something that's been sketched out in some sequenced way. In "Bees Going Postal", I had the whole song in MIDI and Booker played his own parts on real drums along with the MIDI drums, followed by everyone else. The parts always change of course once humans start playing actual instruments. I have no problem 'cheating' or using sampled or sequenced sounds when its useful, but I am after music that is done by humans and where you can hear the human. On "Rat Jumps" there is a totally acoustic, dry marimba that is doubled by a heavily affected programmed marimba-esque sound. Live there are two digital "synths" and two amplified string instruments and then the drums are half acoustic, half electronic, so it's pretty split down the middle in the acoustic/electronic sphere.
Read the full interview and feature here.

Fielded
Brooklyn producer Lindsay Powell, aka Fielded, set the surrounding fields and towers ablaze with the supreme ruling track, "REIGN" off her Universally Handsome EP. Powell commands field, stream, and metropolis with an iron, and diamond adorned fist. Without further ado, we present you our interview session:
"REIGN" sounds like you are commanding and ruling over your own musical creation. What kind of royal model narratives were at work when you were writing and constructing this song?
This past year I spent a lot of time deconstructing and rebuilding my songs for live shows, remixes and sometimes just for fun. I got really into the production end of things and wanted to see how far I could take backing tracks before spinning them into vocal form. I think there has always been a soft duality between producer and performer within me – I'm like, 'okay, if I take this there then can I take that there, too? Is it too diva, too freak-forward?' Sharpening my ear as a producer and vocalist is just starting to feel like a fruitful effort – I'm feeling more confident in my relationship to my aesthetic and the kind of music that I want to be making
"REIGN" is reflective of the beginning of this cool moment I've been living in – I think because I was feeling powerful and excited when I made it I could really take it beyond without fear. 'Make it Reign' was this funny little phrase I heard in my head (I love puns, so sue me!) and I was thinking about being a female, feeling empowered, owning it, working it, honing your craft and living with intention. So for me, the lyrical content and the overall vibe is about ruling your own zone, vibing with yourself and feeling good from head to toe.
There seems to be recurring royal related themes in your music, like "He's the Queen". Is this just part of your monarchical take over plan? Or is like, Kanye/Jay Z Throne Watching?
Ha! Man, well – I think it's less watching the throne and more owning it. No disrespect, of course! What I mean to say is this: I meditate often on the Queen archetype and what she means to me. How can I embody the positive attributes – style, grace, power, beauty, humility, etc. – without inheriting the negative attributes? How can I be a Queen and a Warrior at the same time? I think a lot of people ask themselves the same things about different, often conflicting, archetypes within themselves. We are all presented with these images of societal norms, whatever that even means, and we are like, 'shit, I'm a little bit of that but a whole lot of me is not something I see being represented. How do I own it if it's not already tested and approved?' I think even the smartest of us falls under the spell some of the time and it is so important to take a step back and find your center, identify what about your life makes you feel powerful and live for yourself. Harness your power, your inner Queen! Be your freaky beautiful self because the world needs more freaks, for sure.
I love too that you even go as far as to spell out the title in the chorus, with "R-E-I-G-N". Maybe it's just me, but there needs to be more of that spelling thing going on in pop music more these days. Your thoughts?
Oh, you mean like, 'this shit is bananas/ b-a-n-a-n-a-s' or like, 'r-e-s-p-e-c-t/ find out what it means to me?' Oh, yeah. Pop music could definitely use more of that in 2014!
What do you find in Brooklyn and outside of Brooklyn that has been informing your productions lately?
There was this attitude amongst some of my Los Angeles friends about NYC not really being a sustainable place to actually live as an artist. I definitely have a can-do attitude so I went into it with this funny forceful approach thinking I was going to spend every waking minute working on music and clothing never leaving the studio. I had a mini-breakdown when I realized that even though that might be possible…it was making me a little miserable. I wasn't slowing down in my own life to enjoy the weird, split-second wonders that pop up in the day-to-day, the types of experiences that make people say, 'only in New York.' It's kind of weird to say that living in New York has actually taught me to slow down, but I think it's true. There is less time to fuss over every note, beat and song in the moment and more time to let it take on a new life, listening against the backdrop of the city. So, I guess I'm pausing more, having a bit more fun and taking advantage of all of the amazing and accessible live music that is happening here. Not to mention new and wonderful relationships with fellow artists and musicians. Beyond Brooklyn, I like to go to my Parents' house and hang with my family, go on walks with the dog and play and just enjoy the time away from the hustle and bustle! I like to read a lot and I think meditation has been an especially inspiring activity lately.
Read the rest of the interview feature here.
Broncho
Broncho dropped their new 7″ to let you know that, "It's On", available from the Austin imprint, CQ Records. Frontman Ryan Lindsey (who you may remember from The Starlight Mints) continues the school-skipping cool that we enjoyed in our debut of "I Don't Really Want To Be Social" or "Try Me Out Sometime"; "It's On" lays out a series of rules and instigating incidents of the incendiary behaviors. From "if you show up in my room with no clothes on" to "you can go to LA, you can drink Manhattans," Lindsey brings a litany of tough talk and real beneath the dead pan delivery and mean guitars. Broncho frontman Ryan Lindsey talked to us about tripping through the decades through their albums, SxSW plans, and more, with first a report from their home office of Norman, Oklahoma.
First give us the current state of the indie unions and scenes of Norman, Oklahoma:
Norman turns over every three or four years because it's a college town. So it keeps things fresh. Theres always new people showing up, and old people leaving. But I stayed.
Tell us everything and all you can about the upcoming LP you're recording.
We are slowly making our way through the decades. Our first record was 70's 80's 90's, this next record will be 80's 90's 2000's. So we should be current by our third record. Hopefully. Fingers crossed.
What about your sound and process do you think has either adjusted or developed between this upcoming disc and 2013's Can't Get Past The Lips?
We wanted to make this record in the same fashion as the first one. Lots of tape and warmth. Controlled and chaotic. Let the songwriting change the record rather than relying solely on the sounds to do that
Read the rest of the interview feature here.

Liphemra
Having made us a Valentine's Day playlist, collaborating with MED on "Bloodwork", and performing on Nocando's "Little Green Monsters", and more; Liphemra lent a listen to her mixtape Part 3 from Lolipop Records, with the tough attitude and tougher heart on "bandaid". The character of Liphemra's music breaks through the constrictive barriers of all the old rules used to contain the conventions and properties that comprise the criteria many use to define style. We are convinced that Liphemra can create, and emulate anything by herself or in any configuration of collaborative environments. Keeping up with one of LA's rising and shiniest stars; we give you our latest discussion with Liphemra.
Tell us about the story of toughing out the pain like on "bandaid", where you are invite the aches and numbness with lyrics like, "rip me like a bandaid, its okay, cuz you're a heavy weight, and I can't feel much else anyway."
Wishing heartbreak and the lose of someone you love was as simple as ripping off a band-aid. You anticipate the pain without realizing it could all be over in a split second…its just a matter of when you rip that band-aid off…when are you ready to experience that pain? And maybe the thought of it is worse than it will actually end up feeling…maybe it won't be that bad after all. I know as a child there were many times where someone had to rip the band-aid off for me…it would be on for much longer than it needed to be…it would be dirty and worn. Whatever was underneath it had been long healed. My mom had to grab me and rip it off without me even realizing it. Maybe sometimes we need another person to do it for us? Maybe the anticipation and fear of what it feels like is too great to rip it off yourself?
As someone who has a been a drummer for forever, how do you feel that this sense of percussion and rhythmic has contributed to your songs, composition, and your overall sound?
I think it is the basic foundation for everything I create. At first it was hard for me to sit down at the computer and play 'fake' drums. There was a long time where I would refuse to have anything but real drums on my tracks. I'm not sure why… Maybe I felt like I would be betraying my instrument? But after awhile it didn't make sense because of the things I loved to listen to and was drawn too.. and with my band I'm still able to play & record acoustic drums. There are certain things I refused to do while making the mixtape though…no quantizing…no clicks…barely stayed on a grid. All the drums on the tape are played live…even if it was done with my index fingers the keyboard.
Read the full interview and feature here.
Hellogoodbye
The awesome and honorable Forrest Kline was kind enough to reach out to us in the whirlwind of Hellogoodbye's touring schedule. So somewhere in Singapore, Kline discusses the new album, Everything is Debatable, the title track, and more.
When you look back on how Hellogoodbye has progressed from Zombies! Aliens! Vampires! Dinosaurs!, Would It Kill You?, to the recently released Everything is Debatable? Also with the song and the album title, was it a kind of homage to Einstein's theory of relativity, or was it like one of those pleads for the relevance of and for the sake of argumentation?
We live in a time when there's more knowledge floating around out there in the collective mind of the world than any one of us could ever conceive individually. to quote late 80's ska punk band Operation Ivy; 'all I know is that I don't know nothin.' That's at the core of this record, that any strongly held belief I have is based on limited information and that there's always a deeper understanding to be obtained or a contrary piece of evidence to be examined. gotta keep an open mind.
Colloquial exclamations from the humorous to the kind of serious are a big part of your titling process. Why do you feel that is?
Serious topics go down a little easier with a little goof'n and spoof'n.
Read the full feature and interview here.

Squadda B
Giving us a view inside the world of Back to Playtime, thoughts on being his own favorite producer, and all sorts of future things in the works from Green Ova crew, 'The Greatest Duo alive,' and more is our recent conversation with the one and only, Squadda Bambino.
That intro on Back 2 Playtime is sick, it's kind of this breathy, Clams-y production in inhale/exhale, reverse. How did that cloudy new era opener become the spring board for that springtime-somber vibe of, "Murderous Weathers"?
That beat was a instant favorite when I made it and decided I couldn't rap on it, it's the sound of tomorrow I can't be the voice yet.
You, Mondre and DaVinci have had a great lyrical rapport and flow. More DaVinci spots and collabs in the cards?
Yessir, DaVinci the big homie.
I dug the first Playtime tape with the 'Candy Land' cover and great tracks. What provoked you to create another volume with Return to Playtime?
On Back to Playtime I just felt like I wanted to go back to dropping songs, and I'm pretty sure Playtime was my last album formulated solo release like Back Sellin Crack was so I wanted to go back to that. I wasn't back making plays but I felt I was back hustlin' through music, nothing was really the same with these two Playtimes besides the price. I'm a whole different person in that between time and even now.
What else do you, Mondre, and Shady Blaze got going on right now?
Waking y'all up, prepping new product, we fell off the productivity last year but you guys will get the best yet back to back, as normal.
Read the whole interview feature here.
Unicycle Loves You
Brooklyn's Unicycle Loves You loves us all so much, that they gave us the blissful amp burn of their new album, The Dead Age, available from Highwheel Records / Mecca Lecca Recording Co. The Brooklyn by Chicago trio of Jim Carroll, Nicole Vitale, Dennis Lehrer, broke through with a track that is everything that keeps us believing in the DIY home made sound of real rock and roll. We were so moved by this song, that we invited Jim to talk with us about Unicycle's new album and awesome sounds.
What was different for you all in recording your upcoming fourth album, The Dead Age?
We've always just let the ideas come to us and just roll with them. But I think having Dennis on the drums this time around really helped take the songs to a new place. We synced up immediately, and a lot of the songs weren't even complete yet while we were tracking the drums. Also, two of the tracks were songs that didn't make it onto our last album, "Failure", but were some of the earliest demos recorded for it.
"Face Tattoo" is a garage destroying track, what is it about facial ink that inspired you all to make this tower of squall and scuzz?
It went the other way around. I wrote and recorded the demo and just thought the song sounded like a big fat, "Face Tattoo". Then we realized that the song was about feeling numb and letting go of regrets. That's when the title really stuck.
Do you know folks who have made great life decisions, like getting a face tat?
Nope.
What is the Unicycle Loves You secret to balancing the jangly hooks and those perdition crashing waves of beautiful, distorted and well harnessed, noise?
One of my number one rules of recording is to maintain the element of improvisational expression. It's why we build our recordings off of the demos rather than re-recording the song entirely. Like catching lightning in a bottle. For example, the feedback drone guitar track on Face Tattoo was the first and only take. Also, something that nobody ever seems to notice is how much I am influenced by the same notion of stealing from '60s girl groups as were The Mothers of Invention.
Read the whole interview feature here.

Humfree Bug Art
Upon receiving the ; we give you a look at  performing "Hawaii" live as part of the Bredäng Sessions, from Stockholm. The performance video was filmed by Viktor Alexandersson & Adrian Faber, and edited by the band's Andreas Sandberg, presenting a teaser edition of the official soon to be finished and released (and further discussed in today's following interview with the band).From cables shared across coasts and waters, we reconnected once again with our friends Humfree Bug Art (whom you might remember from our our premiere of "Flowers"), who released their  7" single Hawaii / Mirrors from Strangers Candy, in the following transcript of our latest discussion.
As a large group with a wealth of studious musical backgrounds from various Swedish towns and academic institutions, describe how you communicate and apply the band's plethora of ideas and directions.
Ouph, that's an awesome and complex question! We think our dialogue have been pretty much fluent from scratch. We discuss every major decision in group and we tend to think alike and agree in most. Its great to have such wide range of musical inputs in the collective, and we're probably very lucky to have it like this, but everything we do kind of just comes together by itself!
How do you Humfrees bridge your upbringings from rural parts of Sweden to the more urban and city-grounded aspects of your sound? It's like you guys create musical bio-communities.
A very important aspect of our sound is the reflection of our rural past and the urban present. Whenever we're in Stockholm too long we miss the forests and the mountains and vice versa. It's always quite an emotional experience to rediscover your "real home" whether it's rural or the urban one, a mix of euphoria and existential angst. I guess the bio-communities you speak of is where we preserve those feelings.
From the recent EPs, Chairlene and Collema, walk us through the stair steps of progressions for the band that lead to your upcoming single, Hawaii.
Our previous music was the result of the merging of our individual preferences and ideas of what the collective should express. As we develop these ideas become more synchronized and we start to turn into a unit. Recently we've found new ways to integrate samplings into our music as well as new concepts and techniques to blend electronic sound into the acoustic drums and use effect pedals in new ways for both guitars and vocals. Hawaii is kind of a shift in paradigm for the expression of Humfree. We don't expect to have our sound compared to Band Of Horses, Sigur Ros or Bruce Springsteen anymore (not that we would disapprove).
Why the name, "Hawaii"? Have you all been there? Big surfing fans? What inspires you all about those Pacific Islands?
Being Swedish, Hawaii seems like an exotic place far away without the long, cold and dark winters. As we've never been there, it's easy to imagine it as sort of a paradise. With these dreamy images in our heads, we get some kind of access to that paradise, through the music and our minds.
Read the full interview and feature here.

WV White
Columbus, Ohio's WV White released their album, West Virginia White this past week on Anyway Records, also the home of fellow Midwestern indie rockers, Connections. Taking their name from the metamorphosing Pieris Virginiensis insect, guitarist and vocalist Tyler Travis, with fellow vocalist and keyboardist Caeleigh Featherstone, bassist John C. Fisher, and drummer Tayler Beck allow their organic approach to synthesize together in the slacker sciences and sonic physics.
WVWhite's Tayler Beck talked to us a bit to give us lots of good news in an extensive report on the state of the Ohio scenes and much more.
Paint us the picture of your guy's Ohio upbringing, and that how that sonic-suburban surrealism was first birthed.
Our upbringing consisted of long walks on historic streets. The sub-urban areas of Delaware aren't suburbs, at least the ones around when we were younger. Conversation and character building originated here stemming self awareness and strengthening communicative paths. When we would hang out we would play music. We were lucky enough to have Tyler's dad, Mike Travis, who did the mastering, provide us with the means of projection. I think this is where the sonic comes in. He always had drums around, bass and guitar along with the amplification necessary to rattle the windows.
State of the Ohio scene? The good? The bad? The awesome? The boring?
Ohio has an awesome scene within art and music both. All genres are around each with their own crowd to suit. Whatever you're looking for is happening somewhere. There are great places such as Carabar where shows are always free, no matter who the act is. It makes music really accessible here. We try to occupy our own place within the scene & slide between the genres we encounter.
The music really takes the listener to the American Midwest, with your songs that are almost like these local folk tales that the listener gets dragged in on as a complicit party, like on "Alison Lapper, Pregnant" and the vivid showdown of "Ford Mustang". Your music has a real appeal where we are brought to your hometown, and feel like you are there present at a live show like the false start live-sounding opening to, "Macha". Do you all draw from some kind of local vibe out there and then channel your experiences so your listener's can easily join in?
Yes, our surroundings influence us heavily and we try to tune in to and enjoy the vibes around us. We try to make it out to shows, everyth show is an influence when seen in person. Community engagement is an awesome thing. The Midwest is where we live, so it manifests itself in our music accordingly. The album is close to a live sound, however, those songs have progressed further since their recordings. We like to move around so hopefully the album conveys that enough to bring people out to experience it for themselves.
I love that you can do these like pub craft singalongs like the drunk at the piano "Cockroaches", "Dutch Interior", and then switch the controls for complete blast off on an epic like "Multiple Bathrooms". What is up with that kind of audio bi-polarity, and what the hell is up with "Multiple Bathrooms"? It all rules.
Perhaps this was touched upon in the second question but the variance within our music is a result of recognizing these 'significant' aspects of songs, and making a point to diverge from them in other songs. Naturally, we as musicians create the aesthetic, but the songs are left free to delve into whatever genre or 'mode' they would like. Multiple people with multiple influences makes for many outcomes… "Multiple Bathrooms" is about false advertising.
Was there any conscious planning, like with putting the lo-fi tape recorded vignette of "JC's Song" before knocking us over flat with "The Mess", and "Tricycle Sutra II (Nutra)"?
There was most certainly planning within the composition of the album. Built to Spill and Pavement instilled in us the concept of an album as a journey rather than a place to slap together songs. There are aspects of the record we have been able to recognize after putting forth the effort to make the album read well. We're looking forward to enhancing some, and straying away from others.
Read the whole interview feature here.
Young Aundee
Young Aundee's Caveat Emptor EP saw release on Waaga, and Andew Southard joined us up with again to catch up, and take us behind the consoles, mixers and controls, and into the process of one of Sacramento's shining indie stars.
What was one of the driving visions that you were working with in the composition of the upcoming Caveat Emptor EP?
We had the opportunity to play in a couple festival settings last year… One of our favorites was called "The Bounce"… Perhaps part of that vision was to make something that was my own brand of x-ray cerebral pop music that could also be on par with the music that's played on festival sound systems i.e. The Bounce, Symbiosis, Bobolink etc…
"Amazing Grace" is amazing, I know we have talked before extensively about your respect for Vince Clarke, and was wondering about the passion that informs this particular single.
I was absolutely pulling references from the early Depeche Mode albums he produced as inspiration (Speak and Spell). Also newish dark synth stuff like The Faint, and ADULT.
Working together in a band capacity, how do you find that it differs from the solo roads and routes of performing, recording, and writing for you?
I feel very lucky to be able to work with various producers and put my name as a solo artist… I'm seeing that as a sustainable thing as I've only used the Young Aundee moniker since 2005. Dusty and I are constantly thinking of new, and affordable ways of making the live show more engaging…
Read the whole interview feature here.

Albert Swarm
From Helsinki, Finland with atmospheric care and hallowed ambient hollows re-emerges Albert Swarm, with the release of his new EP The Cage from Brooklyn's Ceremony Recordings. Previous releases Held, and Wake are the risers that lead to this three song offering that enters a new citadel. On the heels of The Cage's release, we had an opportunity chat with the only and only Albert Swarm over Atlantic waters.
How has the winter to spring transition in Helsinki treated you, family and friends?
I really wanted to buy cross-country skis this spring and go torture myself on the ski tracks, but the snow melted way too early. If you don't count that minor bummer, it's the best spring in years. I've been listening to stuff like Ben Frost, Kelela, black metal and old bossa nova. And I guess I'll start buying modular synths instead with the money I saved for the skis.
Walk us through your work from Held, Wake, to The Cage. How have these states of embrace, reckoning of conscious lead up to the imprisoning EP of prismatic synths and some sick drum patterns?
For Held I was loosely imagining a theme about a mother who abandons her newborn child and later on regrets her decision. With Wake I didn't really want to have a specific theme, some of the track titles were just inspired by these weird dreams that I had at the time.
So with Held and Wake I was going for this dreamy, distant vibe but now I've been more fixated on dissonant and fragmented sounds and this idea of a bad trip or a nightmare you can't wake up from. A bit like the movie Jacob's Ladder.
I feel that one of the reasons that the soundscape has become a bit more oppressive than before is that the emphasis on my EPs has shifted radically from melodic to rhythmic during the three EPs. Rhythm has taken overally the dominating and more important role on The Cage as opposed to Held, which I wrote during a time when I was much more interested in ambient music and minimalism.
The concentration on melody and subtleties on Held was also caused by technical restrictions: I wrote Held in my room in NY by using just a portable Jawbone Jambox, which doesn't really play low frequencies at all. I'd broken my headphones just some time earlier and I didn't buy new ones before Held was actually released.
I didn't listen to a lot of electronic music prior to working on Held, and since then I've pretty much dived in the deep end of electronics so to speak. Overall, I've become more comfortable with giving bass and percussions more of a leading role on my tracks.
It's almost like the tracks, "Truth", "Restraints", "The Cage" could all be Albert Swarm EP titles and arguable, if edited as an extended disco mix could be 12″ EPs to themselves. How do you decide which is a title for a release or for an individual track?
It depends a lot: sometimes I have a list of suitable names ready for tracks. This time I made the artwork already a year ago and it was really the basis on which I began to write the songs for: having this claustrophobic 'caught in a dark room or state of mind you can't get out of' atmosphere. Typically I don't want to name my EPs after certain songs but on The Cage I really wanted to put the listener's emphasis on the title track.
Read the whole interview feature here.
Colleagues
Stockholm's Colleagues cried forth a fountain of digital tears on the single "Tears" from London In Stereo's new imprint, Fierce Panda Records. Discourse between significant partners gets elevated to a dance inspiring audio spectacle on "Tears" and is backed by the b-side of familial memories on "Parents' House". Colleagues create the brightest rendering of lyrics and sentiments that are told out of necessity between a pair with shared experiences, that are too often reserved for phone call confrontations. The Swedish five piece were kind enough to exchange cables back and forth overseas to talk about their upcoming new single, the new In Sound imprint, and the newest sounds from Stockholm.
From now to 2012, tell us how you all met up and became collected as Colleagues, to the recording of your recent "Tears" and "Parent's House".
The foundation is the song "Visits", we wrote it watching the trailer for Sofia Coppola's Marie Antoinette and it worked so well with the visuals we realized we wanted to collaborate with different visually creative people with every sound we wrote. So It is more like a project, a "collaborative collective" if you will (we hadn't even thought of it as an item at that time).
Anyway we sent that song to an Oz filmmaker we really liked called Benjamin Dowie and it became the video "Seacreatures". The only way to hear that song is watching his beautiful work. A little later we wrote "Parents' House" and released it with a painting by Tom Hadar Elde on Soundcloud and named the project Colleagues. It got some attention and promotors started to ask about so we teamed up with a few more people and formed a live concept. Tears / Parents' House is released with an illustration by Moa Wiking, and a limited 24 piece cassette edition by J. Derlow with cassette players designed by J. Dahl.
The Swedish world of indie pop is the stuff of canonical legends and current day lore, what about your surroundings attracts you toward your own creative paths? What towns, favorite countryside or rural get aways do you all really dig?
The southern suburbs of Stockholm, especially a place called "trekanten". A place of our youth, nightly baths and almost tropical surroundings. There was a tree there that was tall enough to jump from, but that tree got hit by lightning and is no more.
Who are some of the greatest undiscovered independent Swedish artists that we should be listening too that need more attention?
Albakin, MINT, Alexandria, Anti Pony, Alice Boman, Le Fever, Systraskap to name a few.
How do you describe the bright portraits you all paint with your bright pop productions?
I think it is the general absence of sunlight, warmth and palm trees in Sweden that makes you want to preserve that little piece of summer euphoria you get. And the inevitable melancholia of winter works as formaldehyde… Something like that.
Read the full interview feature here.

1,2,3
Pittsburgh band of numeric title design 1,2,3, gave us their single, "Big Weather Part 1″ b/w "Leave Me In The Sky With The Lawnchair", plus an exclusive one on one with the one and only, Nicolas Snyder. The road from their first album, New Heaven, to Big Weather came through a trial of turbulent storms that was born out of natural disasters of tornadoes, floods, hurricanes, label gridlock, the break up of the band, and the subsequent reuniting of 1,2,3. Snyder from shares some wild tales, and flavorful short stories.
Okay, so give us the story about the turbulence from New Heaven to the storms that gave birth to Big Weather.
How about a list instead of a story?
Three managers
The IRS
Unpaid taxes
2010, 2011, 2012
Busted van
Lotta lyrics
PA twister
Frankie Day
Iron City Brewing sponsorship
Wall, PA
Marvin Gaye
Dawn of the Dead
Porches
Basements
Computers
Keeping it real
The title track is you guys like giving it that real David Essex, but mightier kind of presentation. How did you all come up with this particular titular stomper?
The basic tracks were the first thing we recorded for the LP. It's got a pocket with a hole in it. The vocals were one of the last things we recorded. It was always in my head that way, it just took me two years to be in the mood to sing it. At the time I was living next to a parking lot.
"Leave Me In The Sky With The Lawnchair" is the idyllic everything. What were the states of mind when this beauty was recorded?
Well, thanks. It's our "Rip This Joint". That's why it's track two [Ed's note; "Rip This Joint" is the second song on The Rolling Stones' Exile On Mainstreet, following "Rocks Off"]. Mostly recorded live or with one takes. No click. It's about a fella who hit a dark patch and is out in the yard enjoying a gin drink when, 'lo, a twister this way comes.' Only thing is, dude doesn't care because he doesn't care.
Can you share more 1, 2, 3 debauchery stories?
Not really. We have our moments, but we're not the Replacements or anything. Mostly just a few beers and some laughs on the porch while some Zeppelin or Sinatra comes through the screens. Once I wrecked into a brick building on tour.
Read the full interview feature here.
Brett
Washington, D.C.'s Brett, released their self-titled on Cascine, known for it's gorgeous album opener, "Chalon". A new duo comprised of Kevin Bayly and Mick Coogan, they tackle collective situations of social discontinuities of the past that have ended the greatest and worst relationships ever. The senses of separation and the glory of closure is told in terms of some of the biggest and boldest stones of sound, covering the up charms and caverns of resentment through lyrics that draw lines in the sand, reiterating "don't come around here", while hovering and shining keys ring out. We bring you our recent discussion with Brett's Kevin Bayly and Mick Coogan that takes us into their visual and imaginative aspects of their composition process, amongst other things.
With news of your upcoming album for Cascine, tell us how you discovered your inner pop singer-songwriter.
Mick: I think good pop inspires imagination. Listening and composing music is a very visual and imaginative process for me. No one is re-inventing pop music — it's the same notes on the piano for everyone and the patterns and rhythms will always be the same. But as an artist, you try to achieve subtle and timely moments within those patterns that hopefully define a song as truly 'yours.' As a fan, that's what I'm listening for at least.
How did the composing and song-sketch compiling come together in the creation of the Brett album?
M: Kevin and I had been bouncing ideas back in forth for a few years. And everyone in the band shares a similar melodic palette, so we really enjoyed collaborating on the productions. I think this collection is the result of looking very closely at a group of songs and working and working them to a point where we felt there was a cohesive expression and that we could share our vision of pop.
On the opening number and single, "Chalon", I am all about this opening lyric:
"I know you remember, what you said in Baltimore, okay just forget it, let's turn on the t.v. show, I can't bear to take you, places you already go, kills me when you're laughing, with those guys you hardly know."
There is something so real about that situation, like one of those autobiographical relays of situations set to the all-consuming electric-bath production. What is the story behind "Chalon"? And why does the backdrop of Baltimore always make for epic break-up songs and stories? I know Gram Parsons has one with, "Streets of Baltimore", and I remember an old relationship I had that went south during a trip to Baltimore to meet my girlfriend at the time's estranged father. Brutal.
M: Baltimore has always been a stimulating place for me. It's a city where I have made many memories and I think the landscape of the city is ghostly and beautiful and the humanity there palpable.
I love the interplay between those crystalline keys and then that 90s Brit-pop glam guitars (a la Bernard Butler) that take over toward the end. What is the secret to composing these beautiful, delicate and well-manicured productions?
M: I always felt there was a certain prettiness to this record and I think the guitars take a little bit of the sheen off the production and give it more life. I think the cacophony is welcome. I think we hope to pull the listener closer and closer, then push them away a little.
Kevin: I loved the phasey gazey guitar layers in the early Smashing Pumpkins records — I think we were trying to bring that evocative vibe into a more subtle place.
Read the whole interview feature here.
Dub Thompson

The following piece was weeks in the making. When news of a band from Agoura Hills, California that went by the name of Dub Thompson was recording an album with Jonathan Rado in Bloomington- our attention was piqued. An initial early listen to their upcoming album 9 Songs for Dead Oceans was reminiscent of Rado's time capsule smashing solo work, but also something much more anarchic. We wanted to know everything, so we began pitching a variety of inquiries and nosy questions to the band. After weeks of back and forth dialogues through publicists and managment, we were finally able to break through the red and yellow tape, to get a closer view and listen to some of Agoura Hill's coolest cats in our following interview with Max and Evan.
Tell how the upbringing in Agoura Hills affected and gave rise to the phenomenon of Dub Thompson.
Agoura happens to be a faceless vanilla black hole. We still rep the colors, though. Agoura high school rules.
What are the scenes there like? Any favorite artist or groups from there of past or recent you all care to name?
We grew up playing in bands and all that. There'd be a lotto breakups and swapping members and recording everyone's Blink-182 rock music. I was in a spinoff band from this one guy Chris Bowman, who ended up in Bad Suns and played on Conan last night. Epic.
What were the recording seshes like with Jonathan when you were sharing a roof?
Violently rushed.
You have described your music and kind of reflection of our of everyone making music in this internet connected portable that has erased these former constructs like "place and time", and as bands continue to do away with these constraints of genre, where do you all see these evolving music movements traveling toward?
There will always be the purists out there, and they're mostly harmless. Forward music.
What do you project Dub Thompson to be doing and perhaps sounding in 2015?
We've been fantasizing about making something very commercial. Lucrative. Next year we will be making a lot of money.
Read the whole interview feature here.

Ablebody
From past experience, it seems like almost every new Ablebody single is worthy of something like 40 different drafts of the same article in order to nail down an appropriate description. Following the trail of releases from 2011's Remexès, the Covers EP, High Home, and the All My Everybody EP to the clock-smashing new single—"After Hours". The new 7″ is on the books to be released May 20, and it's other side will feature "Lose Your Head", on which frontman Christoph Hochheim flexes his ability to thoughtfully channel a series of pathways into a progressively more defined body of sound. The bedroom/rec-room basement party project makes a move toward larger and louder levels, but also continue to make the kind of music that that explores multiple layers of consciousnesses. The adventurism enjoyed on "Sally Hot Jazz" is bigger, more elaborate, and the unorthodox arrangements are so large that it's almost hard to fully grasp the dynamism of how their production has sharpened.
Speaking with Ablebody's Christoph Hocheim, we're given a candid look inside some of the tightest and most psychic sounds coming out of LA right now.
There has always been something nocturnal about your music with Ablebody. What late night events, and sessions gave birth to the illustrious single "After Hours"?
Some very specific nocturnal events led to the birth of this track. I wrote the basic chord structure and melody last year when I was in NY, literally in my bathroom as it was the only sanctuary of silence at my disposal. My bedroom was a closet attached to the main space with a flimsy makeshift divider open at the top so sound echoed like crazy. I'd drag all my gear into the bathroom and wouldn't leave until I had something I was happy with, usually between the hours of 1-5 a.m.
The lyrics came together when I was in Copenhagen a few mths later and fell into the odd routine of falling asleep at 9 a.m. and waking up at 2 p.m. or so. I would sit and watch the sunrise every morning struggling to get some rest. Those words came me to in a delirious haze inspired by a brief but intense fling I experienced there.
How did Cole M. Grief-Neill's touch enhance the 7″?
Cole was pretty integral to the sound of the 7″. I've always worked entirely by myself so it was a new experience having someone next to me to relay ideas off of and to help me execute ones I was struggling with. He's a total studio wizard with a dizzying work pace I've never experienced before. Pretty inspiring.
There is such a flood of feeling, affection and emotion in your music. How do you write these kinds of chords, and seek these particular undercurrents that create such a connective sound and experience for the listener?
I suppose I've always been drawn to music with a strong, almost blunt emotional impact. I don't know if it's something i'm consciously striving for but the songs I'm happiest with mirror that feeling. There's so much emotion you can draw out of a single chord or melodic flourish so that's always my focus first and foremost, then lyrics come later that hopefully don't distract too much from that mood and bare some personal relevance so they can be sung with conviction.
Read the whole interview feature here.

The Darcys
Inspired by pages 246-262 of Cormac McCarthy's Cities of The Plain, The Darcys' made the 22-minute epic "Hymn For a Missing Girl". This is an epic in six parts: I. "The Hymn", II. "For Struggle or Escape", III. "Returning a Dead Dog To a Place He Can Finally Rest", IV. "The Suitor Speaks", V. "Inextricably Bound", and VI: "To A Place Where the Light Can No Longer Find You". The concept epic prog form is alive and well, and our good buddies The Darcys get it. Jason Couse of The Darcys took us from movement to movement, discussing how they adapted elements of McCarthy's text to create "Hyman For a Missing Girl".
What about pages 246-262 of Cormac McCarthy's Cities of The Plain first grabbed your attention and made you decide to make the new-prog masterpiece "Hymn For a Missing Girl"?
Without giving up too much of the story, that particular passage unravels the multiple narratives that McCarthy carefully weaves together throughout the trilogy. To call it heartbreaking would be an understatement; it's not just about the loss of life, the disgrace of innocence and beauty, and the ugliness of power and institution. We witness the death of love and the absolute abandonment of hope. Someone's entire life is reduced down to a short series of events that run the entire spectrum of our shared experience, which immediately resonated with us. As with anything beautiful, we immediately started looking for ways to engage with it.
How did you go about adapting inspirations from the McCarthy text into music?
Our biggest challenge was to move away from other music as an influence and towards elements of the story. The experiment was really to find ways that we could communicate this gamut of emotion aurally, not only as music, but also as sound and perspective. We spent more time discussing the various elements than we did actually recording and manipulating the work.
Are there any other chapters of other books that you are all thinking about turning into a Darcys' rock opera?
We're always bouncing around ambitious ideas. We've been reading a lot of Stephen Hawking recently…
Walk us through each movement if you could:
I. The Hymn
The death of one is really the death of many. The voices mourn one girl, the same girl that has passed many times, and will pass many times again. Our protagonist is robbed of something so far beyond the life of another person, he believes he is parting with his ability to love, his freedom from a lifelong search for place. Everything works in circles, turning back on itself while slowly falling apart.
II. For Struggle or Escape
Stress, anger, unfocused energy. Overcome with emotion, distorted judgment, a migraine, a decision. This was so uncomfortable to arrange and record that we couldn't escape the effect we were attempting to create, and often had to take long breaks from working on it.
III. Returning a Dead Dog To a Place He Can Finally Rest
Travel, focus, a plan. Riding in the back of a cab down a rough road through the pouring rain. Remembering every moment of your life and why it brought you to where you are. Anticipation, pride and aggression lead our protagonist to some sort of personal truth. Smashing a car window to lean on the horn.
IV. The Suitor Speaks
A breath. A reminder of what brought you, and where you will go from here. We hear echoes of The Hymn in the pouring rain as two men find unexpected common ground, but the difference to settle is a gulf.
V. Inextricably Bound
A fight breaks out. The loss of all rationality as fear and honor are reduced to instinct and muscle. A dance. The two main guitars take on the personalities of the characters; the two drum kits play their bodies. The dialogue is harsh but intimate, the climax is expected but the victor is not.
VI. To a Place Where the Light Can No Longer Find You
Bleeding out. The world is slowing down and weighing heavier by the step. Gaining a new perspective on things as they fade away, coming to accept death, saying goodbye to a friend.
Read the entire interview feature here.

Tomboy
Tomboy, the Brooklyn duo of Sarah Aument and Will McIntyre are keeping NYC supplied with plenty electronic pop activity. The two dropped the big kettle drum beat and a serendipitous array of synths on the single "Roll Out". Sarah's voice and Will's rhythmic composition unfurls scrolls of pages from the books, chapters, and memories about to be made. Together the two concoct a dance floor cocktail that conjures a wild club night and surrealist imagery that gets documented in a journal brought along the for the ride. The dance organ notes bounce to Sarah's written notes, "sprinkled on a page," her digital quill spewing, "black ink from my mouth." On "Roll Out", Tomboy rolls the party out into all modes of pre-gaming before bringing the big, bright energy to keep this underground warehouse-ready cut riding through to the pre-dawn afterglow hours. We had the chance to talk to Sarah and Will of Tomboy:
How did the two of you meet?
We met back in 2011 when we both were working/interning at the same company. You know…love at first sight.
When did you realize that you were the electro duo Tomboy?
A little over a year ago. We started writing together and once we wrote something we were like, holy shit! We gotta start a band.
There has been a real steady electro beat happening around Brooklyn that's been going strong for the past three years (and well before then, too). How has this saturation of electronic-based groups impacted or informed both your sound?
A lot of the electronic bands/artists in Brooklyn were listening to music from abroad before. We were taking those influences and spinning them into our own NYC way. It's nice to see something really emerging out of that, as the outlets for this music are growing really fast now. It's really inspiring to meet so many other artists around us working on their own releases.
"Roll Out" is seriously my new spring/early summer jam. What inspired the lively vocals and that acoustic sampled percussion sounds in the production?
We set out to make electronic music but we are also musicians who like playing live instruments. So when we started finding our sound over the process of writing together, the live percussion was just a natural part of that. It's now a center piece in our sound. The vocals for this song are inspired by that driving beat.
Read the full interview feature here.

Pink Mountaintops
Pink Mountaintops got super-suburban-surrealist on us, with a look at their video for "North Hollywood Microwaves", off the upcoming April 29 slated Secretly Canadian / Jagjaguwar album, Get Back. Frontman Stephen McBean talk with us about the latest sounds from his Holy Mountain band of Steve Kille, Gregg Foreman, Will Scott, and video collaborator and featured guest rapper, Annie Hardy. All together this bunch makes a melting pot of oddities in a group that is deserved of either their own public-access-cable show or their own alternative-indie-cable network. The other day we got the chance to have a humorous conversation with the one and only Pink Mountaintops frontman, Stephen McBean.
What were your earliest memories of music interest?
Banging on pots and pans and getting primal with tennis rackets.
First favorite singles, albums?
"Detroit Rock City", "Saturday Night", "Ziggy Stardust", "God Save The Queen", "Just What I Needed", "A Day In The Life"… The list is long.
Location is big in the music of Pink Mountaintops, "Ambulance City", "North Hollywood Microwaves", etc. What role does geography factor in for your music?
It's all about where you're at. Some places are sleazier and more conducive to getting down. I love the smell of cement when it's about to crack from the heat.
Speaking of which, North Hollywood gets transformed into something ten times as wild as the North Hollywood I've grown up with. What attracts and inspires you about NoHo?
I never knew it existed until a year ago then I became transfixed. I heard Rollins lives there. The stomping grounds of the Cardamones and Hardys! Excellent soul food as well.
What are some of your favorite NoHo anecdotes, wild stories, favorite NoHo delis, etc?
Annie and Joe's stories.
Other favorite NoHo groups?
Cement Headdress.
Got to tell you, Annie Hardy really steals the show with her wild, seminal fluid obsessed rhymes, and that ADHD/seizure inducing video. How do you feel her multimedia contributions and collaboration of rhymes, and visuals enhanced the odd world of "North Hollywood Microwaves"?
It was a joy to hear it happen! One second there's silence the next there's a bear having anal sex!
Will Annie become the next member of Pink Mountaintops? Has there been talk of this happening?
Surprises are always surprising.
Read the full interview feature here.
Doss
The upcoming advent April 29 release advent of the Doss self-titled on the elegant and illustrious, Acéphale imprint has been an and upcoming story of the utmost elusive intrigues. In the past few years, there was various talk about a project called 'DOSS' that flexed a sensibility of future dance design that was in demand by a number of artists and producers alike. Numerous discussion chains, lists of international cables, and countless other sources familiar with the project seemed to confirm that a reverse engineered approach to keenly observed international dance pop methodologies was at play out of an anonymous NYC apartment studio. There may have been a few more mentions in some other international-indie pop discussion forums on vague message boards of dubious validity, and some opportune name-drops from further dispatches, but the Doss phenomenon was just about to hit.
In celebration of the upcoming release of the Doss self-titled, we give you our candid interview with Baby, indie future pop music's rising star.
What attracts you to working in the worlds of machine manipulated pop, where analog dance console are met with digital manifestations?
It wasn't really a choice, it's just what happened. I've grown up with technology, and infuse it into all aspects of my reality.
I enjoyed your remixes of Wildarms' "Full Hearts", and How To Dress Well's "& It Was U"; how do you find remixing the works of others different from your own audio constructions?
Thanks! I don't really see them as being different- for remixes I apply the same sensibility as I would my own music. The process is similar, a raw landscape that I try to fill in and make my own, then working whichever artists song into that space.
When did you first began recording your own music?
I'm a classically trained pianist, and held my first solo recital on Habbo Hotel years ago.
Your website is incredible, with it's operative futurist-Eastern Shibuya interactive platform. What was the web development like, and how do you find that it fits into your grand vision of sound, sight, and overall aesthetic?
Normally I like to do my own design, but Oval-X actually developed the website. I love their design work and believe we share a similar aesthetic. I sent them a pretty expansive mood board and it just blossomed from there.
"The Way I Feel" single from your upcoming self-titled album has not only this whole next level type of dance and Euro-every-era-house nature, but also hits on this aspect and question of feeling.
Thank you, it's interesting to hear other peoples interpretations. I'm very emotional, I'm glad that my music can evoke the same from you.
Like what is the bridge of sentiment between the artificial, the digital, the human, the individual, and the physical?
I think all are cohesive and always have been, but like a grand merge will happen sometime in the future.
It also introduced questions of singularity into the picture, where the human voice is processed through a series of effects filters, whilst singing about feelings. Was there an attempt to take this to a Philip K. Dick, Do Androids Dream of Electric Sheep? kind of level, making music that replicants and humans alike might relate to in their collective experiences?
No not really, it's just something that I sort of stumbled into doing.
Can you tell us what recording your self-titled was like?
Mostly during the night and a lot of mouse clicking with a broken computer.
Are you collabing or remixing any one else's work, or are there some remixes of your music happening as well?
I'm not currently remixing or collaborating with anyone, but I'm into any opportunities. There's a bunch of remixes of "The Way I Feel" coming out soon, though.
Can you leave us with some words of wisdom from the Doss philosophy?
You are always enough.
Read the full interview feature here.

What Fun Life Was
Oakland's What Fun Life Was Releasing their three song majesty EP, titled Stumbling Towards Purgatory, that contain some of the dreamiest Bay Area guitars, next to A Million Billion Dying Suns (of whom WFLW has played with before). Frontman Doc translates some of the bleakest deep ends that sink miles of misgivings into some of the poppiest gaze-guitars that burst to the ground above from subterranean cave wind-tunnel tombs.
After long last, we finally got a chance to catch up with WFLW's mastermind, Doc:
As an Oakland based artist, it seems like you guys have some of the Bay's heavy weights that are done with whatever-the-hell-has-been-happening with this tech-takeover of SF, and are making it happen East Bay wise. What's your report from the from the Oakland section in terms of scene, and some of your favorite artists over there?
To be honest, I'm not terribly involved in the scene. I spend most of my time either hanging out with my roommates, my girlfriend or by myself listening to music or watching Trailer Park Boys. That being said, Fronds is a really good indie pop band, which recently has featured Dylan of the Spyrals.
Sad Bitch is one of the better twee bands I've heard recently. Their singer reads all of his lyrics off of saved text messages at shows and it totally works to the benefit of the performance. Apparently, they're all unsent drunk texts. I remember the first time I saw them, somebody was projecting an image of a girl on the wall, which I found out later was saved skype footage of said girl blackout drunk after just having broken up with a longterm boyfriend, so the juxtaposition was AMAZING. (Full disclosure: I used to work with their singer, but I'm also into what they are doing)
Twin Steps is another pretty awesome band from the area. Super catchy kinda off-kilter pop, almost like a more reined in Deerhoof, in terms of the music and production.
We Are The Men are a rad kinda proggy garage band. Their drummer Danny works with me and lives down the street from me. That band is amazing live because their voices blend really nicely together and they all SHRED.
There's also Nervous, who kinda remind of some of Rob Crow's earlier bands like Heavy Vegetable or Thingy, but with a clearer punk influence, at least in terms of song-structure.
It is nuts how those who have remained in the SF scene have kept in real, such as Future Twin, The Spyrals, CCR Headcleaner, those dudes from Scraper, etc. What are your thoughts on where you see the SF indie scenes evolving in the coming months, and years?
SF Weekly did an article on this recently. It was the cover where there's a bunch of gear set up with no musicians and they list off all the bands that have left the city. The author was mainly citing the latest tech bubble as the cause if I remember right. The interesting thing about that argument is that there have been several waves of gentrification in San Francisco over the past few decades that have pushed out those who are unable to afford the ever-rising rent, which happens to include a lot of artists or otherwise creatively inclined people, but the city has managed to maintain its status as a major hub of art and culture. With this most recent tech boom it seems like it has pretty thoroughly taken San Francisco off the map for anyone without either a six-figure income or friends with rent control and an open room. How long that will last I honestly don't know because I've only been here for a few years, so I can't compare the Google bubble to the dot-com bubble of the '90s or anything before, but if this is
a lasting trend, I will be very sad to see SF turn into a playground for Lord Google and its minions at the expense of its more eccentric or artistic communities. That being said it seems like the remaining active musicians, artists, etc. are digging in as hard as they can. So I guess my outlook for the long term is fairly bleak, but I don't really feel aware enough of the complete history of the city and its history of gentrification and how that factors into our current situation to feel completely confident in that answer.
As for the short term, I like what's been happening with the relatively recent resurgence of psych and shoegaze, and it seems like that's gonna be a thing for a while longer, so I'm just trying to focus on the positive.
Okay, so take us down the road to forming What Fun Life Was. How did this drone-y, dreamy, guitar grinding band come to be?
I had those songs on the tape written for about 6 months before we started recording. Andy had wanted a lemon of an amp that I had been meaning to fix and sell forever, and offered to trade recording a couple songs for the amp. What was supposed to be 2 days of recording and mixing turned into about 16 days worth of work spread out over 5 months. Andy was and has continued to be extremely generous with his time and effort in making these records with me, as have Max Senna, Justin Divver, Manny Mireles, and Jon Yu who play in the various live incarnations of the band.
Read the full interview feature here.

The Urge
In our introduction to The Urge, Squadda and the crew rock the neighborhood with 211s pouring Grey Goose, and keeping the filth fresh and funny with the dirty-deeds jesting ode, "Dirtymann". Like the waves and archives of Green Ova tapes, Bambino keeps the crew's vibe like a family of siblings and friends that have grown up together, joking, reminiscing, pranking while raising a bottle to toast up that life. Taking turns on verse, and keeping the flow's progression varied, nasty, hilarious, spontaneous, and real, while Squadda leads push ups in cross walks, dives off dumpsters, and loitering liberally around every convenient store along the stretches of San Pablo Blvd. A song to pop an unwashed collar to, the vibe feels new, keeps you smiling, with stripped down electric funk-tech that echoes the old guards that continue to keep the Bay close from Ocean Beach in SF to Vallejo. Keep listening for more to come from the Bay's newest scraping bad boys of slap — The Urge.Under the condition of anonymity and request to keep the names confidential, we bring you our exclusive interview with and all about, The Urge:
Alright, so The Urge; how did it all first begin?
Niggas just recording.
We sat back and came up with a plan for our boredom.
Just getting back into the music part with us making the beat.
How did you all meet?
Probably passing a blunt to each other we met in rotation.
All of us met in high school in North Oakland.
Who is everyone that is involved in The Urge?
Main ones is Squadda, Dope (G), and Lo and some Rob.
A little Rob here and there on the album, we cut it down to me, Dope and Lo…Mondre [M.A.N.] on a song too, no telling who makes it by the end.
Read the full interview feature here.

Pastel
There is something striking about the new Pastel single "Sweeter Conversations". The project of Southern California's Gabriel Brenner works with rhythms and different coats of blue that pushes conversation through to the evening places and whispers from beneath the sedimentary layers of plush comforters. While much has been made in the press about the rising underground's fixations on r n' b and the new invasion of British pop stars along with with their own contributions of innovation and influence; something more substantial beneath the skin deep trend-watching is at work. New artists that are tuned into deeper (and maybe even higher) frequencies like Brenner are naturally looking to create the sound of human contact that creates a sensation of real-life apart from the constant interferences of digital and mobile interfaces. Similar to that bedrock of nude sounds featured on Duncan Cooper's Naked Music mix, Brenner let's every bit of the song's aura melt into the sweet nothings where sung whispers and the production simulate a dialogue of human interaction. We had the pleasure of continuing our conversations with Pastel's Gabriel Brenner.
What was the way you convey sweet sensations into the the slow-simmer of, "Sweeter Conversations"?
I wanted to go for something that sounded very physical and warm, particularly in the way I sang. I chose to sing breathier than usual and I stayed in my lower range, for the most part; I wanted to sound inviting but distant enough to make the listener want to lean in and pay close attention to the way I'm speaking to them. And it really is more like gentle speaking, rather than full on singing. When my friend Leny was recording the sax part, too, I told her to ease and lean into it. I really wanted the listener to get a sense of bodily movement throughout.
How is the best way to express empathy through the electronic tinged arts of music?
Well, for me, at least, I don't like choosing sounds that are too inhuman or lack a soul. It's difficult to define what I mean by 'soul,' though, since sound isn't really a sentient being with a personality, you know? I guess you just know it when you hear it. If it sounds like it isn't a living, breathing thing, I tend to shy away from it. But I feel that a lot of empathy in electronic music, too, comes from song structure, because you can hear very human, artistic choices in every placement of a sound. For example, when you listen to someone like Burial, I love how you can hear meticulous choices in the details of each beat that sound like they've been handled by a human being, and the inclusion of vocal samples quite literally adds a lot of humanity to his music.
What are some of your favorite vintage slow-jams and r n' b classics that you find yourself returning to?
I don't think this technically counts as a 'slow' jam, but there was a time period last year where I listened to Debbie Deb's "Lookout Weekend" on repeat for about two weeks. It's a song that's likely been a part of my life since I was in the womb, but it's really struck a chord with me recently. It's definitely a song I can listen to thousands of times without getting tired of it. Patrice Rushen's "Forget Me Nots" too is another certified Pastel jam, and listening to it now, I think you can easily hear the influence of it in "Sweeter Conversations". But nothing has stuck with me more than Aretha Franklin's rendition of "Young, Gifted, and Black" and Otis Redding's rendition of "A Change is Gonna Come". When you understand the cultural context of both of the songs, it's difficult to not be deeply emotionally affected by both. The vocal performances in them are jaw-droppingly heartfelt.
Read the full interview feature here.

DLRN
We saw this coming for miles down the I-80 stretch, where out of Sacramento rolls the duo of vocalist Sean LaMarr and production maestro Jon Reyes who make up DLRN. Their Neon Noir EP is available now from Waaga Records, helping to further usher the Sacramento renaissance by painting up the downtown like a neon city of emeralds.We recently caught up with DLRN after Sean guested on Stevie Nader's "MF Dream", talked about making the song's music video, their upcoming Neon Noir EP, and the rise of the Sacramento undergrounds.
Loved the catacomb like urban locales that you all chose for this video, tell us about making this video with Stevie Nader and Sami Abdou.
Sean: Stevie and Sami are family. I've known them both since we were in high school. It seems like we all have been grinding so hard at our crafts that working together just came naturally. They are two of a very small group of people that I trust with my art & vision. We don't really ask too much of each other. We just show up and go to work, ha, ha. We shot that whole thing in one night, and got kicked out of a couple locations too.
How did you both meet and form the DLRN vehicle?
Sean: Jon and I met around the same time actually.
Jon: We were part of this art collective that included everything dancers, poets, to graffiti artists. The collective wasn't a formal organization or anything, but really just a group of really creative folks that would meet up to session and workshop with one other. It was a precursor to Sean later forming a hip hop crew called the Neighborhood Watch, which was similar but more focused on developing and nurturing the hip hop scene in Sacramento.
How would you both describe the restrained art of your meticulous electronic, restrained ambiance, rhythm and blues, met with sung and spoken proverbs?
Jon: At the end of the day we're set to make good, honest, music. There's such a wide spectrum of art that we draw inspiration from, that it's tough to nail the right adjectives as to what we do. It's a headache for the people that try to market our music ha,ha,, but hopefully the listener 'gets it' once the beat drops.
Sean: I get lost trying to create tag lines for us, ha,ha. We try our best to create music that speaks to hip hop fans, and then music fans in general. It's emotional, it's real life, it's blue collar with a bit of luxe. It's hip hop with some heavy-ass synths.
Like in "MF Dream", what are your thoughts on the future of both your music, in the young and gifted Sacramento underground uprise?
Sean: It's just going to keep getting stronger. The city is starting to really love and support its artists, and I imagine that will lead to more places/spaces to create and better platforms for sharing those creations. As for us we are trying our damnedest to make this project the one that let's us take our vision of Sacramento to a lot more of the world.
Thoughts on Sacramento's proliferation of recent?
Sean: From Lee Bannon to Death Grips, Andy Allo, David Garibaldi, Sister Crayon, Chelsea Wolfe, and so many other great acts and artists it seems like this city is going through an art movement right now. It's crazy to be here. I've been here for so long it seems normal, but when you really look at some of the things coming out of this city its hard to imagine the same things happening elsewhere. It's really a diverse group of artists and creatives…most of which, now thinking about it aren't really here any more including Jon. Ha, ha.
Jon: Yeah, I made the move out to San Francisco a few years ago for a change of scenery. The cool thing about Sacramento is the creative community in this city allows you to experiment and set trends. That's why with those artists Sean named, a lot are more left of center, progressive types in their respective fields. At the same time, there's so much talent in Sacramento that the goalposts for some artists don't move beyond the city borders — which is fine from a purely creative standpoint, but doesn't do much to help the city's identity or reputation outside of the Midtown grid. Most folks are probably okay with that though.
Read the full interview feature here.

Napolian
Napolian's debut album Incursio, for Software Recordings, flashed on our radar in a discussion around the time of the Airbird collaboration, "In the Zone". Having previously released the Rejoice EP for Software, Napolian, the alias of LA's Ian Evans, is the producer and collaborator of tomorrow's rising artists, with affiliations in The Renaissance Music Group, Dro Carey, Tariq and Garfield. With Incursio years in the making, Ian steps into his own spotlight with more of those loud drum-punched notes ingrained within a bold and authoritative mix. Though many have pointed that Evans is an alumnus of Taft High School that also counts former students such as Ice Cube, and Eazy-E—Napolian stands as his own autonomous one man crew blessed with an adept collaborative set of skills and abilities.We had the pleasure and privilege to get a look inside the making of Incursio (and hints of upcoming collaborations with Airbird), with Napolian himself.
"Darpa" is a single that shows why you shine as a producer, going big, keeping the sound deep. What method were you rolling with in the production of this track?
On "DARPA" I went with the usual, programming in Apple Logic 9. Nothing major actually, I started with a drum step-sequencer to get the main loop going—what I call the robot assembly-line—then filled it out with big drum samples and a popular 'trance' synth plugin.
How do you feel your work with Joel Ford in the Airbird & Napolian collaboration impacted, or affected how you look at creating music?
Oh man, Joel showed me first hand it's not always about 808s and subs! Gotta get that jazz bass thumping in there sometimes for a huge, grown man sound. I was blown away by his bass lines back when we were in Brooklyn writing "In The Zone". More A&N coming soon, that I promise.
What was the mapping-out like of making and organizing what would later become, Incursio?
It took me a while to really dial in this album. A few tracks were tossed out by my boss Dan Lopatin, a few track I tossed out myself, then as time when on key songs were made that helped the album really take shape. I remember writing the title track "Incursio" and it all just clicking at once. I immediately knew what I needed to do to bring it home. Time ended up working with me this go-round. Bottom line, you can ruin the cookies if you take them out the oven too soon!
Having worked with A$AP Ferg and Kelela, how do you find your own approaches shift and adapt when you work with artists versus when it's just you writing and recording for yourself?
When I'm working with an artist I have to really put my game-face on! Man. You can't be selfish, you have to put yourself in their shoes and deliver something that will make them happy while also staying true to yourself. I try to be the best Napolian I can be, it's kinda like when you go visit distant family members, you're on your P's and Q's every step of the way. You just cannot let them see you SWEAT.
Read the full interview feature here.

Caroline Says
From Austin, TX, meet Caroline Sallee, frontwoman of Caroline Says, who released 50,000,000 Elvis Fans Can't Be Wrong on cassette through Happenin Records and Noumenal Loom Records. The partnership between the two imprints began with the co-release of the Plains' Stone Cold album, the latest collaboration bringing an Austin heart larger than Texas, and bliss chords of dream pop drenched songs for insomniac. Sallee joined up with us in the following interview.
When I hear your name, immediately I think of the Velvet Underground song. What, for you, does the song "Caroline Says" inspire?
It's more of an homage to Lou Reed and the Velvet Underground than the song itself, because "Caroline Says" is definitely not my favorite Lou Reed song. My favorite Lou Reed song is probably "Street Hassle". My first name is Caroline, and that had a part in why I ended up choosing to call myself Caroline Says and why Street Hassle was never considered for my name.
How did it become the band name?
Welp, it's probably a much more simple and boring answer than you were expecting. As you know already, my name is Caroline, and I like the Velvet Underground a lot. I was trying to think of a moniker or band name I felt comfortable with, and I knew I didn't want to use my real name which is Caroline Sallee, mainly because no one can pronounce my last name correctly. I was talking with some friends one night about good band names and Caroline Says was suggested to me. And Caroline Says was what I ended up going with.
I always loved all the Lou songs that go through a litany of loves and closing with the suffix of "says". Will Caroline Says ever go about and begin writing a series of songs that end with "Says", or would that be too fanatic or cliche?
Probably not. I mean, I'm not saying I will never write a song with "Says" at the end of the title, but most likely, if I do, it won't be a conscious decision. But maybe I will now that I'm thinking more about it.
My favorite "Says" song is "Stephanie Says".
Read the full interview feature here.

Le Rug
Brooklyn's Le Rug occupies a similar space in my heart, next to the record shelves where I store the Goner Records catalog. Frontman Ray Weiss packs a ferocious energy that is barely indicative of any particular place, let alone vessel of containment. For those late to the Le Rug party, Fleeting Youth Records gave us five of Weiss and the band's past releases on the omnibus, Press Start (The Collection). After all these years, we give you an up close, and personal interview with Le Rug's own, Ray Weiss.
What prompted you to compile your old school stuff like, Sex Reduction Flower, Party Rock, Sticky Buns, with the recent Dead In A Hole EP, Cut Off Your Dick And Turn Into Slime as, Press Start (The Collection)?
When I first started playing no one gave a shit, but now that I've run into people who tell me that Le Rug influenced them to start bands it sort of became important to me. More so I'm flattered that people see some intrinsic value in the tracks. They meant the world to me for a long time and it's nice to see people interested. For those people, I wanted to give them a taste of the old and new material.
Thoughts on the Brooklyn from way back when, back when you guys first started messing things up?
Things that were going on back then were personal and between friends. If you grew up in New York and had nothing to do on a Tuesday, you'd be there working a show, having drinks with everyone, etc. It was also more about getting filthy wasted. We used to take psychedelics before shows along with tons of other drugs. Eventually my body couldn't keep up.
Thoughts on the Brooklyn of these days?
I'd rather not.
Favorite old school memories when Le Rug first started?
On our first tour we tried to get some weed from a Computer Science major friend of mine in Michigan; we were staying at a straight edge punk house, I called my friend, and he came through with a dub. Five minutes later a skinhead chased me and the band out of the house saying shit like, 'I have your phones tapped!' and threatening to cause us bodily harm. We ran away.
What is your definition of what the perfect rock and roll Le Rug song?
Existential dread.
What else is Le Rug working on ?
Doing a full length called My Own Worst Anime, which I hope to release around the time I move to Thailand. Possibly before.
Read the full interview feature here.
Doubleplusgood
DoublePlusGood hits all the bright and fancy buttons and switches of pure stylistic expression. Erik Carlson leads us through the thrill of the chase and the fallout of unmet, unrequited love and immediate loss games played by the rules of attraction. The ones left behind—the get togethers and the un-togethers—are crushed in the same wine press where waning interests entertain distractions and the subsequent crash of broken hearts. Erik Carlson of DoublePlusGood and SoHiTek Records took the time to chat with us about the imprint, music and more.
We'll get to this awesome single, "Sometimes", in a moment but I want to hear about how SoHiTek first got started.
SoHiTek got established in 2008 after I moved to Portland from Eugene. I've always liked getting to see inside other peoples creative process, and the idea of a label kept resonating with me. I started approaching bands and in 2009 put out the first Hosannas record. In 2011, I moved into the Everett Station Lofts and had an art gallery/performance space as well. Since then I've had the honor of working with so many other talented artists in Portland. Being able to experience the trip from concept to execution with so many people is such a thrill.
What are your thoughts on not just the state of the DIY scene but all the kinds of independent, new, electronic music that you have been a steward of?
I love how expanded the vocabulary for electronic music in the DIY music world has become. A decade ago I don't remember music listeners having any way to describe electronic music. It either was or wasn't "dance" music. Now I feel like the fact that even casual music listeners now have added words, like "ambient" or "acid" or "glitch" to the palette, which is a testament to how much ground electronic music has gained.
How did and when did you first start the DoublePlusGood project?
DoublePlusGood started in 2004 in Eugene. It was originally just myself and a few different drum machines-samplers. First show I played was with a couple folk acts in Eugene. There wasn't much else going on for synth-related music, at least locally. I was terrible at guitar and it was kinda fun to be one of the few acts around with a synth. It's gone through a few incarnations since then but currently we're enjoying life as a three-piece with Jason Andersen on synth and Jared Anderson on guitar.
"Sometimes" is a devastator in some unusual ways. First, you have this electronic shining-brand-new-80s-sports-car production and then that "you were always telling me we're better alone" refrain that is repeated at the end. What is the story behind this song? What inspired it?
"Sometimes" is the story of a being at arms length in sort of a casual relationship, where one person always thinks there's more potential and the other always has one foot out the door. I've always been attracted to that brand of song where the production is bright and bombastic but the lyrical sentiment is melancholy. I feel like it most accurately illustrates that unfulfilled part of romance, the attraction to the daydream and the chase; you are equal parts happy and excited and also sort of devastated. I'm a bit of an old fashioned die-hard romantic and I always kinda get these big-time crushes and that's sort of what inspired the song.
Read the full interview feature here.

Painted Zeroes
We were rocking the single "Jaime" from Brooklyn's Painted Zeroes, which tested the durability of our hearing by carving their sound's trademark insignia directly into our torn ear drums. With their Svalbard EP available from Black Bell Records, the riot rages on as Katie Lau gave us the exclusive lowdown on "Jaime", their upcoming album, the Svalbard EP, and more.
The idea for Svalbard, both the name and the collection of songs that make up the EP, came during a bad bout of insomnia a few months ago. I was lying in bed unable to sleep at six in the morning, feeling trapped and unhappy and wanting to be anywhere but Brooklyn. One of my escapist hobbies is exploring the world via Google Earth, imagining all the different places I could be and different lives I could lead. I found Svalbard that night and was fascinated by its extreme and distinctive landscape, tiny population and relative isolation. I also discovered that Svalbard is the location of the infamous "Doomsday" Seed Vault, a politically problematic seed tomb funded by GMO agribusiness that purports to be a safeguard against the threat of global apocalypse. Svalbard is in every respect beautiful and fascinating and terrifying and embodied the kind of dream world and alternate space that I think music has the potential of making too—inspiring moods and feelings and different worlds that you enter when you make the decision to leave (or alter) whatever physical space you are in through a sonic landscape.
Read the full interview feature here.
Desert Sharks
Desert Sharks crashed our party with the "I Know What I Want" single discussion, followed by more discussions and a mixtape. They joined up with us again with more conversation pieces and a listen to "crazycrazy". Taken from their Template Hair EP for Manimal, Stephanie Gunther, Stefania Rovera, Rebecca Rose, and Sunny Veniero return on a rampage that crashes the crazy talk for some real closed fist dialogues of retribution.
Give us all the behind-the-music gossip about recording your upcoming Template Hair EP with Mike Poorman and Jim Keaney at Devotion Recordings in Everett, Massachusetts.
Mike Poorman is a bastard! Just kidding. He's a good friend of ours and we love him. We actually recorded our first EP with him a few years ago so we're beyond thrilled to have the opportunity to work with him and Jim on this new EP. We went to Jim's studio in Everett, MA in the middle of February. It was freezing and the only bathroom was outdoors. You'd have to psyche yourself up and put on layers and literally run. The studio is hidden in this tiny warehouse area and there's a brewery next door, which proved fruitful for inspiration. Jim and Mike have genius musical ears, honestly. We spent the first day setting up tones and tuning the drums. They'd be talking back and forth about the tiniest adjustments and it would change everything. We were so happy with the results. We tracked all the instruments live and then I did vocals separately.
Besides forming this very band, can you tell us the best Craigslist stories that you have heard lately?
Craigslist can be a scary place. We really lucked out that none of us were too insane. Have you heard that story about the girl who was dog-sitting for a family she met on Craigslist and the dog unexpectedly died? She called them and they asked her to take him to the vet to be cremated but she didn't have money for a cab so she put this giant dog in a duffel bag and took the subway. When she was trying to climb the steps out of the subway to the street, a man saw her struggling with the bag and asked her if she needed help. She said sure and as he's helping her lift this heavy bag he said what's in here anyway? She started to panic because she didn't want to tell him it was a dead dog so she lied and said stereo equipment. Then the man punched her in the face and ran off with the bag! Can you imagine when he opened the bag and saw what really was inside? So crazy. That's probably just an urban legend.
"crazycrazy" is an infectious, and very precise single of anarchy and well-leveled dose of lunacy. What sorts of states of mind contributed to this two and a half minute wonder?
I wrote the lyrics from Stefania's point of view after a lover called her crazy. It's such a dismissive word often used toward women, it's this ultimate shutdown. If someone calls you crazy, and you try to argue against it, they'll say "See? You're being crazy right now!" We decided to have fun with it and amp it up a notch. Oh you think I'm crazy? I'm double that. I'm "crazycrazy".
Read the full interview feature here.
Guantanamo Baywatch

Photographed at Death By Audio by Jeanette D. Moses.
Last year when the Guantanamo Baywatch/Natural Child split, Surf N Turf came out fromSuicide Squeeze, we were the first to bring you the Natural's "Don't Wake the Baby", and now join us for our latest interview with GB's Jason and Chris.
Working with Dan Shaw, Shannon Shaw of Shannon and the Clams brother got me thinking of the creative correlations between Guantanamo Baywatch and 'The Clams. I was wondering if you all traded some sonic sound secrets with both Shannon, Cody and company to get those perfect glowing guitar cadences?
Jason: The Clams are our homies for sure. I've known Shannon and Ian—the old drummer—from college before either of our bands were around. Cody's our snuggle snake and a couple times we played back up for King Lollipop. He followed me all the way to Washington once just to spy on me at antique stores. We met Dan four years ago at the Santa Cruz beach boardwalk when he was filming the "Hunk Hunt" video. After seeing the way it turned out, that's the only person I wanted to make our video. I love that big bad voodoo daddy.
We caught the rumor about you all recording a new record at Living Room Recording with the epic Ed Rawls. What sketch previews can you share, or any hints at what we should expect from this forthcoming, Suicide Squeeze album?
Jason: We've been in the basement drinking wine and Pepsi with ice writing songs. So I guess imagine a surf rock, honky tonk cha-cha record fueled by wine and Pepsi and ice. It's going to be weird and fun.
What was recording your last disc like for Dirtnap, what did you all learn, and what experiences are you taking away and possibly putting into the pudding for you upcoming album for Suicide Squeeze?
Jason: For Chest Crawl, I dropped a shit ton of money on recording stuff that I didn't know how to use and then spent the next three months trying to figure out why I did that. We recorded everything ourselves and mixed it ourselves in my bedroom, and then last minute realized that it sounded like shit, so we took it to a guy to mix it who made it sound less shitty. For this one I'm not doing that. For this one I'm going to use a good mic so you can actually hear what I'm saying and hopefully, you know, make it sound good.
How do you describe the various aspects that comprise the Guantanamo Baywatch songwriting and recording process?
Jason: For writing, I get up in the morning and walk to get coffee. I start thinking of a little diddy. I get coffee and as I'm walking home I'll sing the song into my phone. My phone dies half way home so I run home trying to remember what I was singing but of course I forget it. I then spend the rest of the day writing another song that isn't as good as the song I was thinking about.
I have always felt that GB has a timeless sound suited for almost any era. Do you all ever take things like anachronistic variables into consideration when making music, like consciously or unconsciously striving for that crisp, modern sound?
Jason: Wait, what?
What all have you all been listening to lately, and which artists and groups do you all feel deserve to get more attention, and spins on the ol' direct drive platters?
Chris: Oh man, we got the chance to watch and play with some of our favorite bands this year including Natural Child who have an amazing new LP out on Burger. After this past SxSW our new fave live band would have to be Liquor Store (from Jersey), I think we saw them play like three times that week. Their newest record is HOT!
Read the full interview feature here.

Susan
Meet LA's power pop trio Susan, consisting of Jessica Owen, Beth Borwell, and Katie Fern. There is talk of their five song cassette coming later from Burger Records, with their single, "Just Call It", available as their debut 7″ release from Volar Records. Beth you may remember from Cowabunga Babes and her Going Nowhere album (also from Volar), continues to make catchy DIY with her friends Jessica and Katie. The three contribute real talk and real power chord rock to LA's newest current of independent creative minds, cutting their teeth and wax with a radical force to be reckoned with, made to be heard at the loudest volumes imaginable. Beth, Katie, and Jess joined us for the following interview:
How did Susan first form, and which pop songs do you all feel bonded you all together?
Jess: I remember meeting through our friend Cassandra at a show, and the first thing Beth said to me was, 'you play guitar?' When they invited me to go dancing at a bar downtown, Katie did a full body slide across the dance floor and I was like, 'I gotta be friends with these girls.' One of my favorite memories from that summer was when we spent an extra hour driving the longest way home possible because we were waiting for "Can't Hardly Wait" to play on this mixtape. When it finally came on we pulled over, got out of the car, and danced on the side of the road in the middle of the night with all the car doors open. It took awhile before we actually started playing music together, but by then, I already thought they were the best girls on the planet. I think music has always been a big part of our friendship.
Beth: After we bagged Jessica we pretty much spent the entire summer bumming around LA together with Cassandra, bonding over bands like The Replacements, The Only Ones, Pale Saints, The Bats and C86 classics such as The Siddeleys and The Shop Assistants. Throw a little GG Allin in the mix and you pretty much have the soundtrack for the first summer of Susan.
Katie: Yeah, Beth and I were just a lonely rhythm section in my garage until we met Jess. Also, an important side note, our friend Cassandra directed, shot, and edited our music video for "Just Call It", she's super talented and partially responsible for Susan existing at all!
By banding under the name Susan, why no surname to go with?
Beth: Haha, well Susan is kind of like Prince, only one name required.
What were the sessions of recording power pop gems, "Just Call It", "Frenchy" and "Pancake", like?
Jess: We got really lucky and our super talented friend, Drew Fischer, recorded us at his house. He's so good! He made us sound exactly how we sounded in our heads.
Beth: Drew is the best! After recording for something like seven hours, we were starting to feel run down. Drew totally picked up on it and encouraged us by telling us to mix up the lighting, have a drink and try again. I think his exact words were, 'y'all need to get wasted.'
Katie: Well I was having an allergy attack… shout out to Eleanor, Drew's cat, she is so adorable! For real though, recording was great! It's always refreshing to work with people and feel like everyone is really on the same page. We are all stoked on how the songs came out and are looking forward to recording again. We want to keep pushing ourselves and developing sonically.
I like how "Just Call It' calls out all the wishy-washy folks that are ambivalent on matters. Is Susan here to break down the walls of apathy?
Beth: Well, I dunno, maybe something like that… or maybe not? Sigh. Who cares.
Katie: What she said…
Read the full interview feature here.

Stickers
Seattle's Stickers have been gaining the attention and adoration the Northwest's indie denizens, signing with End of Time Records, and releasing their much-anticipated debut album, Swollen. These future legends are bringing together their batch of recordings from Crybaby Studios, where Gabi Page-Fort and the gang take you as their captive, leaving you bruised up, blown up, broken down, and still smiling. Stickers are the ultimate love letter to the Seattle scenes right now. They embody the DIY ethos—the anti-rock, the anti-pop, the anti-commercialism, and the free play of ideas and attitudes in their clanging, churning, clamor-school of cool.   Gabi talked with us briefly about Stickers, Seattle, and more.
What was the story of flipping back the 2014 dial to 1994 in the Colin Dawson video for "Outlet"?
It looks like Cobra's imagination. (Cobra = Colin Dawson)
PS: Did you notice how there are colors in this video you've never seen before, not even in the hypercolor 90s?
There are lots of eyes in this video, was this like plugging into some kind of psychic, third eye….outlet?
Yes!
PS: see also the lyric sheet for further exegesis…the outlets are loose and there's energy flowing wild.
How did Stickers form?
Stickers are the product of moms and dads mating. Then there was meeting, and instrument trying, and basements, and the SHRED. The rest is ancient history.
What is the semiotic story of the name?
We don't remember. But my dad [Gabi's dad] says everybody likes stickers.
Tell us about recording your upcoming album, Swollen, one of 2014's most anticipated discs?
Recording happened, there was mixing, it was weird, it took time, and we are very very excited to see it out on fleshy vinyl. There was a Terminator 2 mixing board involved, which we terminated through the power of our shred. RIP T2. The record's gestation period helped inspire its name.
Read the full interview feature here.

Proudest Ever
Proudest Ever; the band formerly known as Ferns whose relentless DIY spirit has graced our pages over time, along with side and splinter projects like Wild Decade. Premiering the lead opening single, "Can I Say", from their Deals EP, singer Kelly Jackson presents some of the most realized work from the group amid the transitions and evolution of their moniker. Now a tentative three piece, Kelly is joined by Brandon Starniri and Phil Maves (also of Wild Decade) to present the pride that is felt through the genuine tenets of friendship. Lead singer Kelly Jackson talked to us about the road from from Ferns, to Proudest Ever, recording Deals, and much more.
Tell us what prompted the evolution from Ferns, to trio Proudest Ever.
The four people in Ferns had plenty of songwriting ideas as a group, but there were different philosophies between us about performance, rehearsals, and preparation. All four people from Ferns contributed to the writing of the Deals EP, but we realized Ferns had nowhere left to go, so that's why it's being released as Proudest Ever, as we parted ways with our guitarist. I should add that if you've seen anything posted by Ferns since around late March, those opinions and that particular tone are not coming from Phil, Brandon, or me.
Is this a way of being an even prouder vision of sound and pride than you all have ever exhibited?
"Proudest Ever" came from a funny expression Brandon and a friend of his used to denote an individual being themselves in a big way, kind of an amped up version of themselves. I think our style is very genuine and direct so the name definitely fit for me.
"Can I Say" is a great conversation starter pop song that really pushes some of the perceptual buttons and thoughts on roles, identity and more. What sort of ideas and concepts from post-gender impressions were you all drawing from for this single?
I could probably write an entire article on all the experiences I've had and observed that led to the inspiration for this song. For me, the writing is mainly inspired by a friendship in my life, thinking back to when I first moved to New York years ago and met him. Our friendship is really raw and loving and full of inappropriate laughs. We're always exploring where being true to who you are (or who you could be) can take you. I think a lot of people can relate to that.
Read the full interview feature here.

Lemonade
(Lemonade's Callan Clendenin, Ben Steidel and Alex Pasternak kick it roof-side, photographed by Shane McCauley)
Brooklyn's Lemonade just made a cameo in our debut of Cascine's So Goddamn Guilty Summer Mix after having introduced us just the other week to their own cool steps with the single "Stepping", off the album, Minus Tide for Cascine. Today we got the inside story from the trio of Callan Clendenin, Ben Steidel and Alex Pasternak. The San Francisco-by-Brooklyn group absorbs the cutting edge climates between the Bay and NYC for an undertow that pulls the listener into the free fall of synths that drop like digital marbles hitting the harp strings for infinity. "Stepping" provides a rhythmic motion that embraces the uncertainty of travels into new territories and creates a coalescence between the physical and binary universes. Join us now for our exclusive interview with Lemonade.
What bonded the two of you under the umbrella of Lemonade?
In 2005, perhaps as a result of the internet, the path of music was feeling really wide open, like the rules were being erased. I think San Francisco was really needing a band to embody that, and I think we all felt we needed to be it. It was really just an outrageously optimistic moment that we got swept up in, so we played a mostly improvised show a couple of weeks after our first practice.
You all must be pretty jazzed on your July excursions on the Cascine & Friends Tour, bouncing to LA July 10, NY July 12, then Toronto July 19. Joining up with select groups from the 100%, Ghostly, and Arbutus rosters, what sounds, and potential collaborations are you all hoping for?
All of this is new for us. Aside from a couple of people these will all be new faces. We expect it will be a really fresh and exciting experience.
Let's talk about "Stepping"; how do you intertwine the various dimensions and flutters of key sequences? It creates the feeling of swimming through a sugary soft drink or something.
The song came together really quickly, not too sure exactly what we were doing when we made it, but I do recall all of us agreeing to keep it really simple and not add too much. It's only a few synth patches, samples, and a pretty limited set of drums, then we sort of washed it together and spread it out dynamically, but very little changed since the first session.
The electronic scenes use the term "step" quite a bit, is this in any way a kind of allusion to the electronic art of rhythmic arrangement/placement ?
No, I don't think that it is actually. It probably comes from reggae drumming that has a really straight kick, known as a "stepper" rhythm. I don't know if I had meant to reference that at first, but the song does have a tiny bit of a dancehall element rhythmically so it could work as a reference. Stepping is just the movement with the feet, the dance even, and I like the idea of walking on uncertain ground. I actually don't like to think of it in terms of computer arrangement because then I see Ableton blocks and it feels too technical.
Read the full interview feature here.

Chuck Bass
One of the freshest faces on the East Coast, New Jersey's Chuck Bass premiered his first single off the upcoming Paper Plates EP with the hedonistic luxury lean on "Model Mayhem". Generating intrigue from producers like Swizz Beatz, Chuck has been flying around the European circuits from Amsterdam, Italy, Paris, Spain, and the UK, releasing his debut with the Cool Life EP last year; Bass sports that Brooklyn cool while still repping the Jersey life. Through a unique NJ tempo, Chuck checks a sound that brings the coasts closer together, keeping the mood celebratory, the beats slapping, and paving the way for new up-and-coming gentry of emcees and producers. He joins us following the debut to talk Jersey, coming up with influences from a Jamaican ex-pat patriarch, hopes for the new schools, new crews, and more.
Considering your grandfather's influence as a reggae artist, how did that affect your earliest creations, and how have those bountiful catalogs of deep roots, dub plates, reggae, and dancehall  impact your own musical consciousness?
My grandfather definitely set the foundation musically for me at an early age. The sounds in his music were always smooth and catchy, especially in his choruses. You see, reggae music gives you a melodic vibe no matter how hard or soft the song is and I took that part with me. The chorus is so important in a song, I got that from him and reggae music as a whole. I give the audience a rhythm to connect to. Once I mastered the art in creating hooks I was able to create songs which in turn became cool music.
In choosing the moniker Chuck Bass, was it in anyway an homage to Rob Base?
The alias Chuck Bass was given to me by a close friend in my camp. It stems from the character in the show called Gossip Girl. A fashion-based show that concentrated on the high society lifestyle of this character from the lower and upper east side of Manhattan. The character's cool life style and fashion sense coincide with the life I live and express in my music. So they consider me the real life Chuck Bass. It stuck ever since. But Rob Base? No, but I do have some Rob Base hits in my catalogue.
How have both NYC and NJ informed your various tastes of that East Coast core of collectives, producers, emcees, and so on?
I'm blessed to say that I have the best of both worlds in Brooklyn and New Jersey. Brooklyn gave me Cool and Jersey gave me Life. The two completely different cities gave me a more cultured background. I got a variety of sounds from both places which I fused together. It allowed me to be versatile and left me without a home to place my music. As a result my sound can be appreciated by people of many backgrounds across the states and seas.
Have you and Swizz talked about anything collaborative in the pipeline?
No it didn't get that far. I met Swizz a while back when I started taking music serious. Long story short, I got the opportunity to meet him in Sony studios. I spit some flows for him in the studio and he was feeling my energy and what I brought that night. It was a monumental moment in my musical journey. He told the people I was down with at the time that they had something in me, which gave me the confidence and the belief that I belong here.
How had the experience of recording Cool Life with Emanny help springboard the creative conversation further?
I connected with Emanny through a friend who engineered the entire Cool Life project. Shout out to Parks by the way. I recorded the song about a month before it was sent over to Emanny and he liked it and added exactly what it needed to become a dope song. It's called "Art Of Love", check it out if you didn't already.
Like on the debut of "Model Mayhem", the production is pushing both the East and West Coasts together, like the slap on "Model Mayhem" sounds at home next to a fresh HBK gang / Iamsu! cut. What was your vision for the production and flow of this hook heavy diamond of glamor and glitz?
Iamsu! is dope! The production is crazy! I made this song honestly for NJ. When I say I made it for New Jersey I mean the tempo. I wanted a house music feel to this record. Something really fast and out of control with a high BPM.. like Mayhem. New Jersey came from House music, its in the people's DNA and a lot of people don't even know it. I went into this song wanting to give Jersey a sound. Something they can call their own. If you feel like I gave off a East and West Coast vibe then my task is completed because it shows versatility. And I'm here to speak to the world but must first capture the nation. I changed up the flow on the second verse to express the rebellious attitude that we possess. With this record I wanted the people to have fun, dance and celebrate the models and the new change in music.
Read the full interview feature here.
Blanche Has Friends
Almost a year ago we brought you the title track, "Waking Up To The Fire" from Drop Electric, and today we introduce you to the new project from vocalist-visionary Kristina Reznikov called Blanche Has Friends. On "Tiny, Biting, Festering, Nervous Tic", Kristina goes for a nature-witch VHS style video directed by Christopher Michael Beer with production courtesy of Tina Henry, Jeremiah, LaRoche, and Benjamin Wilson. Taken from EP1, song was initially an unused by Drop Electric remain close to Reznikov's heart, told in sonic whispers like intimate affections reserved for afternoon congregations and crypto-gatherings. Illustrated in the occultic visual art house suspense thriller told through video tape, "Tiny, Biting, Festering, Nervous Tic" adds an undercurrent of pagan rituals of the strange, sordid, surreal, and yet glamorous. We caught up with Kristina Reznikov to find out all about Blanche Has Friends.
Where did the inspiration for the name Blanche Has Friends come from?
I've always been obsessed with the name Blanche, for nothing is fancier. When I was in school it was always 'Blanche S., Blanche C. quit your yapping!' and now there are even a few bands with Blanches in them, including the alt-country band "Blanche" out of Detroit. This would make me impossible to find on the internet, as Blanche. My darling girlfriend (real name Trudy, pen name "Genessey") thought up the "Has Friends" part. She is a genius, and I expect to make her join me in some future projects. Anyway, I do believe Blanche Has Friends. I also believe entertaining one's friends is necessary.
How has your experience from Drop Electric amplified and informed BHF, and subsequent recordings, and approach to song-craft?
We've all had songs or parts of songs that we've written that have been cut from DE releases (by band delegation). BHF is my side project made for releasing some of my old tracks. Some of my tracks with BHF collection EP 1 might be a bit raw as they originally came from my draft library; but I think that makes Blanche Has Friends kind of personal. Like, 'I'm breathing in your ear" kind of personal.
What was the process like making the video for "Tiny, Biting, Festering, Nervous Tic", with Christopher Michael Beer?
Christopher Michael Beer is an evil and beautiful genius. I met him in NYC over a year ago, and he then directed the "Blue Dream" and "Lucille" videos for Drop Electric. Christopher has been really supportive of me in general, and of Drop Electric. He messaged me about creating a video for "Nervous Tic" and I was really excited. We are friends and I knew he'd make something great for me. He did all of the work over there in NYC. We both wanted it to be about witches. He wrote the plot, hired the four wonderful actresses, and developed all the VHS tape effects that give the video that Blair Witch type of feel. I told him I actually relate to the plot because I've been burned by witches. That would never happen to Blanche or Trudy, though. They don't play dangerous games.
Read the full interview feature here.

Liz Hogg
Brooklyn's rising star of guitar, Liz Hogg, recently debuted her video for "Drifters" from her band Beach Arabs and dropped her quick-picking solo song "Ridge", recorded partially at home and at a Converse Rubber Tracks session. Liz utilizes the leverage of the studio and the home made touches to provide a catapult attack of guitars that strum out a litany of notes, springing from channel to channel, section to section, and station to station. The edge that "Ridge" walks takes the soft sung inner thoughts of "I want to shave my head" make-over fantasy (o.g. Britney Spears stylee) into a self-conducted take on roping together as many different styles, speeds, and tones into a two minute odyssey. As a denizen of NYC's DIY community, and cultural contributor, Liz provides a listen to what she described to us as a variety of directions that might appear on an upcoming solo album. So with a tour happening this month, more tape pressings of Beach Arabs' Wild Movement; Liz took the time to share an in-depth conversation on her sound, snubbing irony in the name of genuine sincerity, and more.
How has Queens College's Aaron Copland School of Music affected your own solo music and contributions to Beach Arabs?
Discovering and analyzing a lot of different classical pieces in school has definitely increased my sensitivity to the form, organization, and structure, as well as texture, layering and details of my own music—overall expanding and making more flexible my ideas on how any song I write should be organized. The whole is the most important thing, and there is never ever a formulaic way to go about achieving that ideal whole; no matter how many traditional structures abound to be used as building blocks, it tends to be the biggest deviations from said systems that people react most strongly to. Coming across and getting to know the multiple ways people have organized pieces of all sorts over hundreds of years was liberating in the way I perceived my own way of going about writing. In short, school has "expanded my horizons." Beach Arabs' second album, Wild Movement, was written scattered from age 14-18 before I was really immersed in school, but I think the better tracks were written later, perhaps non-coincidentally, as a college freshman.
Also, I say with some embarrassment I never practiced guitar before college. I played of course by taking lessons from age 9-13 and forming Beach Arabs—being in a few bands afterwards—but I never straight up practiced on my own. Self-enforcing a strict practice routine at 18 nudged me into believing I really should start doing the same with writing. I haven't got to a true routine there yet, but hope to soon. I like working hard, so working hard at music school has inevitably encouraged me to work harder at my own music.
Lastly, the biggest thing going to ACSM did for me was re-enforce a self-discipline I think all musicians have to inherently have. It's a natural motivator to just work harder at the thing you've always cared about anyway. It's kind of strange how the things that give you the most pleasure are ones you're so reluctant to do, maybe because they take it out of you or maybe that's just me. Thus, music school gave me a much-needed schedule to ebb said reluctance and get stuff done.
What was the experience of recording "Ridge" for Converse Rubber Tracks and then adding on to the recording at home?
Getting a sudden invitation to record at Converse Rubber Tracks studio for free was great because it forced me to finish "Ridge", which I only had the intro riff and overall mood goal in mind. I wrote all the sections besides the intro guitar riff and verse in the studio. It also gave me an opportunity to receive a brief tutorial of ProTools, even though I ended up using Logic on my own later. I also got to toy with a drum machine I really liked, Native Instruments' Maschine MK2 model, and play with various nice guitars at the studio. I recall I ended up using my own Gibson SG and one of the studio's Fender Strats, the pairing responsible for the different tone/attack between the first and second verses. Plus, I got a free pair of Converse boots, which I used like crazy over the winter. I really needed a new pair of boots.

Do you prefer studio sessions over home recorded sessions, or do you find there to be merit and harmony with both for different reasons?

I've wanted to get really good at recording myself for years. So that's definitely my goal for what I'm guessing to be forever. Recording with anyone else is always a collaboration no matter what, which can be extremely effective if your original intent is to marry your ideas with the ones of a producer/engineer you already like. Any ambiguity about the extent of that marriage between the musician and the producer is amplified tenfold when they're recording your music and it'll be audible. So, recording with someone else is best if you 100 percent know how your song wants to be, leaving little to no room for someone to potentially negatively tamper with it, or B. most of A, but you want the stamp of that recorder/engineer/producer or whoever on it. For solo music especially, which is the future, I think the best thing is to not relinquish any control whatsoever. "Ridge" is the first song I've ever recorded by myself and I found it to be way easier than I imagined (after the first several hours, that is).
Read the full interview feature here.

Lance Neptune
Lance Neptune blasts off into the galactic seas, on wave riding voyage entitled "Cosmic Oceans". On the visual treatment of space exploration audio synthesis, Lance takes you into the density of black holes, red dwarfs, the surfaces of Mars, and into the melding of many  psychotropic formations of galactic pertinence and oddities of discovery. The video presents the visualization you might imagine, where the loops rotate in an orbit of CGI splendors that points to the progressions where the advents and advancements of digital technology in music has taken us and evolved the overall experience.
Give us the Lance Neptune guide to new electronic frontiers of dance.
As an electronic producer, I'm always trying to exceed my boundaries by pushing myself to the next level and broadening my horizons of music.
How do you transfer that experience of celestial, space travel through sound like on the single and video for "Cosmic Oceans"?
I have a deep passion for astronomy, Which is portrayed through my music. I like to use a lot of water like textures in my songs, in addition to creating to that space like atmosphere. "Cosmic Oceans" was all so spontaneous, I was just experimenting with textures and atmospheres and I ended up creating a whole song. The video I felt was really necessary for me because I really wanted everyone to actually see what my sounds were about.  I want my audience to feel if they're traveling through space and on certain song I would like people to close their eyes and let the music control their imaginations.
What about the planet Neptune attracted you so much that you took on that surname?
In my previous years in high school I was in a producing duo called "OuterSpaceProductions". The other producers name at the time was Mike Marz and I decided to make my name Lance Neptune. We both are heavily into Astronomy and things of that nature so I thought a name like that was very appropriate.
What else is happening in the Maryland experimental underground?
There are a few producers I really enjoy from Maryland: Darth Olympian, Immersia, Wheelchaircat, Sealab 2012, Jay Artifact, and Txnykill.
Read the full interview feature here.
The Tablets
Brooklyn-based The Tablets are a trio comprised of Tijuana-by-NYC front woman Liz Melina Godoy Nieto, Brenden Beu, and Gooby Herms. Filming and directing "Decoder" together, Liz's high-brow concepts are edited by Brenden, while Gooby's post-production touches add a level of supernatural mystique. Having released their released their Ground EP, Liz and Brenden talked to us about the recording process, the NYC scenes, geographical influences, and more.
I love how the opening bass line is animated by the accented motions of Liz's hair in the beginning, almost like the ghostly moves of Kate Bush, or Bilinda Butcher in the MBV video for "To Here Knows When". Give us the scoop on making a b/w, high-brow aerobic video that moves to the spells of the encryption-decrypt-er, "Decoder".
Liz: First off, I am getting feelings all over from you making the Kate Bush and Bilinda Butcher references, so thank you. I wanted to make a video that was very minimalist, that we could shoot with our own camera, with hints of strangeness and weird touches you'd have to look at twice to make sure they really happened. I also knew we couldn't afford to have any fancy special effects. I was feeling very inspired by Michel Gondry, but had to take it to a much more simplistic level. In the end the effects needed to be in real-time, with no post-alterations, and without trying to trick anyone. The b/w just felt natural.
As far as the movements, "Decoder" tends to make me feel twitchy and bendy, so it's sort of my reflex response to the music. I don't get to do that particular dance onstage when I'm playing an instrument, so I wanted to put that out in the video. I didn't want to do any interpretive or classical dance of any sort. I used to be a ballet dancer at an early age but didn't want to use any of that. The weird dancing, though, I'm all about it.
Liz, you were born in Mexico but have spent a great deal of your life in the US. How have places and roots shaped your creative consciousness, and how have you reflected on that cultural shift in your music?
Liz: I was born in Tijuana, and later moved to Culiacán. It was a big shock for me, and maybe I didn't adjust well. Tijuana is next to California; border towns are such different entities. I was an outgoing kid in Tijuana. I'd build makeshift stages, choreograph for the kids on my block to perform, and go to singing competitions. I also started taking ballet and piano lessons. Being able to cross the border had its benefits too. In Culiacán, I was without that. I missed it, as well as my friends, and became very shy. I began channeling my energy into dance and piano even more and started traveling to Mexico City for summer workshops. It was beautiful there, with amazing energy, art, music, and architecture unlike anything I'd seen before. Mexico itself was amazing. The composers my parents listened to had a lasting impression, as well as some of my cherished Mexican girl pop groups. But the influence of American rock and pop was of course very present. I mean, when I was little, I had no idea that the Stones and Zeppelin were not American. I was a kid, and nobody explained this to me. It all hit me when I was about 11 or 12. I think I focused too much on parts of my upbringing, but really, all the memories have been slowly manifesting themselves in what I've been doing since I moved to San Diego, and later New York. Now it's all intertwined with my later and present experiences. It's a big gooey mess.
How did you all come together as The Tablets?
Liz: Getting the present lineup was a trial and error process. I started writing songs that would become The Tablets in early 2010. Around May of that year, Brenden Beu joined on guitar and as producer. Although I do my own harmonies in the recordings, I wanted to have backup singers. It only worked temporarily and I had to go through a series of different singers before realizing I needed to consolidate. If we get to a point where we can manage to have backup singers again, I would love to do it. Gooby Herms has been playing bass with us since 2012.
Artist Melissa Godoy Nieto has been designing live visuals with vintage overhead projectors and found objects since mid 2011. People are very responsive to the effect it has on the live set. Yes, she's my sister, and she's an amazing artist.
Read the full interview feature here.

Basic Shapes
Brooklyn's Basic Shapes began as a solo project from, Patrick Estabrook (of Responsibilities and Telephone Company), before expanding into a trio with the assistance of Hello Shark's Brooke Morrison and fellow Telephone Company member, and from Howard, Myles Heffernan.  Having recently recorded four songs at Dr. Wu's Studio, we got the inside scoop about the story of Basic Shapes' evolution, in the following discussion with Patrick Estabrook.
Tell us how this went from being a bedroom project of Patrick Estabrook, to how you expanded to include Brooke Morrison, and Myles Heffernan.
I had our first show booked at Glasslands, and some studio time booked, before I asked Brooke and Myles if they wanted to play, so we got our shit together in a hurry. Making music by myself had been pretty lonely and I had some bad creative habits, and I knew it would be better and generally way more fun if I had some trusted friends around. I don't think there's anything better than making art with friends.
How do you all feel all the previous collective experiences from everyone's solo work from Hello Shark, Howard, Telephone Company, etc, have informed the foundation of Basic Shapes?
I think making creative decisions as a group is kind of like sharing: they teach it to you in kindergarten but you might still suck at it until you do it a lot. Playing the different roles we've played in all those bands has helped and by now we can talk about the music we're making without hurting each other's feelings too much. Also I think playing in more rock- or folk-oriented bands (like Howard and Telephone Company) has kept us rooted in live performance, so while we do the electronic thing and cart a bunch of synths around we still want the show to feel like you're seeing a live band play instead of some dude or dudette hunched over a laptop. (No hate for the peeps that do that, some people pull it off really well.)


Tell us about recording at Dr. Wu's studio, and how that has affected the songs "Stand Still" and "Live by the Beat"?
We recorded and mixed the stuff at Dr Wu's pretty much as fast as we could. The studio is just a big apartment in Williamsburg with a shitload of gear in it. Yale, our engineer and a friend of mine since early college-ish, worked some incredibly long hours for us. We mixed four songs in one sitting without any medical assistance. I let him make most of the mixing choices and gave just little bits of feedback here and there, like "Hey maybe we can add some delay to the vocals," so the end sound and feel of the recordings has Yale's stamp all over it. I used to mix all the stuff on my own but it can be hard to do for your own music; I always buried the vocals in the mix because I'm shy and it can be hard to listen to your own voice. When I first heard how loud Yale had mixed the vocals I thought he was insane but that's exactly why I wanted him involved, to keep me from making mistakes like that.
How do the three of you write and record songs, and how do you find the three of you influence and inspire one another?
The four songs we've written and recorded started as tracks I sketched out with synths and drum samples, then came the guitar/bass/vocals. I recorded the instrumental tracks for "Live by the Beat" and "Stand Still" at the studio and roughly mixed them before giving them to Brooke, who then totally wrote the words and melody on her own. I think I had heard what she'd written two or three times before she was doing vocal takes in the studio.
For the material we're writing now, we've been improvising together as a band at our practice space, and since we don't use a laptop it's actually pretty easy to lay something down with the synths/drums and play over it for a while. Brooke has a really strong sense of what she likes and doesn't like and it keeps me in check in a nice way, makes me pass creative decisions through committee so I know they're not stupid or tasteless or insane. Also she's totally fearless and has no problem doing things like improvising vocals over new songs which I find super impressive because I'm filled with fear and loathing of doing such things myself. Myles is just an awesome, happy dude that fucking shreds on bass and it's lovely having him around. He cut his teeth covering entire Zeppelin albums with his band in college and slays dance music with equal gusto. Great roommate too if he'd just DO HIS GODDAMN DISHES.
Read the full interview feature here.

Balms
We got in touch the other day with San Francisco's dream machines, who give us the premiere listen to their new single, "Golden Hair", off their new EP. Lead by guitarist and vocalist Jared Padovani, with Michael Ascunsion on bass, and John Kolesnikow on percussion; this three piece is giving sonic slices of fog sailing splendor for a sad and sleepy city to dream on.  Releasing a smattering of singles over the recent months and years, Sidewalk // Grave, Surface // Over My Head, and All Right // Surf Song; Balms ride like three young magis or wisemen offering treats more rare than gold, frankincense, and myrrh, taken from the arms of blissful slumbers. Jared, John, and Michael joined us for the following roundtable discussion.
Balms have made a name for themselves through your various approaches to guitar. How do you all define the ever growing relationship between Balms and tomorrow's guitar geared music?
Jared: That's an interesting question. We were talking about it, and I don't think we consider ourselves a guitar-driven band necessarily. Our single for the EP, "Golden Hair", is kind of an outlier in that sense compared to the rest of the release. When I think of "guitar geared music", the first genres I think of are classic rock, blues, and then indie bands in the 90s such as Built to Spill, Dinosaur Jr, Modest Mouse, which are some big influences for me. Our songwriting is very collaborative, and as a "songwriter" in the band I may bring ideas, riffs, and structure but when we write songs we write them together. We treat all of our instruments like voices – and then we jam/experiment until these ideas become the songs. It's an organic and pretty unintentional experience for the most part.


Excited to hear about the new EP, and we were wondering if the three of you would like to walk us through from how your own approaches and concepts have informed last year's Sidewalk/Grave, Surface/Over My Head, All Right/Surf Song, to the forthcoming EP.
John: The first release we put out, we were very much in the mindset of putting together pop songs. We actually started the band thinking about Weezer's Pinkerton specifically, so I think that gave us a general idea of what we were trying to do as a starting point. When we started experimenting with the guitar textures in "Grave", we naturally wanted to explore that idea more in new songs we would come up with, and for a while it was all about the atmosphere and the mood of the songs, with the pop structure idea kind of in our sub-conscious. Through the rest of the releases and up to the EP it's been a progression within that mindset.
Michael: The songs we wrote for the EP mostly came together after our first long tour when we were in a state where we had specific ideas of what we wanted to hone and improve on as a band.
"Golden Hair" is a gorgeous single, in a world of songs that have used this title (Syd Barrett's minimalist dark vignette of the same name comes to mind), what story is behind this trail gazing beauty?
Jared: "Golden Hair" came out of a song I originally wrote on the acoustic guitar. It was a really somber song that I wrote thinking about someone close to me, and the vocal melody stuck with me pretty hard. Pretty soon after I wrote it, the riff and chords to "Golden Hair" came up during a jam, and while we were on tour I couldn't get it out of my head. At some point I guess I started merging the vocal melody from that acoustic song with this new jam, and when we got back the result was "Golden Hair."
John: And we are happy to share a song title with Syd Barrett.
Read the full interview feature here.

Mozart's Sister
We introduced you to Caila Thompson-Hannant's project Mozart's Sister a while back around the release of her Hello EP, and now we give you a listen ahead of her first album,Being available August 5 from Paper Bag Records in Canada and Asthmatic Kitty stateside. If her initial self-titled anthem song didn't already introduce what kind of an indie pop ride you were in for, Caila ups the bar again with "Good Thing Bad Thing" that introduces an even denser layering of production that shines with the epistemological true meaning of utter fascination unbound.
Considered to be one of the key self-made artists who paved the way for fellow Canadian indie icons like Grimes, "Good Thing Bad Thing" showcases Caila's monarchical reign as one of today's most gifted singer, producers, electro-engineers, and songwriters who continues to pen some of the most honest songs of self-reflection, taking the good with the band to make new synthesis of surprise and spontaneity. In the world of Mozart's Sister, renewal of the self is constant, and her reign in the indie pop world deserves to be acknowledged by all with ears to hear. The other morning, we had the honor of catching up with Caila over morning coffee and tea to talk about her album, Being, from Paper Bag Records in Canada and Asthmatic Kitty, and more.
As Canada takes over the indie music journal charts, how has Montreal affected and influenced you creatively do you feel?
It's pretty incredible how much has been written about MTL over the last little while. I mean it's always been a music center and there are so many different genres of music being made at the same time. I like it here because there is a non-pretentious attitude, it's non-competitive also… at least generally speaking. I don't really think there is much time for the 'I wanna be a huge star' attitude here… people are ambitious but it feels like the ambition leans towards making beautiful, weird stuff and not towards buying a condo off iTunes sales. Even if you're into making very digestible stuff, there is always a push towards art, not just notoriety. You know? There is also such an openness to sharing. It's safe! There is no New Yorker magazine or Pitchfork at your friend's weird loft show looking to strike gold with the next big thing. It's for people, for exchange and artistry. I hope it remains!

What observations about your own approach to production, lyrical and vocal arrangements have you noticed have shifted from your Hello EP to the upcoming, Being, album?
The approach was kinda different 'cause I felt like I was pushing myself beyond what I knew already. It felt uncomfortable at times. I was more conscious in the making of Being. It was a steep learning curve too 'cause I was trying to teach myself about the basics of recording while writing. I was getting into sounds, and how to manipulate them as a material.
What was the process of recording your first full-length like, and what kind of good things and bad things did you draw from for visionary focus?
This record was very driven by self-emancipation and independence. I was learning to be alone and not be a sad sack about it. I had just had a split with the love of my life and my band had broken up, but there was so much manic, positive energy that came from that. It was tempering the highs and lows and realizing I could wield energies in my direction…
Who are some of your other favorite artists that more people should listen to?
I'm really obsessed with SOPHIE. He introduced himself to me a while ago and I felt like I musically fell in love. I have been getting into New Age music too. Iasos is so so good, I like the folks that touch on ' New Age' but don't quite go there like Vangelis. I also love Lana Del Rey. It's so crazy beautiful. Been opening my heart to Skrillex and finding that he is so so so creative and inventive. Definitely an inspiring one.
Read the full interview feature here.

The Jungle
The Jungle is the operating handle of Seattle producer, Troy Jagan, who released his new Wild Things Vol. 2 EP. On it, the party gets shaken up and out of sorts with "Groove Disturbed", that percolates like a bubble-jetted hot tub the size of an Olympic swimming pool.  As soon as the raven riding heavy roller of "POE" kicks in with those thick bass synths, you know the EP has officially begun. Other key choices dot hollowed-out wooden notes over steady rollicking rows of programmed percussion dipped into the noir of a hundred moonless nights. The technical bag of production gets bused out on the faraway vocal sea-faring synth stew, "Rise". On this cut, you can almost hear the sun rising. Mixing and switching up rhythm kits, "The .22″ arrives like a neat parcel package that's ready to hit the dancefloor. We had the pleasure of chatting with Troy Jagan for a deeper look inside his EP, Wild Things Vol. 2.
What caused you, Troy Jagan, to take on the moniker of The Jungle, which I am presuming is more of an allusion to Seattle's notorious Beacon Hill greenbelt, 'The Jungle', as opposed to jungle music per se?
It's funny you mention that. I didn't really learn about Seattle's Jungle until I started to research the name for myself. The reason I chose the name was to represent the ever-growing connections between music and technology; that the vines and trees and animals are becoming more and more dense, and that I hope a band like mine can be the machete that gets you to your destination.
Do you have any gritty stories that involve the griminess of 'The Jungle' in Seattle? That area sounds gnarly!
I wish! To be honest, Seattle has cleaned up that area quite a bit in terms of crime. But there's still plenty of homeless people that seek refuge there. Seattle always seems to shuffle the homeless around to the same places they've always frequented, while never trying to find permanent housing solutions.
What first attracted you to the dancier side of electronic music composition when you first started out?
The dance and house music from the early 90s will always have a place in my heart. Orbital, Black Box, C+C Music Factory all had tremendous influence on me. Later it was Daft Punk, Toro y Moi and Bonobo that made me think of how to fuse stuff I love from other genres to the samples I was trying to flip. But I'm a funk musician at heart, so for me it all starts with James Brown and P-Funk. I ascribe whatever I'm doing to keeping the spirit of funk music alive, because at the root of it all, it IS funk music. We're trying to make people dance and come alive for the night.
Read the full interview feature here.

Bruce Smear
You already know some of Tommy Davidson's work with Beach Fossils, but wait until you hear him as Bruce Smear, an alter-ego that takes abstract Jock Jam extracts and shakes them up like an NBA Jam game turnt up, way up. Smear released his ChlorineEP on Driftless Recordings (the imprint operated by Joel Ford and Patrick McDermott). We bring you "Pick & Roll" which dribbles out the breath on beats that could inhabit atmospheric space of an arena. This is the experience of stumbling around Staples Center or Barclays with a mind-altered head. We got a chance for a listen and look at what Davidson's Bruce Smear character is all about, and what else might be in store.
First, give us the official Bruce Smear Summer report on the state of the indie undergrounds at this moment in time.
Howdy there! Smear is definitely trying to get his beak wet this summer. A few single drops, some remixes & mixes, and my debut EP! Trying to brew up some show dates in the midst of all that too. Just keepin' busy! Gotta put my apartment A/C to use, can't be going outside lollygagging in the heat and wasting that precious temperature controlled air.
The state of undergrounds?
I can only speak on behalf of my local Brooklyn sphere, but the venues are coming & going like whack-a-moles these days. New scenes splintering up from new clubs is great to see, but it is all too early to tell what will remain a fixture and what will be snuffed out.
From an artist's perspective , I don't even believe the underground exists anymore. The mainstream/underground dividing line is thinner than ever. Mainstream artists want to stay relevant , and underground artists want to keep moving up. They're kind of compressing each another at that dividing line and it just becomes shades of grey.
How did you go about sampling basketball court movements, crowd cheers, jock jam tropes and more on "Pick & Roll"?
When I build a track , it is close to 100% visual. I see a music video and I want to soundtrack it. In the case of "Pick & Roll", I imagined a highlight reel of slow-motion dunks with camera strobes flickering away in the stadium. It would be like a super sweaty ballet, half of the players floating through the air kind of thing. I wanted to immerse the listener in that world. The track is very much a headphones listen!
Reflections, thoughts, and conjectures on this past NBA season and the mad hype surrounding LeBron's return to Cleveland?
We'll, I'm more in the line of work of romanticizing basketball than actually following it , but I will say this: I will buy a jersey if they change their name to the MIAMI YEET.
What do you feel is the constant, sometimes unspoken, and occasional undercurrent connection to music and sports?
Sports, from a baseline perspective , is choreography. Dance has and will always be a part of music. There is also an emotional transparency in sports that is very infectious. The joy of a gymnastics team after winning a gold medal , or the agony of a player's face after colliding in a soccer match. People can relate, and all that blood, sweat, and tears is hard to fake. Music strives to achieve that same emotional pull.
With a sound that is composed of so many characters and dimensions of rhythm, how do you describe your own audio composition process?
GLACIALLY SLOW. It is always a piece by piece/little by little process. Sometimes I feel like the monk in a monastery calculating 10,000 digits of Pi on a scroll.
Read the full interview feature here.

Caleb Nichols
You already know Caleb Nichols from Port O'Brien, his work with Zach Rogue in Release the Sunbird, WATERS, or in the equal love opportunities for all of CHURCHES (where we had the pleasure to premiere the video for "Lovelife"). Flying solo under his own name, Nichols is recording a cycle of songs called Double Mantasy, where he shares the self-drawn and Steve Jenkins-animated video for his single, "Year of the Horse", recorded with the talents of Pat Spurgeon, Jameson Swanagon, Zach Rogue, mixed by Ian Pellicci and with assistant engineering from Olivia Lee (of There's Talk) at SF's Tiny Telephone and Oakland's Harlan Street studios.
Heed Caleb's words, as we give you an editorial penned by Mr. Nichols himself.
Some notes from writing and recording "Year of the Horse" and other songs that will appear on my debut album, Double Mantasy.

In January I married my best friend in a small Julia Morgan with close friends and family in attendance. It was the best day of my life. I had just wrapped up another band, CHURCHES, which died a slightly premature death, possibly on account of Glaswegian pop band CHVRCHES becoming hugely famous, but more likely because it just felt like I'd done what I wanted to do, and perhaps that was a final venting of some dark stuff; the last remnants of a stubborn case of teen angst, some petty jealousies, and some blind contempt.

After the noise of the wedding died down, I was struck by the feeling and thought that I was ready to start writing songs again after a year of not really writing much, and then I was completely surprised – blindsided! – by a flood of new creative energy that, for the first time in a long time, felt really interesting and fresh. So I let it happen. I wrote a bunch of songs. And the songs mostly weren't about me, or my new marriage, or my struggles as a musician. They were creative exercises, stories, snippets of nonsense, and they felt really good.

I also started drawing pictures, which helped this process. I drew many self portraits, and food items, and my dog. And then I started thinking about the Beatles, and I started wondering: "Why, exactly, was Mr. Mustard such a bitter old man?" And then the songs really started to cook.
Read the full feature here.

Unstoppable Death Machines
Our buddies Billy and Mike Tucci are the infinite force to be reckoned with, better known as Unstoppable Death Machines. Now that they've released their Single Clarity 12″, clear-headednesses is about to get clouded with Mike's bass chord punch of destruction and Billy's sledge hammer drum of pure audio demolition. Mike and Billy Tucci wrote us the following informative piece, followed by some "Helpful Questions" regarding Unstoppable Death Machines for both beginners and pros.
"Single Clarity" was written as it was recorded. We multi-track record ourselves whenever we jam and write. This 12″ is about ten minutes of improvised music, straight from our souls.

Lyrically, "Single Clarity" is a group of thoughts relating to the relationship of humans to computers and the new human condition's constant connectedness. How we use technology every day, how it brings us together, and how it can bring us apart. It's about having a soul in a sometimes soulless mechanical world; computers, and how people transform things like the internet into everyday facets of life and how that could lead to the advent of an advanced artificial intelligence. It speaks to Raymond Kurzweil's 'spiritual machines" and Vernor Vinge's "singularity," where an artificial super intelligence outsmarts its creators. Stephen Hawking recently warned against the rise and potential threat of an advanced artificial super intelligence, such as the internet, which we constantly feed information and teach, thereby creating its intelligence.
Read the full interview feature here.

Lowercase Letters
Direct from the nation's capital, Washington D.C., introduce yourself to Lowercase Letters, who present the world premiere of their "Hook-Up Fee" remix. Starting out releasing a slew of Beach House, AC/DC, MJ, and Tata Vega covers, "Hook-Up Fee" and the remix sees the D.C. group finding a sound of their own amid their local eclectic circuits of scenes. Lowercase Letters' signature becomes defined and created through a cohesion of playfulness, sultry situations, danger, and discovery. Alphie anchors the action in her lead vocals of satin and spiked punch, with bass curations courtesy of Clinton Cool, while the production powerhouse and beat considerations are compliments of John Beckham. Combining powers like a superhero faction force, Lowercase Letters keeps the capital lands fun. Join us for a fun look inside the world of Lowercase Letters.
Tell us about starting off doing Beach House covers and more in D.C., then coming into your own thing with your work on the Glorification of Gangster Soundtrack.
Our friend and amazing engineer/producer Kyle Downes who worked with us on the full length suggested we do the Beach House track, so we did. Of everything we've recorded, this happened the most naturally and easily – it was essentially a session for tracking the instrumental, Alphie with a session of vocals, and Kyle hooking it up. Shout out to the blog Sex Music for getting some folks to hear it.
The Glorification of Gangster Art Show is the creation of Alex Haldi, who is the art director at Island/Def Jam and freelances everywhere. He heard some of JB's older hip-hop stuff through a mutual connect and when he had the idea for the art show, he reached out to JB to produce the soundtrack. It's essentially a mixtape of various artists including J Cole, Loyal Divide, & Netherfriends all mashed together with gangster movie quotes as glue. We have that original "Hook-Up Fee" version as well as an AC/DC "Dirty Deeds" cover on that.
Creating songs from scratch is great. But there are also so many great songs out there already, and everyone loves getting together with other people and celebrating those songs at concerts, parties…We also love celebrating them through playing them together. And vibing together on covers can lead to vibing together on original tracks.
Tell us about translating the more sparse and analog original of "Hook Up Fee", to the turnt-up remix version.
The translation was pretty easy: JB cooked up the beat, Clinton added the bass, and we all got together to cut out the parts that sucked and make sure the levels were good. This song just seemed like a natural fit for turning up because of the way the verse rides the one. It makes you bounce.
Like the theme of the art showcase soundtrack, how did the lurid hook-up trade narrative take place?
Alphie wasn't inquiring if John knew where she could get some marijuana and would compensate him for the errand, if that's what you're asking, haha.
Jesting aside, at the specific time that we started with "Hook-Up Fee", there was a very little drum kit set up in JB's condo. In the original version, when Alphie drawls 'close the door,' she was talking about JB's bedroom door and closing it to muffle the sounds of them banging around (that cymbal is from that drum set). JB hopped on the drums and Alphie started with the little melody; both a tad pissy. Thank God for the voice memo app or it would have certainly been forgotten — it was all a bit of a blur.
Read the full interview feature here.

Hey Anna
After our recent debut of Mount Sharp's "Icaraus" video, we had the opportunity to catch up with fellow New York indie pop friends, Hey Anna, who premiere their new single with us titled, "By The Bay". A few years ago we reported on their single, "Blackout". Since then, the sister act of Anna, Erin, and Katie Rauch-Sasseen, along with Andrew Smolin, and Matthew Langner have released a self-titled and the praised Pompette EP, bringing us news of an upcoming Hey Anna LP. As the band of siblings and best of friends solidifies a sound that swings off the reflected beams of the moon, the newer recordings point to experiments in lyrical play, subliminal narrative motifs, and found samples of schoolyard games. Check out our exclusive interview with the band, after this debut.
I know that you sisters moved around a lot when you were growing up, counting locales from New Jersey, Northern California, Kansas City, Montana and overseas; but I am interested in hearing the story behind your recent visit to Cuba that you all have told me was what inspired "By The Bay".
Erin: So, I've actually been twice. (Both visits were legal, don't worry.) I mean, it'd certainly make for a better story if I told you I snuck in through Mexico or Canada…maybe next time. Anyway, it was through a former job of mine. The first time was in 2012 and the second visit was last February. Cuba is this incredibly beautiful country with an insanely rich history, so much of which has nothing to do with the US, despite the fact that most Americans only know Cuba in the context of US Foreign Policy. Everywhere you look has a story. Everyone you meet wants to share their story. More than ever before they're being shared with the world thanks to a super active arts community in Cuba. As an artist, I knew from the minute I landed that I wanted to add a voice to what I heard and experienced.
I had dinner in the home of a couple that dropped everything and changed the course of their lives for a cause that seemed so incredibly noble and just. They lived through the excitement and early spirit of the Revolution as well as the dark and hungry days that followed the collapse of the Soviet Union. Watching their faces and hearing their words as we sat under a solitary light bulb eating malanga fritters, I could feel all those years of hope and disillusionment filling the room and filling me. I couldn't keep something like that inside.
Naturally, when I tried to write about it, nothing came out right. Anna and Katie had the back bones of "By The Bay" for a while, but it needed tweaking. One night we're playing with different lyrics and recall something we'd learned about nursery rhymes: they're always about something darker than what they seem (think "Ring Around the Rosey"). Also, the best way to indoctrinate children is with song. So we thought, 'what happens if we use a nursery rhyme motif to tell the story of Cuban Revolution?' And that's how we got what is now "By The Bay". We're curious to see how folks interpret it.
What is the story behind that tape-recorded voice sample with the 'tick tocks' and banter that book ends "By The Bay"?
Katie came across this incredibly adorable video of two little British sisters, Lola and Milla Harrop, giving step-by-step instructions for a version of a tic-tac-toe handclap game. She sampled their voices and cut it into an early demo of "By The Bay". Anna and I freaked out it was just so perfect. We contacted their parents and asked if we could use the recording. They were super obliging, which was great, because it really adds to layers of meaning in the song.
Having recorded music together as siblings for forever, when did you three sisters know that playing music either together or separately would be a big part of your lives?
Erin: When you grow up in a musical household, I think it's hard to pinpoint the moment when you decide music is going to be a part of your life. It just is. Like water. That being said, I think I can recall a moment when I knew in the very pit of my being that I couldn't live without making music. I was in fourth grade and it was during a school band concert in the choir loft of a church. I played trombone at the time. I don't remember what we were playing, but I remember the dénouement and the sound swirling around every surface and I wanted to laugh and tears were falling down my face, but I had to keep playing because I knew that if I stopped the people listening wouldn't be able to feel what I was feeling. I think I've been trying to recreate that ever since.
Anna: I agree with Erin, music had always been a part of daily existence. It wasn't really a choice, it was just something we did — like eating Cheerios for breakfast. Although I suppose that's not the best analogy considering there is some amount of choice as far as breakfast cereal is concerned. You can always have frosted flakes. Or lucky charms. Unless of course you were told to eat a heart-healthy breakfast. Then, magically delicious cereals would be something saved for holidays and special occasions — impermissible on a daily basis. In THAT case, (which, I admit, was the case in our family) I uphold the former analogy — playing music wasn't a choice, it was like eating Cheerios for breakfast.
Moving on (now I want lucky charms), the big moment when I realized that I wanted to be in a band, and I mean capital B – A – N – D, with my sisters was after I graduated. I was cleaning the kitchen tiles, or something along those lines, listening to music when the Beach Boys' "Don't Worry Baby" came on. I thought. Yes. Those lucky guys get to do that for a living. And I started crying. Just like Erin. OMG we're EMOTIONAL.
Read the full interview feature here.

Weyes Blood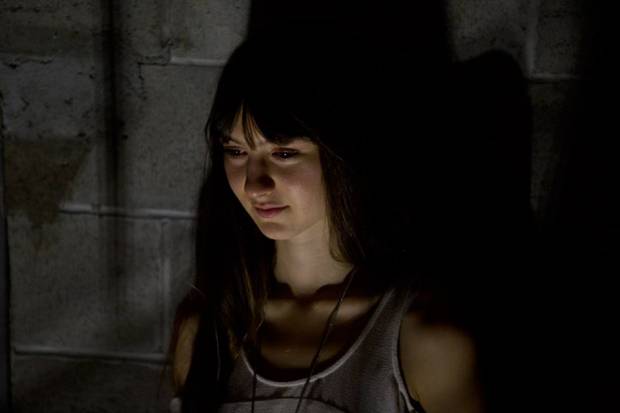 You remember hearing Natalie Mering (also formerly of Jackie-O Motherfucker) and Weyes Blood getting extra weird with Ariel Pink's Haunted Graffiti on "Early Birds of Babylon" from Mature Themes; get ready for more renegade American primitive rituals of the nu-folk sort, with "Hang On". Found off Weyes Blood's The Innocents available now from Mexican Summer; Natalie leads you by the hand into a tale of holding and hanging tight. The grip on reality embraces the mortal wills to keep on when the rains wash away the why and where of identity to a synth organ that opens up a mystic folk dimension of outside artists and dissenters of great dignity and passions of the highest order. Hang in there, and "Hang On", and join us after for our interview with Natalie Mering.
What is it about the very naturalistic and pagan-ish arts of folk craft that you find is really freeing for your own creative expressions?
I find that to be a multidimensional question that's not easy to answer in one way. It's not the naturalistic or pagan-ish arts of folk craft that frees my own creative expression, the freedom of my creative expression precludes association with naturalism or pagan arts, it's free because I believe that's the best way to reach people. The most freeing thing for creative expression is a lack of self-consciousness. Whatever happens after that is up to the perceiver.
What tales and stories of perseverance are behind the beautiful "Hang On", with all of its unique and original progressions and beat changes?
"Hang On" is about reaching the end of your rope and realizing that most of the conflict in your life is generated from your thought life and misunderstandings in your mind. They say life is 10% what happens to you and 90% how you react. When searching for stability in a polarized mind that's blurred, constantly stimulated in our world of content and media, it's easy to lose faith or decipher meaning. It especially becomes difficult when meaning revolves around people or identities that exit your life. No one can see behind their eyes, or objectively lift away from their emotions completely and see the big picture until a revelatory moment, and those moments don't happen everyday. But we can practice the big picture and hang on till the next revelatory experience. The point of hanging on is knowing there's supernal reasons for not giving up, and that has nothing to do with anything outside of yourself. External affirmation for your existence is just icing on the cake, but ultimately we're self contained universes of meaning.
What sorts of songs of innocence and songs of experience lent inspiration to your upcoming Mexican Summer album, The Innocents?
I'm not sure if any songs directly influenced the record besides the ones I wrote. Elementally I felt very inspired by naiveté and the dramatic quality of first-life experiences.
I almost forgot about your handiwork on Ariel Pink's "Early Birds of Babylon", what was that recording experience like? That song, and album are incredible…as time goes on I'm starting to believe that Mature Themes might be one of the best Ariel Pink albums next to all those awesome weird tapes, and Paw Tracks releases.
Ariel is completely unhinged in the studio. I showed up and he taught me the lyrics and basically gave me free range over the recordings, with a little bit of direction. There's one portion of the song where we were trying to mimic the unearthly squawks of the "Early Birds of Babylon" — I was squawking in the isolation room and Ariel unbeknownst to me was screaming by the board, inaudible to the microphone. Then he ran over, opened the door of the isolation room mid scream and totally startled me. It ended sounding like some ghost moan on the recording, and the experience felt very organic and spontaneous. Ariel's smart like that.
What was the tour like with Ariel and Haunted Graffiti? Note worthy stories?
During the short tour I traveled in another vehicle with my boyfriend at the time. I'm pretty sure the tour bus had more humans than it did bunks. Everybody was making crazy salads, falling in love, and some people punched mirrors.
Read the full interview feature here.

Trends
We have been following the wonderful world of LA artist Marina Paiz, aka TRENDS since we first heard the scuzz and psych fun from, "Mind of Man", and the subsequent video of DIY Tom Cruise and Lana Del Rey homages on "Drive". The home, front yard, and rec-room spawned styles that Marina has been rocking are making moves for more garage stationed styles, with one of the first listens to, "Bang". The bouncy, 'anything can happen' attitude that marks everything we have heard from TRENDS to date is all in there — this time with more pointed, and glazed out guitars with a more 'mastered' approach to sound. Marina caught up with us to talk about what's new in the world of TRENDS.
How has it been working on making more hi-fi garage sounds with your single, "Bang", versus your previous lo-fi psych and scuzz recordings?
All my previous tracks have been recorded either direct into an interface sans DI box or with a cheap Snowball mic up against a tiny Peavey amp. Everything was overdubbed since I had no band at the time. I never really mixed anything either, so I would have to admit that my lo-fi sound was caused by ignorance and high tolerance for clipping.
Bang was recorded at the Hobby Shop Studios with Andrew Murdock. His idea was to maintain the "garage" vibe but make it intentional this time around. I think it worked out rather nicely. Having a guitarist, bassist, and drummer present made all the difference as well. Peter Boskovich laid down an amazing bassline. I'm really happy with the direction this song took after he blessed it with his touch. Ayumu Minezawa swam from Japan to play lead guitar and Tevin Douglas flew in from Mars to drop the beat. It was my first time recording a track with other musicians and I have to say these fellas popped the cherry pretty good.
What can you tell us about other recordings, singles, and releases that you have in store?
Before I get into that I'd like to give credit to Jacquie Li for coming up with the artwork for the single. I was running dry on creative juices so she put her talents to work and I think it looks rad.
I'm working on another song right now called "Mayonnaise." It's a bit more electronic but I think it still sounds like Trends. I am really trying to get a full length recorded and mixed but we'll see how long it takes to get my ass off the couch.
Read the full interview feature here.

Underpass
Alienation, isolation, and displacement have become threads throughout the world's conflicted and often argumentative discourse. Giving a voice and taking a stand for marginalized peoples without a country, identity or sense of naturalization is Alexander Miranda, the frontman of Underpass. Based out of Olympia, Washington, Underpass drives down an interstate that knows little-to-no sense of nationality, as the bandmates are referred to as N.C., D.L., and M.W. for purposes pertaining to border legality matters of documentation. The attitudes of estranged and alienated trajectories and post-colonial concepts are the cornerstones that make up their album, Assimilation, available from Desire Records, as we  had the chance for a candid conversation with Alexander, who took us deeper  inside the agony, angst, and ecstasy of their new album.
How did Underpass first form as a group?
Well, the current line up is the second incarnation on Underpass. The first line up was just my friend Celina and me. We did a short tour down the west coast last year. I was in San Diego for a month after the tour and when I got back to the PNW she had to do some other things and could not play with me anymore so I asked some of my house mates and partner to join and so far it's been great. Everyone really adds a lot to the group. I like it.
The choice of title of Assimilation is so heavy. How did being brought up in a Native American context inform your songwriting?
Growing up in America and being a Native American is dangerous. I am lucky that I have not been killed by the police or been put into prison yet. It's a heavy thing. So writing music that is reflective of this seems naturally more heavy. Having had many of my family members violently forced to forget our culture and unlearn our language to the point where a few years ago there were only a handful of elders who could speak Luiseño, these issues run very deep with me.
What was the songwriting and recording process for this album like?
I wrote the majority of Assimilation while I was staying in Vancouver last winter. I was pretty depressed during most of the writing of this record. But after I would finish a song I would feel like something was lifted from me. So I just wanted to keep that feeling going.
Recording was a whole other story. We recorded in Vancouver with our friend Joseph [Hirobiashi] at his house and finished recording most of the instruments in one day. It was a really nice and felt great to be recording with a full band in such a comfortable place. Then we spent a few days mixing it and it was done.
"Pain of Trust" is a real grinding track that reminds me of analog goth cassette tapes soaked in the melting heat of the sun. What betrayed trusts and anguish underlined this song for you and the band?
To be honest, that song was not written about a specific betrayal. But you know, it feels like I hear about friends getting into a new relationship with someone (either romantic or not), and them feeling very hesitant to completely open themselves for fear of getting hurt. Age old. Also I was writing it from the view of so many people blindly putting so much faith into the 'state' only to find themselves being exploited and ultimately left with nothing. Hopeless. You know, it's kind of like all these army folks who come back from killing brown people and are really fucked up and then are just left to rot by the VA. It's a real lose-lose situation.
Read the full interview feature here.

Young Karin
Icelandic duo Young Karin [fka Highlands] signed to Pannonica Records, who debut the shared heartbeat romanticism on "Hearts". Heralded as a favorite by producer/instrumentalist compatriot Ólafur Arnalds, Karin Sveinsdóttir and Logi Pedro Stefánsson make up the duo Young Karin who have been working on their debut album among the creative artist communities of Reykjavík. Penning what the two refer to as "melancholic pop" inspired by Iceland's winters — the duo gave us an exclusive look at Icelandic indie pop relatively unknown outside of Reykjavík.
Tell us about how the two of you first struck up a bond, and realized you had creative chemistry.
Logi: We met when Karin was singing at a talent show in her school. I was fascinated by her voice and charisma. I invited her to the studio to sing over some tracks and it all clicked together.
How do you both write, produce and arrange you tracks? Do you have particular rituals, methodologies, or superstitious approaches?
Karin: For the EP we kind of just locked ourselves inside when the cold winter came and started recording. "Hearts" was recorded in Logi's living room. We also decided to do everything in-house. The mixing, mastering and album cover are all done by either us or close friends. We used a lot of tape echo's and Juno 106 pads on the EP. And then we like to play around with samples. We listened a lot to David Bowie's Heroes when we did the record. And also King Louie, his stuff is raw, and of course Drake too.
When we finish the songs they all really differ from their first demos. We are always changing choruses and synth-lines in the last minute. Logi writes the songs and lyrics.
Read the full interview feature here.

Bam Spacey
The time has come for the advent of Bam Spacey's full-length, 1998, available from Ceremony Recordings. Gothenburg / Malmö Sweden's Magnus Johanssonson was one of the early signees of the Ceremony imprint, releasing the works Vi delar samma grav,Land, River, to the upcoming late 90s titled, 1998. And in the culmination of Euro pop found in the most ambient and sections of radio pop hits , "Upplyst" provides that new millennial sense of monumental but disparaging prospects of possibility. There is the comforting hug like the motherly embrace of the near and present future, the pre-Y2K epic-trance builds, and some curious choice of sample to synth arrangement, not to mention the irregular heartbeat rhythm found on the track's final minute. Like the richness in sound brought out through the dichotomies that traverse inside (and outside) the polar plains between the natural and the synthetically manufactured. "Upplyst" should encourage listeners to explore Magnus's output via Ceremony in closer detail, as Bam Spacey becomes an artist that creates ambiance, and auras to illustrious to be ignored. Bam Spacey, born Magnus Johanssonson, wrote us the following beautiful thought-companion works for the single "Upplyst", the upcoming album, 1998:
"Upplyst" is a memory. A memory that sometimes seems lost, but it's still always present. It's about what is lost on the road toward adulthood, all our devastating break-downs and slow build-ups, all collected and stored forever in our youthful bodies. The opening line "Our parent disappeared/We saw them for the last time" (roughly translated) is both symbolic and literal. It's a deeply personal song but as I'm not a fan of spelling things out, I'm leaving it open to interpretation. If you know Swedish that is.

The 1998 LP is by far my most personal material to date. It's the year of my definite break-up with childhood, and the long, slow walk towards being an adult. A process that still seems eternal. It's the year I turned 18, and the year I started seeing things differently. The LP is both political and philosophical, in 1998 I wanted to see change, but I'm still waiting. I guess it kind of sounds hopeless, and it is sentimental, but there is hope in there. The whole LP circulates around this idea of memories, how we are all just a collection of them, both on a personal and a collective level. We aren't different as humans, just born in different places and brought up to think in unique ways.
Read the full interview feature here.

Mike Sempert
Mike Sempert's recently released album Mid Dream got the deluxe edition release touch from Velvet Blue Music, with Mid Dream Complete Sessions. We've heard Mike Sempert's band Birds & Batteries got remixed byDOOMbird, the honest solo hymn, "The Finest Line", and now we premiere the first listen to a stripped down version of "Oceans of Rock and Roll" off the forthcoming Complete Sessions. The expanded version presents elaborated dreams from a minimalist version of "The Finest line, four non-album cuts, and six exclusive bonus tracks. Join us for our latest conversation with Mike Sempert.
The grandeur of "Oceans of Rock and Roll" rolls over and over with vocals and power chord hooks that could last for forever. Can you tell us how this song came alive either by rough sketches or mid-night/day sessions?
Thanks so much man! This song came together many years ago and some of the lyrical ideas came at the beach. It's sort of an ode to the vastness of music itself, something us musicians often bemoan but is actually quite awe-inspiring to think about. There's so much amazing music that exists in the world, both past and present. It's all one big noise we make.
I can't remember if we've talked about this before, but for you, and namely "Oceans"; what is about the element of water, bodies of waters, to the seas that informs your songwriting?
I like to get in that water, wish I could today! August in Los Angeles is no joke. The ocean and water have so much common language with music, like waves and depth and wetness. So it was natural to go there and keep exploring that. There's also a sea-shanty vibe to some of the bonus tracks from Complete Sessions.
Marinating on the Mid Dream album, what have you discovered about yourself as a songwriter through this process?
I think my best offerings, so far have come from a genuine place, and Mid Dream was a big step in that direction. More heart, less brain. That said, whatever I learned from Mid Dream, I'm prepared to throw out the window in search of the next album. Who knows.
What is it about the mid-dream state that inspires you creatively and personally?
Anytime we create, it's because we allow ourselves to dream. There's a Duke Ellington interview where he says, "I've got a million dreams… all I do is dream all the time." I love that, the idea that creating is a form of dreaming. There's nothing better than the feeling of inspiration and discovery. But then there's the idea of dreams being aspirational, like the American dream for example. Being mid-dream in this way can be painful, this constant sense of striving, never enough. That's still an idea that interests me and one I'm exploring with the new material.
Read the full interview feature here.

Great Valley
In our coverage of Vermont outsider lo-fi outfit, Great Valley, we have ventured through the album Lizards of Camelot on its release from NNA Tapes, rode the "Moat of Love" tunnel of love, swinging through the lo-fi "Heart of Vines", and more; Brattleboro, Vermont duo Peter Nichols, and Joseph Miller-Gamble keep the DIY analog, home-spun audio-visual arts brewing, where Peter presents us with the latest VT report, behind the scenes peaks, and some words on what's next for Great Valley.
Happy to see that Feeding Tube Records are keeping the Great Valley vibes flowing fresh with the small batch vinyl re-issue of Lizards of Camelot. For you, what does the lo-fi world of Camelot and lizards still mean to you, every time you hear and reflect back on that album?
Yeah, Feeding Tube is truly the greatest label on earth, like seriously 9/10 of all the bands I ever want to listen to, it's crazy. The spell has been broken a little bit since the days when we wrote Lizards of Camelot, like since then I've been lifted from fantasy world and dropped in some ridiculous sitcom, and fittingly enough I can look back on our Camelot days as a kind of golden age in our innocent hamlet. It's nice.
Let's talk about this wild video premiere for "Outerspace Garden" that you have described to us as the "great gardeners of space planting the seeds of life and love on Earth." From the VHS effects, the pleasant Vermont cottage side, to discovering a castle tower in the forest, how did you connect the natural world to the celestial cosmos?
Well in this video Christine plays a space gardener who lands on Earth with an inspired mission to plant magic space flowers. So we walked from Christine's house to the tower. That tower really is in the woods just like 1/4 mile outside of Brattleboro, so go figure. Some real Arthurian X-files vibes right in the backyard.
Read the full interview feature here.

Sunflower Bean
Brooklyn-based three-piece Sunflower Bean busted out virtually nowhere and dropped the track, "Tame Impala" on us with a guitar plan more menacing than the Australian band whose name is used for the song's title. But don't expect any alleged chord infringement here on any Argentinian pop star's intellectual work. Sunflower Bean are breaking back the doom and the dread in a way that keeps you demanding more. We had the chance to catch up with Nick Kivien to talk about their new track and what else the NYC trio has in store, following their tongue-in cheek rocker, "Tame Impala".
How did Sunflower Bean first begin?
Jacob and I both met towards the end of high school and started jamming. After going through a few bass players we were looking for a permanent third member. Julia just happened to be looking for permanent project and the stars aligned.

Where is the name taken from?
Nick and Jacob's late high school obsession with sunflower seeds and coffee beans.
Your track "Tame Impala" rips…are you all a fan of the Aussie band of the same name?
Yeah, mate!
It's a play on the fact that Tame Impala has a song called "Led Zeppelin".
Read the full interview feature here.

James Vernon
You know him formerly as one of the The Cliftons, Li Xi, and now James Vernon steps out solo-wise, haunting the worlds, and music press mills with "Old Ghost". From his forthcoming album Criminals, the haunted Bay mixes ghost stories in the cycles of fog with the creaky wooden warmth of looking out the window of a Victorian flat as the precipitation vapor entities lay lazily and idly around the sleepy peninsula. Vernon's songwriting and recording plays like the lost cassettes or records left in an attic, crawl space, or secret shelf cubby, where the most prized, privy and lost collections surface with the new sound of yesterday's future-creative intentions. Joining us after the listen to "Old Ghost", James talks about collaborative and solo projects, and more.
How would you narrate your own creative journey thus far, from founding The Cliftons, to your work in Li Xi, and now juggling a solo career.
When we started the Cliftons in 1999, it was all about getting kicked out of clubs and making a scene. We didn't have any goals. We figured we would last about a year and that would be it. Turns out we somehow got 5 years out of it. We even played CBGB's!
Li Xi is the grandchild of a recording project I started in 2006 with my friend Jeff Ortega. We'd been playing music that predates the Cliftons. Our first band was called The Unicorn Ducks which we started in 1997! It was named after a drawing my younger sister Nikki made of a "Unicorn Duck". Fast forward 10 years after that. I remember that we recorded a ton of music in the span of about 3 years. I learned how to refine my songs, self-edit, record and play multiple instruments. It was kind of like college for me musically. We decided to do different things in the end of 2008. Jeff currently has a project called Dominga. He has a tape out on Noorden.org.
Li Xi started after I met Maryann Tran who sings and plays keys in that band. We met at a mutual friend's house. We had almost identical tastes in music back in 2008 and I vaguely remember setting up a jam session that night. After one jam we started a band called Sleeptalks. Will Cline, the vocalist from the Cliftons joined in on bass, Jeff played drums for awhile and Jasiel Berg was also a vocalist with Maryann. We recorded one EP.
Li Xi started after Jasiel left for Brooklyn. We went through a couple of lineup changes and now we're a 5 piece. We've been playing as this unit for a year and it's the most fun I've ever had musically.
My solo stuff started last winter as a project. I was taking a break from being the primary song writer for Li Xi. I find that in a band setting, it's more rewarding to feed off everyone while writing. But I still like to get my weird ideas out there so I figured I'd just record these ideas as a solo thing. That resulted in this record "Criminals". But I'm still collaborating with old friends with the solo thing. Jasiel, from Sleeptalks sings on the song "The Actor". I plan to work with a lot of vocalists with this project.
Seems like you have been working on Criminals for a hot minute now, what has that particular process been like for you in terms of song organizing, and all the other processes of production?
This record took very little time all in all. If I was writing, it was being recorded. I made most of the record at my furniture warehouse after hours. I'd stay there until 3am some nights. The warehouse is on a small street in the Bayview district of San Francisco. During the day, it's busy and packed with industrial business goers. At night it's a ghost town. I enjoyed the silence at night and it was sort of a surreal experience being in this big warehouse alone, recording songs in a silent part of San Francisco at midnight.
Read the full interview feature here.

Radclyffe Hall
From Allston, Massachusetts and a staple of the Boston scenes, Dhy Berry's new band, Radclyffe Hall, soaks its sounds in synths on the singles "Dare to Dream", and premiering today the Jess Barnthouse of Wicked Bird Media video for "OMG". The daring freedom to dream, remember, and reflect is shown as a night scooter ride through Boston with Dhy to marinate on feelings that are heavier than the three letter acronym lets on. A group who take their moniker from the well known English poet and author, Radclyffe Hall convey sections and segments from life's scenes through an electronic artifice device. We had the privilege to talk a bit with Dhy Berry about Radclyffe Hall, the Allston scene report, and more.
Borrowing your name from the English author of The Well of Loneliness, what was it that banded Radclyffe Hall together under this title, and how did you all initially form together as a team?
The Well of Loneliness is one of my favorite novels. I also enjoy Radclyffe Hall's other works as well. I was really drawn to the way the name sounded, I found it very striking to say and to hear, and thought it would make a cool band name.
We all came together rather randomly. Carl and I went to college together, so we have been friends for some time. I met Sean earlier this year at an event we were both working, and Jaqui and I met through a mutual friend a little earlier this year as well. I introduced them all as I was slowly forming what the project is now. Even though we are a new band, we make a point to hang outside of rehearsal because friendship is important.
What is the scene of Allston, MA like?
I think Allston is a mini-Brooklyn. There is a bustling music scene where there is a show every night and we manage to bump into someone we know. We are new to the electro pop scene, but we have some good friends helping us along the way as we make a footprint in the scene. So, we are still trying to find out where we fit, but so far we have been able to meet a lot of cool electro Boston bands like St. Nothing, Miss Geo, and ORCHIDS.
Favorite local artists you care to give a shout out to that we should be listening to right now?
Definitely! Clifflight for sure! Those guys are amazing. Sam Burke, the keyboardist in the band, helped us with production of our debut single "Dare to Dream". St. Nothing, Miss Geo, and Blank Paper, even though they are from Brooklyn, are fantastic as well!
I really like the whole synth pop, brooding ambiance of "OMG". What is the story behind this song?
The song is about a friend I recently made earlier this year in grad school, who unfortunately passed away after a sudden illness. Though I only knew him for three months, we were really close. My only reaction to his passing was just "OMG".
Read the full interview feature here.

The Canyon Rays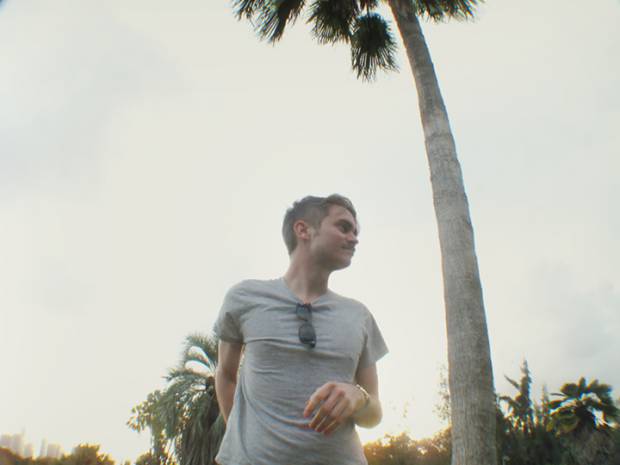 LA's The Canyon Rays provided us with an exclusive listen to the September 2 slated album West Coast Babes, featuring the sunny California pop visions of Luke Hamel. With a name inspired by the music from Laurel Canyon, Luke pens pop to keep the summer season raging year round and the Cali pop canon up to date. West Coast Babes is one of those LA pop dream albums that could only have been made in the city of angels to acquire its pop wings. Luke joins us for an interview following this premiere album stream advance:
Taking inspiration from Laurel Canyon, what is about your love for the Golden State that inspired you to begin The Canyon Rays?
Whether driving north on the 101 across the Golden Gate bridge or on the PCH by Big Sur, California sounds best to me when set to the soundtrack of bright guitars, lush vocal harmonies and tambourines. In the same way that the Strokes' Is This It sounds like New York, with the first Canyon Rays album I wanted to make a record that was evocative of the place I live. As synthesized music becomes more and more ubiquitous, I still find the ecstatic guitar jangles of a song like "I'll Feel a Whole Lot Better" by the LA bred band the Byrds intoxicating!
When were you first struck by the West Coast magic of sun-kissed power pop?
When I first started illegally downloading music at age 12 or so, I was irrationally worried about the feds bursting down my bedroom door and arresting me. This was during Metallica's highly publicized Napster witch hunt. One of the only songs I risked illegally downloading on LimeWire was "Good Vibrations", by the Beach Boys. Being amongst the few songs I had on the computer I listened to it over and over and over—I had never heard anything so wild and colorful! I guess I've never really gotten over that feeling.
Beyond the overstated Beach Boys/Wilson legacies and whatnot, what do you feel is the true legacy and attraction that so many creative people have with the land that lies near the Pacific waters?
While I'm of the opinion that it's difficult to overstate the importance of the Beach Boys' legacy, I do get what you're asking. I think at the most basic level: whether it's the foggy hills of SF or the sun drenched boulevards of LA, there's something simply inspiring about California's environment. When it gets in your blood it's impossible to get it out!
Between your Christmas in California EP to the West Coast Babes album; what have you discovered about your self as a musician, a songwriter, etc?
I cannot be talked out of ideas like having my new band's first release be a Christmas EP, despite my friends and loved ones' most strident efforts.
I feel like West Coast Babes straddles this line between vintage and new wave Cali pop, like "Teenage Bliss" takes the California dream to modern places with classic pop structures. How do you rectify the tropes of new and old workings in your sound?
While it may be a somewhat unpopular opinion, I find the best of modern Top 40 pop music to be the most forward thinking work out there at the moment. My biggest influences will always be the classic dudes like Big Star, The Millennium or My Bloody Valentine, but at the time I was recording West Coast Babes, I was almost exclusively listening to the album Kiss by Carly Rae Jepsen and Take Me Home by One Direction. A good example how this plays out can be found in my song "I Love You Still"—while there is an obvious homage to Brian Wilson in the tune, the vocal melody was an attempt to emulate the sing-along simplicity of Dr. Luke's songwriting.
What was the process of writing and recording West Coast Babes like for you?
Mostly agonizing. When you start learning to play music as a kid, the visceral joy of it really sucks you in. As I've gotten older I've found the pure fun of music replaced by an almost obsessive need to express myself that makes the process of writing and recording both excruciating and rewarding.
Read the full interview feature here.

Ruane Maurice
The last time we enjoyed the company of Birmingham, UK's Ruane Maurice, they co-curated an absolutely mental Week in Pop segment, so here they are again, presenting an exclusive interview round. Midlanders Matthew Forbes, Sam Lewis, and Chris Caedus pack a craft that combines gravely lyrical listings with the atmospheric production and beats that boom with like gavels striking sub-woofer bass drums. Experience the full-length debut from the Birmingham three, followed by our interview with Ruane Maurice.
How did Summer 2014 treat you all? Also how was the Worcester Music Festival?
The summer was one of transition. We've now all finished our degrees and progressing with our live show became our main focus. All the shows we've played have been such great experiences, Worcester not being an exception. But it's all a learning curve, and there is always room to improve in how we want to impact an audience.
With the UK always coming out with some new DJ and/or dance craze movement, where have you all found much of your influence as a collective?
When recording we try not to concentrate on drawing from other artists. Our main focus has been on our relationships with each other and those around us, not necessarily based in music, but more trying to convey specific emotional responses to selected situations. We try not to mimic or capitalize on a scene that's already in existence. If there was a specific manifesto we adhered to within the recording sessions it was to express influences based within personal instinct rather than direct influence from other musicians.
How do you figure out the dynamic of the rhythmic lyrical delivery and the production? Like, which comes first, the rhymes, or the production?
It honestly depends. Often it can be one of us texting everyone else with two lyrical lines and then a whole song forming from just that. That said, often one of us has presented a rough outline to a track musically and everything works around that motif.
You all are known to make very atmospheric environments on all of your tracks. How do you all manage to achieve this, do you imagine metal barrel echoes of sound, like on "Peaked", or the choral discord dystrophy of "Fish Tanks"?
The last year has been based in experimentation, using a wide variety of analog hardware, to produce the intrinsic aural atmosphere which is on the record. That said, so much of what we use is temperamental to the point that the sound we get in each session can often not be replicated again. Those anomalies produce the spontaneity we wanted to be at the forefront of the recordings.
I like the kind of downer spheres of "Downlands" that almost feels like a world for downloads to inhabit. What's the story behind that number?
"Downlands" was a house owned by Mattys grandparents. It holds special significance in that it was in the middle of the Somerset countryside and in complete isolation, but there was warmth and comfort in that space. Downlands was an attempt to recreate the connection to that feeling. Sonically it exists between extremities of sparse aural environments, with a level of comfort in the structuring.
Can you all walk us through what it was like recording this album? What was it like for the three of you?
We recorded it in Chrissy's house in Bristol, locking ourselves away in that room. Recording, sleeping, and eating all happened in that space. It was necessary creatively for us all to get to that place of having complete focus day in, day out on nothing but writing and exploring what we wished to convey on the album. It was a period of high emotions both positive and negative, but that isolation was necessary to be as bluntly honest as we all could be.
Read the full interview feature here.

Woodsman
Our good friends Woodsman out of the blue released the Teleseparation EP on Fire Talk Records, a companion piece to their self-titled album that saw release earlier on in the year. The revered trio of Trevor, Mark, and Dylan shed a little perspective on the inside approach to their recent recording processes, as you get to experience the self-titled's closing track, "Teleseparation", in one continuous jam divided into four portions.
The first part is like the onset of uncontrollable jubilation, like entering a forest of limitless and boundless wonders where the foliage, greenery, and surroundings are comprised of the composition of guitar chorded branches. The second section is a cycle that involves the connection and relationship of the rhythmic core to the guitar strings that continue on a perpetual panoramic of painted wildlife and all the hallucinations of grandeur, a vision questing warrior could hope for. The third part is the lull, like a tranquil pause to enjoy the amenities of a discovered lake hidden deep in the canopied ceiling covers of the woods. The fourth and final installment of the Teleseparation EP is one of the main attractions, where the Woodsman trio make up a labyrinthine lobby of friends, foes, heroes, villains, and the best stuff reserved typically for prog rock masterpieces, jam band gold, and drone delving soundscapes that reach Tolkien levels of epic proportions. Trevor joined up with us again to give us the following insights behind the latest Woodsman offering:
The last track on our self titled album from earlier this year was a composition we pulled from a much longer studio take. One way Woodsman approaches recording is to set up live and start playing with no preconceived notions of where we're headed or where we might end up. It's an exercise in chance and trust and really allows us to get out of our heads for a bit. That track "Teleseparation" was the distillation of a 30 minute jam that was excerpted and overdubbed on top of. This EP works as a companion piece to the record and lays out that entire 30 minute jam in 4 parts, no overdubs. If you listen to the EP then the more concise track back to back, you can really get a glimpse into the creative process. The EP is special in another way too because it marks the last time all four original members were in the studio together.
Read the full interview feature here.

Dinner
Captured Tracks' latest signing, Dinner is the outfit of the Berlinbased, by way of LA/Denmark artist Anders Rheden who is preparing a new upcoming EP, Oui!, following up two recent EPs and a meditative journey tape (with word of a full-length to drop next year). Taking you deeper into the rabbit hole of this breaking development, we were able to enjoy a conversation with Anders from Dinner, over long distance cables, and some of the following strange tales:
For you what have you found interesting, fascinating, odd, or otherwise about the differences and similarities of LA and Berlin?
Both cities seem to have a dark undercurrent, energetically speaking. At least, so it feels to me. When I'm at the old Theosophist lodge in Beachwood Canyon it feels like it's a nexus for all the light energy present in LA… But so many places in that city just feel…. if not evil, then mysterious, to say the least.
I remember ending up in a car with some rich kids from the Palisades. I was standing outside a strip bar where Geneva Jacuzzi just played. These kids walked by, and took me with them to a party in the Hills. We ended up in a park behind the house in the black of night, fog everywhere. I honestly thought they were going to kill Dinner. They were howling at the moon. They started harmonizing in these hi-pitched voices. A lot of sexual tension. I guess they were just high on life. Or money, or drugs or whatever. I felt I was in that park with four demons. They didn't seem human…To me, LA is a place where several realities collide. Demonic realms meet our world, for instance.
How did Dinner first begin?
It was autumn in Copenhagen. I was sitting with a friend on his balcony, in the sun, sharing a cigarette. The love of my life had just left me. And I didn't know what to do —with music or with my life. My friend, Jannis from the band Choir of Young Believers, suggested that I let him produce me. (I used to produce his band in the past). And that I let him decide everything. So I did – I let go completely and put everything in his hands, as a way of letting go, and sacrificing my will to the universe. Jannis called in Caecilie Trier (CTM) and Nicolai Koch (pre-be-un), and together they made all the creative decisions. We went into a studio for two days and came out with seven arrangements for songs I'd written.
They decided I should sing, not me. I protested, but I'd promised to obey, so I did.
Why Dinner as a name, and why not breakfast, or lunch, or brunch, snack, or dessert?
Because dinner is the king of meals.
Read the full interview feature here.

Baseball Gregg
Announcing the latest edition to the Harlot family, we are proud to introduce to you the Stockton by Italy duo, Baseball Gregg. The synergy began when Satan Wriders own Samuel Regan was studying abroad in Italy where he met Luca Lovisetto in his hometown of Bologna. The California tape-recorder-toting spirit takes on a coastal Mediterranean Balearic charm that doesn't break the bank — but bets on EU-angled dream pop that inspires rounds of spontaneous celebrations and instant entertainment. Their debut self-titled tape was released on Cassette Store Day, via Harlot in the States and La Barberia Records in Italy, as we got to know the collaborative world of Baseball Gregg a little better in our following conversation with Samuel, Luca, and Eli.
Sam, Eli, what was the lake shoot like around Stockton?
Samuel: It was super fun. I usually only go to that spot on the delta late at night for bonfires or to go for bike rides, and it was actually the first time I've ever hung out there around sunset. A lot of my good friends came out to dance around which was cool. My boy Cameron Getty kept doing a lot of really rad stuff and as a result is in the video a lot.
Eli: Sammy invited me to participate as an extra in the video but I accidentally ended up manning the camera, which was cool. Lads Delta Marina is a weird place of gathering in Stockton where young people have been starting fires and drinking for decades. There's a bit of cool, shitty graffiti and decay going on out there which makes for an odd but interesting visual accompaniment to the Gregg's ultra lush track.
And Sam, how did you discover the old school VHS tapes of you and your family dancing that made their way into the video?
Samuel: Just to clarify, it's not actually VHS but miniDV, which are smaller cassettes with higher quality (I think) than VHS. Anyway, I used to film a lot of skateboarding and other stuff with that camera back in my youth, and my mom would only ever let me use one of her tapes, so I just taped over and over the same tape all the time. When I got the camera out for the first time in a few years to film this video, I had to figure out which tape was my tape, and while looking for it I ended up watching tons of old family footage. Almost every tape had people dancing which was weird, but worked perfectly. I never ended up finding my tape, but just filmed the rest at the end of one of the other tapes. We even got to add some of that skating flare to my Mom's old home movies.
Luca, what was the process like managing and arranging footage of skateboarding sunsets and lake time fun times along with Sam's VHS memories into the video for "Mathdance"?
Luca: The very first idea for this video was shooting a real-action underground battle between Zumba Dancers and bad-ass Skaters. Then Sam found all those 90s' happy cassettes of him and his relatives dancing, and they were awesome. Eli and Sam also shot a lot of tight dancing footage at Stockton river's delta, but it looked really different from the family tapes. So, after editing everything with Final Cut, I transferred the video from computer to VHS multiple times in order to merge everything together better and to get that scratchy VHS look.
Luca: We were basically looking for a video in which everyone is dancing for no reason.
How did these international connections come about here in the Baseball Gregg family?
Samuel: I went to school in Italy last year and met Luca's girlfriend, Stefania, in a math class. She was really nice and invited me to go see that movie The Bling Ring and Luca was there. I felt kinda embarrassed because the movie takes place in California, and I was afraid they'd think I was like the kids in the movie. I guess they didn't though, because they still wanted to hang out and be my friend.
Luca: Sam spent a whole year here in Bologna, and after some time we started having this almost physiological need to make music together. After some time that we knew each other, I lent him a classical guitar and he wrote a lot of songs on it. He produced a lot of songs, and they were all very good; but in the end we sadly had to choose only few of them to record because he had already booked his flight back home and we hadn't enough time to record everything properly.
Samuel: Yeah we decided to do this just a few months before I had to come back to the states. We probably could have made a lot more songs had time provided, but it's probably better this way. It's short and sweet, or something like that.
This super lo-fi video gives off the best visual accompaniment for "Mathdance", and I was wondering what inspired this mathematical dream dancing song.
Luca: I wrote music and lyrics for this song last March, during a weird Saturday afternoon. Usually on Saturday mornings I teach guitar to a small group of children, and that very morning I taught them a standard four-chords progression in C. Between instructing, I started whistling the song melody, and then the title credit was taken from a drawing that I found on Facebook that same afternoon.
Tell us how Baseball Gregg first began, and what's up with that extra 'G' in the name?
Luca: The extra 'G' in the name is dedicated to Gregg Popovich, San Antonio Spurs head coach: we recorded this cassette during NBA Playoffs and I was kinda obsessed with them.
Also: the band's name was decided after a long brainstorming made by Sam, in which he listed over 100 potential names (some examples: Wealthy Cum, Tweed Dreams, The Han Solos, David Lunch). Then, I just added the second 'G.'
Read the full interview feature here.
Satan Wriders
Speaking of Satan Wriders,  John Steiner wrote us the following statement about their heck raising video for "Sun Coma", dripping out some magical gold chains, and some vague clues and hints at what's next in the works from the Wriders for 2015:
Yo, it the Wriders here for the Week in Pop of our Lord September 2014 and we got a new video. This is the visual for "Sun Coma," the second single and B-side opener of four Black Eyed Kids LP. Eli found a VHS camera in June and we've been toyin' with it ever since. One day we were filming junk when Sam and John found a mystical gold chain lying in the back of a Wal-Mart parking lot. The chain radically altered the boys' energies. We documented the positive-negative synergy for this resulting video.

Stay tuned for some exciting new Wriders in 2015. Lots of projects in the works, including a split with a certain group of West Coast All Stars…
Read the full interview feature here.

GNTLMN

Some super duo projects carry the kind of indie champions that need little to no introduction. Take Social Studies' Natalia Rogovin and So Many Wizards' Nima Kazerouni who have combined creative crossroads as a collaborative synergistic duo developed out of the darker painted shades of chivalry, GNTLMN. The project started with Natalia's exodus of solace up in Northern California. Music made from the sincerest expressions of the heart's personal dialogues found its way to Nima when both were performing at SxSW, where the collaboration between the worlds of Social Studies and So Many Wizards began. We recently had the privilege of catching up with them both in the following interview.
Natalia, with your Nor Cal retreat from the LA beach coast, and Nima bouncing between AZ and LA, how did you two old friends brainstorm and begin the GNTLMN project?
Natalia: GNTLMN started two summers ago when I was in the midst of a deep depression. I just had my heart broken, I wasn't happy at my job, and I was over the city. I went to stay for a while in a place called Heartland in Northern California. The house ran on generators and solar, and my nearest neighbor was a mile away. I was surrounded by rolling hills and oak trees. Deer and rabbits would hang out in the yard, and I just started to write a bunch of songs — experimenting with programming drums and different recording techniques. I had no specific notion of what it was all for. A year later in Austin, after a crazy all-nighter at SxSW, I shared the songs with Nima. He loved what he heard and asked if he could lay down some additional arrangements. The first track he sent back was "Black Tongue" — he had written these perfectly placed and beautiful chorused guitar leads and vocal falsettos. I listened to the track, picked up the phone, and said, 'Yeah, you're in. Let's do this.'
What lead you both to choose the moniker, GNTLMN, gentlemen sans the vowels? And what is it about the antiquated terms like gentlemen and ladies that are so old school but still prevail in the current contemporary lexicon, despite the post-gender, post-sign/signifier movements?
Natalia: For me, the term Gentlemen evokes this nostalgia for a sense of virtue and honor that has been somewhat lost in today's world — a time when virtue and morality were incredibly important to the way people conducted their lives. Gentlemen have fierce moral codes that they live and die by, and I think our music contains a tension and interplay between that nostalgic, aching quality, and a very modern, electronic aesthetic. So GNTLMN just has the right vibe. We initially had it all spelled out, but found out that there were already couple other bands with similar names. We thought about changing the name, but nothing was as good — it was so clear that GNTLMN was the name of the project. We just decided to misspell it so we could keep it!
From the carpe diem of "Living Young", to the devastating "No One Wants To Dance", and our debut of "Black Tongue" — what sorts of interiors of self and societal reflections inspired the personal places of depression and redemption of "Black Tongue"?
Natalia: "Black Tongue" was inspired by this feeling I had during a breakup fight. I had dated a guy who was particularly sharp tongued, and right in the middle of one of our last fights, I had this sudden thought. What was the purpose of fighting if we already knew it wasn't working out? Why go out guns blazing? It's easy to see the bad in someone when they aren't giving you what you want. I wanted to end our time together by just appreciating the good things that had come from the relationship, like what we had learned and experienced — the connection and the love we had shared. We knew it was over, and neither of us was ever going to 'win,' so why fight?
Then what was the creative process like in writing, developing, arranging, sequencing, and then working with Lewis Pesacov?
Natalia: We did a lot of the work ourselves before going to Lewis. The songs had been fully recorded and rough mixed by us when we brought them in, so we were really looking to take something that was just a bit black and white and bring it into full color. We re-recorded all the vocals in a vocal booth with a much better microphone and re-tracked all of Nima's guitars to get the perfect tones. We also added some organic and percussive drum elements. Lewis had an incredible set of custom toms that he had never used before and that were perfect for the songs. Lewis was really creative throughout the process, but also respected the core ideas of the original mixes. We didn't want to fix anything that wasn't broken. It really felt like the perfect match.
Read the rest of the interview feature here.
Gymshorts
GYMSHORTS take all the bank notes of debts and fellow debtors, crumble and shred them up metaphorically in the thrashing video for "Owed To The Bank". Off their No Backsiesalbum from Wiener Records and  Manimal; the Rhode Island peace disturbers rip up the rules, conventions, restrictions, regulations, tariffs, status quo in song that toasts to "being broke forever." GYMSHORTS are the band for everyone that feels let down by the state society or the world. GYMSHORTS bring some genuine, no holds barred affection for the disaffected, and bring some of the rowdiest and realest backyard rock that propels neighbors to call the cops and landlords to retain security deposits. They are Sarah, Devin, Faulkner, and Nunz—the school ditching slackers your parents warned you about who got suspended for smoking in the bathrooms, wearing whatever they wanted to during gym class, and P.E. They sent us the following dispatch about No Backsies, and their video for "Owed To The Bank" while driving along the touring road:
We recorded No Backsies in our practice space in an old mill right outside providence. Our roommate and good friend Jared Mann recorded us and we just took a day or two to bang it all out since we all pretty much hate recording. Once it was done our good pal Taylor Warf made this video for us. We just thought it'd be fun to get hammered and fuck around with a green screen plus Taylor does some really cool editing and has a hilarious sense of humor so we really wanted him to make it. Providence is cool like that — there's a ton of really creative people — lots of artists and musicians and there's a pretty awesome sense of community and support going on!
Read the rest of the interview feature here.

Dinosaur Feathers
Even before the official announcement of their third album, CONTROL, Brooklyn has been buzzing about the upcoming album from Dinosaur Feathers. In press releases and glossy overviews, much fuss is being made about Rhythm Nation-Janet and Curtis Mayfield fixations from visionary mastermind Greg Sullo, working with the Naptimes production team on their new album from Ernest Jenning Record Company. The maximum level of gossip, mumbles, and whispers was confirmed when Howth frontman (also interviewed in this feature) Carl Creighton expressed his unyielding admiration for Dinosaur Feathers, and had the opportunity to interview with Greg Sullo following the debut.
"Impossible" proves to be everything you've been patiently waiting for all summer, or ever since 1989. But before you get hung up on date pigeonholes and other identifying marks that indicate location—all that is thrown out with the bathwater as some of the most obsessive upgrading of outdated former-high tech mixing methods takes over. Naptimes see to it that every isolated and disparate component of Greg's audio puzzle is kept in the keyboard-Crock-Pot. Sounds chirp out from all corners, lovable drum-machine sequences click and clap, keys pop out, pop away and rain down on the listening audience as Greg unleashes one of the most memorable song opening falsetto we have heard all September: "What the fuck can I say? I kept to myself, just one asshole making trouble, when I wanted nothing, so what?" It's your contender for song of the week, off the upcoming CONTROL album you have waited all year for or more.
Getting deep down in the latest Dinosaur Feathers chapters, Greg Sullo got interviewed by one of his biggest fans and contemporaries, Howth's Carl Creighton:
My introduction to Dinosaur Feathers was the fabulous Whistle Tips album released in 2012, the first with your current label Ernest Jenning. A lot has changed with the band since that release, not the least of which being the geographical distance between members. How did this effect the writing process and creative direction taken with CONTROL?
Being removed from everyone else sort of wiped the slate clean. So, while there was no explicit decision to change direction, the distance definitely allowed for changes that may not have occurred had I stuck around NYC.

What inspired the album title and the synth-pop soul sheen of CONTROL? What musical influences did you draw upon?
When I first moved to Oakland, I was listening to a lot of Kiss 98.1, which plays early 80's R&B. Somehow that led to me listening to Prince's Dirty Mind over and over, as well as Janet Jackson's Control, whose title we stole.

Who's playing on CONTROL? What was the recording process like?
I recorded most of the parts myself. Luckily, I had some incredibly talented friends in Oakland who were able to help me realize some ideas I couldn't pull off myself. My buddy Jacob Fiss-Hobart played all the sax parts. And my buddy Michael Coleman played most of the keyboards. Almost all of the record was recorded in my bedroom in Oakland. My housemates were definitely patient and a bit confused – especially when I was recording all the high vocal harmonies. The people who lived downstairs once asked me, 'who's the girl who keeps singing?'
I'd like to touch on Touching for a moment. For those who don't know, lead singer Greg Sullo of Dinosaur Feathers has smartly enlisted his bandmate's other band Touching to support him on this nationwide tour. What was the progression of getting everybody on board for that? How long is the tour again?
It was clear early on that we were going to have to change things up when we played this material live. We wanted our live show to be the Curtis Live (Curtis Mayfield) to CONTROL's Curtis and/or Roots. That meant stripping things down and reducing the arrangements to their most necessary parts. While the style is a lot different from Touching, those guys have the musicianship and they were on board to go out on the road for 5 weeks. It was a coup.
I was lucky enough to be at your Death By Audio show a couple weeks ago, your first with Touching, and the tightness of everybody as a unit was even more remarkable considering you had only one practice under your belt. And the old school soul sound you guys captured is so different than the progressive stuff Touching normally does. What explains this phenomenon? Similar influences as artists? A mind meld?
Mind meld, mostly. Recording the album in my apartment was cheap, so we had some extra money to spend on a first-class quality mind meld. Also – I think everybody really committed to the idea of trying to play like a real tight, old school soul band. There are a few Touching-esque moments in the course of the set though, which offer a pretty amazing contrast.
CONTROL has a very clear direction both sonically and in the songwriting. I personally found that unwavering commitment to style really refreshing. Do you know what direction Dinosaur Feathers might be going in for future material? No idea. This live setup is real great. I'd love to do something that captures that, but logistics may prevent that from being possible. We'll see.
Read the whole feature here.
Carl Creighton
Joining us again is Howth's Carl Creighton, talking to us about the world strange-baked homemade visuals for "Mommie's Brownies", his album Brookings from Mecca Lecca working with Andy Swerdlow from Shark?on his newest solo album, The World is a Beautiful Place, and more in the following interview.
While the mind wanders toward THC-enriched edibles, give us the story behind how "Mommie's Brownies" was born, and was your mom feeding you pot brownies as a tyke?
This is embarrassing and probably a little too revealing for my employers to read, but I don't remember a lot about how Mommie's Brownies was made. I know I wrote a guitar riff. And that I was hanging out with my brother. Or maybe not. I was definitely alone when I recorded it. So yeah, no brother. His drum set though.
And then there's that visual piece, where the trippy altered states of the song's sound messes up our concentration as we follow the back and forth conversations between a Winnie the Pooh and Piglet toy, a Google home screen with a blank search field, Sennheiser headphones, and then a surprise finale involving a troll doll. Did you really experience something of this ilk whilst in an altered state, maybe under the influence of a potent brownie edible?
I know it definitely looks like I was mellower than normal when making this video. It was mostly NyQuil. I had a bad cold and called out sick from work. I can never do nothing, so I started messing around with iMovie. I made this in about an hour. I just took the pictures of each thing and then wrote what I thought they'd say to each other. I was lucky I'd chosen things that had such different perspectives. Google is like a God that doesn't like being questioned. Winnie the Pooh is a really chill dude. Sennheisers would smoke cigarettes if they were people. I grew up with Rudy the Troll doll! I'm probably gonna cuddle with him tonight now that I think about it.
Tell us more about the EP that "Mommie's Brownies and "Gratification Immediate" are found on, and how they were formed following your album, Brookings, from earlier this year. How was this EP a departure from Brookings, and can you tell us about the album that is also still in the works?
I recorded "Mommie's Brownies" and "Gratification Immediate" in my mom's basement in Minnesota. I grew up in that house and she's selling it next spring, so being able to capture those songs there means a lot to me. It's also the same place I recorded Brookings.
The subject matter of the EP is indulgence. The culture of consumption. I was reading Kiekegaard's Either / Or at the time and there's a lot in there about whether it's better to live for the moment or for future moments. And all the reasons people have vices. That inspired the subject matter for these songs and some of the songs on my more sleepy solo album coming out in November sometime. That one's more along the lines of the Brookingsalbum. Just me and a guitar. Though I started playing around with making a drum out of the guitar on this new one, which sounds pretty awesome. Especially since Shark? drummer extraordinaire Andy Swerdlow is mastering it. What he's sent me so far sounds so cool.
Read the whole feature here.

Is/Is
Having released their beloved self-titled earlier this year via Manimal / Loose; Is/Is duo of Sarah Nienaber (from Web of Sunsets, Gospel Gossip) and Sarah Rose are about to release Shadow Days September 23 on Moon Glyph, sharing the planet lit paths of, "Before the Stars". Where their debut self-titled album found an organic gaze of guitar-gauzy observations and the ghost graces of Midwest gothic embraces on Web of Sunsets' Room of Monsters album from End of Time Records; Nienaber and Rose ready new psychic songs that intersect the roads traveled from yesterday with eyes fixed on the heavy lidded highways ahead, and recount their creative journeys and prolific output from the past couple years, months, and recent days.
Sarah R: The self-titled was officially released back in February, but we also did a limited run on cassette last August. We put that out and went on a three month US tour which included spending a month in Joshua Tree. We went there in hopes of writing/recording a new record. One of the songs, "My Time (Taking)" we recorded out there and it ended up on Shadow Days, but it wasn't until we were back home that we really felt inspired and focused… that said, we wrote these songs not thinking anyone would ever hear them.
What events occurred in between that you feel had a big creative impact or shift?
Sarah R: We got back to Minneapolis just in time for winter with no money, no practice space and no drummer. We set up what we needed to record and just stayed up late writing and recording songs as much as possible. We had no intention of releasing these songs at the time which gave us a kind of freedom.
Sarah N: Shadow Days is very much a product of circumstance. It doesn't sound like anything we've done before, because we didn't have the same set of tools we'd had in the past. We were kind of up against a wall, and we didn't know what to do but we knew we didn't want to stop making music, so we adapted and used what we had: a couple of microphones, a guitar amp, a room, each other. When we went on that long tour, I think we learned that we can't rely on anybody other than ourselves. Never count on other people to make something happen for you. I think we had to learn that in order to give ourselves permission to make this album.
Maybe this is just my hearing, but Shadow Days moves in the those haunted, folky-country-steeped specters found on Sarah Nienaber's Web of Sunsets. Has the world of Webs impacted the songwriting nature of Is/Is to make it more holistic?
Sarah R: On Shadow Days, Sarah N would write the guitar parts and I would write lyrics kind of simultaneously. Previously we had always worked together to finish songs that I had mostly written alone, but this time we really worked together in a way we never had before. I think any similarities between Shadow Days and Web of Sunsets lie in the fact that Sarah N had a stronger role in writing these songs and having no drummer to work with kept these songs more mellow and stripped.
Sarah N: Web of Sunsets definitely taught me how valuable openness and space in recorded music can be, and that knowledge definitely translates to this album.
That is awesome that you're releasing Shadow Days via Moon Glyph. How did this partnership come about with the experimental imprint?
Sarah N: Winter was ending and we were leaving for Portland soon… we realized we'd amassed a decent collection of songs. We picked our favorites and I emailed some very rough mixes over to Steve at Moon Glyph. He was like, "I can tell there are good songs here. I'd like to hear them mixed." So, we had a month or maybe less before we were to pack up and move. Neil is amazing and worked with us to get the songs mixed quickly. We're really happy and excited that Moon Glyph liked it enough to put it out. We've been fans of the label for a long time.
Give us the scoop on how you both recorded the album in Joshua Tree and then home in Minneapolis, completing it and then relocating to Portland, OR.
Sarah N: We went to Joshua Tree to demo-out full-band Is/Is stuff, some songs that we had been working on for a while, some that we wrote there. Our drummer at the time was pretty intently focused on working on his solo stuff when we were there, which we weren't prepared for, so it left us to kind of reinvent our whole idea of what we were doing in the first place. We set up our recording space outdoors, next to the side of the house. We recorded tons of weird stuff, mostly just the two of us, but "My Time (Taking)" was the only track that really holds together with the stuff we did later in Minneapolis, even though it's kind of an oddball. We tracked every instrument and every vocal through the same guitar amp on that one. When Neil went to mix it he was like, 'WHY did you do it like this?' Anyway… I think we learned a lot about ourselves, what we wanted to do, and how to do it when we were out there. That place is still kind of in us… growing and changing and revealing what's what, even now.

How are things currently Portland? State of the indie scenes there?
Sarah R: Portland has been great so far. We played a ton of shows around town this summer and as far as I can tell there has been a pretty positive response to what we are doing. Since reuniting with our original drummer Mara we have been working on writing new songs and we're gearing up to record another full length this winter.
Read the whole feature here.

Soft Swells
Tim Williams' band Soft Swells to released the album Floodlights via Modern Outsider Records, and we have an interview with the frontman himself. While many sing, talk, and write about love — Tim writes his own song of songs that provide a sentimental look into the oceanic landscape expanses where the pressures and fear from the alienating excess of fish in the sea becomes a personal paeon and plea for to the listener to find a safe harbor in the metaphor of life's engulfing floods. Tim took us through the making of the new album, and more.
From your self-titled and last year's Lifeboats — what was it like developing Floodlights on your own, and keeping with the aqua elemental motif found on the previous EP?
Floodlights happened really organically just like all the records I have recorded. I didn't feel any pressure to write songs as I write all the time and certainly didn't feel like I needed to write about waves and sand. I think that just living in Southern California pulls out those elements of my life.
Tell us what it was like combining the energy of your live sound into the recording mix? You have talked before about creating a more sophisticated approach to your songs, how has this kind of development behind the scenes for you impacted the overall run of Floodlights?
For this record I specifically wanted it to sound as much like our live show as possible. I like playing as a four piece, and that limits you a bit in the studio, but in the end it makes for a tight knit band — of which we have an incredible one. (Christopher Pappas on Bass, Kyle Fredrickson on Guitar/Keys and Jack Lawless on bass).
What sort of real life events inspired the title track of growing love to the expanses of Floodlights? Real life floods? Water world fixations perhaps? Even the name Soft Swell alludes to a tranquil blanketing of ocean waters and wave formations.
I grew up in a very landlocked part of the Midwest and the first time I saw the ocean I came alive. The song "Floodlights" was inspired by my new wife Sabrina and the feeling of a relationship finally working out — while making me happy/content but also challenging me (which I need).
Read the whole interview feature here.
Nowhere
Having released the album Diamond on Jurassic Pop Records, meet Matt Rolin of Nowhere, featured here in the following interview. The Cleveland based musician plays with folks that share a vision of lysergic-eyed eras and former empires resurrected like dinosaur fossils brought back to life (ala Michael Creighton / Steven Spielberg) to once again aimlessly roam the earth. Matt joins for an enthusiastic discussion about the Cleveland indie scenes, and much more.
Give us the scoop from Cleveland, how have their indie scenes affected, influenced, and/or informed you?
This is a city with a very deep musical heritage that has largely remained quarantined off from the rest of the world until recent times. A lot of this attitude/sad reality can be attributed to the city getting a bum rap for so long that eventually everyone decided to say, "Fuck it, and fuck you!" to everyone else. You probably know The Dead Boys, Pere Ubu, and The Raspberries, but what about Bill Fox, Damnation of Adam Blessing, or Nick Tolar? If you haven't heard any of these guys, stop whatever you're doing and look them up before proceeding. There are countless other artists from this town that never got their due for a variety of reasons, but they probably didn't even want it to begin with. People making music because they truly love music, and to a lesser extent have nothing else going for them in a bummer of a city is the essence of the music scene here.
How did Nowhere first begin?
On the verge of giving up. I had been involved in the music scene here for a number of years in a variety of bands and solo projects, but none that I was ever completely satisfied with. It always just kind of felt like there was something still missing from my end. I took almost a year off and started recording some stuff in the dead of winter that I had no plans of performing live. I should also note that I was floating around jobs at this point and was generally not very happy while being very stressed. I started a new bartending job and met Sandman, my bass player, who was a server at the place. We talked about music a lot and he convinced me to get a band together after hearing demos of the first Nowhere record. After giving the finished copy of the album to some friends, an old buddy had started a record label called Jurassic Pop out of Indianapolis with his college friend and they wanted to put it out on cassette. I was stoked. Then, I got asked to play a really good show before the band was put together, so of course I said yes and had to scramble. The live band consists of Christopher Hoke (Field Trip), Adam Gravatt (Prisoners), Stanton Thatcher (Founding Fathers, Tall Pines, Plus Ultra), and Sandman. All guys that I'd played with previously and/or had been good friends with from sharing a mutual respect for music and general weirdness.
What's the story behind the name? It seems like nowhere is a big concept from Neil Young (Everyone Knows This is Nowhere) to the Beatles ("Nowhere Man"), and now you guys.
As much as I love The Beatles, Neil Young, and Ride, the name doesn't really have anything to do with them. I just like one-word band names, and I guess it resonated with me because I wanted the music to exist but not necessarily belong to anyone or anyplace. I am a Beatles freak though, and remember trying really hard to just straight rip Paul McCartney's bass playing. It's a style that sounds beautifully melodic and effortless while actually being pretty damn hard and fun to play.
What sort of jewel like prisms lent meaning during the crafting of Diamond?
None. I'm broke and easily distracted by shiny things.
What was the recording of this album like for you guys?
It was a similar process to the self-titled one. I was in between jobs again, and would wake up early and try to get the loud things out of the way before my upstairs neighbor came home from work. This proved difficult this time around because he decided to retire halfway through and never left the house again. Sorry for the noise Fernando. We had played a dozen or so shows and were getting more comfortable playing live, so I had that to think about this time around. I just tried to make everything slightly louder and more up-tempo this time around. I went to Salt Mastering in New York to get this one finished up by Paul Gold. I had worked with him once before and he is truly an awesome person.
Read the whole interview feature here.
FF
FF released their hotly anticipated (and already talked much about amongst their Seattle peers over the course of the past year) album, Lord, from the honorable Couple Skate imprint; andwe are proud to present our recent conversation with the Northwest trio of Claire Nelson, Harley Thompson, and Michael Abeyta. Cool cuts like the new alternative / no alternative of "Caught in a Dream" have been playing in our offices, living rooms, phones, stereos, anything, anywhere; just as their recent reigning single, "Past Year" gave us something to look forward to for years to come while passing the time and distances from the yesterdays, yester-weeks, yester-months, and yester-years. FF here exudes all those feelings one receives upon sentimentally bound reflections that give rise to mix emotions, while their vocal harmonies find the blend of the perfect company as the catchy string chords bend to the whim of every great feeling you hope that tomorrow might bring. Enjoy our interview with Claire, Harley, and Michael:
Tell us about the moment where FF was born as a group between the three of you.
Harley: I got an idea for this song and knew it wasn't gonna work with the sloppy garage band Mike and I were in at the time, so I asked if he'd be down to play drums for a new band if I taught Claire the bass. Think this all went down at the SODO Krispy Kreme.
Michael: I am not certain but i think that song was Dusted. The three of us seriously started practicing non stop right from the beginning, pretty much everyday. Looking back it was a bit on the crazy side but it was nice feeling all the hard work pay off.
Seattle maintains to be the Pacific Northwest epicenter of everything amazing from the alternate sectors. What is the relationship between you all and this city, and how do you feel Seattle has informed your music?
Claire: I've always been inspired by the music history of this city…but I think the past has influenced us only indirectly. There's no conscious effort to pay homage to the region.
Harley: Seeing Naomi Punk and Half Gift at Cairo when we first moved up from Olympia was a cool moment where it seemed like something pretty real and new was happening in Seattle. Was definitely encouraged by that show and the support we got from that scene.
Michael: I was born and raised here in Seattle and everyday I feel more disconnected from the city. I give it 10 years before the Amazoids completely take over.
We're very excited about your upcoming album, Lord, and were wondering what the recording/writing/conceptualizing process was like for you three?
Harley: The songs that make up the record just came out without any conceptualization. Originally we were gonna just do a 7" with the four tracks, but ended up being really unhappy with how the recordings sounded so we took a couple month break. By the time we came back to re-record we had another four we wanted to put out so we did them all together. There's a pretty deep shift that develops over the course of the record as a result, happy we were able to capture that.
What kind of god-like self-authoritarian, deification-indoctrinations, inclinations, etc, brought about the name Lord for the upcoming album?
Harley: Whatever you're making sacrifices for better be something you're comfortable worshiping.
Couple Skate is a wonderful imprint, like neighboring labels like Help Yourself, Beating a Dead Horse, Hardly Art, etc. What is your relationship to the various other local groups, signed and unsigned in the Seattle, or general Washington State vicinities?
Claire: We all go to see shows. So Pitted, Weed and Naomi Punk are some of my favorite regional bands. I'm lucky enough to have become friends with people in tight bands through playing music. Also gotta give mad love to Andrew and Ian at Couple Skate for the magic that they work. So grateful they wanted to be a part of this record.
Harley: Have a lot of love for Naomi Punk, crucially supportive and such talented dudes. So Pitted are close friends, they just got done recording an LP that's gonna do some cool things. Weed are deep friends, lot of history tied to the record. Sacha from Posse/BADH is a good bud we get veggie burgers together once a week.
Michael: Most of the people involved with those labels/bands I met throughout the years just from playing shows. The scene is small. So Pitted is by far my closest relationship. Every member of that band I am intimate with in some way. I used to play shows with Travis from Naomi Punk at the downtown ymca when we were teens and he was drumming in a band called Last Slice Of Butter, they were pretty sick.
Recent singles like "Caught in a Dream" and "Past Year" are keeping us believing in the power and realness of earnest real rock and roll ready for any venue, any stage, and built from the honest places of dives, garages, rec rooms, backyards, and so forth. What is the FF method for creating and constructing songs?
Claire: Harley would come up with an initial song idea and we would work on it at our apartment together. Sometimes we would go to the space and work on songs and vocal melodies. Michael and Harley would bang out some ideas together on their own, too. We practiced a lot to prep for shows and recording.
Read the whole interview feature here.

Holly Waxwing
Those lucky enough to have discovered the debut Holly Waxwing album Goldleaf Acrobatics in September of 2013 were rewarded with something that felt outside the parameters of mere descriptive adjectives on their own. The musical vehicle for Birmingham, Alabama's Garrett Crosby — who also runs the label Noumenal Loom with Isabel — the new single from Holly Waxwing has arrived from CSCN with the world premiere of the dashing and vibrant prowess of, "Chalant". The rule books of cool are thrown out the window, as Garrett releases the biggest Holly track yet out into the digital skies of the world. Holly Waxwing joined us for the following exclusive interview:
How did the Holly Waxwing act come about, and how was the name inspired?
I met this really amazing girl right after snapping out of a long stint of not writing music and that inspired me to write a lot of new material. I had played around with electronic music since I was 15, but my first album as Holly, Goldleaf Acrobatics, was my first attempt to really hone in on a specific sound. I went with the name Holly Waxwing for a handful of reasons. Cedar Waxwings are one of my favorite birds… they appear effeminate, bold, discreet, exacting and playful all at once. Their skin has this incredible gloss/sheen that I wanted to convey in my music and their call is a distinct high-pitched trill. They feed on holly berries, which have often fermented, so they will get drunk and have a hard time flying. I also like that the name has a Pippi Longstocking kind of whimsy to it.
Birmingham, Alabama feels like it has become the new Nashville. What can you report from the eclectic array of scenes, imprints, and acts that are happening there?
Yeah, Birmingham has grown in a lot of great ways in the past few years. There are a lot of really fun psychedelic garage rock bands from here. I would highly recommend checking out Plains, Drew Price, Holy Youth, and Eleven Year Old. Happenin Records is a local record label co-run by my roommate and good friend Chris McCauley and my friend Dustin Timbrook. They throw a really fun festival in Birmingham every year, "Happenin Fest," and have worked with Isabel and I's label, Noumenal Loom, to co-release cassettes for our mutual friends Plains and Caroline Says. Although there isn't a lot of electronic music here yet, people are super receptive to it and a small scene is beginning to develop. My friend Drew makes great House music under the name Cool Lauren — we're hoping to start a monthly dance party here soon which I'm very stoked about. Birmingham is a great place for food too…I work at a boutique biscuit restaurant, ha ha.
Break down the process of making "Chalant", and re-twisting that maybe Mariah vocal, a la "Dreamlover".
I started out with the visual of a really rubbery/plastic bass sound, and I wanted it to be really disco-ey and breezy track. I've been using a technique for a lot of the vocals I sample lately that I call 'mining.' It allows me to find sounds in a song that were never in the song to begin with (the vocal sound right at 47s & 1:01s for example). There are little half second ghost sounds that you can dig out of songs by zooming really far into a sample and playing with the transients, pitch and different warp modes in Ableton. That's funny you mentioned Mariah — I had a sample of "Emotions" in the pre-mastered version, just for my own entertainment, but I had to remove it before sending it off to get mastered.
Read the rest of the feature here.

Happy You
Back when we debuted "Canyon" from Happy You's upcoming album, Giggle, we warned you that one of the best things you might hear all year was on the way. The Brooklyn based band has a sound soaked in the tropics where summer lasts for all seasons, and power pop anthems are amped up by DIY orchestrations and arranged in the element of surprise. But again this cannot begin to summarize, nor encapsulate the genuine feeling of bliss that Giggle has to offer, as we present the following mixed media piece to commemorate the making of Giggle:
Read the rest of the feature here.

Exray's
Exray's emerged from the wreckage of the twentieth century with offerings like Ammunition Teeth, Trust a Robot, and released their EP The _Dome on Bandcamp and Howells Transmitter. Serving as a sampler platter of three albums inspired by an elaborate concept built around the outer-reaches travels of Vessel XII, signals waves and frequency patterns criss-cross across plains of the astral and the earthbound corners. Seasons of summer, spring, winter, and fall are observed from objective outside points of views that observe the balances of water, sand, along with both the connected and disconnected bonds of human relations. These things exist in a floating unison that circulates the globes of galaxies known and unknown alike, where underlying underscores and attention abound through the synthesized surges from analog and digital synth currents. The exploration of these outer places mirrors that human quest to know more about the own mysteries of existence that are never answered.
The EP arrives on the heels of the announcement that Exray's will present a multimedia exhibit at San Francisco's distinguished de Young Museum in April of 2015, called "Vessel XII". The result of collaborations with researcher Astrid Bly regarding exploration of the outer reaches of space has inspired material for three forthcoming Exray's albums, withThe Dome proving a twenty-minute audio preview of forthcoming events. We invite you to experience an interview with the visionary frontman/producer/outer dimension explorer Jon Bernson.
Give us a declassified outline of the Vessel XII undertaking.
As you may know, Vessel XII refers to a series of twelve television broadcasts that were received at various international locations between the years of 1986 and 2009. Each broadcast contains a message from an Earthly spacecraft (Vessel XII) that was sent to explore the outer reaches of our galaxy. Most people assume this is a science fiction story or a publicity stunt, but there is one researcher, by the name of Astrid Bly, who has been studying this set of phenomena for years. I was fortunate enough to meet her a few years ago at a Singularity conference. We hit it off and I was moved by her work. To make a long story short, she needed audio assistance for her project and all the gents here at Exray's were happy to help out.
So when you refer to the logbook entries, you are referring to these broadcasts/messages from Vessel XII?
Exactly. Each broadcast from Vessel XII contains one entry from their logbook, which is described by Astrid as the "diary / blackbox recorder of the spacecraft." All of the entries seem to be dictated by the same crew member, who is known to us only as 'Keeper of the Logbook.'
If my understanding is correct, track #4 of The_Dome is an excerpt from one of these broadcasts. Do you plan to share more of them?
That's true. Technically speaking, anyone can track them down, if they are willing to travel the world and scour the deep channels of the internet. To my knowledge, Astrid is the only one who has found them all and assembled them into a coherent format. We've shared some excerpts with friends and a few experts in the field, but Astrid's press conference and The_Dome EP are the first attempts to share these findings in an organized way.
And what about the music? Are the songs from Vessel XII as well?
Good question. This needs to be explained. The first two tracks on The_Dome are songs that Exray's wrote and recorded because we were inspired by Vessel XII and Astrid's research. By helping her, we've become familiar with the logbook entries and realized that these fascinating reports are filled with ideas for songs and albums.
Let's get specific! Talk to us about the making of the planet spinning descent of 'The Fall,' and perhaps the Camus connection to the idea of falling from earth, falling from grace, and falling perhaps, into new dimensions.
I will try to field all of these! "The Fall' refers to logbook transmission #2. This is a particularly enigmatic broadcast because the title is never explained. In all likelihood, it has to do with landing on a planet that is covered entirely by liquid water. In our song, we refer to the fall as a season that the crew of Vessel XII no longer has access to (being that they live in space). As you can see, the title opens up a lot of unanswered questions, which is where I like to be when I'm writing songs. Yes, "The Fall" could refer to humanity's fall from Earthly grace, and it could be a reference to Camus, or what happens to the body when it's released from zero gravity. Until more information comes to light, everyone's guess is as good as mine.
What sort of spatial algorithms have you discovered by venturing into the deep ambient ether?
I think I can speak for everyone at Exray's when I say that we're better with algorhythms than algorithms. Bad jokes aside, Astrid handles the math and we handle the audio. Both are necessary. As NASA has recently disclosed, celestial bodies emit distinctive sound frequencies that the Vessel XII logbook refers to as 'sonic signatures.' Without going into detail, the logbook describes quantum leaps in Vessel XII's navigational abilities as their mastery of interpreting sonic signatures increased.
Read the whole interview feature here.

Leisure
Portland by NYC's Leisure released their Gone Again EP for Track and Field Records, where frontman Jon Jurow brings along the top brass talents of bassist Alex Geddes from The Woolen Men, Royal Baths, Edibles, and Trance Farmers' John Rau on percussion, Baltimore son Kevin Muhitch, with mastering and engineering credits from heavyweights like Timothy Stollenwerk, Eric Dante Sabitino, and Justin Frye. The result here becomes a woven world of rapid waving audio textures where the inner personal relationships between friends and lovers become a sonic experiment that turns cases of trust, and deceit into a motorik movement. Join us as we got a chance to catch up with frontman, Jon Jurow:
Tell us about how Leisure was born, after cross-country travels, and then recruiting Alex Geddes, John Rau, and Kevin Muhitch for the band.
Leisure was conceived as a vessel for exploring audio/visual work I was envisioning at the time, social commentary and pure pop joy. Having spent the last few years working on inward electronics, I was searching for something more outward / direct. I wanted to challenge myself. Guitar and voice are still somewhat foreign to me. There's nothing to hide behind. Putting this out there is something that's very vulnerable.
In a group that has talents that come from the talent pools of The Woolen Men, Royal Baths, Edibles, Trance Farmers, etc; how do you find their collective gifts have enhanced Lesiure?
They are all incredible players and close friends. I came to them with the sketches/demos of the songs that would become the "Gone Again" EP and feel blessed that they were willing to back me and add so much to the project.
What was it like recording the Gone EP with Mike Erwin in two days time?
Honestly I'll say It was a great experience and Mike is an extremely skilled engineer. That being said, having only ever recorded alone/at home, it was also somewhat stressful to have time on my mind and a lot of really strong personalities in a room. There's an immediacy to it that really translates well. These are all pretty much first takes. After this initial session we tracked two new songs in N Portland with Eric Sabitino that I just mixed down with Justin Frye of PC Worship/Gary War that I'm equally excited to have made it onto this release.
The cool-flashing-color effects on the video for "Mutual Lies" is perfect for that cerebellum twisting song. What was the behind-the-scenes magic at play with the visual treatment from Brian Echon and Fatos Marishta?
Brian is an amazing videographer based in LA. We met a couple of times and discussed the overall vibe/vision behind the song and he just kinda went from there as we only had 4 hours to shoot in this warehouse. Fatos is also pure genius and did all the final editing and animations. He showed me some footage, screen caps and shot edits back and forth 'til we arrived here. I really just completely trusted him to help create a visual reality to my narrative.
Read the whole interview feature here.

Friend Roulette
Following up the release lineage that has given us Grow Younger, and I'm Sorry You Hit Your Head; Friend Roulette's Matthew Meade talks about the tight collective made up of, Julia Tepper, John Stanesco, Tlacael Esparza, Kyle Olson, and Nate Allen where there is no telling what fantasias are in store for you ears, mind, and body.
Tell us about what the new recordings have been like for you all.
They were really fun because we worked on them with friends/musicians in bands we like and play with rather than a single producer. Julian & Carlos from Ava Luna recoded us at silent barn & Sam Owens from celestial shore is mixing it now.
How do you feel the band has grown in recent days, weeks, months and years?
Kyle (drums) Nate (bass)and Hot Juan (ewi) all have really long hair these days. Julia is writing a lot more of the lyrics now. Tlacael just started his own company, revolutionizing live electronic drums, replacing the electro drum pads that most drummers use now for something more natural to a drummer. It's called Sensory Percussion check it out. Musically, well, you can hear it changing if ya listen. I guess we're getting more simple.
What are some of the stories that informed the single, "Fucked Up"?
Let's just say it's about partying too hard and the lingering feeling that comes with it. Waking up being perplexed and in pain from the night before.
I like how you all sonically create the a kind of onset of a narcotic effect. How did you all go about creating these designs of discombobulating effects?
We definitely did go for that on this track. The effects on the guitar and synths were definitely meant to be over the top. The song changes drastically every 10 seconds until the end when the same lyrics are repeated 20 times.

Backwords
Brooklyn band of friends Backwords released their album, Nest, available via Campers' Rule Records; where Backwords present the tightness of their family band style bond in a free and endearing manner that only bands that have been through it all together can posses. Backwords also wrote us this exclusive massive, and magnificent manifesto. Read it here in full:
We originally started writing batches of songs for the Nest album over two years ago. At that time, we were coming off two straight years of DIY touring — living out of our van, sleeping at campsites, rest stops or on strangers' floors. Eating peanut butter or cans of beans and the like. We came to the conclusion that touring in this way, while fun and always exciting, was not a fruitful or sustainable path for the band if we wanted to keep things going in the long run. It was spiritually rewarding to be meeting so many artists and forward thinking communities around the country, but we'd inevitably end up shooting ourselves in the foot financially, breaking even on a three month stint if we were lucky, only to come home to Brooklyn with rent and bills piling up and personal commitments neglected.

At that point, Backwords had been a thing for a good 5 years. We had already released 4 records. we had done the touring like I mentioned. We did whole CMJ and SXSW thing several times over. We were playing great sold out slots at great venues here in NYC, sometimes even opening for bands we grew up listening to, but all told – we weren't sure how to keep the ball rolling forward.

It started coming to a point where we were thinking, maybe we should just end this — kind of a 'this is how far we were able to take it, but time to give it a rest.' Some of us were getting married, some of us were having babies, and we were all pretty much flat broke by this point. But at the same time there was this batch of songs we were playing live. New songs with a bit of a new direction and larger rock and roll ambition to them. We had been writing and recording songs for five years, but something about this new batch felt different, like we tapped into a collective artistic vision we had never explored before. So we all kind of felt that this new batch of songs was too good to let go by the wayside. So in kind of a last ditch effort to save the band, or keep things rolling forward in a positive way, we put all of our mental and spiritual energy into recording what would hopefully be one last, great album. Something that could hopefully stand the test of time — something that represented the old Backwords of five to six years ago (with our roots in folk, psyche, and pop) but also something new for us, a more focused sense of intensity with maybe just a more rambunctious, carefree rock and roll undercurrent.
Read the rest of the feature here.

Lykanthea
Rome by Chicago's Lykanthea is the inspired imagination of Lakshmi Ramgopal, who released Migration cassette that takes the philosophical conundrum and quandaries of purpose to the intimate places where aesthetics and internal volition meet in congress. Lakshmi gave us a tour on the evolving environments of Lykanthea, her previous band Love and Radiation, the making of the "Telos" video, and more.
Tell us about your own personal and creative connection to Carnatic, or Karnāṭaka saṃgīta music, how it has influenced, and continues to influence your music.
My childhood training as a Carnatic vocalist is fundamental to my approach to music. The scales and notes I use are often derived from the Carnatic, rather than Western, tradition, sometimes deliberately but often instinctively. I also sing with gamaka, an embellishment of individual or multiple notes that creates an aural palette with a broad scope for improvisation in the live context.
What was it like for you, taking the ambient "Telos" and turning it into a dark, atmospheric visual piece with E. Aaron Ross?
Challenging. The album version of "Telos" is over eight minutes long, which we decided was too long for a video. Rearranging the original for a video edit forced me to make difficult choices about which elements of the song, lyrical and otherwise, to cut. Imagine vivisecting your baby! We also struggled to get good footage of me underwater. I'm terrified of drowning and avoid anything that resembles swimming, so the scene took forever to shoot. I kept inhaling water and surfacing sooner than Aaron wanted. I'm glad he pushed me, though, since the footage came out beautifully.
How do you describe the synergy between collaborations between yourself and Savage Sister's Michael Tenzer, to Laura Prieto-Velasco, and your previous work in Love and Radiation?
Co-writing sundrowned with Michael Tenzer of Savage Sister helped me transition from writing short, beat-heavy songs in Love and Radiation to composing complex, slow-burning pieces. Working with Laura has been different, since she's a designer and was contributing to the visual aspects of Migration. Our projects included two photo shoots in addition to the video for "Telos." Her work is stark and brutal, and its contrast with my softer, prettier aesthetic leanings is very productive. She also put me in touch with fantastic independent designers like Hogan McLaughlin and Helen Costello. They went out of their way to contribute to the record's visual world by loaning incredible pieces that we used in our photo and video projects.
How have you observed your own sonic development from the releases of the "Naked" single, to sundrowned, Aphonia, and now the Migration EP?
I've grown increasingly interested in incorporating orchestral instruments, like the violin, in my work. My songs are becoming longer as well, probably because the ideas I want to convey are growing in complexity.
What was the recording process of making Migration like, and what sorts of physical and metaphysical migrations do you feel impacted the EP's name?
I'm interested in the journey-like qualities of personal change. This is a theme inMigration, which is loosely inspired by a Sumerian myth about the goddess Inanna's journey to and from the underworld. I also wrote and recorded the EP between the last half of 2013 the first half of 2014, when I was traveling alone extensively. The experience was isolating, which surprised me because I usually enjoy solo travel. So the EP has ended up reflecting a personal experience of feeling lost without being directly about me.
Read the rest of the interview feature here.

Lady Lazarus
Regular Impose readers and listeners are probably familiar with our reporting on the music of Melissa Ann Sweat, otherwise known to the world as Lady Lazarus. Her recent single "Rabbit's Road" debuted on our pages, sharing the car radio cadence that recounts Melissa's travels to San Jose, San Francisco, Savannah, Georgia, LA, and Joshua Tree like piano dotted breadcrumb trails. On the heels of the gorgeous album, All My Love in Half Light re-issued on LebensStrasse Records; Melissa brought us the following update on all the latest developments, recordings, and all things Lady Lazarus, followed by an exclusive inside the studio teaser.
It's a good time of year for me, and perhaps, I think, in life, too.

It's been about one full year since I sat down and started writing a new batch of songs. Several new, a few reworked from older ideas; another from a very old scrap of a song I had written years before. I remember where I was when that one came to me, even four, five years ago… I was in my car parked next to a local university. I got out and started walking on the campus and singing into my phone to record it, walking into the campus gardens, trying to avoid people and the inevitable embarrassment of being caught singing out loud where maybe you shouldn't be.
There was no embarrassment, though, in my studio apartment in Koreatown, L.A. last fall, when I began to compose these new songs and rework those older snippets that seemed to fit into my life so perfectly now. Songs that all made sense with where I was, in a place of gratitude and love, understanding and resolution.

I composed them in my kitchen on an upright piano, my very first one, given to me by my boyfriend and his family. I've been immensely inspired by this love in my songwriting and in my life… And this piano, too, has informed my songwriting tremendously.
Read the full feature here.
Jesus Sons
When we proudly debuted the self-titled from Jesus Sons, it was like a revelatory clearwater revival-revolution of the most relentless and restless characters of the Americana spirit. Former Spyrals man Brandon Wurtz saw the light and let us all sip from the golden goblet, entertaining audiences with their traveling roadshow style performance, and today debut a first listen to the forthcoming, "Better Times" 7″ as part of the Mock Records' single series that follows the recent Froth release. Available November 11, Brandon and the Sons have a video and 7″ release show at LA's El Cid— but first set out to make you a born again barn-stomping believer with, "Better Times".
Like the Southwest coast's take on holistic rural music from the American primitive schools, Jesus Sons set their sights on bigger game, brighter days, and improved elevations of attitude on the "Better Times" 7″ as part of the Mock Records' single series. Brandon takes the pulpit as the old electric steels and electrified strings pluck against the hop along rhythm that moves onward and upward toward the shining marquees that read out in illuminated letters, "Better Times". Jesus Sons can take hosts of "The Bottle Let Me Down" blues and turn them into the art of edifying the down and out arts that scream, "These Days I Barely Get By". At the rate the Sons bestow these kinds of commiserating gospels; we can expect them to be canonized to grittier sort of sainthood. Brandon Wurtz joined up with us again in the following interview.
For one of our first questions for Jesus Sons we asked if they could invent an App, what would it be, and what would their pitch sound like to whatever nebulous start-up firm, to which Brandon responded with; "Allow me to rephrase this question. Do you love tacos? Yes." Read on, dear listeners.
The Jesus Sons self-titled and riveting live shows has been making new believers, and born-againers from sea to shining sea. What has all this time since the release of the self-titled to touring around and recoding new material taught ya'll?
This year has been insane for us. We released our self-titled record in January and our plan was to just lay it down and show everyone how fucking serious we are. Its been pretty surreal taking the ride that we have this year. We shot a video at Salvation Mountain in the desert with our buddy Carey Haider in January, played a ton of crazy hometown shows here in LA, we made it to South by Southwest in Austin and had a serious week of debauchery touring through Tulsa, Kansas City, Denver, Salt Lake on our way to Treefort Music Fest in Boise. We played Bandit Town in the middle of California for 4th of July and made a ton of trips to San Francisco. We shot another video in the mountains near LA with our new bud, Olivia Jaffe for Better Times and we worked on and rode our motorcycles a lot. We spent quite a bit of time stretching ourselves thin, working hard and having a hell of a time doing it. I think everything we've been through this year taught us how to live on the road, get loose, rough it when we needed to, party hard and get everyone at our shows to take that ride with us. More than anything we learned how to goof off but also keep this band working, writing and recording.
Can you give us an idea of what kind of good times, best of times, and "Better Times" that went into the mix here to make this righteous roller a-side?
Better Times is about bringing it on home. We wanted to take this band in a real early rock and roll, rhythm and blues direction and we found that with this tune. This band has a damn good time every time we get together and thats what Better Times is about. We moved to LA and life got pretty fucking good. This single is one of the first songs we wrote together with the new line-up and there was a pretty equal contribution from every dude in the band writing and working out the groove. I wrote the lyrics the first time I sat down with the new tune and it flowed out real easy like it was just waiting to be written, and it doesn't always work out like that.
How have you all adapted to LA living and lifestyle?
We're all pretty stoked to be here. Two of us are originally from LA so they showed the rest of us the ropes. Its a rock and roll town. If you're into it, LA has a good ZZ Top vibe (babes, hot rods / motorcycles and good tacos) minus a little bit of Tejas.
Thoughts on the LA scenes versus the Bay Area scenes?
LA's scene is full of super talented bands and musicians. It can be overwhelming trying to keep up with everything thats going down. Its a big city here so people don't fuck around. San Francisco and the Bay are small and way too expensive for a bunch of hair farmin' musician types. Although I'd say the LA scene is currently made up of at least 1/3 former Bay Area people that got fed up with all the same shit we got sick of. Don't get us wrong though, we love San Francisco and all our friends up there that are still roughing it. SF is like a crazy ex, the lovin' is good but you probably don't wanna stay the night.
What else are you all recording?
We just laid down our new LP in mid-October with the man himself, Rob Good. This one is definitely a road record. Its like any of our favorite records from the past, good for driving, partying and gettin' down to. We had one full week to get it done. We took over my buddy's house, set up, and laid down live takes with two guitars, bass and drums and then layered vocals, slide guitar, Wurlitzer, organ and a lot of soul on our 8-track Tascam 388 reel to reel tape machine. It's fully recorded and mixed so we're working on the details of the release for next year and getting ready to start writing the next one.
Read the rest of the interview feature here.

Matthew Melton
The following artist hardly needs any introduction. The man behind Fuzz City studios, Bare Wires, Snake Flower 2, Warm Soda, and more — Matthew Melton — presented the followup to his solo album Still Misunderstood with, Outside of Paradise Southpaw Records. The Memphis by San Francisco Bay, and based out of Austin, TX artist has taken a barrage of recordings made from 2007 through 2014 and compiled them together, providing a series of audio snap-shots that depict the master analog magician deep at work. Like the illustrious company of figures like John Dwyer, Ty Segall, Tim Presley, and the late-garage-great Jay Reatard —Melton completes the short list of monumental figures that have helped shape the state of DIY rock in the testimonials that make up tomorrow's books and yesterday's almanacs. Enjoy our conversation with Mr. Melton, where we explore the artist's time honed 'patchwork quilt method' and more.
Describe the period of time from 2007 through 2014 that accounted for the recording of your latest solo album outing, Outside of Paradise?
During most of that time period I ended up living in my recording studio and really allowing myself to experiment with a variety of song ideas, sounds, etc. The room had no windows and I think I gradually started losing my mind just enough to push myself to some further-out ideas. It was cool because I could wake up in the middle of the night, pick up my guitar and cut a guitar solo. I recorded everything using analog tape and bounced around to various locations with my Tascam 388 under one arm. I remember camping out at the Burnt Ones' practice space for about a week or two while recording their single. We would work on their songs all day and then after they left I would just keep recording song ideas until I passed out. Then they kicked me out and I lived in my van for a little bit. It doesn't really make sense to me now but during this time period I was somehow thriving off the condition of being constantly displaced and in stuck these awkward and temporary situations.
In what ways did this feel different for you, versus the processes at work in making your first album, Still Misunderstood?
Still Misunderstood was a much quicker endeavor but basically the same process. I like songwriting and recording in a 'patchwork quilt method.' Begin by laying down some basic tracks, shelve it for a year, load the tape and record a bass line, shelve it for six months, record over the guitar solo , etc. Its a cool way to work because it allows a range of life experience and new ideas to compete with the previous ones. I still have over 100 unfinished songs filed away in stacks of multi tracked audio tapes that I'm not sure what to do with!
Not unlike your solo output, your work with Bare Wires, Snake Flower 2, Warm Soda, and everyone you produce charges with a sonic incarnation that defies the limitations of time, constraints of era, geography, etc. I suppose the question I'm looking for here, and what many folks are wondering is what is the secret to that Fuzz City Sound? It is the stuff of legend, bands come from all ends of the earth to record there, and get that cadence on their EPs, albums, singles, etc.
Its nice finally being settled down in Austin, TX. I was able to rebuild Fuzz City in a spare room of my new house here, and exactly to my liking. No big secrets really, its small and cozy and completely sound proofed so its kind of like recording in a fuzzy bubble and has that completely dead 1970s vibe to it. I use mostly vintage mics and everything has to hit audio tape. I think the most important thing is that the recording experience be very casual so that the band can get into their mode. I also make everyone record their vocals in total isolation. But I think people like to record here because its easy and fun and my wife is always making delicious baked goods for everyone.
What is the story behind the romantic title song "Outside of Paradise", and how did it become the center piece song inspiration for the whole song cycle?
While I was living in my studio I had this crazy psychedelic dream that ended up forming into the idea for "Outside of Paradise", but it also serves to describe the struggle and desperation that I experienced over the course of that time period. People can do fucked up things out of desperation, but making music can always work as a positive solution. Back in Oakland I began feeding off the sensation of being this reclusive outcast and it worked to create some nice tension in some of the songs.
It is pretty neat how you can dive through the analog psychedelic spheres of songs like "Glass Diamond Green Roses", "Magic Spiral", to the breaking up and going steady anthems of pepped up pop like "Promise It To Me", "Painted Sign", and then at often times fusing the power-pop hook magic with the more head-lifting numbers like, "Take My Hand"?
I think I will always use my "patchwork quilt method" for recording because it results in a good song variety. If you feel a moment of inspiration, just record it while its still fresh. Even if its not perfect its a valid expression and you can just finish it up later.
Do you feel that your music is like a survey on the history, future, and current relevance of the power-pop construct, and all the many ways this modern marvel can be wielded?
I think that music is for the most part living in sort of an "alternate 1985″. There was a certian sincere quality present in music of the late seventies/early eighties that I am always attempting to capture. It's what pop music could have ended up as today had a bunch of corrupt dinosaurs not taken control of music and started genetically modifying hypnotic pop music to brainwash everyone. I guess I'm kind of a time traveler in some ways but I'm still baffled why the best music of the past say 50 years isn't played on every radio station?
Read the rest of the interview feature here.

Devereaux
Columbia, South Carolina artist W. Heyward Sims operates on the handle Devereaux, presenting US meets EU electronic trends and fashions withhis Post-Echo album Pineapple Flex, the artist follows up his debut Cacti Pace EP by swapping the sinewy desert heat for the global jungles, and sounds that strike with tropical sweetness. Join us  for our interview with Heyward to discuss all things, Devereaux.
How were you first inspired to get in into the music game, and what is the story behind taking the name Devereaux?
I guess there are probably a lot of moments that inspired me to get in the game. Without over thinking it, though, one that does stick out is when "The Stand" premiered on television in May of 1994. That series opens with that flu thing killing everyone while Blue Oyster Cult's "Don't Fear the Reaper" plays in the background. I vividly remember thinking, "That's it. I have to learn guitar. I have to learn how to make that sound."
The story behind using the name Devereaux is pretty straight-forward. Years ago when I was considering the idea of doing a solo musical endeavor I was, of course, considering a name to use. I honestly think I was heading to my father's house to tend to his cat while he was out of town and I passed the street Devereaux. The way the word looked, was spelled, and sounded just resonated with me. The feeling the word conjured was perfect. I remember saying to myself, 'Yep, that'll do.' It's also a pretty convenient and sweet homage to Blanche Devereaux from The Golden Girls, which I used to watch with my grandmother.
Take us to your creative journey that lead to the making of your Cacti Pace debut, and the time between that break out and Pineapple Flex for Post-Echo.
Cacti Pace was born from my personal college musical listening experience that included a lot of Trans Am, Battles, and Kraftwerk. While this was happening in the background, I somehow managed to be in two instrumental prog rock bands that played in public quite frequently. Those weren't exactly outlets to let your Kraftwerk flag fly.
So, I think "Cacti Pace" was sort of a release for all these vocoder-kraut cobwebs I had living in my head. Once that record was out of my system and I looked back at what I had done, I decided my main personal weakness was bass and percussion. It just wasn't how I had been listening to music over the years, so my approach to those elements on that Cacti Pace was pretty pedestrian.
Thusly, I changed how I listened to music. In the months leading up to the heavy tracking of Pineapple Flex I listened to Madonna's debut album probably 40 times. I listened to it while I jogged, took a shower, and drove to work. Did you know my showers almost always end one-third of the way into "Borderline"?
What is it about electronic, European leaning pop that inspires you personally?
I'm honestly not totally sure. Maybe it's the sex on sex on sex approach.
Read the rest of the interview feature here.

JÓNÓ MÍ LÓ
Jónó Mí Ló, inventive artist of the digital age has graced the world with his project Daytime Television, label Afternoons Modeling and entertaining the waves of vapors that have informed the 'chill' movements, and health goth fixations of late. With his upcomingUntitled cassette expected later this year from the Japanese imprint, Wasabi Tapes, following up the the ambitious Lavender Plates I & II (Ringtones for Eco Thot Smoothies) — Jónó works to redefine the relationships between mediums, modes, modules, and our surrounding components. Working with artist Michael Green—who made the Jeff Koons balloon dog GIF—on an upcoming video, Jónó's focuses are fixed on drawing the aesthetic arenas of both the digital and tangible artifices closer together. And though digitized worlds of CGI, sports, and computer game playing fields are often in the mix; there is also an edification of natural environments as seen in the Elina Malkin (from the VIA video art/New Media collective Dad Prank) untitled video excerpt that depicts the tranquil, Colorado country side. Jónó talked to us about the future of music, and more.
How is it working this multiple study approach with your take on avant-garde contemporary electronic music through newer forms of software based technologies as opposed to being hardware based?
With enough research/studying you can find just about any resource you need in order to produce electronic music.For me,it's easier to host then say having a studio full of hardware in order to work.
As an artist who has worked in so many new forms of music over the years, from the label-lauded and applied tags of 'vapor wave' and every other 'waves'; where have you found the effects and learned influences from those experiences seeping into the synthesization of URL to IRL type of creative compounds?
I've learned a lot from just trying to express myself online but not necessarily being or having a voice that's leading the dialogue.
When it comes to IRL/URL creation I feel that again a lot of artist recently have seen the easy in expressing themselves in the same way and found it easy to host all in one space.
What are your thoughts on the post-internet effect on music, communities, the artists, the fans, and everyone else in between?
I can't speak for the entire post-internet arts community. I can however speak as a fan and enthusiast. For the most part I don't really listen that much music anymore that I would call 'post-internet" simply because, it's music made to listen while online/surfing/browsing etc but the process isn't entirely made by e-digging for the most part if it is, it's a very small amount.
Working in these new audio-tek platforms, what have been your findings on how they can enhance the the potential of everything from screw sounds, textual poetic speech stems, glitchy loops, generative minimalism, sound-collages (like on "Gifts ベトナム"), ecojams, etc?
Personally, I've just been enjoying allowing the algorithmic software and tools to communicate with themselves and curating afterwards my favorite moments/ideas/best takes etc. My work has always been about experimenting and stream of consciousness in practice.
Describe the recording period between Winter 2013 through Spring 2014, and how these recordings were made, sourced, etc.
Lavender Plates started while I had finally left Portland,OR and had come back to the midwest (Detroit,MI). I just kept hunting and looking at forums for algorithmic and generative art and music and saying to myself, 'This isn't really represented in any way in the internet art community as something that should be popularized…I wonder why.' The source material comes from incidental music in video games and older generative software from the mid aughts, and like I had mentioned earlier, allowing them to speak to one another.
Read the whole interview feature here.
L.A. Girlfriend
Taking on heartbreak by making the big win is the new L.A. Girlfriend EP, Varsity, that follows up Sydney Banta's previous album, Viva. The shattering of a fleeting spring through summer love inspires a boldness of anthemic autonomy where she channels the self-invested belief and wild at heart determination of an entire league. Check out our following conversation with Sydney.
What experience first prompted the immediate creation of L.A. Girlfriend as a musical endeavor for you?
The project started when I finally got a grasp on what kind of music I wanted to make. I've been experimenting with music my whole life — playing various instruments, joining middle school band, and singing with an acoustic guitar at open mic nights in high school. Throughout college, I tried my hand at making more electronic based music through a couple different solo projects. In retrospect, it's been a trial and error in finding my sound, but once I did find it, that's when L.A. Girlfriend was born.
The making of your 2013 album, Viva, and then the emotional/personal-victory-as catharsis pop creativity on Varsity: A Love Story in Three Parts—what were the differences like behind these two releases for you?
For me, Viva is a collection of ideas, thoughts, day dreams and fantasies with a little bit of life experience in there. It was written and presented like a play, starting with an overture-esque intro, then a flurry of action into an intermission piece, finally moving to an upbeat and hopeful finale. Varsity is a personal diary specifically addressing an emotionally charged moment in my life. There's more of an immediate, personal attachment to it. Not to say I don't feel what I put in to every LP or EP I write, but withVarsity, I definitely felt more of those heavier emotions when writing.
I love the perfectly pointed aggressive and assertive ethic and focus that runs through the three songs of "Varsity", "84", and "Runner"; like a track-team tryout that flashes forward in an arc from the beginning to the checkered-flag finish line. How did these competitive sports become the choice of motif and metaphor for much of the expressionistic exterior here?
Thinking about it now, it might have been a subconscious choice, stemming from my dad. As a kid, he introduced me to boxing and taught me how to have the spirit of a fighter. Whenever I'm in a low moment or feel distraught, he always takes the coachapproach and says "don't go down Rocky, the bell hasn't rung yet." Dealing with the after-shock of my breakup, I was definitely looking for a way to rise up and out of the pit. Centering Varsityaround an athletic motif was my way of restoring faith in myself. It's taking the ramifications of an experience, growing from it, and becoming a better person because of it…like trying-out time after time and then finally making the team I've always wanted to be on.
Read the rest of the interview feature here.
Scotdrakula
ScotDrakula have just released their self-titled via Bandcamp, that brings some of the best sounds around between the trio's respective homes of Melbourne, Australia and Canada. The three-pack punch from bassist Dove Bailey, guitarist/vocalist Matt Neumann, and Evianne Camille's percussion combine a volatile DIY combination of combustible sounds. Dove Bailey talked with us about the new album and more, in the following interview:
How did this whole ScotDrakula outfit come about? How did you all meet up, and what Dracula movies, books, games, and what have you inspire the name?
Drinking. We all met each other through drinking in bars. None of us have any interest in Dracula what-so-ever really, but Matt is more interested in Scott Bakula of Quantum Leap. I did once see a sex scene on True Blood where pink light exploded from their genitals.
Speaking of Scot Bakula; Quantum Leap. Great show? One of the greatest shows? And what is the best Scott Bakula sci-fi cult classic in all of your opinions?
I haven't actually watched Quantum Leap, Matt is the only one who's really into it! The best Scott Bakula film thought, would have to be Transformers 4. That film is nuts.
Have you all heard about them uncovering the tomb for the original inspiration for the Dracula story, Vlad the Impaler? That's kinda rad, I guess.
I haven't heard about that! That is pretty rad, in an RPG kind of way. I hope they got some sick loot.
Folks are pretty hyped about the self-titled album, can you let us in on how you all brought the garage rawness to the tape?
We rehearsed non stop in a garage in Dove's backyard. The studio wasn't fully built so we recorded in a lounge room filled with lots of random gear that was just laying around. We were going to use our sound engineer, Nick Hoare's tape machine but it broke on the first day of recording! So we just recorded everything digitally.
Are we talking one take performances here? Give us some cut for cut plays!
We tracked our instruments all together live, which is a first for us as we've never considered ourselves the tightest band. But it worked! We then over dubbed vocals, keys, percussion, crazy synth noise etc.
Read the full interview feature here.

Purmamarca
Early last summer we got introduced to AM radio dialed life of NYC's Purmamarca with their single"No Battles", and today we catch up with frontman Ryan Henry to talk about their mind trotting single, "Chasms". Like the summer and winter breezes that whistle through the spaces of thoughts, Purmamarca creates a feeling of home with a sound taken from various locales and inspired moments and shaped into a cohesive resonating beauty revealed by the song's alignment by way of piano keys. Ryan discussed the sounds that define and form the world of Purmamarca:
You have talked to us before about there being more of a "focused effort" on the instrumental involvement from the rotating collaborators to having Brian Bishop and friends into the fold. How have these particular perception shifts provided results like the rooms and corridors that make up the mental chambers of, "Chasms"?
Purmamarca has totally had a rotating group of bandmates through the past few years. "Chasms" represents the work of myself, Brian, and Gabriele, and the three of us have now been playing together for a little over a year. I think there is certainly a desire on all our parts to create an atmosphere of space and timelessness. Everything, every day feels like an entering into a new realm, one without much ground and without much consistency. We're all in air whether we want to believe it or not. We all seek ground. We all seek understanding. But to embrace the realm of the unknown, to be on the front lines of the self, to break through your own mind into new consciousnesses — this is what I want of my own world — and I think these sounds help propel me there. It's important to note Colin Alexander's work on Chasms as well; as sound mixer, he brings an acute awareness of space and atmosphere.
What was the inspirational basis for "Chasms"?
"Chasms" actually started with Elon's words, which to me are about not letting other people hold power over you, about letting go of those 'shadowed ones,' and each step being a 'time anew.' The words were the inspiration this time.
I remember you telling us that "No Battles" first began at Radio Bushwick. Have there been other new songs that you can tell us about that originated from there as well?
Writing bits of "No Battles" at Radio Bushwick was random and cool, but nothing else has been written there. In fact, I think they're going through some legal dispute right now with a terrible landlord, and I wish them all the best to getting their doors open for shows again. "Chasms" was born at the rehearsal studios I was working at for most of this year. There were pianos in each of the rooms and one day I was bored during a shift and ducked out to write for 10 minutes until I inevitably had to get right back to the desk. I hope my former boss doesn't read this. Well, actually I don't care if he does.
Both Impose and other publications have made lots of comparisons and metaphors to Purmamarca's sound pertaining to weather cycles and other naturally occurring phenomena, and I'm curious to hear where this push toward a style of music that blends into the physical earth sciences comes from for you, and the band in your compositions?
What an interesting question. I have no idea how to answer it. I suppose lyrically I'm interested in the seasons' change as being a metaphor for change in general, of moving on, letting go, finding new beauty in new chaos. Practically speaking, the song was recorded in a number of different spaces on a USB mic I carry with me wherever I go in my backpack — the band's practice space, my friend Drew's bedroom while she was away on tour, Brian's living room, and again, the rehearsal studio I was working at for a while. All of these spaces obviously have different qualities and each is a part of the track. Maybe this is why it feels like it blends earthly qualities, because they were born on different parts of the earth.
Other NYC indie artists that you want to give a shout out to?
Shout out to Mitski who just put out an amazing record that has changed my life! Go and listen to it as soon as you can!
What other recordings are you all working on? Holiday plans and 2015 projections?
We're working on a bunch of new songs, and the "No Battles" music video directed by Ellen Frances will probably drop in the next month or so. I think we're all hoping to go on our first tour next year, and I'm itching to get into a studio to make the next record. As much as I love recording in my bedroom with a USB mic, I think being in a proper studio will possibly bring out qualities that we're not expecting. As for the holidays, I'm planning on spending a lot of simple time with my family in LA.
Read the full interview feature here.
Boulevards
My recent conversation with Boulevards' Jamil Rashad, reaffirmed the almighty power and perpetual importance and heavy influence of the funk. With deep radio and deep groove roots from Raleigh, NC; Rashad explains an upbringing rich in the funk that has lead to his mission statement that he described as, "[to] bring people the funk and groove they have been waiting for." In a discussion that centered around this thesis/life statement, legendary landmarks like James Brown's inimitable The T.A.M.I. Show performance are developed into the lovers rock and future groove dynamics that the hardest working man in show business would applaud. Check out our discussion with Boulevard's Jamil Rashad for unique look at the eclectic artist.
Raleigh has been one of those storied hotbeds of talented underdogs and DIY visionaries. How did your environments and life stations give rise to the mode of swift styles that is the outfit of, Boulevards?
Well I have always been influenced by funk, jazz, new wave and pop. Growing up in a household where my father worked at a radio station in Raleigh, He used to bring me music to discover and listen to all the time. I've always wanted to create pop music that I loved to listen to and thought was good. Making people feel good, feeling sexy and just dancing is what people want to do, just lose themselves. My music isn't for wallflowers, it makes you move and groove. You look back at studio 54 or paradise garage that's where I want to take music again. Make pop music that takes you somewhere and feel sexy.
What else has been going down lately in Raleigh that you have really been into at this moment?
I'm really big into vinyl. My father has big collection of vinyl records. So I need to catch up to him!! I go to this thrift store in downtown Raleigh called Father & Son, just get away from making music and just want to relax. It helps inspire me to write new funk jams and get ideas for visuals for my next record. It also doesn't hurt to buy some threads every now and then as well.
What is the state of the Raleigh indie scenes across the board?
In Raleigh there is a lot of cool music you hear, from indie, folk, electronic, hip hop and more. They have a really cool music festival called Hop Scotch that happens in September that's really huge. I was part of a day party that was fun, I'm hoping next year I will be on the bill and bring people the funk and groove they have been waiting for.
"Sundress" has all that really wavy and flex surface waxing that is super future, as well as being super current, and then you also have some lo-fi throwback frequencies thrown in for good measure. What was the construction of the both the groove and the flow like for you?
Sundress is just a smooth groove funk track. Chateau produced it. I wanted to take the listener to a place. A place where a boy and a girl just get lost and lose themselves to each other. I wanted the flow to be smooth with the arrangement of the song. I wanted it to be conversational, I'm talking to this girl about her body, her love, her hair, her sundress. She is playing hard to get but wants to give in.
How did you link up with vocalist Lena Carr for the track?
Lena is a talented woman with a great voice. She was perfect for the song. She has that Diana Ross feel that I enjoy very much, but has her own style. She is from North Carolina as well, but lives in Brooklyn. I met her back in college. Years back, I discovered her Soundcloud or Facebook… I cant remember, I didn't know she had this incredible voice. I remember she was playing a shows in Brooklyn, but I couldn't make it. I invited her to a show I was doing at Glasslands and she couldn't make it. So when I was living in Brooklyn, she invited me over and I met her sister who I have known as well but haven't seen in years. We ate food and listened to music we both loved. I played her the sundress idea and the rest was history.
Read the full interview feature here.
Munroe
Kathleen Munroe, Canadian born actress of notoriety also operates on the handle of her last name, Munroe, singing Southern gothic ballads that travel between the decisive road forks of good, evil, and good old fashion rustic folk ballads. Munroe joined us for the following discussion.
How did you first discover your inner songstress?
I've been playing music since I was pretty young, and started writing songs when I was about six or seven. It's been something I've just done, for myself, for years.
What for you is the connection between your acting work, and your songwriting?
I guess both serve an interest in storytelling. I've always sought outlets for creative expression, and I'm primarily interested in narrative form. Acting and songwriting both involve the process of finding the right way to tell a story, and that's interesting to me.
What sort of devil at the crossroads type of inspirations lead to the rambling string strumming ballad, "Bloodlet"?
I've long been into early Americana, but I upped my consumption of older folk and pre-war blues after reading John Jeremiah Sullivan's essay on Geeshie Wiley and Elvie Thomas. Their stuff is amazing, and it's ultimately different from anything I do; it wasn't my intention or my inclination to be fully derivative. It also wouldn't be my place. But the sparseness of the music, the raw aching quality, and the haunting material got in my head, and felt in line with some of the darker folk writing I'd been doing. Around that time, I was working on this love song about violent betrayal, and drawing on those traditions felt like the most honest and fitting way to tell the story I was trying to tell.
For you, what is it about those more archaic forms of Americana and American primitive expressionism that draws you in?
There are these beautiful consistent melodic structures in those traditions, with lyrics that have a real darkness to them. Musically, the songs have pretty basic structures, they play with repetition and variation, and they're generally pretty bare. They often include spiritual/religious imagery that kind of borders on magical realism. I find that stuff pretty compelling: calling out to spirits and devils in a literal way, telling stories from the point of view of ghosts, etc. I have a pretty straight-forward approach to structuring songs, and I lean on a range of American traditions for my EP — folk, old country, 60s pop — but I guess for me, the collection I made feels unified by an underlying darkness, violence, yearning, and repeated imagery. Those qualities are attractive to me as a listener as well as a writer.
Can we expect you to combine both your screen and song work together at any point in the near future?
I'm not sure. They feel pretty separate now, but it could be cool There's a movie in very early stages of development that I'm connected to, and I'm writing an instrumental song for it. I'm enjoying that. We'll see what happens there.
Recordings in the works or collaborations that you can share?
I just finished recording an EP that will be released in February 2015.
Read the full interview feature here.
Nicholas Fisher
Nicholas Fisher, otherwise known as Nicholas Coleman is Lathrop's rising artist formally tied to the who's who of the Stockton power clique living next door. A multitalented instrumentalist with a gift of gab and mic management, his creative works are closely connected to the tight ensemble of Craft Spells' Justin Paul Vallesteros, MLTD's Logan Wells, Satan Wriders/Baseball Gregg's Sam Regan, John Steiner, Eli Wrengin, Surf Club's Frankie Soto, photographer Young Wes, and Kenny Yates, among numerous others. Lately the Nicholas Fisher project has been picking up steam with the recent slate of singles appearing on his Bandcamp page, but we'll return to that in a moment.
The 2014 summer provided a creative window where Nicholas was juggling work in local projects and on a slate of recordings with Justin Vallesteros in the downtime between the eventful tours promoting the Nausea album. Among productions posted on the JPV collective Soundcloud accounts Glass Mural and Dreamworks Logo; recent production sessions yielded the sun-blazed spring meets summer-porch conversations of, "Jank Spring". Repping that Soft Touch signature style, it was here where Nick's select collections of dialogues were put on display in a stream of under-slept states of mind that correlate like aphorisms picked up from left off topics that marinate in the downtempo dreamscapes supplied by Justin and friends. Summers and springs past get re-evaluated with a matter-of-factness where Fisher talks a variety of topics that covers past liaisons to prospects of maintaining game with a mixture of humor, humility, and boasts with the skills to back it up. Check out our following interview with Nicholas Fisher himself.
As a multi-talented musician on guitar and drums, when did you first realize your inner voice, as either a singer or emcee?
I think I was a freshmen or sophomore in high school. I stole my brothers Wu-Tang Forever CD, it was a double album but for some reason he only had the first disc. I believe the first song was "Triumph", arguably the best WU song ever. I remember it being one of the first times I took Adderall. I listened that song over and over, for hours. After a handful of listens I started writing to the small pieces of instrumentals. I'm sure whatever I wrote was wack.
Your style is incredibly unique as it weaves between the conversational, the colloquial, and the unexpected poetics. What do you feel are some of the common threads between these different approaches and more that go into your own delivery?
I'm sure just comes from me being embarrassed of all the silly shit I say. So I mumble, and shy away from saying those things audibly. I don't feel like a real rapper, probably because I still play other shit. It's difficult to claim one thing over the other. It's nice having options.
Are you more of a fan of the pre-written/pre-meditated verses or do you prefer to just go off the brain, freestyle?
I feel like any fan or appreciator of rap can write a few bars. Freestyle-ing is something that shows true proficiency. I think of it as being on par with the improv skill of a jazz musician. Like any decent player knows a handful of standards, but only truly talented people can improv and do it with style and rhythm, as if they've been playing those phrases for a lifetime.
Between your home stomping grounds of Lathrop and Stockton, describe the best day imaginable, begin from sunrise to sunset.
It's hard to say, because I often get in moods to where I all I want to do is sit at home. When I'm not in that head space, making music for no real purpose. That's when I have the most fun.
The Stockton area gets such a bad rep, but can you share some of the finer qualities Stockon/Lathrop that folks don't understand or know about outside of town?
Stockton is a place that has really aesthetically pleasing areas and areas that are completely fucked. I've lived in both. One year my house got broken into the day before Thanksgiving then my car got stolen that Christmas. So fucked, but that being said, Stockton can make you create your own entertainment. There's nothing to do here… I think we're creating out of pure boredom.
Tell us a bit about the creative process between Justin Vallesteros' production and your own books of lyrical verse that you both bring to the table.
Justin brings a total honest point of view to the project. We've done so much music together now that I think about it. It's hard to completely explain the musical connection. The strange thing is that we have such different taste in most things, but it works somehow. The dude makes cool shit, that's it. I trust him and Gas Prices.
Favorite recording stories?
The first time I ever recorded was in '07 or '08 with JPV and our boy Ryan Larson. Ryan and I started a duo called The Elitist that didn't really do much, but it was a really good experience. We did two songs with Justin engineering. He's always been good at the whole production thing.
Favorite brainstorming session?
I hate brainstorming. I hate the word brainstorm. I can't pinpoint why, but anytime I sit down and say, "Hey Nick, it's time to come up with the best shit ever," I can't come up with shit. Something about feeling forced or pressured. I shut down.
Favorite song, album, book, movie, of the moment that you have found to be the most inspiring to you lately?
The Flying Lotus record is perfect. I've been listening to that a lot lately while I'm at work. Also the Freddie Gibbs and Madlib album Piñata is insane.
Read the full interview feature here.
Bad Cop
We had ourselves a real good time with Bad Cop's album release of Wish You Well… And Goodbye, and keeping up with Nashville's real-life dukes of hazard, we discuss the Tim Nackashi video for the titular and tubular cut, "Wish You Well". Following the antics, evolution, and anecdotes of main-man Adam Christopher Moult and the Jeffrey Drag Records imprint, we got some further words from Mr. Moult about the bright future that awaits in 2015.
What first inspired to make a video about a rural, mountain dwelling, Bigfoot kind of character?
Well the song, lyrically, is about feeling like an alien almost, like someone who wants to cut up their credit cards, and burn the bills, and just say "F*ck it" and go live off the world. It implies a feeling of "I am trying, but I just can't do this" in referral to the 9-to-5 world.
We were lucky enough to have the opportunity for Converse to hire Tim Nackashi to make us this video. He came up with the concept. He did a good job of capturing the idea behind the lyrics and translating it into a funny visual. But yes, essentially this is how the video for "W-Y-W" came together. A big thank you to Jess Oldham at Converse and Tim Nackashi for helping this come to light.
I like how much character development there is from the flashbacks of Bigfoot's break-up, to making a romantic connection with the television anchor, while trying to freak out the locals all the while. What was pre-production and filming this like?
Once again, we were not on set. In the words of Noel Gallagher, "Video's can be a real boring mess, mate." So I was all about letting them handle the filming aspect of the band. I love to write idea's for the visual (videos), but am not big on acting in them, nor rubbing mud all over myself, so I liked this process. I am sure their pre-production was loaded with fun though as there is a lot of hilarious moments in this video.
Do you believe in these Bigfoot types of creatures?
I don't really know… I guess I do in a way? Ha ha. I believe things exist out there that we don't know about, but as far as big foot, I don't know. Maybe aliens.
Best advice for what one should do if they should find themselves face to face with the missing link?
I guess if I were to help someone who was standing in their own way, I would tell them to separate themselves from life for a moment. Sometimes in this 247, 7 days a week culture you can loose yourself. Especially with social media, and people crafting their image via FB and such, people just get lost in plain reality. I think it is crucial to take a step back, and just live for a moment. Usually in times of solidarity, problems are fixed without nearly as much effort as when you were actively trying to fix everything around you.
Read the full interview feature here.
Trak Joy
When the rising talents of Kile Atwater and Shane Dinet joined forces as Trak Joy, the world was filled with the unifying dance floor hit, "Skin". A track designed to make all listeners feel all right with their own selves and in their own skin; the joy track gifts keep on giving as we premiere Trak Joy's "By Your Side", emboldened, and embodying the bold pop of pure commitment, unbound. As heard on Kile's solo work like our premiere of "Low"; Atwater works the vocals along different expressions of harmonic appeal with the insistent promise from his "I'll be around" refrain. We caught up again with both Kile and Shane to discuss their latest singles, and more in the interview following our premiere, of "By Your Side".
We loved Trak Joy's earlier single, "Skin", and are wondering about what Ableton expansive additions came into play for both of you on the making of "By Your Side"?
Shane: By Your Side was an older track I made in FL Studio before I met Kile and started working with him. I go back and forth between Ableton and FL Studio all the time. With "By Your Side" I used Ableton to really compliment the melody. You'll hear it a lot towards the end of the song.
You both have hinted to us before on an upcoming EP. What is the progress report on the extended player?
Kile: We have been working very hard on it this whole fall/winter and we are definitely expecting a January release. We will let you know the specific date very soon!
Kile, what sort of solo recordings and projects do you have in the works?
Kile: Right now I have tunnel vision and my head has been completely involved in Trak Joy. However, I have been writing constantly and I've been talking to a couple of rappers about writing and recording hooks for their respective projects. Solo stuff for me is further down the line though.
Shane, what's the latest these days from Ether Teeth?
Shane: Ether Teeth has been recording, but it's been a crazy year overall. Recording has been a bit hard here in NYC, I feel I need to find a cabin full of instruments and lock myself away for a bit. So no date in order for the next release.
How do both of you find that your other work informs what you all do as Trak Joy?
Kile: Shane knows a lot about underground music and all the music he's shown me has made me dig deeper and do more sound research as a singer and songwriter. I've also been able to show Shane some great R&B music that I'm inspired by that he's been able to take and mold into something suitable to his sound. Our collaboration has opened new worlds for the both of us.
Read the rest of the interview feature here.

Thrillers
New duo Thrillers make pop music that  continues to feed our cravings, and current obsession with the way 80s music and film continues to impact our modern consciousness. North Carolina by LA brothers Gregory and Jeremy Pearson dropped the video for their lusty and lavish single, "Can't Get Enough" that mixes retro new romantics with modern day maximalism. The video is said to be an homage to the 1985 film Weird Science, also providing a first look and listen from the Pearsons' upcoming Cotton Candy Kisses EP, available in spring 2015 from Manimal. The Pearson brothers also took a moment to talk with us about everything Thrillers.
What was it like being brought up in North Carolina, and how were the both you were creatively affected by the experience?
Being brought up in North Carolina was a humbling experience. Growing up in the South you learn how to take your time, we take this approach to our music. Also because it's so secluded you have to have a big imagination.
Seems like North Carolina always has some kind of scene or movement going down, I know you both are LA based now, but any insights into what the latest is from NC?
There has always been a underground music scene in the Carolina's, its very small though. The best thing we feel thats came out of the Carolina's in a while is Toro y Moi.
Tell us about creating the addictive bright synth dipped pop of "Can't Get Enough", to making the Weird Science inspired video.
Before we wrote & recorded "Can't Get Enough" and our entire EP we decided to trip shrooms and go on a spiritual journey at the beach in California. We feel this 'creative quest' channeled transcendental energies and summoned all of our inspirations. For the video "Can't Get Enough" we wanted to capture the nostalgia of our childhood and the feeling that we had watching MTV videos early in the morning while eating Fruity Pebbles in our undies.
Read the rest of the interview feature here.
SKY PICNIC
Following up their recent single "June Sunshine", Brooklyn psych believers unveiled "Upon Further Reflection" from their forthcoming new album, Her Dawn Wardrobe. Lead by the dawn treading voyages of visionary Chris Sherman with fellow multi-instrumentalists Leah Cinnamon, and Pete Meriwether; Sky Picnic takes off to a psychedelic, green park from another dimension, and an alternate state of consciousness. Slated for release January 20 as a joint release from the band's own Psychedelic Picnic Music and Mega Dodo Records UK—prepare for your perceptions to become pleasantly shifted to the essence of an eternal afternoon spent lounging, and brunching with friends, and lovers alike. Be sure to read our interview with Chris Sherman after the listen.
From Farther In This Fairy Tale, to the upcoming advent of Her Dawn Wardrobe's release; what has the Sky Picnic flight been like?
It's been a learning and growing experience. Time flies by really fast. I like to relate it to the experience of seeing a high school yearbook years after graduating and critiquing everything about oneself. "Why did I wear that? Why is my hair so bad?" That's how I look back on the early songs now, but it was a vital time in us discovering who we are, where we were going and what Sky Picnic ought to sound like. (Or perhaps I should just have just quoted the highly overused Grateful Dead lyric here to simplify matters?)
How do you think you all have progressed as a group, and how have you watched your own musical styles and approaches grow?
We are more confident now and have a very unified vibe and vision. Knowing each other musically, what we each bring in as players, and predicting where someone else is going to go before they do so is a special bond to have. This is of course a byproduct of our time and experiences together, which has led to such a strong musical telepathy. Our improvs have gotten more effortless and more musical, but feel even more adventurous, all the while we have learned to tone down anything that we deem over-indulgent.
When writing, we have also learned to allow the songs to breathe by creating space in the music. My mantra for when we started Her Dawn Wardrobe was, 'don't focus on what is being played, but instead on what isn't being played,' and it really lead to a total change in approach. And stylistically, each of us is growing and branching out, and bringing those new influences in to the band; this upcoming LP has traces of jazz, funk, ambient, folk, bossa, 90's "Madchester", all of which are added to our foundation in psych rock, art rock and prog.
What is the method of connecting feeling and narrative from song to song, side a, to side b?
For me, it has always been about a mood and feel that connects everything. As a writer, if I can approach the material in the right frame of mind for the period of the creation process, it should just flow out naturally, creating a unifying factor that allows a narrative to unfold, almost like an author writing a novel.
We set out to create a listening experience, and worked quite hard to make the album flow and keep the listener engaged as everything unfolds. Having songs that compliment each other sequenced together, separating the epics, and operating under the old adage of having a "single" open each side were discussed at large. I think, all told, it took nearly a month to get it just right, even down to the length of dead space between songs.
Read the rest of the interview feature here.

Tommy Toussaint
These days, everyone is looking to create the next big thing in the electro crooner pop history books, and influential lineages. Emerging from Dent May's Cats Purring collective out of his now iconic Mississippi ranch, get to know Tommy Toussaint, born Jesse Cahn Thompson, who gave us the world premiere of "No Ordinary Thing" off his upcoming A Cool Kind of Love album from Chill Mega Chill. An artist whose global wanderlust is reflected through economic, precise and smart production choices, instrumental choices, and time arrangements that echo European late night revelry, and the Toronto by London cleverness in making every single audio item count. From the artist who recorded his Computer Snacks EP in a monastery storage unit, Toussaint continues his cool kind of computer love talk in cooler degrees, and a higher resolution. Enjoy our discussion with Tommy Toussaint, aka Jesse Cahn Thompson.
Interested in hearing about what sort of challenges, and triumphs that were involved during the making of your first album, A Cool Kind of Love…what was the experience like of gathering together a string of songs to further illustrate your own personal lover's rock style?
It was fulfilling to finally put together a full album—even if it is only seven songs. There were around 20 songs I made during that span. It was like sewing a hundred-foot quilt with thousands of tiny strands of fabric to sift through. I got good an being honest with myself. The whole process was about honesty.
Some challenges: I didn't really have a set work space. I had just moved across the country to LA when I started recording. I used my bedroom closet in my first apartment in Hollywood, which is sort of becoming a theme—I recorded my last EP in the storage closet of a Abbey in Newark, NJ. I finished this at my kitchen table in Venice, CA and in an empty casting office in Marina Del Rey.
Some triumphs: I think the biggest part of this process was discovering a more consistent voice—or at least attempting to discover it. I shed a lot of layers. I have spent a lot of time supporting other people creatively, so this was sort of new to me. It's not that I didn't have a sense of it before, but it's really at the forefront for me now. I also made a lot of headway with production. This album was just scratching the surface production-wise, which has me really excited about sharing my next batch of songs.
How did you first discover your inner songwriter, voice, and producer?
I'm always in pursuit of my authentic voice, and I'm learning to be really hard on all the noise that can clog up that process. It's that ever-evolving discovery that keeps the creative process rolling for me. I wrote my first song when I was six years old with my grandfather. It was about wanting to be a traveler. As far as producing goes, it's just grown over time out of my desire to be creatively self sufficient and a long-standing fascination with sound and mood.
Earliest remembered favorite artist for you?
I guess Elvis Presley. My dad wanted to name me Elvis. My mom shot it down, but he bought me a bunch of Elvis on vinyl when I was a little kid. My first headphone music—I think En Vogue or Boyz II Men.
Who are some of the lesser sung artists today that you really dig?
It's really hard for me to sort through all the media outlets these days to have a real sense of who is getting what attention, and there's so much talent—it's crazy. I really dig the new Katie Rush album and Sam Mehran's other work like Outer Limits Recordings…
Having listened to bits of the new album, songs like "Hold Cell", "Different Directions" and "No Ordinary" all seem to operate in accordance to their own designs and mix arrangements, where you can visualize you, the artist really creating according to your own rules. What sorts of creative methods do you employ for the writing and recording processes?
Before I started using the computer as my main instrument, I used to start with melody work from there, but now I start with framework and build from the ground up. Eventually the room starts taking on its own mood and shape, color and tone. It's fun working with the structure of pop music too, because it's such a tight framework. You have to become a really good editor I think. Eventually a song develops its own melodic voice, so I just try to listen innocently and not get in the way too much.
Read the rest of the interview feature here.